Beyond Meat is joining forces with A&W Canada once again to launch a brand new plant-based innovation, Beyond Meat Nuggets.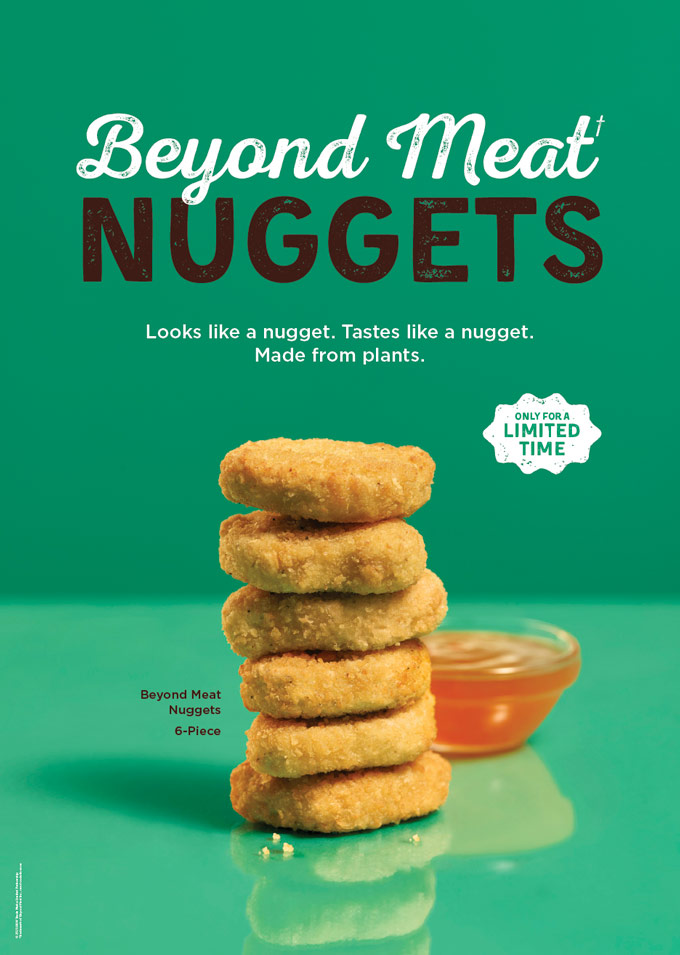 As of August 9, Canadians can dip, dunk and share a crispy, craveable plant-based chicken nugget option with all the benefits of plant-based protein and no sacrifice on taste or flavor, across A&W locations nationwide.
Perfect for dipping, dunking and sharing, Beyond Meat Nuggets offer the same universally loved experience as traditional chicken nuggets while offering 18 grams of plant-based protein per six pieces.
Like all Beyond Meat products, Beyond Meat Nuggets are made from simple, plant-based ingredients with no GMOs, antibiotics, hormones, or cholesterol.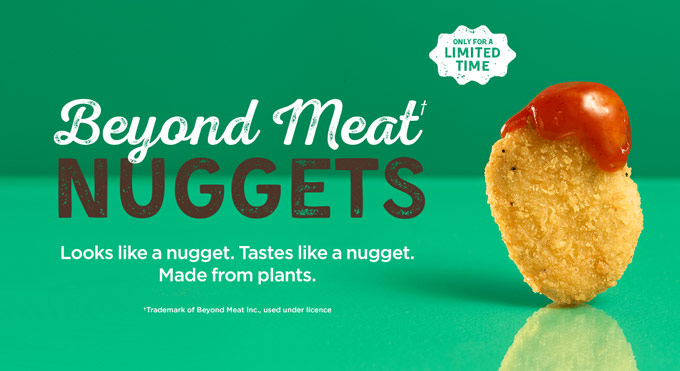 Beyond Meat and A&W Canada first partnered in 2018 to introduce the popular Beyond Burger to Canadian consumers to great fanfare.
With the launch of Beyond Meat Nuggets on the A&W Canada menu, the two brands are furthering their partnership to bring Canadians increased choice and great tasting, best-in-class plant-based options.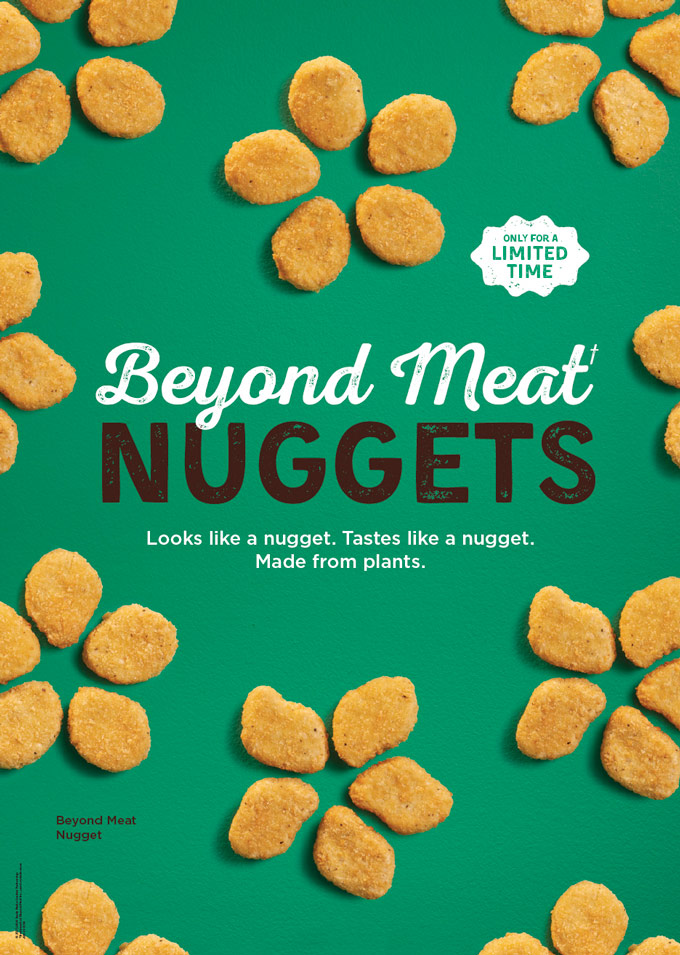 The Nuggets will be available as a six- or 10-piece order, as well as an option for the A&W Kids' Pack.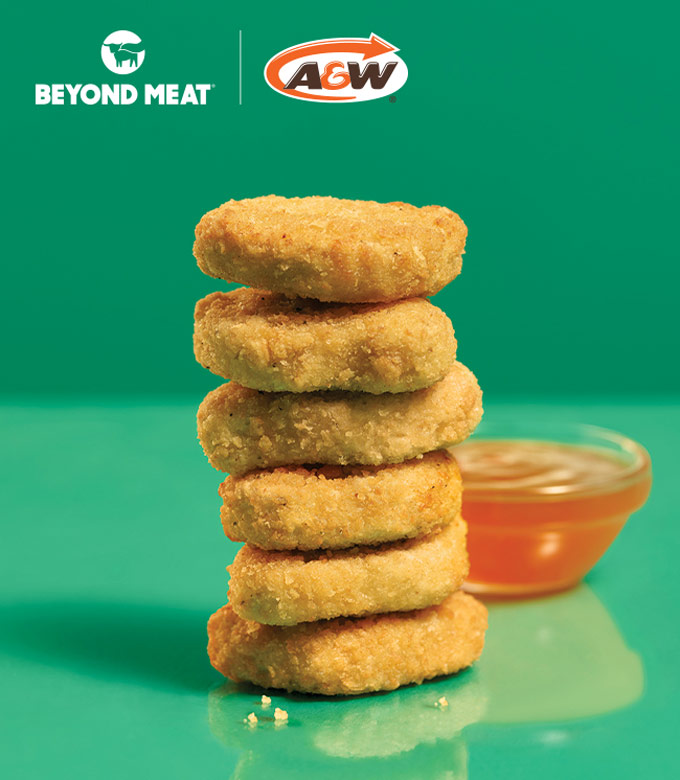 Calories & Nutritional Info
Beyond Meat 6 pieces:
Calories: 300 calories
Serving size: 120 g
Fat: 15.6 g
Protein: 18 g
Sugar: 1.44 g
Carbohydrates: 22 g
Trans Fat: 0.18 g
Saturated Fat: 2.40 g
Cholesterol: 0 mg
Fibre: 5 g
Sodium: 518 mg
Calcium: 28% of Daily Value
Iron: 5% of Daily Value
Vitamin A: 36% of Daily Value
Vitamin C: 1% of Daily Value
Beyond Meat 10 pieces:
Calories: 500 calories
Serving size: 200 g
Fat: 26 g
Protein: 30 g
Sugar: 2.40 g
Carbohydrates: 37 g
Trans Fat: 0.30 g
Saturated Fat: 4 g
Cholesterol: 0 mg
Fibre: 8 g
Sodium: 864 mg
Calcium: 46% of Daily Value
Iron: 8% of Daily Value
Vitamin A: 60% of Daily Value
Vitamin C: 2% of Daily Value
Price
Prices vary by location. Please check your local A&W for most accurate pricing. Here is a sampling of the pricing:
Vancouver pricing (Dunsmuir @Seymour):
6 pieces: $7.14
10 pieces: $9.65
Calgary pricing (5th @ 5th):
6 pieces: $6.89
10 pieces: $9.19
Edmonton pricing (111 @ 149):
6 pieces: $6.79
10 pieces: $9.49
Saskatoon pricing (8th Street East):
6 pieces: $5.99
10 pieces: $8.99
Winnipeg pricing (Marion Street):
6 pieces: $6.59
10 pieces: $9.09
Toronto pricing (Queen St West):
6 pieces: $6.99
10 pieces: $9.99
Ottawa pricing (Baseline location):
6 pieces: $6.99
10 pieces: $9.24
Halifax pricing (MicMac Mall Food Court):
6 pieces: $6.29
10 pieces: $8.79
Ingredients
The official ingredients list is as follows:
Water, Enriched wheat flour, Wheat gluten, Faba bean protein, Modified corn starch, Flavour, Canola oil, Pea starch, Salt, Methylcellulose, Refined coconut oil, Seasoning (garlic powder, onion powder, dried rosemary, celery, corn maltodextrin), Yeast extract, Corn Flour, Spices (paprika extract, black pepper, white pepper, turmeric), Sodium phosphate, Monocalcium phosphate, Sodium bicarbonate, Potato Dextrin, Sugar, Yeast, Titanium dioxide, Sunflower lecithin, Guar Gum, Dextrose, Vitamins and minerals (niacin [vitamin B3], pyridoxine hydrochloride [vitamin B6], thiamine hydrochloride [vitamin B1], riboflavin [vitamin B2], folic acid [vitamin B9], cyanocobalamin [vitamin B12], calcium pantothenate, zinc sulphate, ferric orthophosphate). All deep fried products are cooked in a non-hydrogenated, high stability canola oil that has zero trans fats.
Options
You can make it a combo with the Beyond Meat Nuggets (based on Vancouver pricing for reference):
Fries + $1.50
Onion Rings + $3.49
Poutine + $4.00
Sweet Potato Fries + $2.90
Dipping Sauce
As more Canadians adopt flexitarian diets, nugget lovers now have more options when choosing what to pair with their favourite dipping sauce.
Here are the dipping sauce options:
Barbecue
Honey Mustard
Jalapeno Ranch
Sweet & Sour
How to Order
You can order Beyond Meat Nuggets at restaurant, drive thru, and through the A&W mobile ordering app and third-party delivery apps.
Review
I tried the Beyond Meat Nuggets and though they were pretty tasty. They did taste quite like chicken nuggets.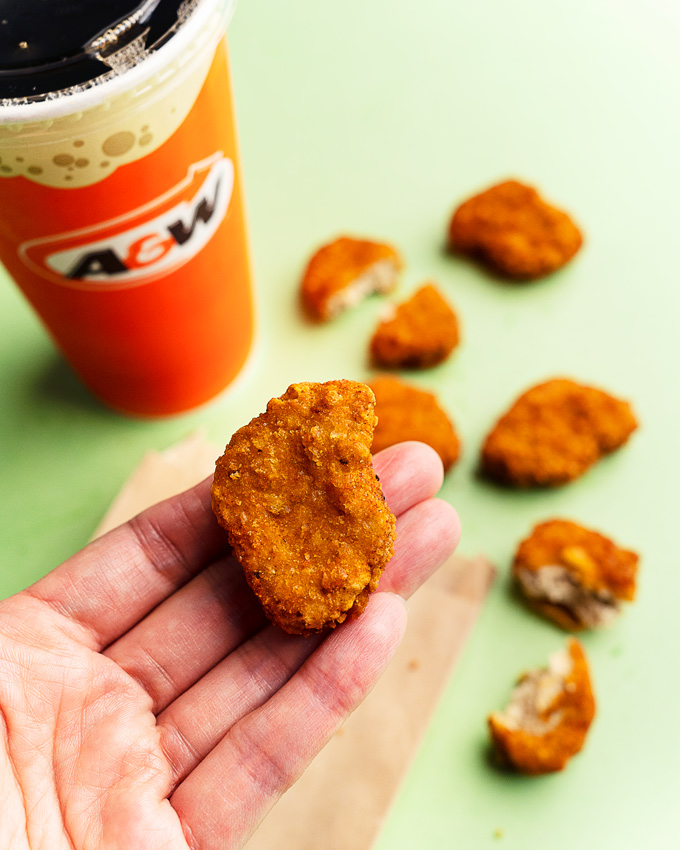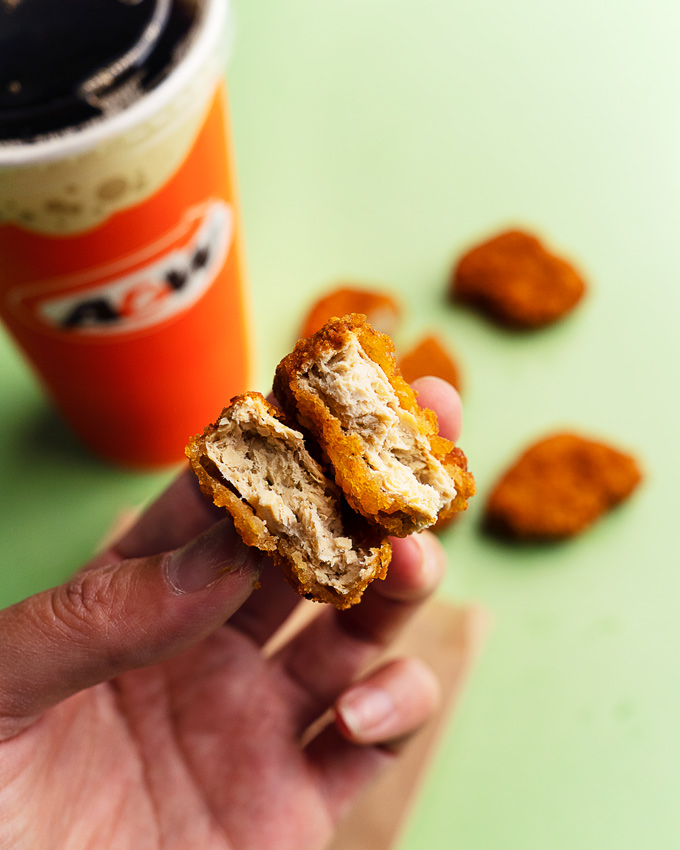 To find the location nearest you, visit the A&W Canada store locator.