The latest craze in the world of bubble tea is centered around Brown Sugar Pearl Milk (黑糖珍珠鮮奶). For the unitiated, Brown Sugar Pearl Milk is a blend of fresh milk, brown sugar syrup and tapioca pearls.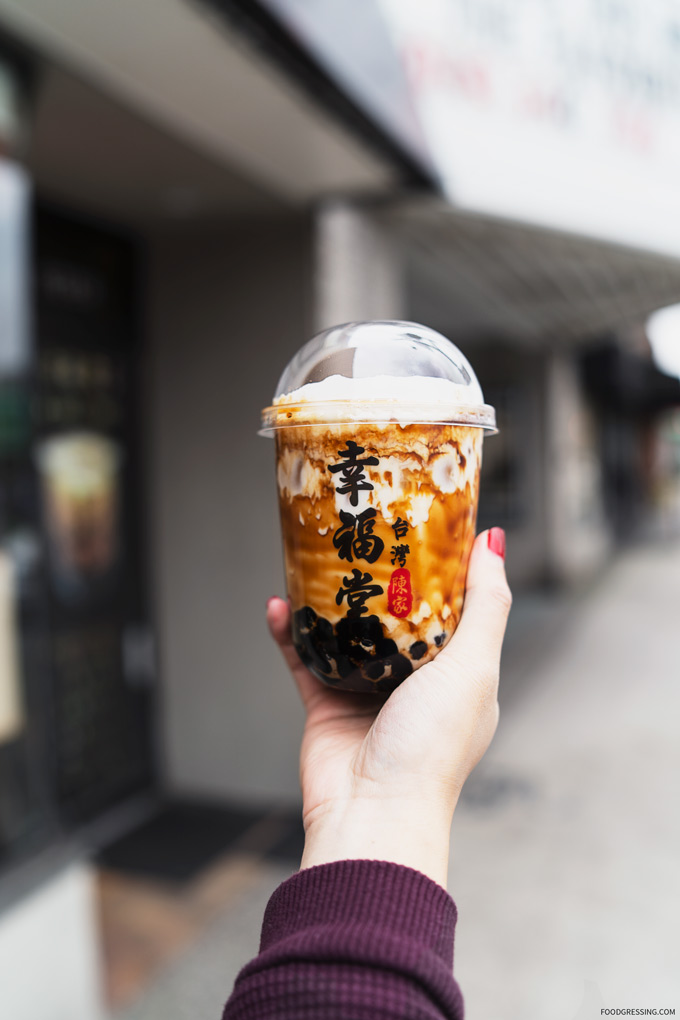 Many have found the drink appealing due to the richness of the flavour from the caramelization of the brown sugar. It's also a very pretty (hence, very Instagrammable) drink with funky streak patterns of brown sugar. I personally have enjoyed the contrast between the warm pearls and the cold milk. The original Brown Sugar Pearl Milk is caffeine-free as it does not have tea in it, however certain places other variations featuring tea (like tea latte, milk tea etc).
Want to know where to get Brown Sugar Pearl Milk in Vancouver? Check out these places below.
1. Xing Fu Tang | 幸福堂
Taiwanese-based Xing Fu Tang opened up in South Cambie last month. The Brown Sugar Milk Series ($5.50 – $6.95) at Xing Fu Tang includes the Brown Sugar Pearl Milk, Brown Sugar Pearl Milk Tea, Brown Sugar Pearl Black Tea Latte and Brown Sugar Pearl and Herbal Jelly Milk. See my review here.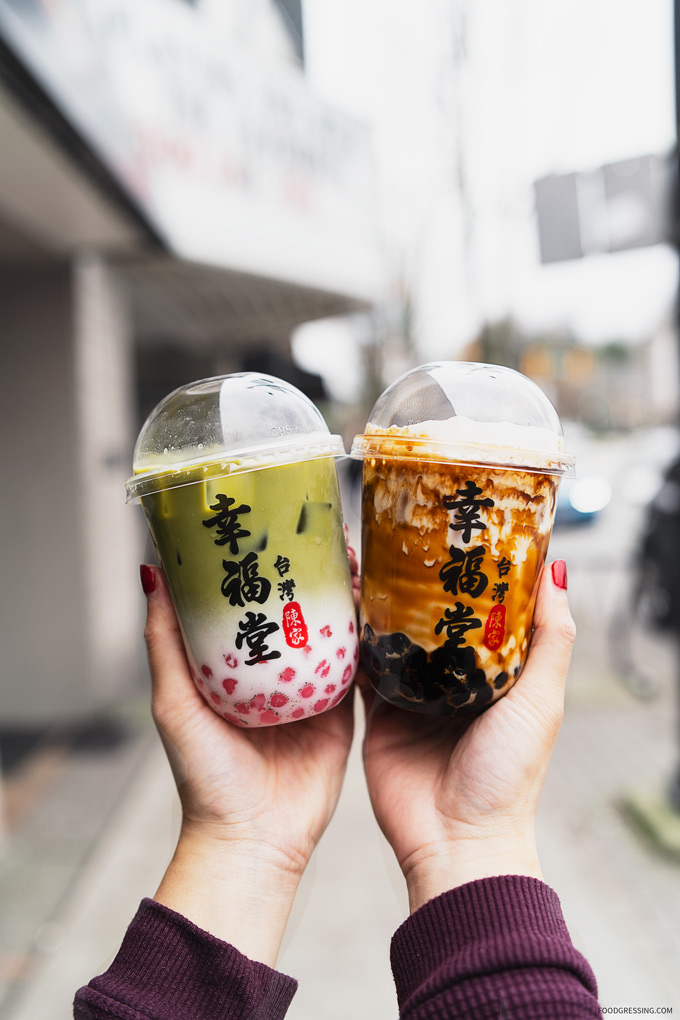 Xing Fu Tang
3432 Cambie St, Vancouver, BC
www.xingfutang.ca
2. YiFang Taiwan Fruit Tea |一芳台灣水果茶
While YiFang is primarily known for their fruit tea, they also serve Black Sugar Soft Pearl Ball ($6.50).
YiFang Taiwan Fruit Tea
150-5555 Gilbert Rd., Richmond
4020 Cambie St, Vancouver
2112 W 41St. Ave., Vancouver
3612 Kingsway, Vancouver

Coming soon:
6049 Fraser St., Vancouver
4515 W10th Ave, Vancouver
1601-4500 Kingsway, Burnaby
4329 Dawson St., Burnaby
202B-4501 North Rd., Burnaby
3-1161 The High St., Coquitlam
109-10196 152nd St., Surrey
www.facebook.com/YifangCanada
3. Taan Char | 嘆茶
Taan Char, an independently-owned bubble tea shop in South Granville and Metrotown, offers Brown Sugar Pearl Milk.
Taan Char
7908 Granville St, Vancouver
1696-4500 Kingsway, Burnaby
www.instagram.com/taanchar/

4. Chatime | 日出茶太
Chatime BC has announced that they will be launching their Brown Sugar Pearl Milk series. Customers can get a preview starting January 11 with a limited supply launch, available daily starting at 3 pm. Each store only has 1,200 cups during this preview period, while supplies last.
Chatime BC
1545 W. Broadway, Vancouver
1274 Robson St, Vancouver
6075 W. Boulevard, Vancouver
2740 E. Hastings St, Vancouver
6361 Cambie St, Vancouver
9100 Blundell Rd, Richmond
8351 Alexandra Rd, Richmond
5216 Kingsway, Burnaby
2250 Metropolis at Metrotown, Burnaby
10255 King George Blvd., Surrey
130-2950 King George Blvd., Surrey
2755 Lougheed Hwy., Pt. Coquitlam
51 Sixth Street, New Westminster
2980 Island Highway North, Nanaimo
1306 Douglas St., Victoria
www.instagram.com/chatimebc
5. Sharetea | 歇腳亭
Sharetea BC has launched their version of Brown Sugar Pearl Milk series featuring Tiger Fresh Milk, Tiger Black Pearl Milk Tea and Tiger Green Pearl Milk Tea.
Sharetea BC
3619 Kingsway, Vancouver
2828 Cambie St, Vancouver
6111 No. 3 Road, Richmond
1033-8300 Capstan Way, Richmond
www.1992sharetea.com
6. Exposure Social House | 曝光奶茶
Exposure Social House, a bubble tea house with locations in Richmond and Commercial Drive, serves Devil's Fresh Milk ($6.50).
Exposure Social House
1706 Commercial Drive, Vancouver
131-4600 No 3 Road, Richmond
www.instagram.com/exposure.socialhouse/
7. OneZo Tapioca | 丸作
Taiwanese-based OneZo Tapioca has a single location in Burnaby and offers a Dirty Tea series ($6) featuring Brown Sugar Dirty Milk, Brown Sugar Dirty Black Latte, Brown Sugar Dirty Oolong Latte, and Brown Sugar Dirty Matcha Latte.
OneZo Tapioca
4929 Kingsway, Burnaby
www.onezotapioca.com
8. Intea | 因為茶
Canadian-founded Intea offers Black Sugar Milk Latte and Strawberry Marbled Milk.
Intea
2035-4000 No 3 Road (Aberdeen Square)
2790 West Broadway, Vancouver
29 E Esplanade, North Vancouver
www.instagram.com/intea_rmd/
Know of any more places? Drop me a line at foodgressing@gmail.com.