And the bubble tea craze continues as Taiwanese-based modern bubble tea chain, The Alley, has now expanded to Vancouver! In Canada, the Alley has 11 locations in Toronto and their Vancouver location at 985 Hornby Street in Downtown Vancouver is their first Western Canadian store.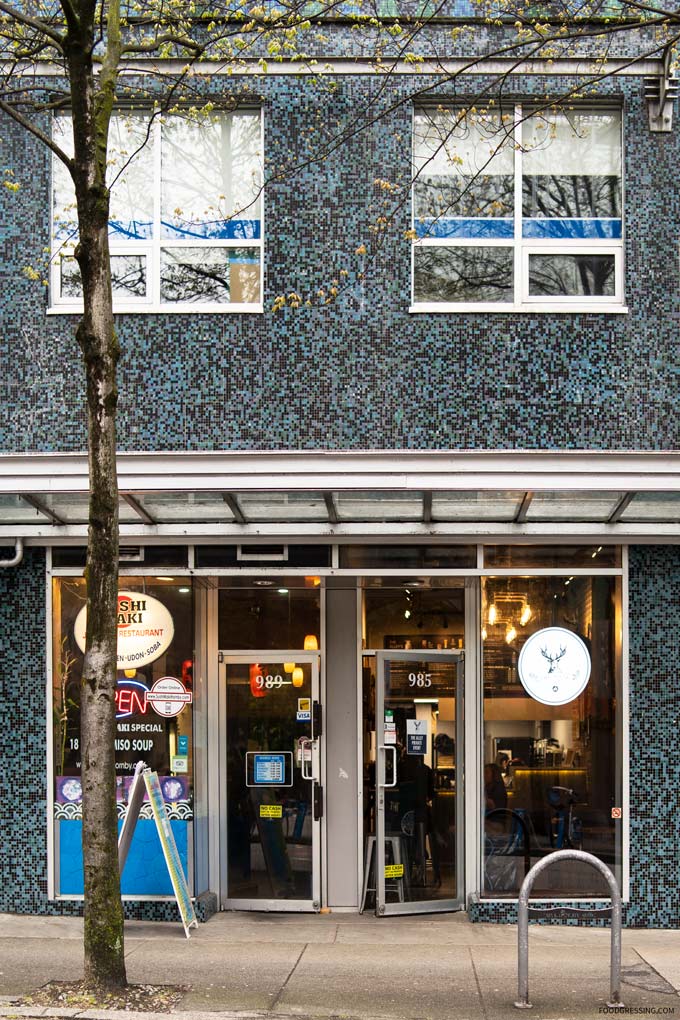 The Alley's trendy and unique branding starting with their signature logo – a male deer or buck head – has made it a social media darling. I attended a media preview of The Alley's Vancouver location. Here's a look at what you can expect.
---
The Alley Menu
The drink options at The Alley include Brown Sugar Deerioca, Milk Tea Series, Fruit Tea/Juice, The Finest Collection, Winter Series, The Alley Original Brewed Tea, Fresh Milk Series, and The Alley Specialty.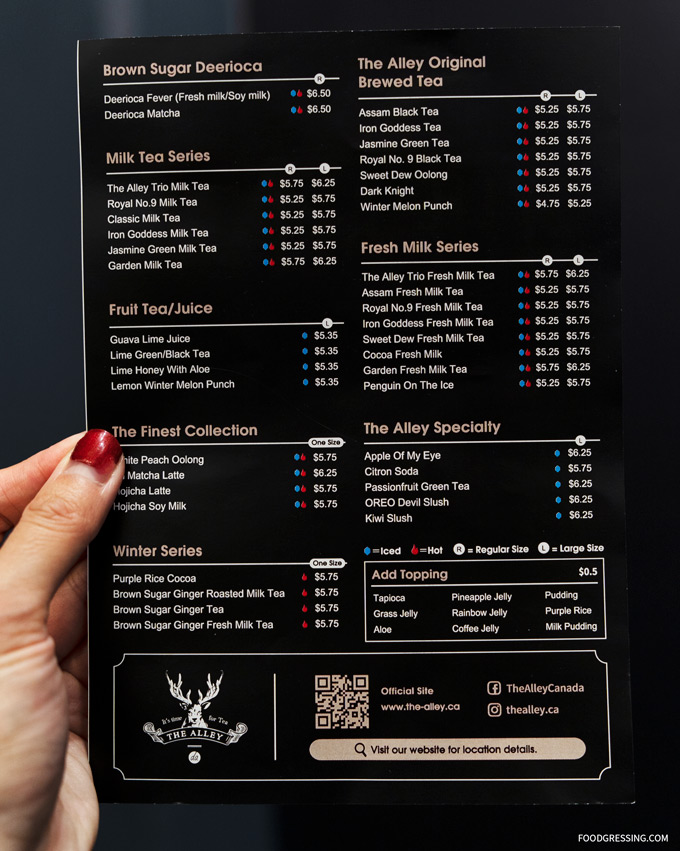 The Alley freshly handcrafts their tapioca pearls (known as Deerioca or 手做新鮮珍珠—鹿丸). The Deerioca are slow-cooked in a brown sugar "lava" for two hours. The brown sugar is made using house-made cane sugar.
Their signature Brown Sugar Deerioca drinks include Deerioca Fever (using fresh milk or soy milk) and Deerioca Matcha.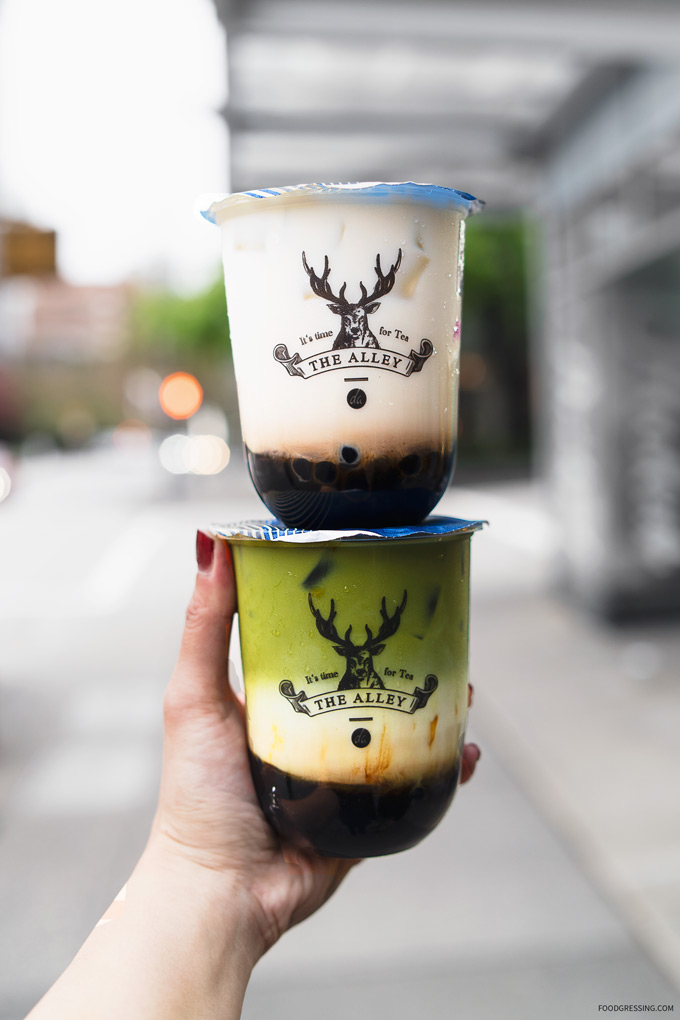 Drinks come in regular or large and some are one-size only. Regular drinks are $5.25 – $6.50 and large $5.75 – $6.25. The drinks can be customized for sugar level (regular, less, half, little, none) and ice level (regular, less, none).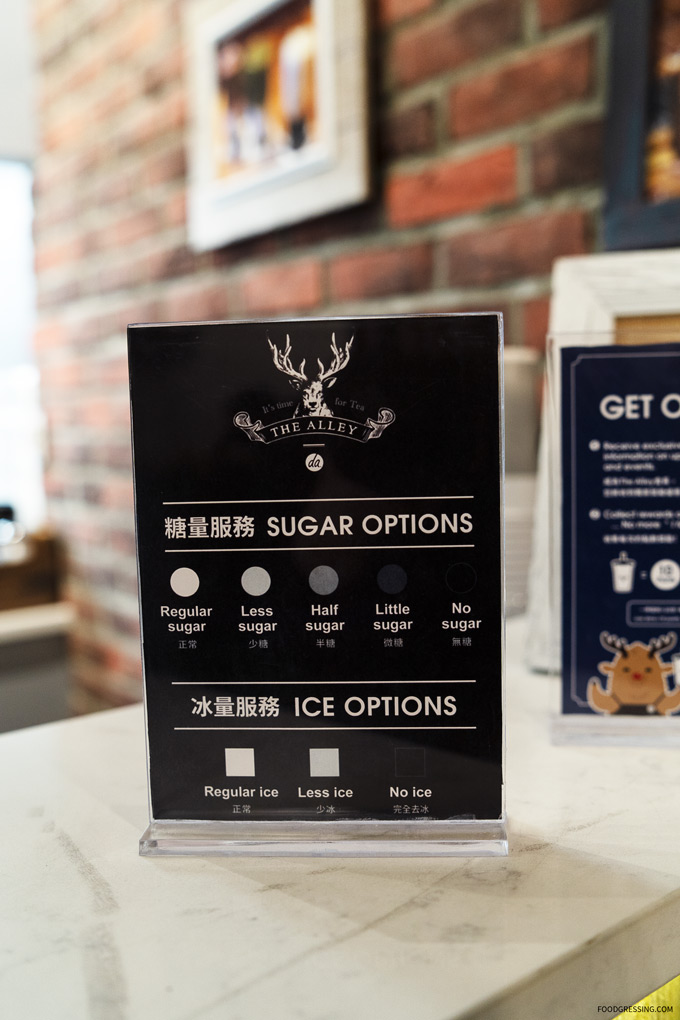 ---
The Alley Top 6 Drinks
Wondering what to order? Here are The Alley Top 6 Drinks.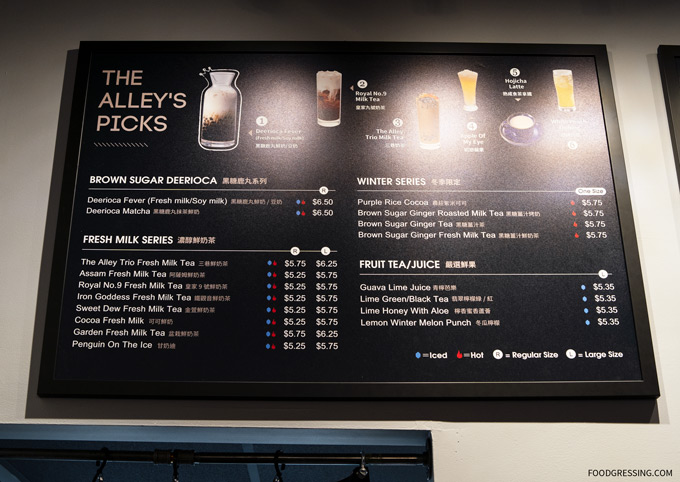 Deerioca Fever (Fresh Milk/Soy Milk)
Royal No. 9 Milk Tea
The Alley Trio Milk Tea
Apple of My Eye
Hojicha Latte
White Peach Oolong
---
The Alley App
The Alley also has an app where customers can receive exclusive offers on rewards and information on upcoming promotions and events. You can collect 10 points with each drink purchase and get a free drink when you collect 100 points.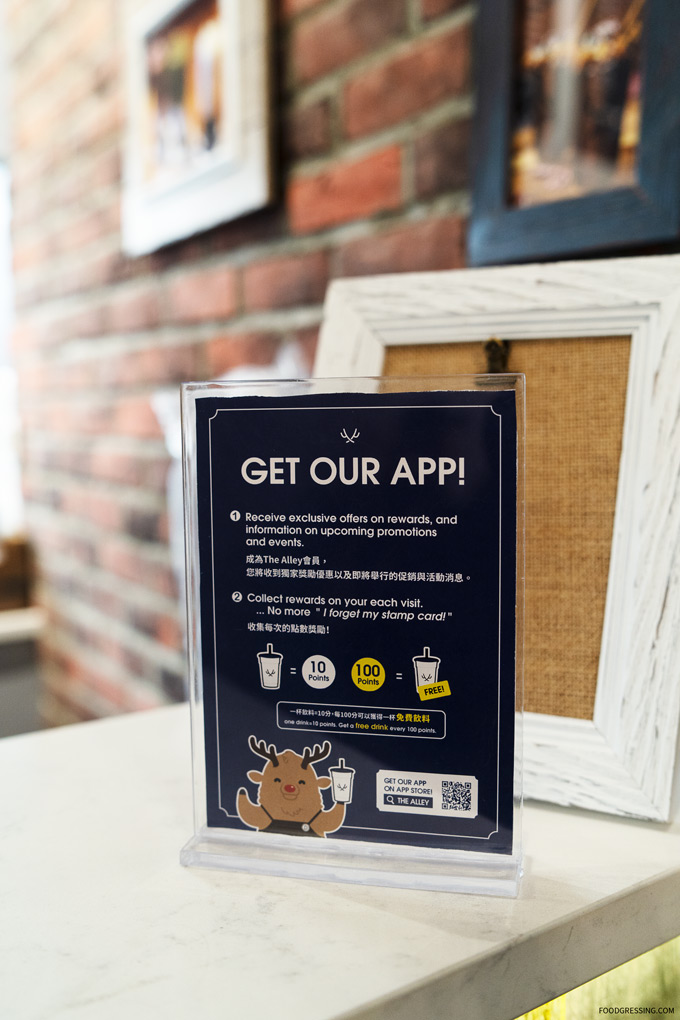 ---
Downtown Vancouver Hornby Location
The Alley's Downtown Vancouver location has a minimalist vibe with some seating.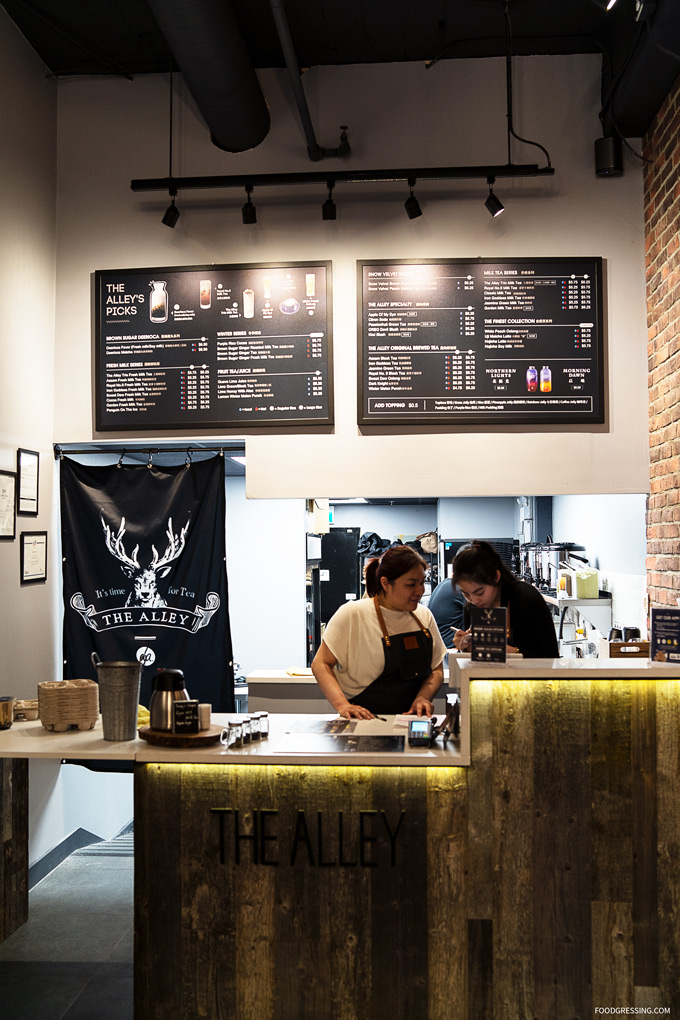 ---
I tried a few of their most popular drinks including the: Northern Lights, Morning Dawn, Deerioca Fever, Deerioca Matcha, and Royal No. 9 Milk Tea.
The Deerioca were quite chewy and had a more natural kind of sweetness from the cane sugar compared to other places that offer brown sugar pearl milk. I quite liked the Royal No. 9 Milk tea but would customize it to 50% sweetness.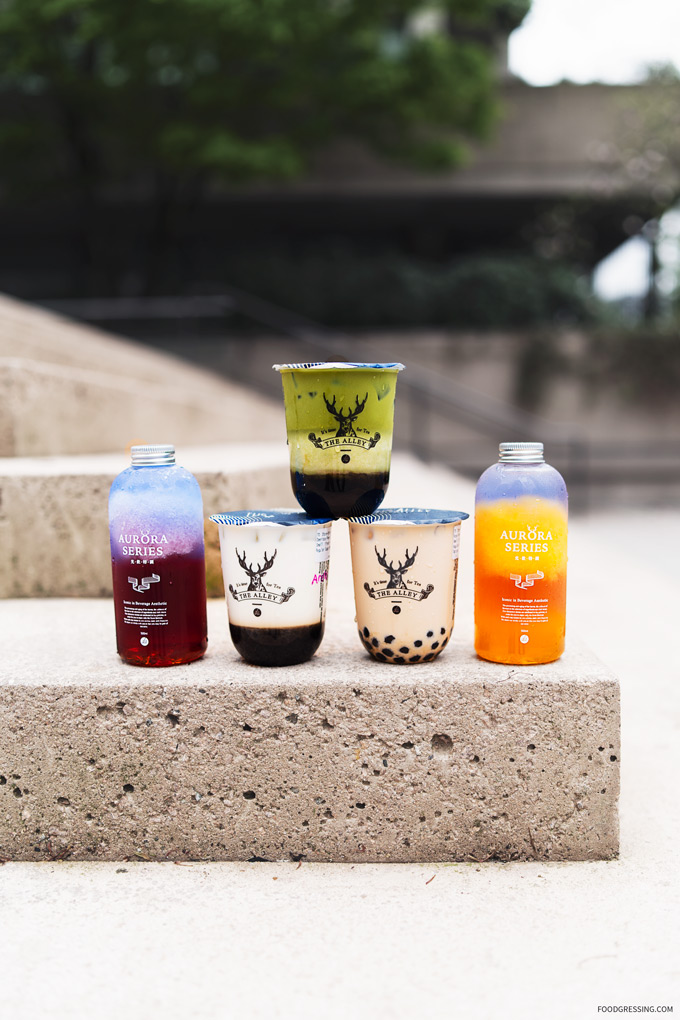 The very Instagrammable ombre Northern Lights and Morning Dawn both feature Butterfly Pea Flower and were quite refreshing. Northern Lights has Apple Vinegar, Grape Slush and Butterfly Pea Flower while Morning Dawn is made with Jasmine Green Tea, Mango Slush and Butterfly Pea FLower.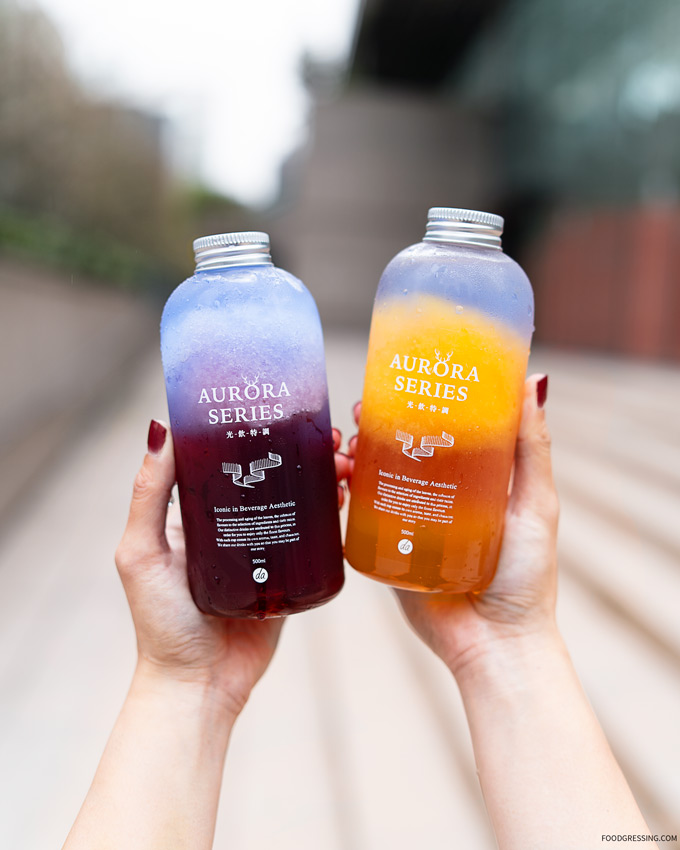 ---
Grand Opening Deal
The Alley Vancouver's GRAND OPENING is this weekend on April 27 & 28. 100 free drinks will be given out to a first-come-first-serve based!
---
The Alley Vancouver
985 Hornby St, Vancouver, BC
http://www.the-alley.ca
Related post: