Valentine's Day is quickly approaching and I want to share with you some recipes to create a delicious, three-course Valentine's Day chocolate-inspired meal. These recipes were created by Green & Black's together with renowned foodie and registered dietitian Abbey Sharp. Each course features, decadent, romance-inducing ingredients such as chilies, almonds and pomegranate, combined with premium organic chocolate. If you want more ideas, check out this recipe discovery tool and see what you can find. In the meantime, here are ideas for the perfect dinner to treat your loved one this Valentine's Day.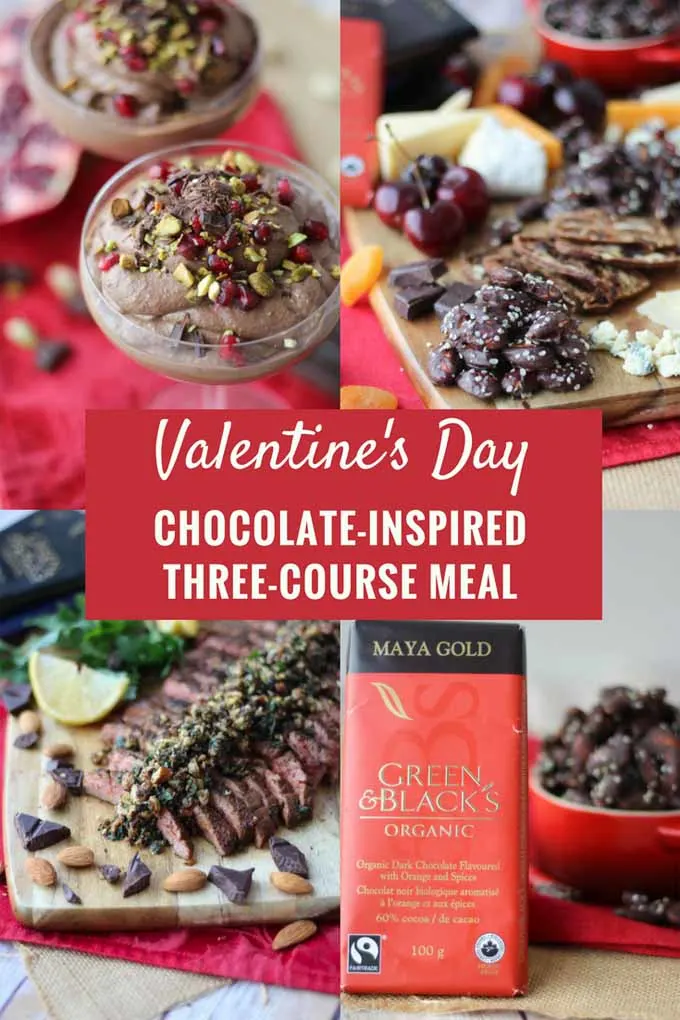 Chili peppers are the perfect feel-good ingredient known to produce endorphins. Presented on a cheese board, these decadent chocolate chili almonds are dipped in premium organic chocolate and lightly dusted with dash of heat to optimize flavour. Click here for the recipe.
Chocolate is best known for its ability to increase serotonin (the feel good hormone) levels in the brain. This delectable dish combines the best of both worlds: succulent skirt steak with a sweet chocolate almond and savory pesto rub. Click here for the recipe.
This sweet treat is decadently exotic, paired with antioxidant-rich pomegranates and heart-healthy pistachios for a unique take on a classic chocolate mousse. Click here for the recipe.
Green & Black's chocolate is imported from the UK and is available in twelve unique flavours. These bars are ideal for sharing and creating impressive home-chef recipes. There is something for every palette: smooth, sweet, milk and dark, the perfect premium organic chocolate to sweeten up your loved one. You can find Green & Black's products at natural health and organic food shops, independent specialty food stores and select major retailers such as Whole Foods, Sobey's, Metro, Loblaws and Shoppers Drug. Green & Black's bars retails for $4.49.
For further information on Green & Black's and to learn more about the brand's history and ethical production of premium chocolate, please visit http://www.greenandblacks.co.uk
Disclosure: I received complimentary product samples. Recipes and images provided by Green & Black's.