Looking for a ideas on how to celebrate Valentine's Day with your sweetheart? Here is a list of restaurants that are offering special Valentine's Day meals, features or takeout this year; things to do or see; and gift ideas for Valentine's Day Vancouver 2021.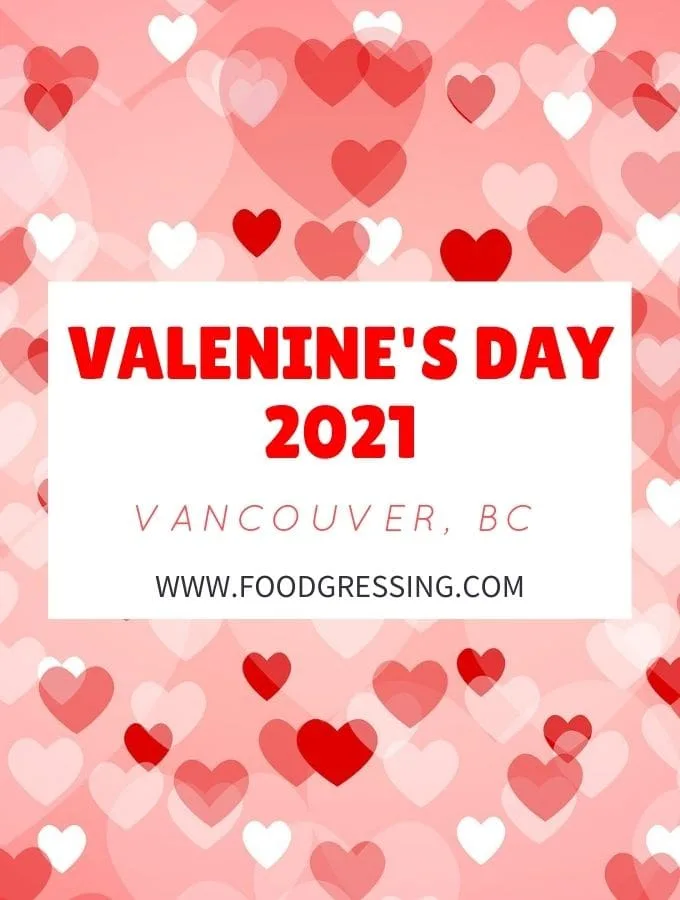 If you have any more suggestions or are a business where you want to be featured, contact me at [email protected] or on social media @foodgressing.
If you like this post, please share with your friends and family. This would help support the website and for me to continue doing these roundups.
Valentine's Day Restaurants Special Menus
Here are some restaurants which are offering special menus for dine-in or takeout for Valentine's Day.
Fairmont Hotel Vancouver
Notch8 at Fairmont Hotel Vancouver invites love birds to cozy up with a special three-course dinner menu on February 14 for seatings from 5:30 pm – 9 pm.
Priced at $75.00 per person, this decadent dinner begins with a choice of starter, option of entrées such as Glazed Beef Short Rib or Sake Marinated Steelhead, and a Red Velvet Cake for a sweet ending.
Notch8 also has a Valentine's Day Dinner To-Go menu featuring four courses all prepared and ready to simply pick-up, heat and serve.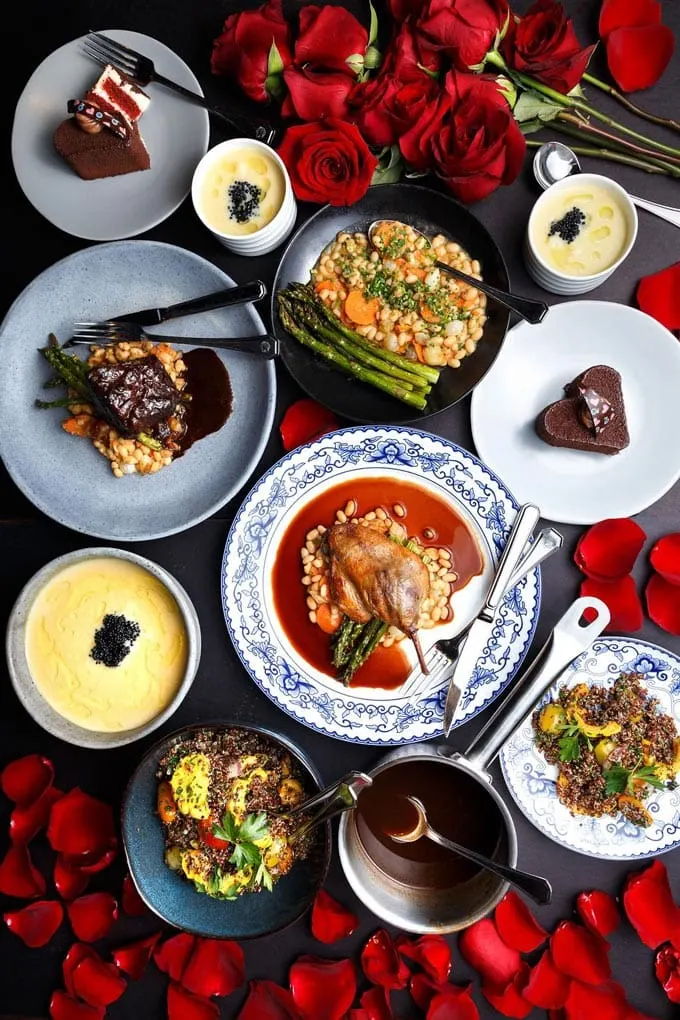 Priced at $135.00 and made to serve two people, this special to-go menu features a soup and salad to start, choice of entrées such as Braised Short Rib and Confit Duck Leg, and finishes with a Heart Shaped Red Velvet Cake.
Orders must be made online by February 10 with pick-up available on Sunday, February 14 from 10:00 am to 4:00 pm.
Also check out Fairmont Hotel Vancouver's Valentine's Day holiday weekend package.
Fairmont Pacific Rim
Botanist's Executive Chef Hector Laguna at Fairmont Pacific Rim has put together an exclusive six-course tasting menu experience to celebrate Valentine's Day.
This menu features decadent dishes such as Northern Divine Caviar, Wagyu Striploin, Olive Oil Poached Red Sea Bream, Grilled Venison Loin and finishes with a Chocolate Praline Bar for dessert.
Priced at $148.00 per person with optional wine pairings for $70.00 or $110.00 per person, this dinner menu will be available from Thursday, February 11 to Sunday, February 14 and offers seatings from 5:30pm to 10:00pm.
Reservations are recommended and can be made online via Tock.
For early risers, Botanist is serving up a three-course weekend brunch menu on February 13 and 14 from 10:00am to 2:00pm for $78.00 per person.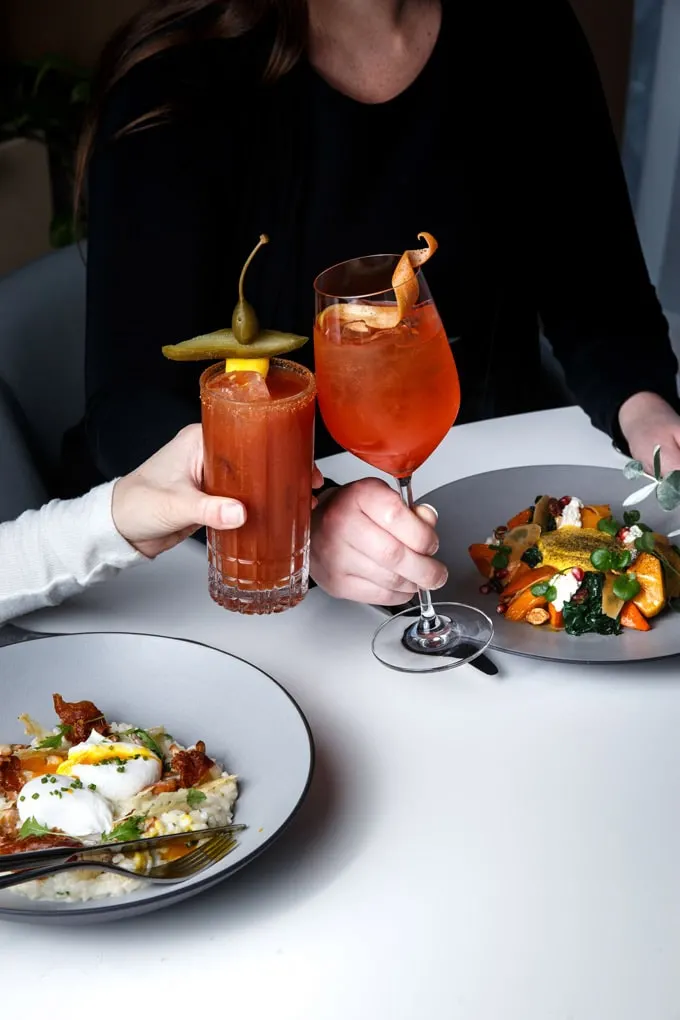 The experience includes a welcome glass of sparkling upon arrival, a hand-crafted brunch cocktail, and a selection of morning-time favourites such as Wild Mushroom Risotto, Crab & Avocado Eggs Benedict and Brioche French Toast. Reservations are recommended and can be booked via Tock.
Fairmont Pacific Rim has a Valentine's Day Meal Kit (starting at $150) which includes a 3-course meal for pickup on February 13 & 14.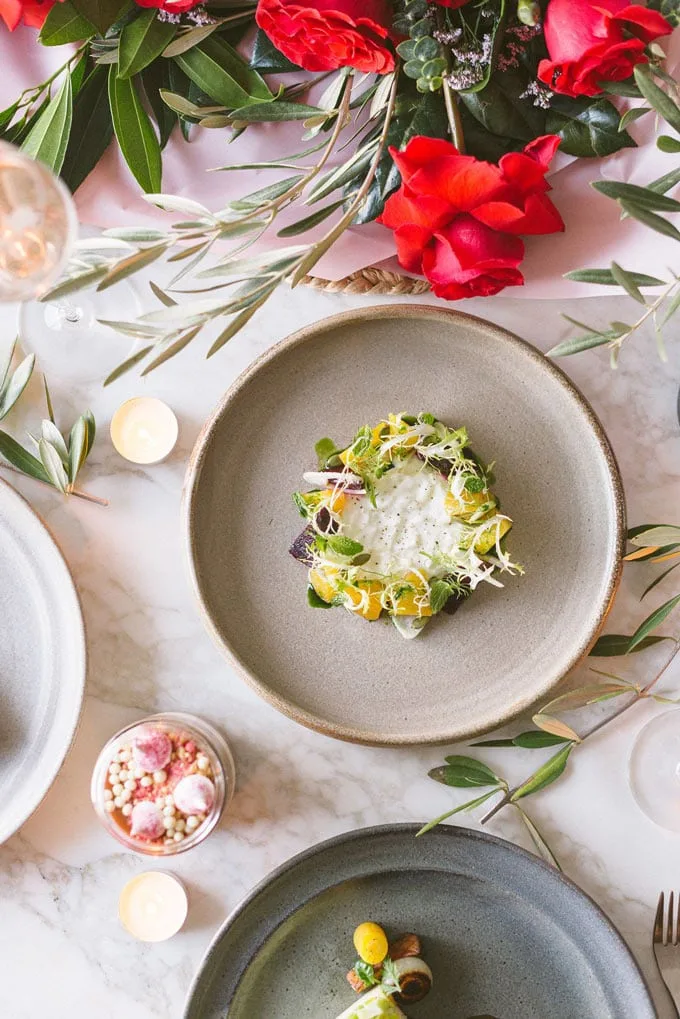 The kit includes choice of Prime Beef Tenderloin or Seared Pacific Sablefish, Beet and Burrata Salad and Triple Chocolate Mousse, with detailed cooking instructions.
Add-on something extra such as House Smoked Salmon Dip, Baked Brie Cheese, or a Shrimp Cocktail.
Fairmont Pacific Rim also has a Roses & Rose Valentine's Day Kit (starting at $499) and serves 2 guests.
The kit comes complete with an intimate to-go dinner, one bottle of Moet & Chandon Rosé, one bottle of red wine and a dozen red roses from boutique floral studio Celsia Florals.

The three-course dinner experience includes choice of Prime Beef Tenderloin or Seared Pacific Sablefish, Beet and Burrata Salad and Triple Chocolate Mousse, with detailed cooking instructions.
Add-on something extra such as House Smoked Salmon Dip, Baked Brie Cheese, or a Shrimp Cocktail.
Also check out Fairmont Pacific Rim's hotel packages.
Fairmont Vancouver Airport
Fairmont Vancouver Airport has several options to romance that special someone this Valentine's Day.
Globe@YVR's celebrated afternoon tea service is getting a loving twist with their Sweetheart Tea, featuring a selection of treats including Crab Arancini, Lobster Sandwiches, Lavender Meringue pops and 54% Chocolate Tart.
Priced at $49.00 per person, this Sweetheart Tea will be available daily February 12 to 14 from 11:00 am to 3:30 pm.
Those looking to treat that special someone to a little extra sparkle can take advantage of Fairmont Vancouver Airport's Sparkling Sweetheart Tea, an exclusive afternoon tea experience located in the 14 Floor Gold Lounge, set against the spectacular backdrop of YVR's active runways and the North Shore Mountains.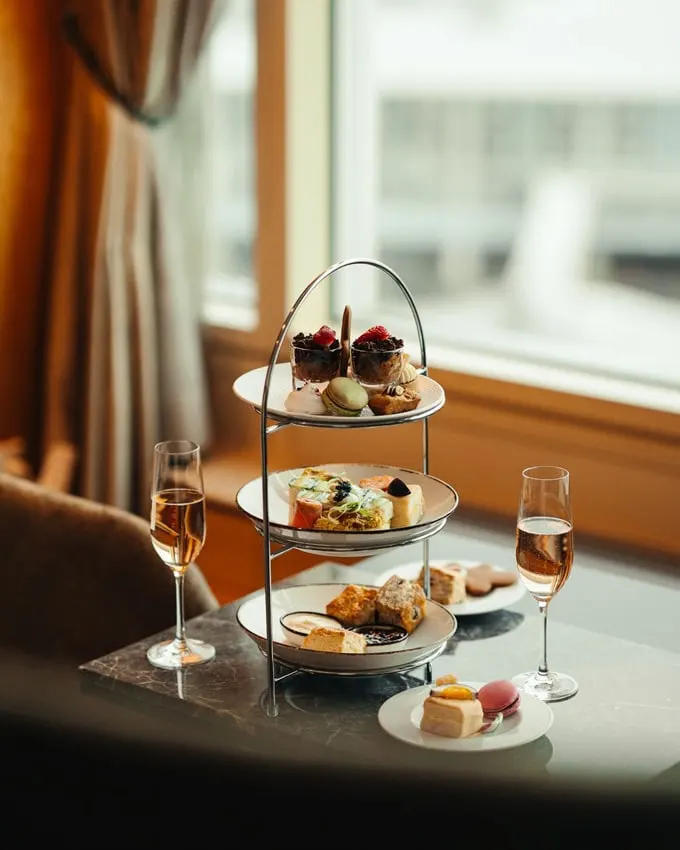 Enjoy a glass of sparkling wine along with a featured menu of savory tea sandwiches, fresh scones with fruit preserves and cream, and a selection of sweets.
Priced at $75.00 per person, this Sparkling Sweetheart Tea is available February 12 through 14 at 2:00pm daily.
Globe@YVR will also feature a spectacular Valentine's 5-Course Dinner menu showcasing such dishes as House-Made Fougasse, Mushroom Consommé with Lobster Tortellini, Burrata and Beet Salad, choice of entrée and to finish, a decadent 54% Chocolate Gateaux for two.
This dinner is priced at $82.00 per person with optional wine pairings for an additional $60.00, and is available February 13 and 14 from 5:00 pm to 10:00 pm.
They are also offering a special Valentine's Day To-Go Dinner for Two.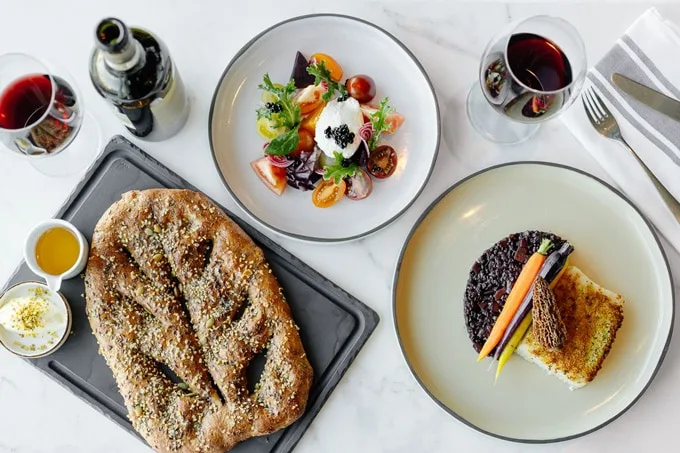 Priced at $162.00, this exclusive dinner to-go features a five-course menu showcasing such dishes as House-Made Fougasse, Mushroom Consommé with Lobster Tortellini, Burrata and Beet Salad, choice of shared entrée and to finish, a decadent 54% Chocolate Gateaux for two.
This at-home dining experience comes complete with heating and preparation instructions and is available for pick-up February 12 through February 14.
Also check out Fairmont Vancouver Airport's hotel packages.
Fairmont Waterfront
ARC Restaurant at Fairmont Waterfront will be extending their popular ARC After Dark event series to be available on the evening of Sunday, February 14, for those looking for a more lively Valentine's Day experience.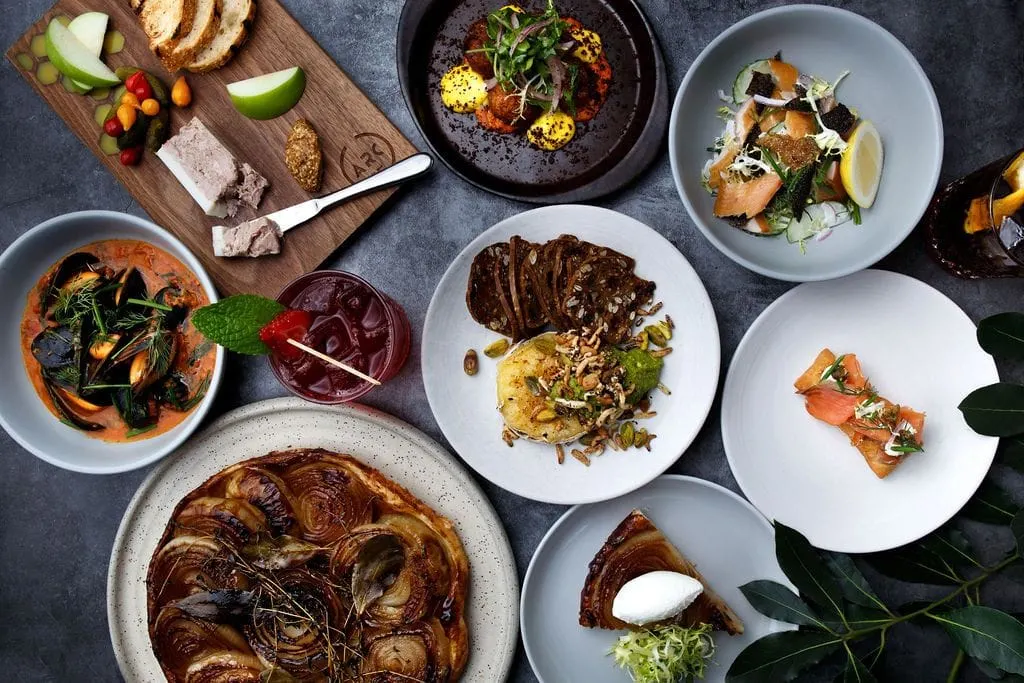 Priced at $49.00 per person, ARC After Dark features lo-fi music from DJ Remsta, as well as bottomless small plates such as Sweet Onion Tart Tatin, Veal and Pork Polpettini, and Chitarra Pasta with Pork Ragu.
Seatings will be available from 5:00pm to 9:00pm, and reservations are recommended.
Railtown Cafe
For the first time ever, Railtown is pleased to offer a special Valentine's Day package!
This package features five individual fine dining tasting dishes, all of which can be enjoyed in the comfort of home.
Each package serves two, is fully cooked and easy reheating instructions are provided.
To start, indulge in Foie Gras, Duck & Chicken Terrine complete with a vibrant green apple salad dressed with Vin Jaune, one of France's rarest wines, which provides a nutty aroma and notes of pine, citrus, and anis and is served with Pain Poilane, the French country-style sourdough.
Other highlights include: Lobster Bisque, spiked with cognac cream and sprinkled with truffles; a surf n' turf course of Seared Jumbo Scallops with a light yet lively Sauce Vierge and rich Beef Short Rib "Daube de Boeuf".
To finish, a decadent duo of mousse is presented, both dark chocolate and lightly sweetened white chocolate mousse with tart raspberry jelly and almond crumb.
They are also pleased to offer a selection of additional food accompaniments, beverage pairings, and floral arrangements and more for a one stop shop this Valentine's Day!
Orders available for pick up from their Railway Cafe on Friday February 12th, Saturday February 13th, and Sunday February 14th between 11:00 a.m. – 4:00 p.m.
Juke Fried Chicken
Juke Fried Chicken is bringing back their popular 'Let's Cluck' Fried Chicken Bouquets for Valentine's Day.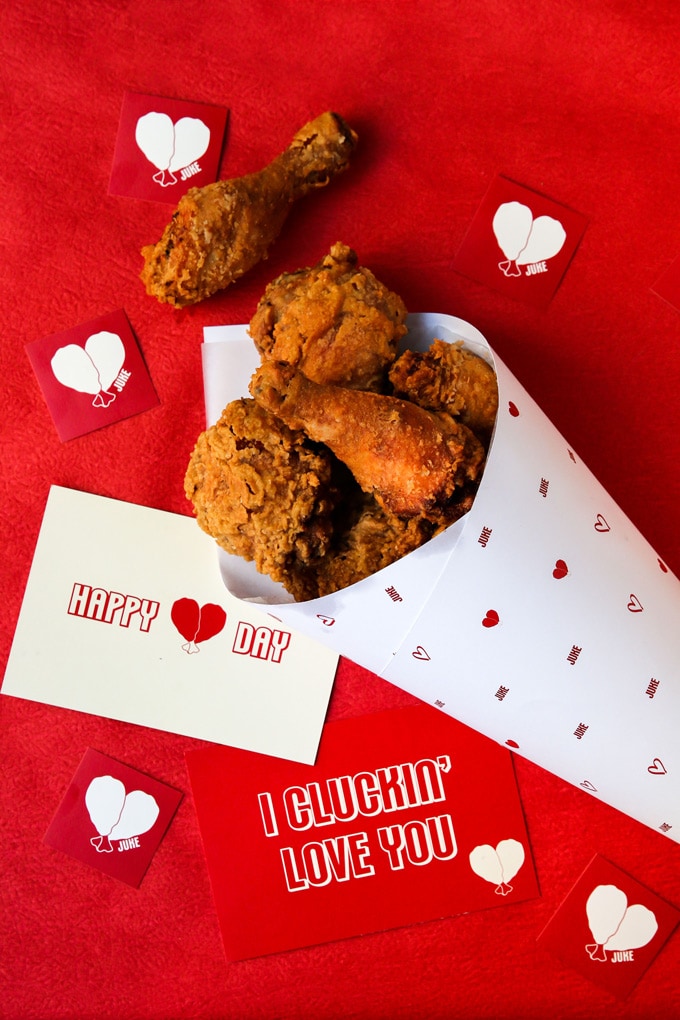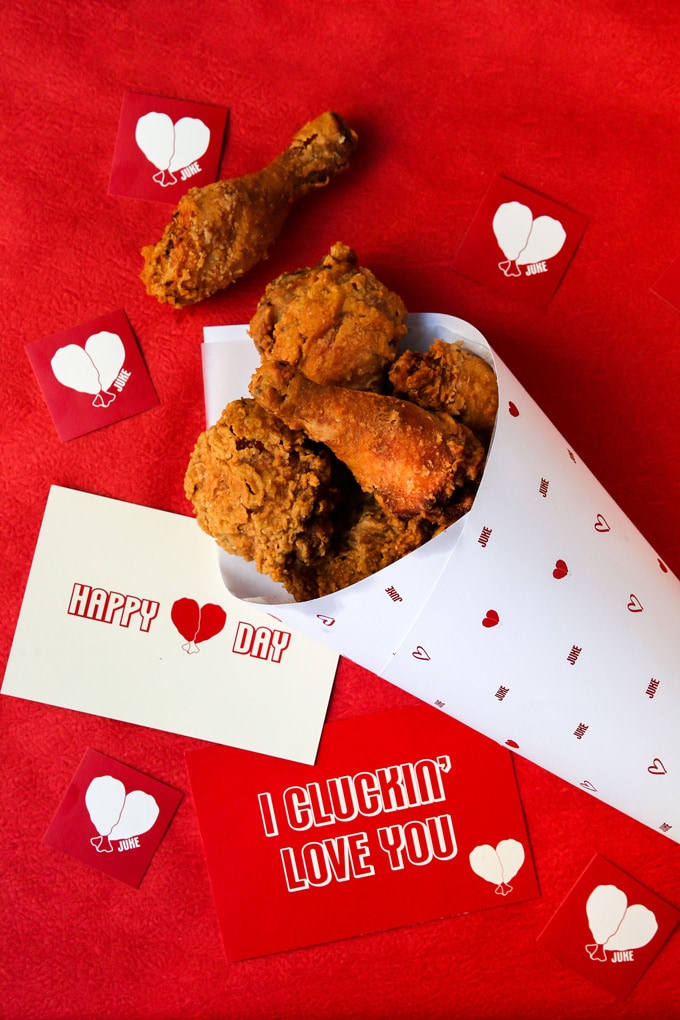 The popular and perennially sold-out bouquets feature eight mouth-watering piece of Juke's trademark gluten-free, crispy fried chicken in decorative wrap for $29 each plus tax.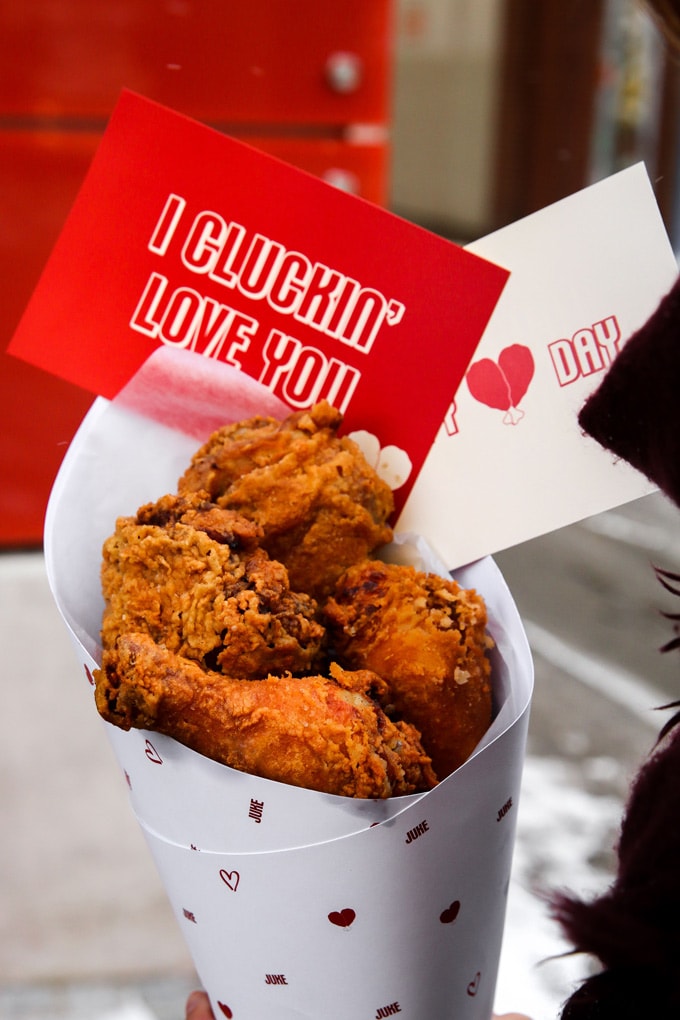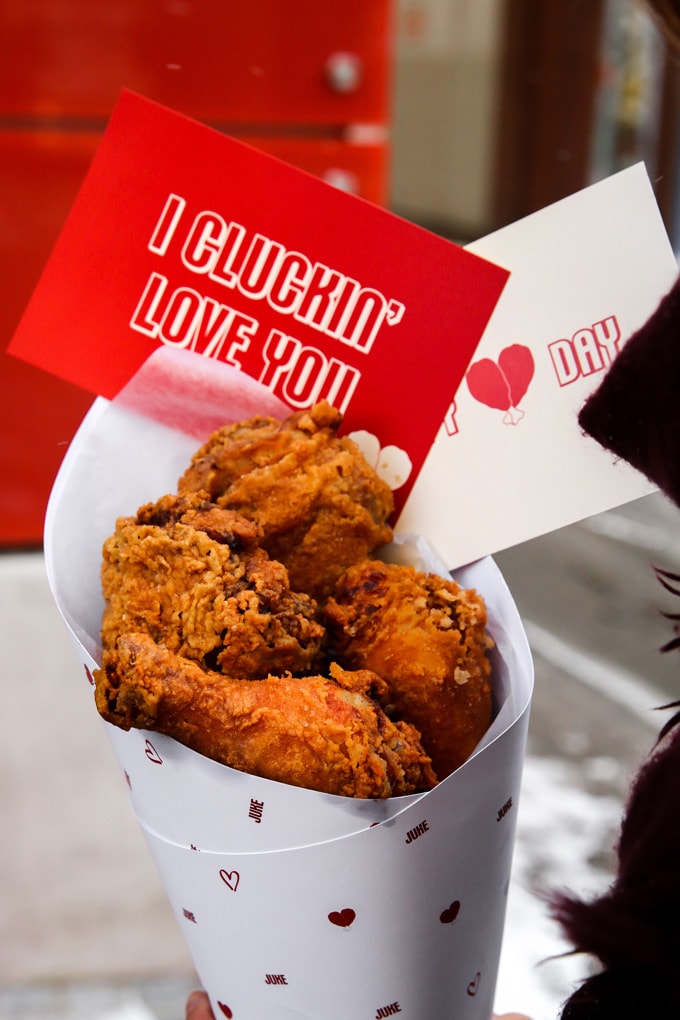 Limited quantities available for pre-order at jukefriedchicken.com for pickup on Sunday, February 14.
Water Street Cafe
Water Street Cafe is serving their special four-course set menu ($58) and a reduced a la carte menu. They will not be serving their Dine Out Vancouver Menu on February 13 & 14 from 5pm to 10pm. You can make your dine-in reservation on Tock with a $15 reservation deposit.
You can also dine on their 2nd Floor Gastown music space with background music playing. On February 14, the Jeremy Wong trio will be playing. Make your reservation here on Tock.
Water Street Cafe is also offering their Valentine's Day dinner for 2 ($79):
Bread & Butter: House-made focaccia, paprika butter
Beet & Goat Cheese Salad: Fraser Valley beets, whipped goat cheese, granny smith apple, arugula, candied walnuts, balsamic
Proscuitto Wrapped Lingcod: Avocado mash, butter poached broccoli, roasted sunchoke puree, salsa verde
Kamchoa Squash Gnocchi: Dill coconut cream, green peas, balsamic glazed pearl onions, walnut parmesan
Swan Profitterole: Strawberry cream puff, Italian meringue, crème anglaise, raspberry coulis
Chocolate Covered Strawberries: Belgian dark chocolate, seasonal strawberry
Edge Catering
Edge Catering has put some beautiful menu plans together (starters, main courses, decadent desserts and little extra somethings) for you to choose from – how about charcuterie, short ribs, steak and chocolate? The menu starts at $120 for 2 people.
Available for pickup on Saturday February 13. Order by Wednesday, February 10 by 12 pm.
First Course: curated local charcuterie, cheese and beet hummus, house crisps
Choice of Entree: Braised Beef Short-ribs, Salmon Wellington, Vegetable Strudel, paired perfectly with starch and vegetables
Dessert: chocolate brownie, fresh berries, chocolate crunch
Instructions included for simple reheat in your oven. Add on a floral bouquet or bottle of wine (order separately).
Need to feed the kids before? Gourmet Mac and Cheese is available. $10 per serving (order separately)
Pacific Yacht Charters
Pacific Yacht Charters has a takeaway Valentine's Dinner for 2 priced at $130 available February 13 & 14.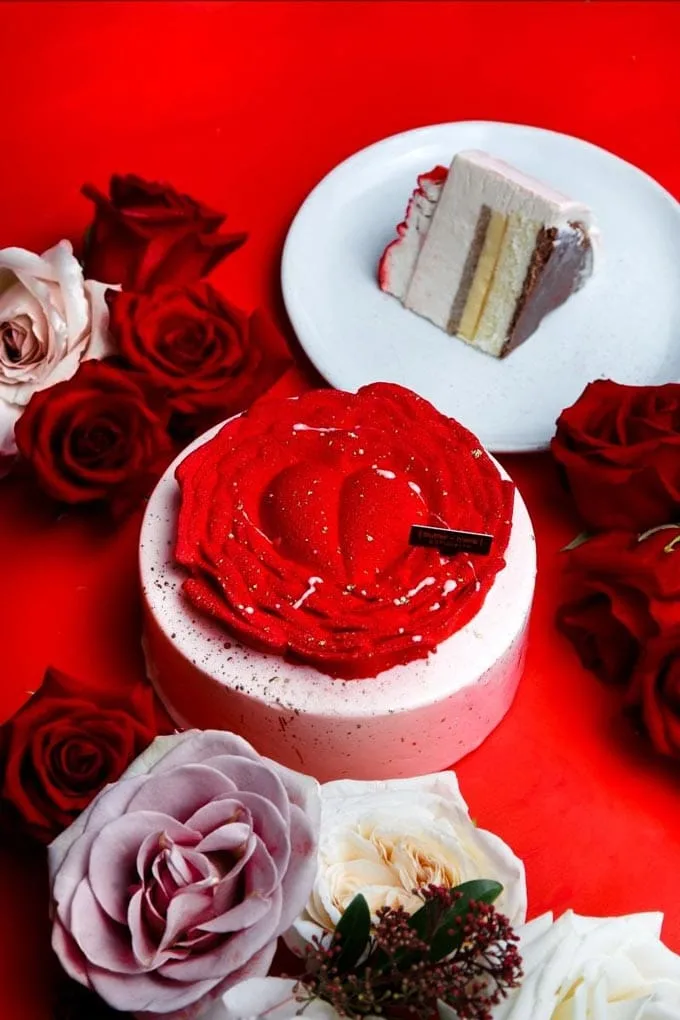 To Start:
PYC Caesar Salad
kale and baby gem lettuce
herb garlic roasted croutons
parmesan
lemon-anchovy dressing
—
Choice of:
Saffron Baked Sablefish
Saffron Cream Sauce
or
Filet Mignon
Blackcurrant Demi
both entrees accompanied by:
cauliflower and sunchoke puree
grilled asparagus
mushrooms stuffed with spinach, blue cheese and pumpkin seeds
—
Sweets to Share
mini brownies with pomegranate
honey-soaked almond cake
lemon tarts with freeze dried strawberries
raspberry macarons
Belgard Kitchen's Apron Club
Belgard Kitchen and Vancouver Urban Winery is offering a Valentine's Day Meal Kit.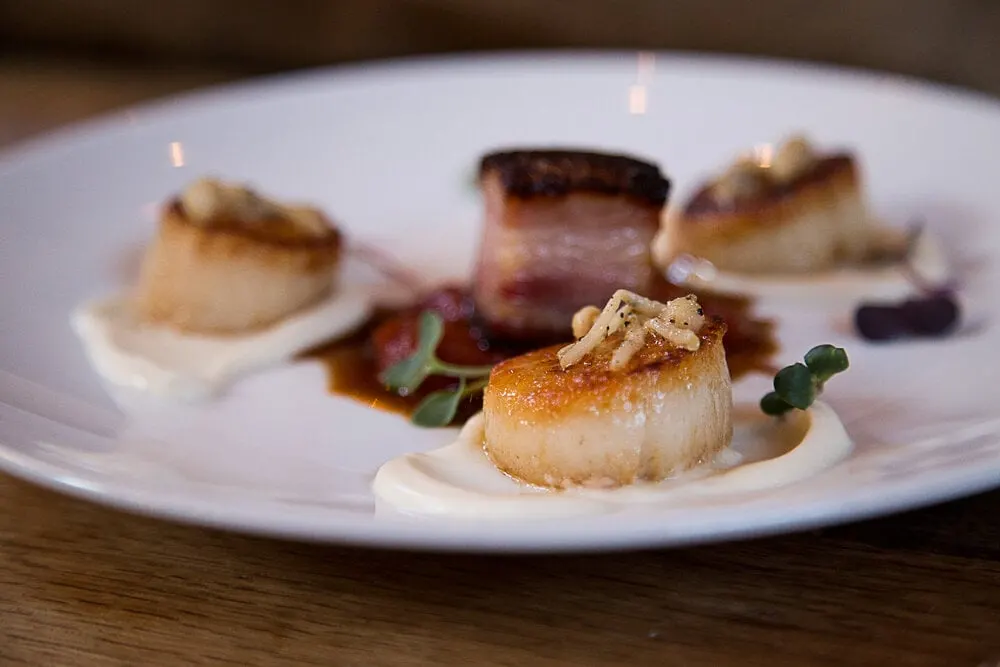 The restaurant is seeking to offer an interactive and delicious at-home experience, a step beyond basic meal kits, yet still fun and easy to execute.
The restaurant-quality menu mirrors what one would expect to enjoy on a special occasion or date night to impress, yet is easily prepared by home cooks of every skill level.
Each course is paired with wine from Vancouver Urban Winery, an optional add-on.
Seared Scallop, paired with VUW's 2017 Reliance White
Wild Mushroom Truffle Risotto, paired with VUW's 2017 Rosé
Chocolate Fondant Cake, paired with VUW's 2017 Merlot
The kits are packed with all required ingredients (excluding pantry basics like oil and salt), and require basic cooking equipment found in most kitchens, such as a frying pan, serving utensils, and of course, wine glasses.
Along with written directions, a link to a YouTube video will be provided for chefs/diners to follow along at their own pace and revisit steps as needed.
All ingredients are organic and locally sourced from Belgard's preferred suppliers, and the restaurant has once again partnered with Mealshare to gather donations for their 2021 programming.
Belgard's Apron Club Virtual Valentine's kits are on sale now and available for pickup: Friday, February 12, Saturday, February 13 or Sunday, February 14.
$95 for the meal kit and $165 with the wine pairing. Kits can be purchased through the restaurant's website (limited quantities available): www.belgardkitchen.com/mealkits
el Santo
el Santo in New Westminster is offering chocolate themed dinner with food of the Gods featured in each course from bittersweet chocolate to white chocolate.
First course is a salt-baked nopal and Oaxaca salad with dark chocolate balsamic dressing.
Nopales are cactus paddles commonly found in Mexican cuisine and Chef Sam's version of the nopal is baked with salt to draw out the moisture, then tossed with cheese, fresh herbs, bittersweet chocolate, and a balsamic vinegar and ancho dressing for a refreshing start.
The main course is a spiced Mexican hot chocolate braised pork cheek paired with roasted winter vegetables, and a braised green fresh herb salad.
Dressed with herbs and pea shoots, this tender pork cheek is slow-cooked in hot chocolate to flavourful perfection.
The grande finale is a nutty elderflower white chocolate molé tart – the pastry tart handmade from scratch by Chef himself – and embellished with strawberries and mint.
The Valentine's Day 3-course menu is only available on Sunday, February 14th for dinner service from 4pm to 10pm at $36 per person. Reservations are highly recommended but romance is not mandatory.
Feature drinks for Valentine's Day include el Beso, the Kiss, and el Amante, the Lover.
Rightfully named after the occasion, el Beso is a sweet and fruity, but light cocktail concocted with rosé from LaStella, Campari, cinnamon, pineapple, and soda.
El Amante, is a bolder cocktail mixed with tequila reposado, ancho chili liqueur, cinnamon syrup, and Bittered Sling Malagasy chocolate bitters.
At $12 and $13 respectively, these fine beverages will be sure to heat up the evening.
For those who may not make it for dinner on the 14th, items from this Valentine's feature will also be available on el Santo's $36 Dine Out menu. This year, el Santo will be joining other establishments in the Dine Out Vancouver Festival from February 5th to March 7th with el Santo Mexican classics like the queso fundido, chile relleno, and coveted golden churros.
Sequoia (Seasons in the Park, Cardero's and The Sandbar)
This year, Seasons in the Park, The Sandbar and Cardero's – all part of the Sequoia Company of Restaurants – will each offer the same one-night-only Valentine's Day menu for sweethearts who plan on spending an intimate evening together at home.
Available for pick-up at all three restaurant locations on Sunday, February 14, the three-course Date Night at Home dinner for two ($99 for the package) includes an array of sumptuous dishes inspired by the season of love, including dishes that are elegantly packaged and ready to reheat and serve for a delicious and stress-free date night.
For those who would prefer to spend an exciting evening out on the town together, all three Sequoia-owned restaurants will also be open for dinner service throughout the Valentine's Day weekend.
Couples that are looking for a relaxed waterfront setting can enjoy a selection of signature dishes from the Date Night at Home feature menu – including Lobster Thermidor and Slow-Braised Short Rib – on-site at both The Sandbar on Granville Island and Cardero's in Coal Harbour.
Meanwhile, Seasons in the Park will be offering a special three-course Valentine's Day menu (priced at $79 per person) on February 13 and 14 in addition to its regular a-la-carte menus.
Italian Kitchen
Italian Kitchen is offering a special Valentine's Day menu.
Black + Blue
Black + Blue has special features for Valentine's Day.
Trattoria (all locations)
Trattoria is offering a Valentine's Day menu for 2 ($90 for 2).
Glowbal Restaurant
Glowbal has a special Valentine's Day menu.
H Tasting Lounge
H Tasting Lounge is offering a Valentine's Day 5-course meal on February 14 from 5 pm – 9 pm. Priced at $69 per person.
5 course menu features Milk Buns with Bayshore Honey, Kusshi Oysters, Radicchio Salad or Celeriac Soup, Duo of Beef or Lobster, finished with Pot De Crème or Lemon Tart.
Ancora (Ambleside & False Creek)
Ancora Ambleside
Enjoy spectacular views with an equally impressive five-course menu ($95 per person) created by Head Chef Jorge Alberto Kim for this year's Valentine's Weekend at Ancora Ambleside. Regular or vegetarian menu available.
Guests will begin with a duo of Scallop and Lime Shooters and Sushi Pizza, Mussels with garlic butter to follow.
Next is a tasty Shrimp Risotto, followed by a choice of Aji Panca Glazed Sablefish or 5 oz Boneless Ribeye with smoked pomme purée and winter truffles.
End the meal with a decadent Chocolate Pionono, which will truly set an amorous tone for the rest of the evening.
Ancora Falsecreek
For Ancora Falsecreek, Executive Chef Sebastian Delgado has prepared a passion-fuelled, three-course menu and amuse bouche ($85 per person) for Valentine's Day, featuring the restaurant's signature Peruvian-meets-Japanese Nikkei flavours.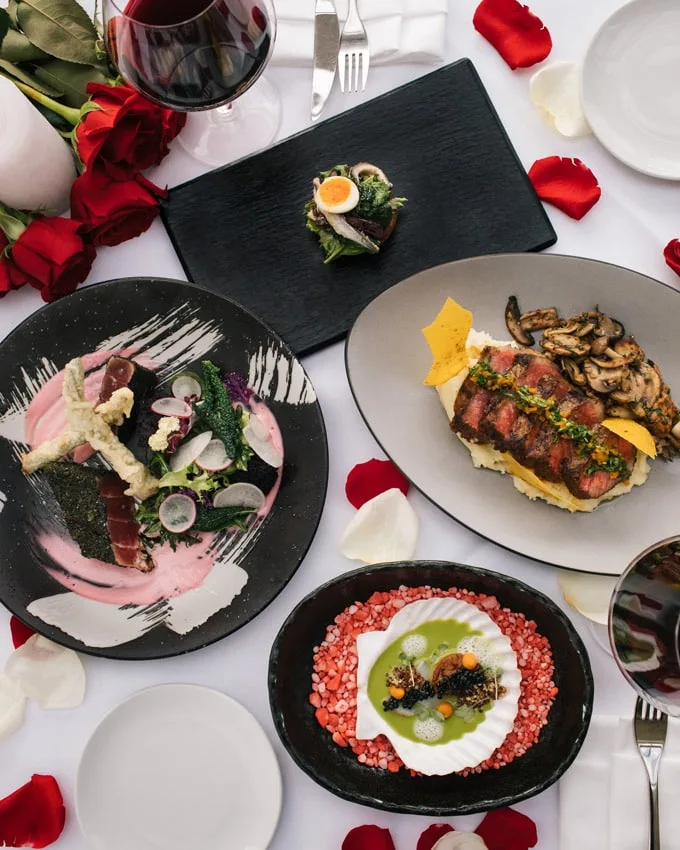 Beautiful dishes—showcasing subtle red and pink shades—such as Nikkei Nicoise Salad Tapa, Scallops and Nikkei Gazpacho, Bigeye Tuna with Tofu Rouille or Striploin with Peruvian Chimichurri will delight guests.
The sweet finish is a Lucuma – Chocolate dessert with mango ice-cream and strawberry consommé.
Bar Manager Kam Tabarraee has crafted a mesmerizing cocktail for the special occasion: Love is in the Air.
The engaging libation is made for two and served on a ceramic plate ($42), and includes two components—flutes filled with prosecco, and a serving jug consisting of a cocktail made with Aviation gin, Sombra Mezcal, rose and hibiscus syrup, raspberry and lemon shrub, dry ice, and rose petals.
The cocktail is then poured into the flute, while the smoke from the dry ice and fresh rose petals create a dreamy setting.
B House
Owner and Chef Hung of B House has put together a special Valentine's Day 3-course Menu for Two ($49 per person) and offering a cocktail feature – Pink Peppercorn Cosmopolitan ($9).
Both menu and the cocktail are available from Februrary 12, 13 and 14. Reservations are available.
The 3-course menu features:
Pate Duo: cognac chicken pâte, truffle mushroom pâte, preserves, cranberry chutney
Surf "N" Turf Platter for 2: Duck fat seared AAA Top Sirloin, roasted mustard Wild Eye Sockeye Salmon, macaroni in cheezy creole sauce with Bang Bang Prawns, rosemary roasted baby potato, seasonal veg, sambuca beurre blanc, balsamic glazed, creamy horseradish, smoked salt
Sweetheart Chocolate Molten Brownie: Salted caramel, chocolate sauce, whipped cream, fresh strawberry
McArthurGlen Designer Outlet Vancouver Airport
In celebration of the Valentine's Day and Family Day long weekend from February 12th to February 15th, McArthurGlen Designer Outlet Vancouver Airport has partnered with The Praguery and Hugo's Churros, to offer sweet treats for you to enjoy with your special someone.
The Praguery will be offering a limited-edition serve featuring freshly baked chimney cakes filled with in-house cherry flavour and topped with a vanilla soft serve and house-made cookies. As well, Hugo's Churros will be offering delicious heart-shaped, red velvet churros.
Both treats will be available throughout the weekend. See below for further details and deals:
The Praguery (dessert truck situated in front of the centre):
Friday, February 12th – Buy One Get One 50% Off
Saturday, February 13th – Buy One Get One 50% Off
Sunday, February 14th – Buy One Get One Free
Monday, February 15th – Buy One Get One 50% Off
Hugo's Churros (located across from Columbia Sportswear):
Friday, February 12th – Monday, February 15th – Buy One Get One Free
If you've still got your sweetie on your mind and are looking for Valentine's Day gift inspiration, you can find McArthurGlen's Valentine's Day Gift Guide here along with its brand partners' exclusive offers here.
Fable Diner
Fable Diner has a special three-course Valentine's Day menu, available for dine in only ($45 per person).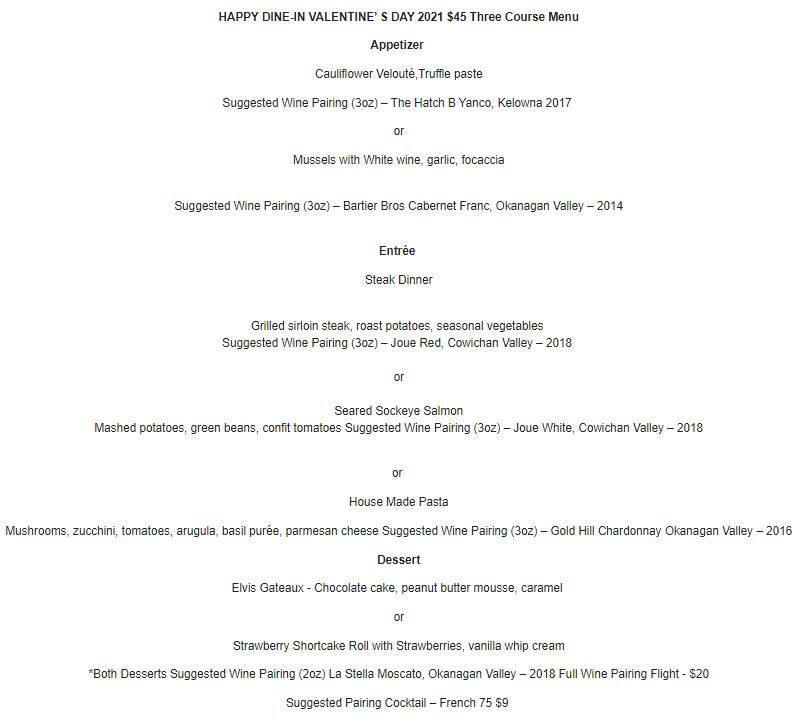 They also have different Valentine's Day packages for takeout ($50) and delivery for $55.
Jules Bistro
Enjoy traditional delicious French food at Jules Bistro and finish your evening with a house-made dessert.
Choose from Vanilla Crème Brulée, Chocolate Tart with chili and salted caramel sauce or Rhubarb Tart with vanilla ice cream and raspberry coulis.
Receive a complimentary 1oz Ron Zacapa 23 System Solera with every dessert ordered.
This promotion is available on February 14. Reservations are recommended, please call 604-669-0033.
Straight and Marrow
Chef Chris Lam at Straight and Marrow is bringing back his famous Beef Heart Tartare for one night only.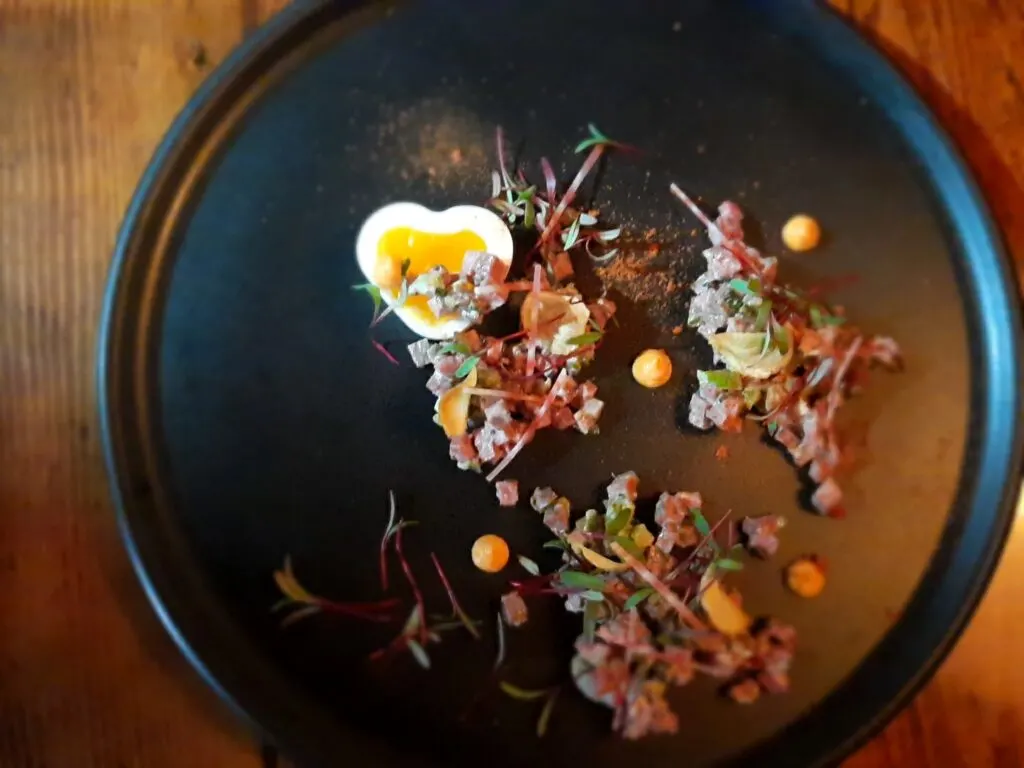 Enjoy everyone's favorite dish with heart-shaped quail's egg to show your love to your favorite person. This beloved item is available for $16 and it is available from February 12 and February 14.
Bar Manager, Chad Rivard has also created something special for the weekend, "Kiss from a Rose" cocktail ($14) with Wild Rose Infused Vodka, Creme de Cassis, Lambrusco Rosso (sparkling red wine) and Miss Better's Chocolate Bitters.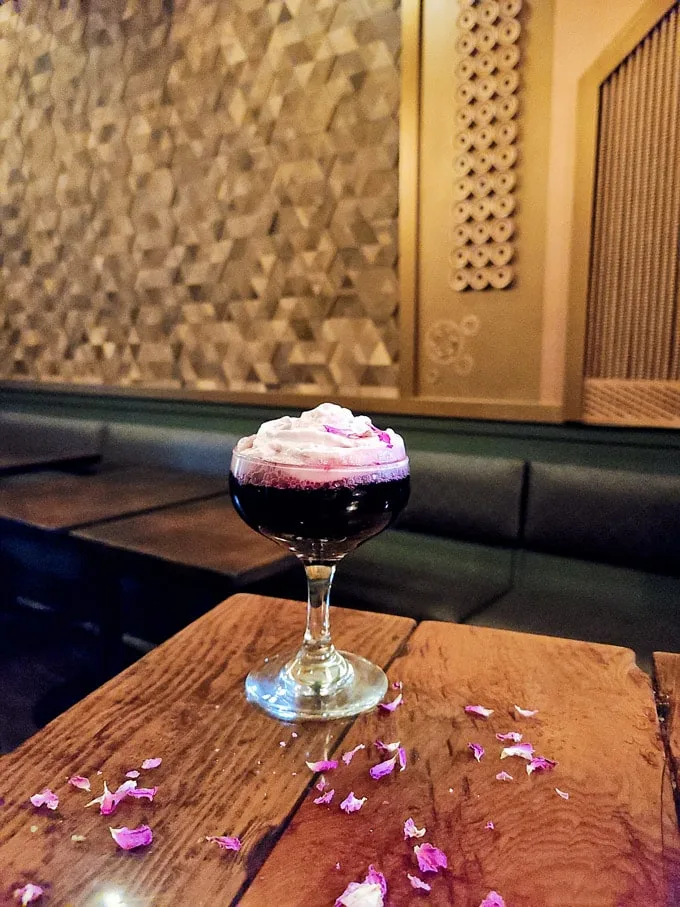 Gotham Steakhouse
Gotham Steakhouse is offering all-new signature prix-fixe Valentine's Day Dinner for Two ($199.50 per couple, plus taxes and gratuity).
Available exclusively from Tuesday, February 9 to Monday, February 16, the multi-course feature menus will showcase a range of premium dishes made with seasonal ingredients sourced from local farms and top-quality suppliers, including fresh seafood, Alberta Prime beef and Atlantic lobster.
Valentine's Day Dinner for Two menu includes:
Winter Salad: Baby gem & red leaf lettuce, watermelon & red radish, carrots, fennel, cucumber, pomegranate, dried cherries, maple vinaigrette
Steak & Lobster: Choice of 6 oz. filet or 8 oz. New York strip steak paired with Atlantic lobster tail & drawn butterHerb-roasted purple & white fingerling potatoes, braised caramelized endives with Iberico ham, Manchego gratin
Chocolate Devil's Food Cake: Frangelico cream, white chocolate & raspberry truffle
Gotham's limited-edition menu can be ordered for take-out or enjoyed on site in the restaurant's sophisticated dining room, which is appointed with rich mahogany wood and sumptuous furnishings that exude an ambiance of Old-World elegance.
For guests who opt to indulge in a celebratory dine-in dinner service, live performances from local musicians and dynamic DJs will provide a lively soundtrack throughout the evening.
At the bar, Gotham's world-class bartenders will also be offering a Valentine's Day feature cocktail inspired by the season of romance. Available for a limited time, Gotham's signature 'New Flame' drink is a pink-hued libation featuring an amorous blend of gin, red vermouth, Lillet, strawberry syrup, and Campari meringue foam garnished with rose sugar.
Five Sails
Five Sails is offering a Valentine's Day dinner (priced at $135/person) from Friday, February 12th to Sunday, February 14th. Reservations are strongly recommended as tables are limited.
After dinner, take the elevator to your room instead of going home. Pan Pacific is pleased to offer a special 'Slip Into Romance' package, a night spent together in love and luxury. This offer starts at $289 and it includes luxury hotel accommodation, bottle of sparkling wine, box of chocolate and a late checkout (3PM).
Ophelia
Ophelia has a very special three-course menu (priced at $55 per person) on February 14 with a welcome cocktail and optional wine pairings this Valentine's Day.
Honey Salt
Honey Salt is offering a three-course menu with a glass of complimentary bubbles to start. Priced at $65 per person and available on February 13 and 14.
In addition to Honey Salt's Valentine's feature menu, guests are invited to pre-book a Valentine's VIP Booth Experience.
For $150, the VIP booth package includes a floral arrangement in a vase on the table upon arrival, which guests can take home with them, a bottle of prosecco, and chocolate truffles. Available to reserve both days February 13 & 14 for brunch or dinner.
Email [email protected] to reserve as booths are limited.
The Victor
Spoil your valentine at The Victor with a decadent and romantic dinner for two (priced at $90 per person) featuring a signature cocktail and a celebratory four course special menu inspired by all things romance.
Make it an evening to remember with feature ingredients including caviar, truffles, and foie gras.
Tocador
Tocador is offering a delicious Carribean inspired 4 course menu designed to be shared between two people (priced at $50 per person). Experience some of the most unique flavours you'll taste in Vancouver. You'll feel like you're on holiday! (Beverages are not incuded in the menu price)
First:
"Alcapurrias de carne y purée de aguacate"
(Green banana and Taro root fritters stuffed with beef, avocado purée)
Second:
"Rondón de mariscos con tostones"
(Prawns, lingcod, octopus and clams, served with caribbean curry & tostones)
Third:
"Pepperpot & Cassareep"
(Short rib stew, house made cassava sauce, sweet potato, green beans & rice)
Fourth:
"Tarta de piña y coco"
(Pineapple and coconut tart)
They also have a Valentine's Day brunch for 2 people (priced at $50 per person).
One dish each (pick anything from our brunch menu )
One coffee or tea each
One Valentine Mimosa each or non alcoholic mimosa
One dessert to share
Live music from the extremely talented Stephanie Pedraza
Kissa Tanto
Kissa Tanto has a 4-course dinner for dine-in at $120 per person. You can have a regular table or sit at the bar. There is also a Vegan omakase menu. See the menu here.
Chickadee
Contact-free, '80s-themed cocktail bar Chickadee is shaking things up for Valentine's Day and helping at-home bartenders set the mood by offering special DIY Cocktail Kits for two custom created by its all-star bar team of Sabrine Dhaliwal and Lily Duong.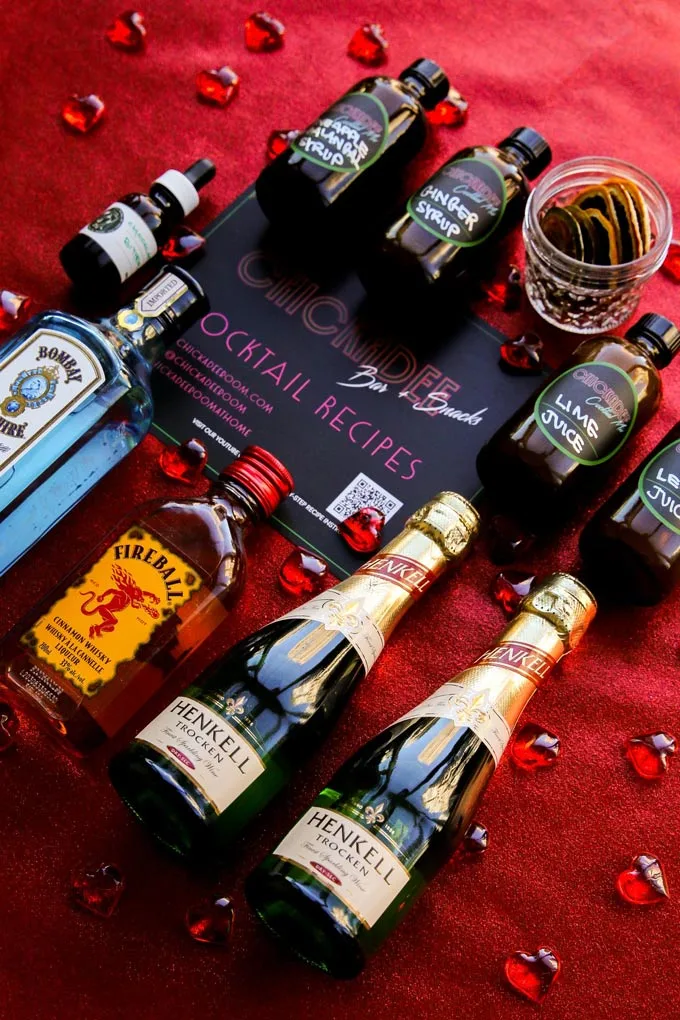 Available to order for pickup from 3:30 to 9:30 p.m. Tuesday, February 9 through Sunday, February 14 via thechickadeeroom.com, each kit contains step-by-step recipes, instructions and all the necessary supplies and garnishes to craft a total of eight signature cocktails for two 'thirsty' people for $69 plus tax.
Bodega on Main
Bodega on Main is offering Valentine's Dinners for 2 to go.
Option 1 ($80): Pan Y Aceite De Oliva, Olivas, Ensalada El "Caesar," Champiñones, Choice of Paella, Churros (4pcs), Bombon de Higos (2pcs). No substitutions permitted.
Option 2 ($65): one Ensalada "El Caesar", a Paella (your choice of Paella Mixta, Paella Negra or Paella Jardinera), an order of Churros and a bottle of Red or White wine. No substitutions permitted.
Beetbox
Vancouver plant-based favourite Beetbox is putting the 'V' into Valentine's Day this year by introducing vegan- and vegetarian-friendly Fried Chick-Un Finger Bouquets at the West End hotspot on Sunday, February 14.
Available exclusively for pre-order via beetboxveg.com for pickup, each Fried Chick-Un Finger Bouquet includes a dozen of Beetbox's popular Fried Chick-Un Fingers — a.k.a. breaded and fried seitan — accompanied with housemade Maple Mustard Dip packaged in decorative Valentine's Day wrap for $24 plus tax per bouquet.
Cafe Medina
Fans of Vancouver brunch institution Café Medina can experience the 'Medina mystique' as part of their Valentine's Day celebrations thanks to new take-home Valentine's Brunch Kits.
Available for $125 (for two) or $175 (for four) plus tax, each kit offers a choice of the restaurant's signature mains (Fricassée, Cassoulet or Fricassée Champignon) in prepare-at-home formats as well as: Liège Waffles with Salted Caramel & Milk Chocolate Lavender topping; five 66% dark chocolate salted caramel ganache hearts from BETA5; one 340g bag of 49th Parallel Old School Espresso; a Mimosa Kit that includes fresh-squeezed orange juice and a 750-mL bottle of Chandon California Brut; a signature Medina Matchbox; and all preparation instructions for enjoyment up to three days following pickup or delivery.
Guests can also help sweeten Valentine's Day celebrations by choosing to add a flower bouquet or additionals pack of dark chocolate salted caramel ganache hearts.
Kits are available for pre-order until noon on Tuesday, February 9 at medinacafe.com and can be picked up at the restaurant on Saturday, February 13 between noon and 5 p.m., with limited delivery also available within a 15-km radius for an additional $10 fee.
Pizzeria Farina
For one night only, Pizzeria Farina will be offering its signature heart-shaped Margherita pizzas for all the lovers to share on Valentine's Day.
Topped with tomato sauce, Fior di Latte, olive oil and basil, the Insta-worthy 12-inch pies will be available for $17 starting at 4 p.m. while quantities last for take-out only.
For the ultimate Valentine's dinner for two, opt for the dinner package inclusive of one Heart Shaped Margherita Pizza, a bottle of Lambrusco and a Strawberry gianduja crostata dessert to cap off the evening. Available for $60 plus taxes, pre-orders can be made online beginning Friday, Feb. 12.
Hart House
Hart House is offering two sumptuous menus for Valentine's Day this year: one for in-person dining, as well as a convenient take-out option.
The Hart House Valentine's Take-Out Kit for Two includes pre-cooked prawn skewers and braised short ribs in red wine jus that to heat up at home, as well as roasted marble potatoes, seasonal vegetables, an antipasto platter, and chocolate strawberry tiramisu cake for dessert.
It's also easy to add a bottle (or two) of table wine or bubbly to your order, saving a trip to a retail shop.
The Valentine's Day at Home Take-Out Kit is $124 for two and is ordered and pre-paid ordered online. Pick-up times are Feb 13 and 14, 1pm-3pm.
If you prefer to treat your sweetheart to dinner in the elegant surroundings of Hart House's lakeside estate, the restaurant's dining room will be serving a deluxe Valentine's Day menu on the 14th.
The dine-in Valentine's Day Dinner menu is $68 per person; reservations are open by phone 604.298.4278 or online.
Maenam
Brimming with bold Thai flavours and designed for sharing, Maenam's Chef's Tasting Menus will bring a spicy spark to your Valentine's Day.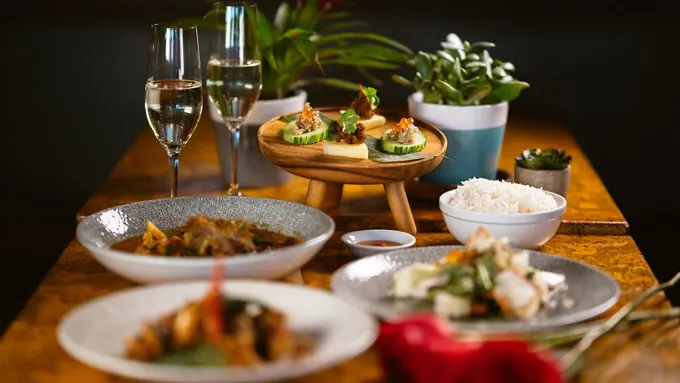 And dining out with loved ones can be special without being expensive, as Chef Angus An is thoughtfully celebrating love by continuing his Dine Out Vancouver menu from February 12 through 15 —one of the busiest dining weekends of the year.
Valentine's Day Chef's Tasting Menus are priced per person at $37 (lunch) and $48 (dinner) and served family-style to be shared for an authentic Thai dining experience.
The lunch menu includes one starter and three mains (dessert is optional at $5 per person) to be shared between two people.
The dinner menu includes snacks, one starter, three mains, and two desserts to be shared between two people.
There's even more reason to celebrate as Family Day falls on February 15, making it a fun and festive long weekend.
Since babysitters currently aren't an option for most, make it a family-friendly feast and order up a tasting menu for four or more.
Omnivore, pescatarian, and vegetarian menus are all available for both lunch and dinner, and guests can choose to share their intimate meal either at the restaurant or in the comfort of their own homes.
Dine-in reservations are available on a first-come, first-served basis by calling Maenam at 604-730-5579; booking well in advance is highly recommended.
Takeout slots can be booked via direct phone call to the restaurant, and 24 hours' advance reservation is strongly encouraged. Want it delivered? Set tasting-menus can also be ordered via UberEats .
Tap Restaurant
Tap Restaurant in Surrey is offering a Valentines Take & Bake for February 13 priced at $40 per person.
Lobster Bisque
Caesar Salad
Braised Shortrib Wellington
Organic Vegetables, Red Wine Demiglace, Potato Gratin
Chocolate and Praline Crunch Bar
Pourhouse
Pourhouse is offering a 3-course Valentine's Day menu on February 12, 13, and 14 fro 5 pm till close.
Hydra Estiatorio Mediterranean
Hydra Estiatorio Mediterranean is offering a 3-course dinner from February 11 – 14 priced at $75 per person.
To Start: Jean louis bubbles to begin
Mezze Platter: tarama / tzatziki / melitzana / hummus / warm pita
Tomato salad: vine-ripened tomatoes / feta / olives / oregano
Main Event: Signature Souvlaki Platter (grilled lamb chops / lobster tail /garlic prawns / wild salmon / seared scallops / angus short rib / hydra patates / grilled vegetables / salsa verde)
Dessert: Chocolate & Baklava Platter (dark chocolate vasalopita cake / warm pistachio baklava/ crispy phyllo / saffron / pomegranite)
Provence Marinaside
Provence Marinaside have created two amazing Valentine's Day Experiences for you to choose from.
A four course Heat and Eat take away dinner for two that you can serve in 30 to 45 minutes at home. The Heat and Eat meal is priced at $139 (plus taxes) and comes complete with preparation instructions, and a handy video (soon to be released) showing you how to plate your dish so you can impress your someone special.
The take away meal is available on Friday the 12th, Saturday the 13th, or Sunday the 14th.
There's also 5 course dine-in menu priced at $95 per person with an optional wine pairing priced at $55 per person.
Marcello Ristorante and Pizzeria
Marcello Ristorante and Pizzeria is offering a Special Set Price Menu ($105) for 2 people which includes a bottle of wine.
Choice of one (Verde, Mista or Caprese salad to share); choice of 2 mains (Chicken Parmigiana, Taglionini Fruitti di Mare, Spaghetti alio, aglio or grilled calamari and prawns); and Panna Cotta dessert.
Joseph Richard Group
The Joseph Richard Group is offering a Valentine's Day at Home Gift Box for pickup from any JRG location.
Options include artisanal charcuterie & cheese, cocktail kit, bubbles and wine. Make it your very own by selecting the items you'd like included.
For the non-wine drinkers in your audience, JRG is offering two other delicious valentine's day products that would be perfect for any couple.
They also have a pop-up patisserie with handmade sweets and pastries.
Best Romantic Restaurants In Metro Vancouver
Check out my guide on the best romantic restaurants in Vancouver which have beautiful settings for a lovely night out or serve up some sexy food for a date night in.
Vancouver Lookout: Dine with a View
Vancouver Lookout is offering a unique, memorable but also private experience in their 5,000 square feet space.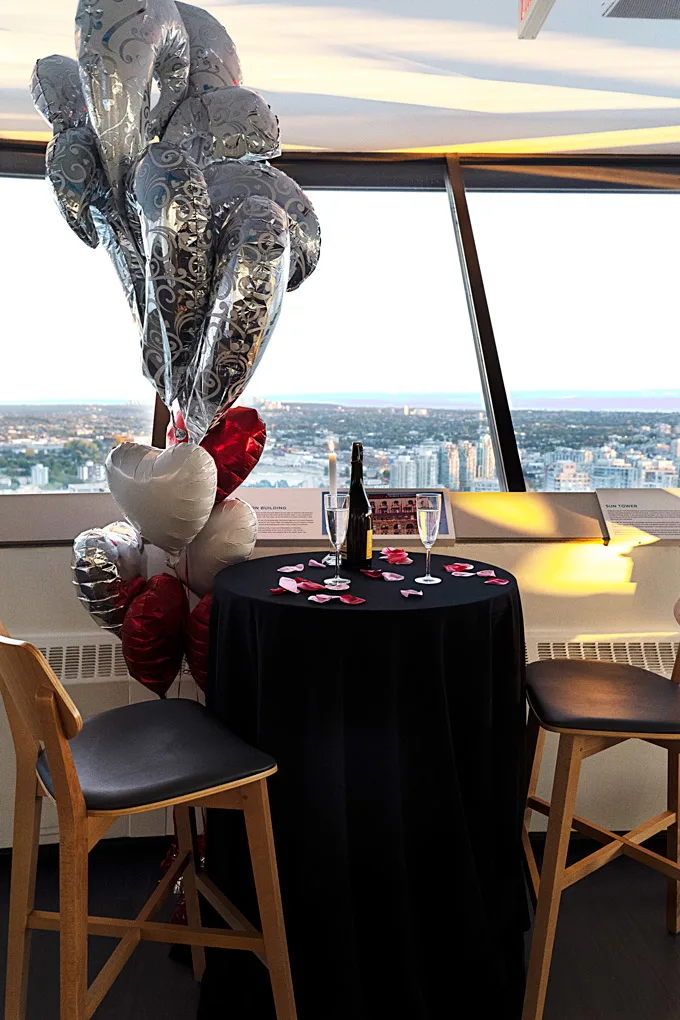 With #DineWithAView package, you can rent the whole deck for 90 minutes; bring in any food/drinks you want; and have the tables set for you in a safe and sanitized space. Find out more vancouverlookout.com/dine-with-a-view or check out my experience here.
Valentine's Day Things to Do in Vancouver
Romantic Things to Do in Vancouver [Guide]
Check out my guide which covers romantic things to do in Vancouver including fun activities, affordable (free) ideas, seasonal adventures, where to eat and drink and more.
Vancouver's much anticipated annual food and drink festival, Dine Out Vancouver, makes its return in 2021. The festival will be running from February 5 – March 7, 2021 0 – which means you can enjoy the Dine Out menus over Valentine's Day.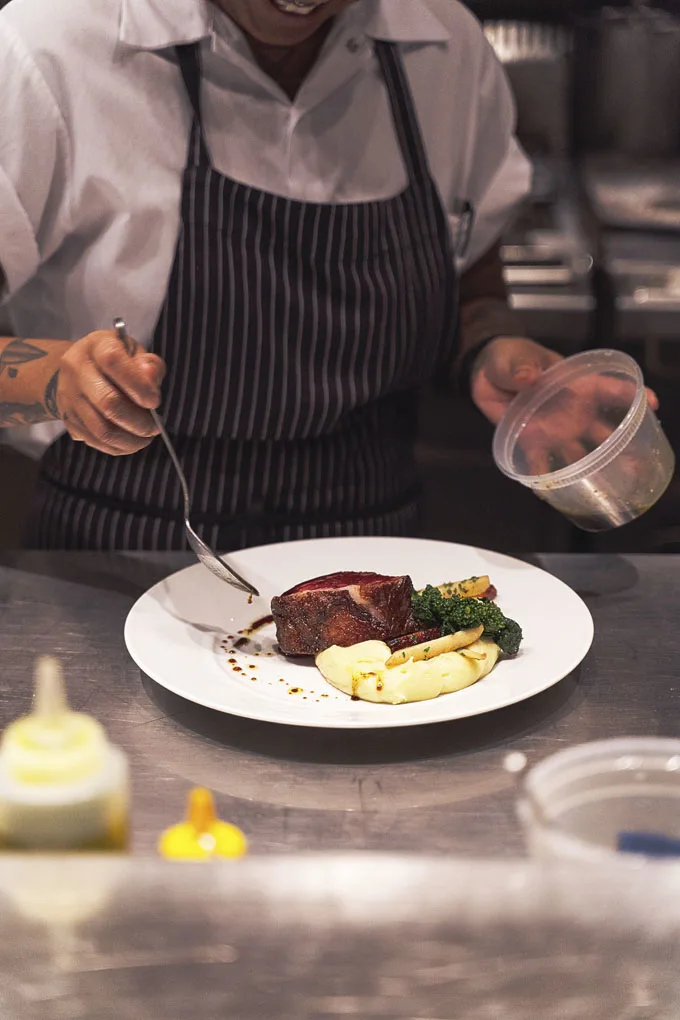 Hot Chocolate Festival 2021 makes it return January 16 – February 14 with 38 vendors and 87 fantastic hot chocolate creations. All drinks will be available as takeout and some vendors will be offering hot chocolate goodie bags that you can purchase to take or mail to the friends who won't be with you this year.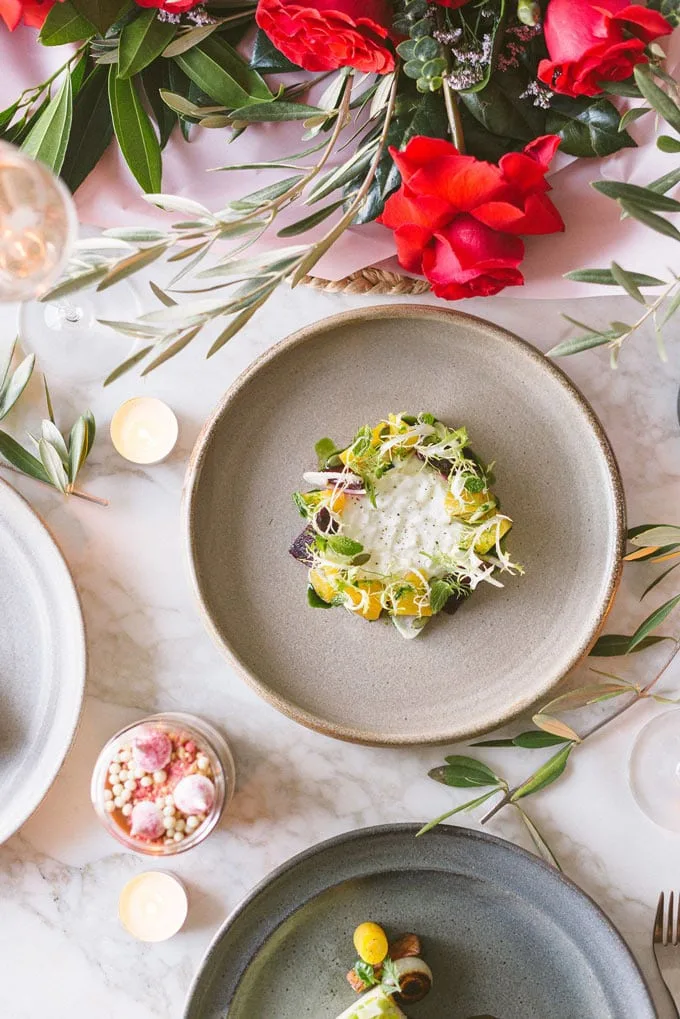 Have a chowder with your sweetheart in support of the Ocean Wise program!
For the month of February 2021, Ocean Wise Seafood is launching its first ever National Chowder Chowdown Festival.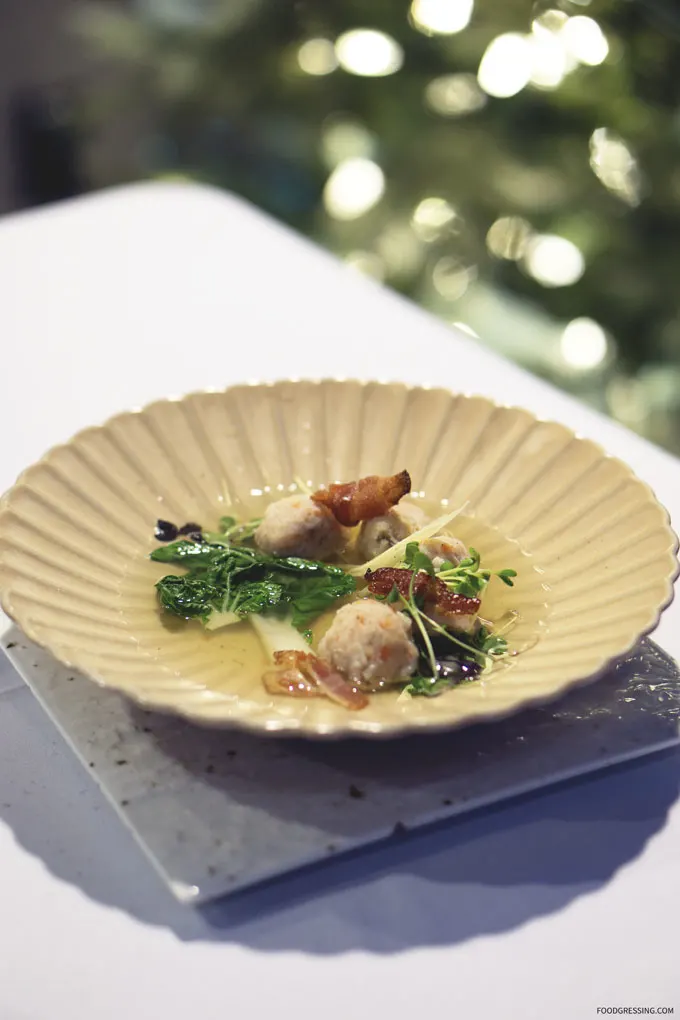 Between February 1 and 28, Canadians will be able to purchase delicious sustainable seafood chowders at restaurants, retailers and venues across Canada with part-proceeds supporting Ocean Wise's not-for-profit sustainable seafood program.
Chinese New Year 2021 is Friday, February 12 and this is the Year of the Ox.
There are many special menus and activities still happening this year so why not celebrate both holidays at once? Check out my roundup of what to do, see or eat for Chinese New Year in Vancouver.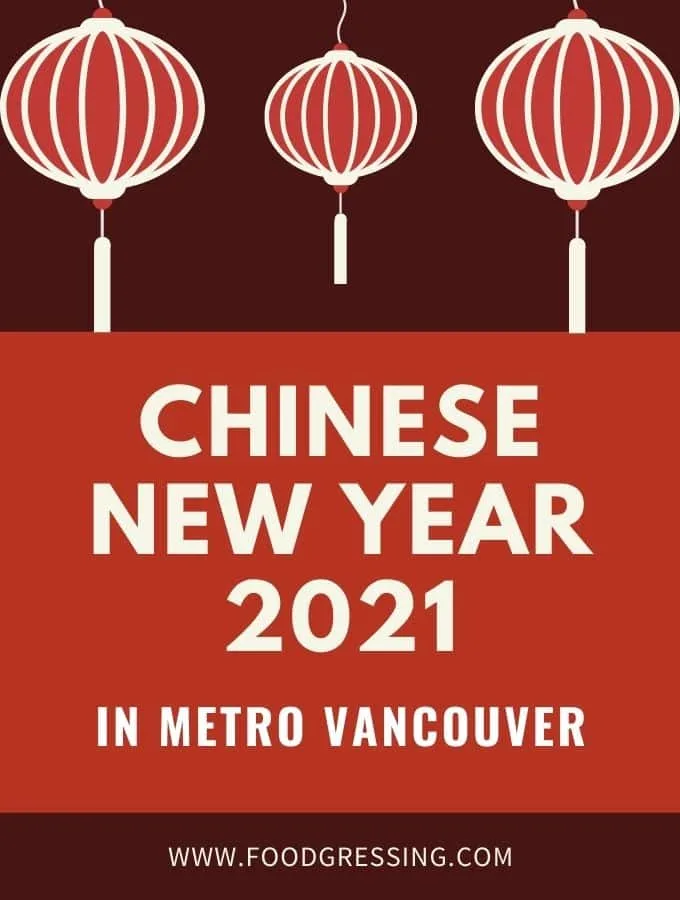 Take a Cooking Class Together
Here are some of Metro Vancouver cooking schools where you can take a cooking class together. There are options for in-person classes and virtual classes. Some offer specifically dedicated couples cooking classes.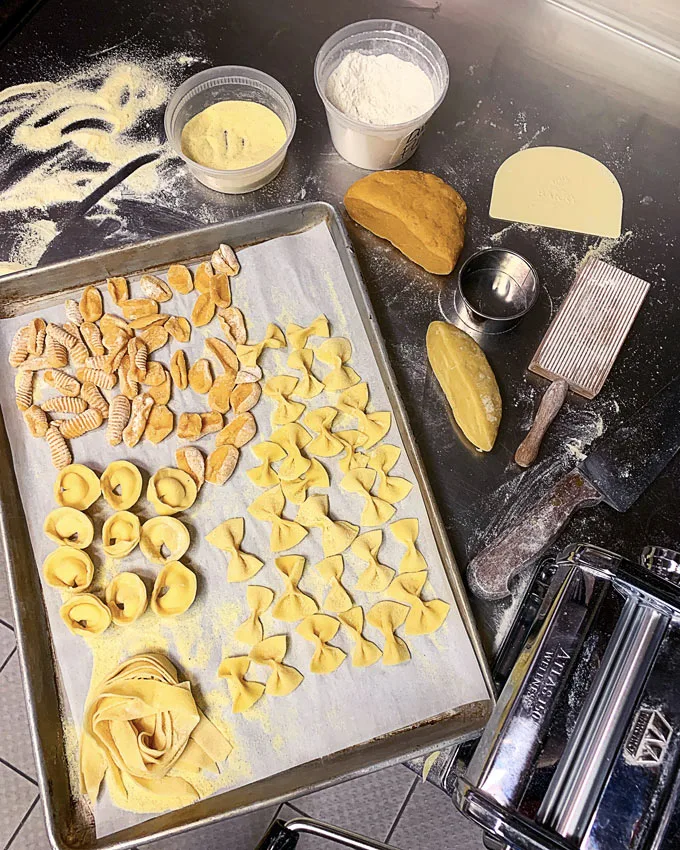 VMF Winter Arts
From February 12 – 28, the Vancouver Mural Festival is presenting VMF Winter Arts. Blurring the line between the real and virtual world, VMF Winter Arts will transform public space across the core of Vancouver into an interactive, open-air gallery featuring Augmented Reality art to safely engage, connect and inspire.
Go on a food/drink crawl
If you and your significant other share a common love of a type of food and drink, why not embark on a food or drink crawl?
Here are some themes that you can plan a day around featuring my own guides as well as guides from my food blogger friends:
At Home Celebration Ideas for Valentine's Day Vancouver 2021
Here are some ideas on how to spend Valentine's Day at Home this year.
Hire a private chef in Vancouver for your at home celebration. Check out my recommendations here.
Take a virtual cooking class together (see recommendations on cooking schools above).
Enjoy a Movie Date Night at Home
It's not unknown that it rains a lot in Vancouver. Check out this guide on how to have a romantic movie night at home. With these as your jumping-off point, you're well on your way to planning the perfect date night in.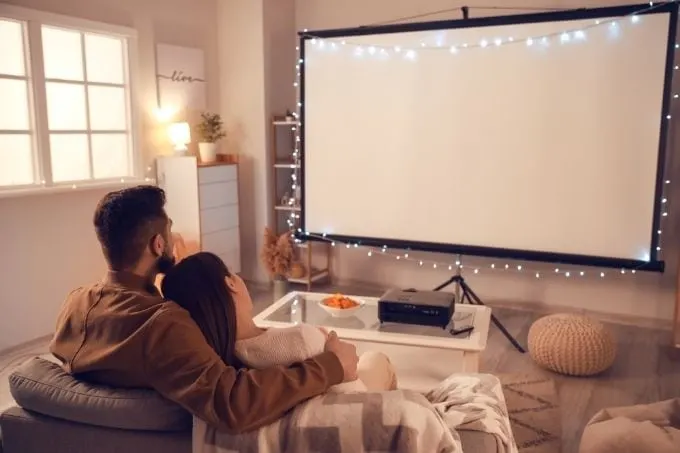 DIY meal at home: BC Live Spot Prawns Bundle
BC Live Spot Prawns & Seafood has put together a Valentine's Day Bundle that pairs up some of customers' favourite products, including sashimi-grade, frozen-at-sea whole spot prawns, albacore tuna loins and wild sockeye fillets.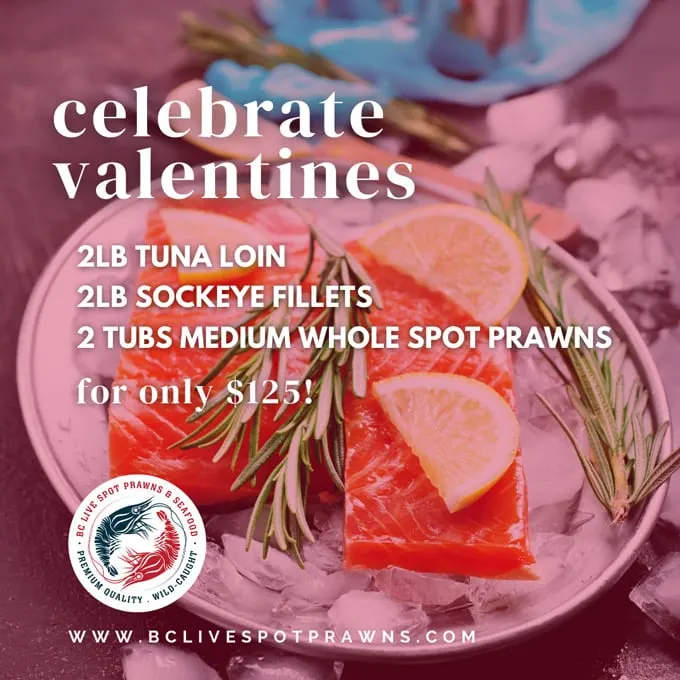 BC Live Spot Prawns & Seafood is a local small business based out of Ladner, BC. Its network of local fishing families bring wild-caught seafood directly from fishermen to customers. BCLSPS currently delivers across Greater Vancouver and ships to Calgary and Edmonton.
Valentine's Day Table Decor Ideas
Check out my guide on 5 DIY Valentine's Day table decor ideas that will add that special romantic touch to your evening at home.
Valentine's Day Gift Ideas & Services
Valentine's Day Vancouver 2021 Gift Delivery Services
Locvl Delivery is a delivery service serving the Lower Mainland to help you send flowers, cakes, and gifts to that special person in your life for any occasion. Their marketplace includes beautiful bouquets, delicious cakes, novelty balloons, sweet confections and more. It is really helpful if you want to bundle things together and have it conveniently delivered. www.locvldelivery.com
Practical Valentine's Day Gifts
If your significant other doesn't need flowers, poetry, or fancy words, this guide on practical Valentine's Day gifts for her and for him is right up your alley.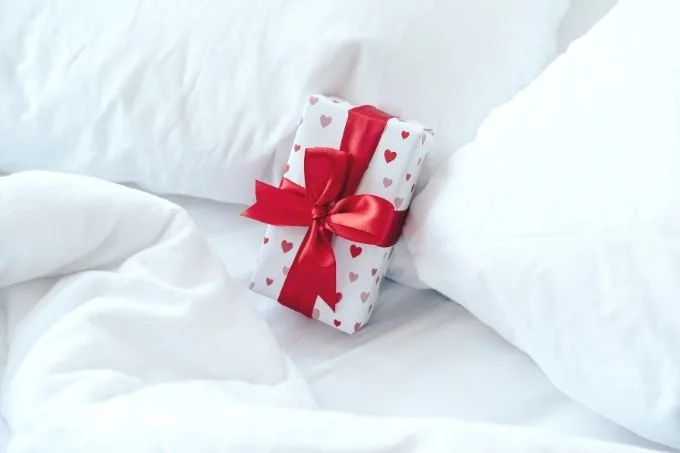 JRG Wine
JRG is offering wine club boxes are available for shipping across the Lower mainland and provide an at-home curated experience.
Available as a subscription service or one-time order, the JRG Liqr.ca wine boxes are the perfect gift for any wine drinker.
Valentine's Day Desserts & Treats
Here are some places for Valentine's Day desserts, cakes and treats. Please check out their websites for offerings and pickup/delivery options.
[ninja_tables id="71319″]
The Graze Company
The Graze Company is known for their artfully presented and delicious Graze Boxes, Boards and Tables.
This Valentine's Day in Vancouver, impress your sweetheart with the Limited Edition Valentine's Day Graze Box.
Presented in a beautiful white box, tied with a white velvet ribbon and custom Graze gift tag, you and your SO can enjoy an assortment of delectable eats including:
selection of 3 cheeses
2 charcuteries
in-house made dips
an artisan preserve
handcrafted macarons
marshmallows and chocolate covered strawberries
selection of fresh fruit, olives and cornichons, nuts,
fresh honeycomb
artisan crackers
chocolate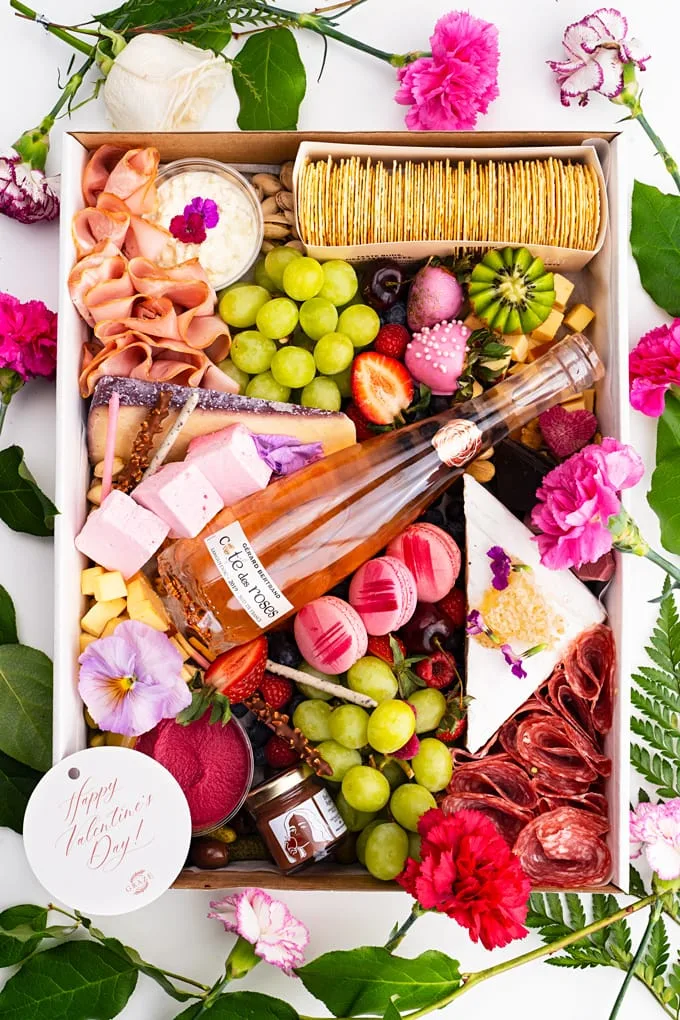 Read more about my experience with the Valentine's Day Graze box here.
Buttermere Patisserie
Buttermere Patisserie has prepared two alluring cakes for Valentine's Day.

Both irresistibly indulgent and elegantly designed, choose between the I-cannot-believe-this-is-gluten-free, chocolate strawberry Love Note cake and the Be My Valentine heart rose cake.
The Love Note is an airy and moist gluten-free alternative made with a flourless chocolate sponge, strawberry gelée, chocolate jelly, and light caramel chocolate mousse.
Light and ideal for loved ones who avoid gluten, the Love Note cake tastes just like a regular chocolate cake and doubles as a means for doting reminders to those important people. Choose the 4.5-inch cake at $35 or the 6-inch cake at $65.
Or profess your love with the Be My Valentine cake, a well-balanced, voluptuous treat adorned with a red vanilla ganache rose heart.
This cake is layered with lemon sponge, calamansi curd, London Fog jelly, London Fog mousse, and a pleasantly climactic milk chocolate crunch at the bottom. Be My Valentine only comes in 6-inches at $68.
Available for pre-order now with pick up starting February 1st until February 14th via Buttermere's website.
Advanced one day notice is required with the option for delivery at an additional cost or for pick up at Torafuku (958 Main Street) and at Buttermere Café (636 Main Street) during regular business hours.
Mon Paris Patisserie
Mon Paris is offering a heart-warming selection of edible gifts designed specifically with Valentine's Day in mind.
From playful Chocolate Heart Lollies that pique a grown-up palate ($4.50), to gorgeous Potted Camellias made entirely of chocolate ($28), Mon Paris has a treat for every taste and budget.
Mon Paris Patisserie 2021 Valentine's Day Collection:
Cakes
Heart-Shaped Black Forest Teddy Bear Cake (serves two), $30: With a cute factor of 10, this take on a Black Forest Cake is filled with stracciatella mousse and sour-cherry confit.
Black Forest and Roses Duet (serves two), $60: If cake and flowers is the way to their heart, the pairing of Mon Paris' Black Forest Cake with three long-stemmed roses is sure to impress.
Mon Paris Signature Desserts Collection, $42: An elegantly curated selection of the pâtisserie's most decadent individual desserts packaged in a Mon Paris signature-pink box including; Pecan Brownie (pecan and dark chocolate), Passionata (passion fruit and mango), Elegance (cheesecake, pineapple, banana, and mango), Honey Cake (honey and vanilla), Hazel (hazelnut and chocolate), and Caprise (macaron, raspberry, and pistachio).
Chocolate Treats and Gifts
Chocolate Heart Lolly, $4.50: Heart-shaped dark-chocolate lollies are accented with goji berries, rose petals, and freeze-dried strawberries
Chocolate Potted Camellia, $28: An exquisite bloom made entirely from white, milk and dark chocolate.
I Left My Heart In Paris Truffle Box, $26: Made for sharing and reminiscing about romantic evenings in the City of Light, this dark-chocolate box holds two each of the ruby & raspberry, champagne, and mango & passion fruit truffles.
Chocolate Camellia Valentine Vignette, $26: A flirty scene with a delicate hand-crafted white and dark chocolate camellia showpiece, and ruby & raspberry and champagne truffles
Chocolate High Heel, $35: For the shoe lover, an elegant milk-chocolate high heel accented with a daisy and adorned with champagne and mango & passion fruit truffles.
Chocolate Boxes
A variety of bonbons in signature flavours enrobed in dark and milk Belgian chocolate. 16 pieces, $31.50
French Macarons
The quintessential Parisian treat in signature Mon Paris flavours. 6 pieces, $12.
The 2021 Valentine's Day collection is available now at Mon Paris Pâtisserie.
Heart-shaped Black Forest Cakes and Mon Paris Signature Desserts Collection must be ordered in advance for pickup or delivery on February 13 and 14.
Orders for cakes, Valentine's Day treats, macarons, and chocolate boxes can be made online at monparis.ca/monparis-shop; in-person at 4396 Beresford St., Burnaby; through email at [email protected]; or by phone at 604-564-5665.
Gary Patisserie
A few weeks ago, I ordered the Signature Rose Cake with Rose and Lychee filling from Gary Patisserie. This would make a beautiful and delicious cake for Valentine's Day.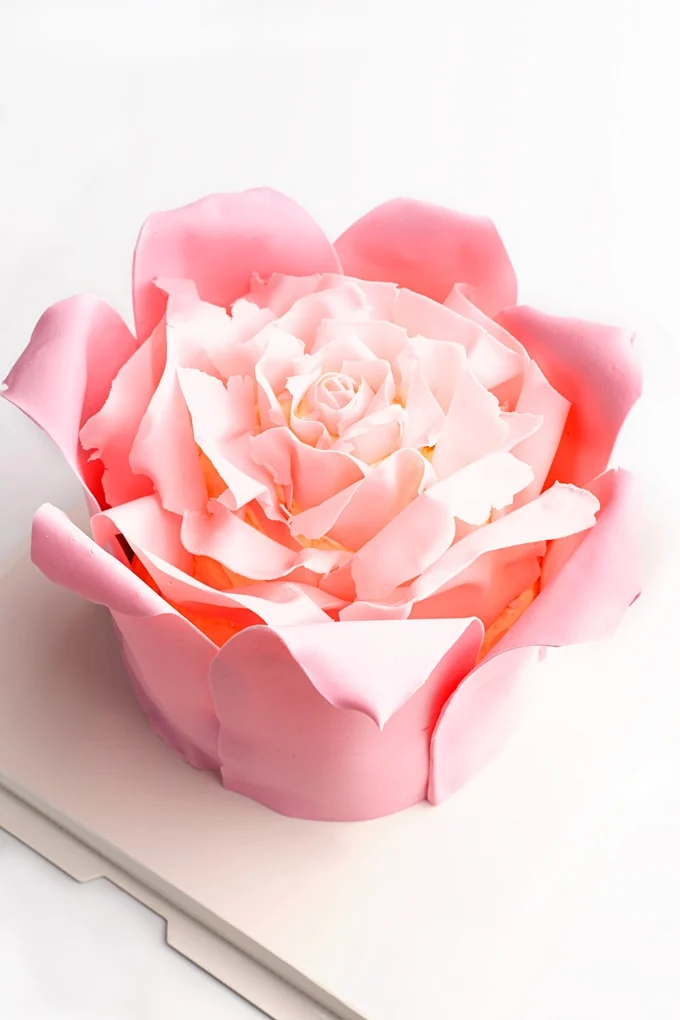 Honolulu Coffee Vancouver
Honolulu Coffee Vancouver is introducing limited-edition boxes of Hot Chocolate Bombs ($19.95) at their two Vancouver locations in Downtown and in Kerrisdale that will be available February 8-14 only.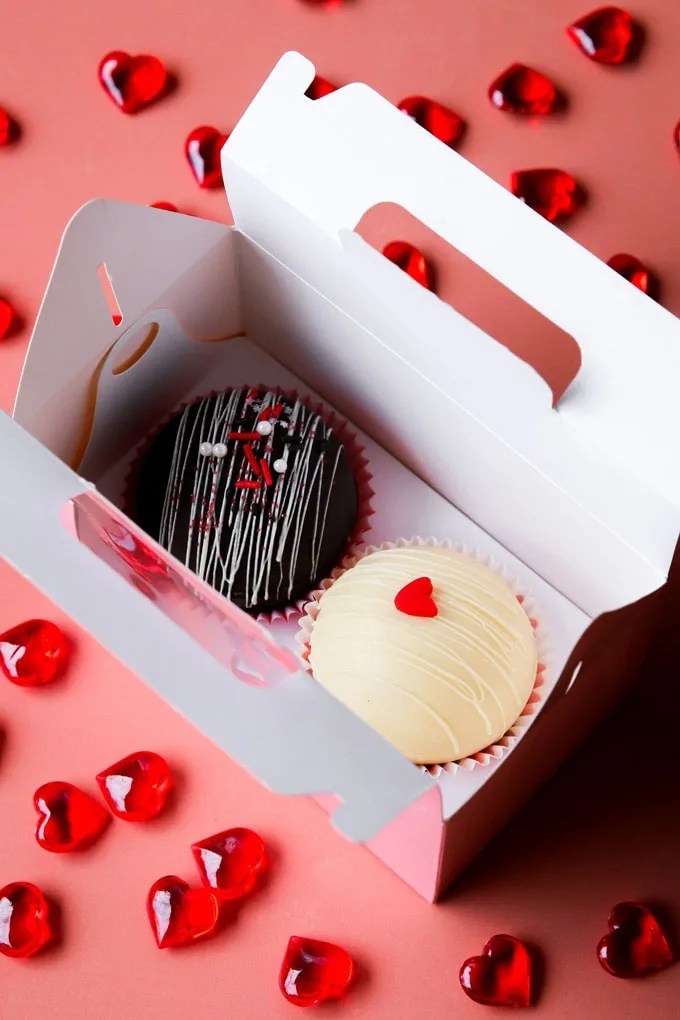 The Hot Chocolate bombs come in two flavours: 70% Ghirardelli dark chocolate bomb and one Ghirardelli white chocolate bomb packed with mini marshmallows and sprinkles.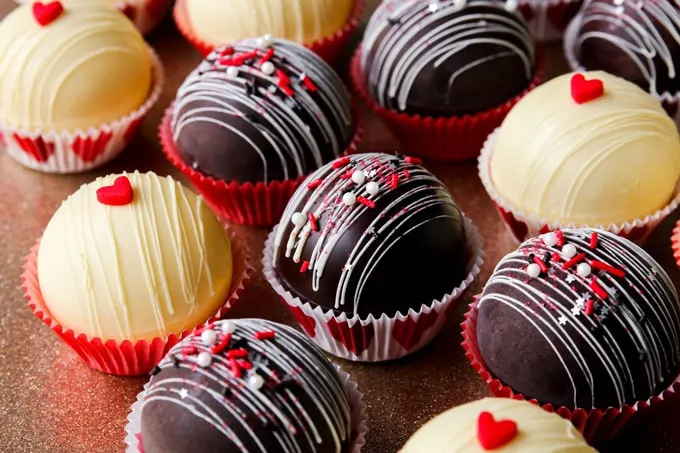 It includes a special Valentine's Day greeting card with full instructions for enjoyment for $19.95.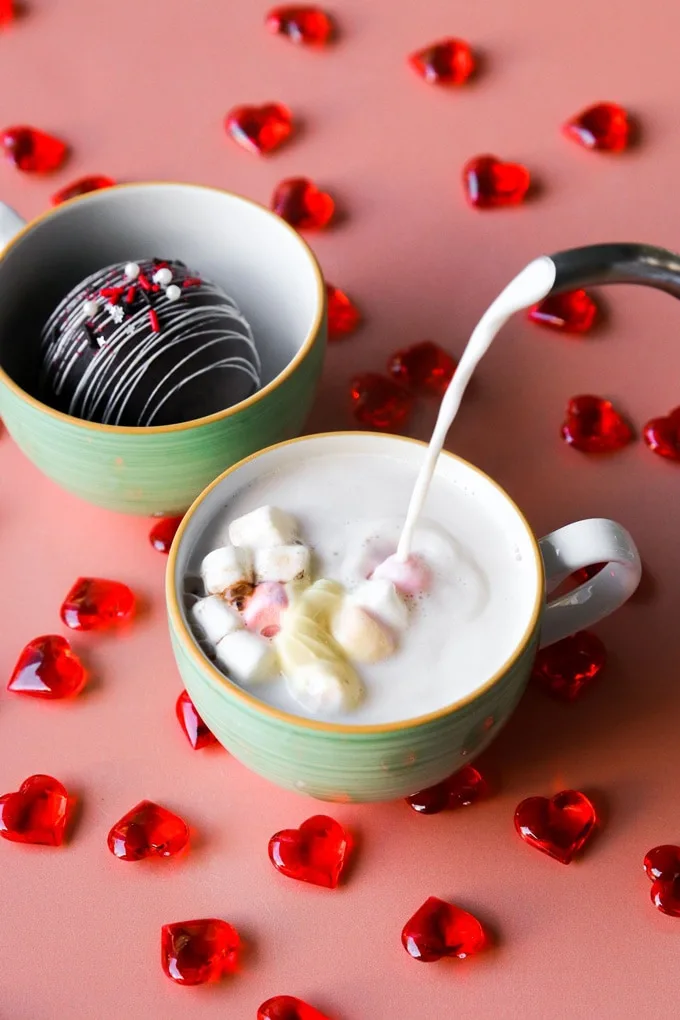 A limited number of 50 boxes are available at each location from February 9 to 14 and can be ordered by dropping in or calling the cafes directly to pre-order (Downtown: 778-379-6607, Kerrisdale: 604-620-2168).
Bench Bakehouse
A whole lot of love (and butter) goes into The Bench Bakehouse's delicious pastries and classic baked goods.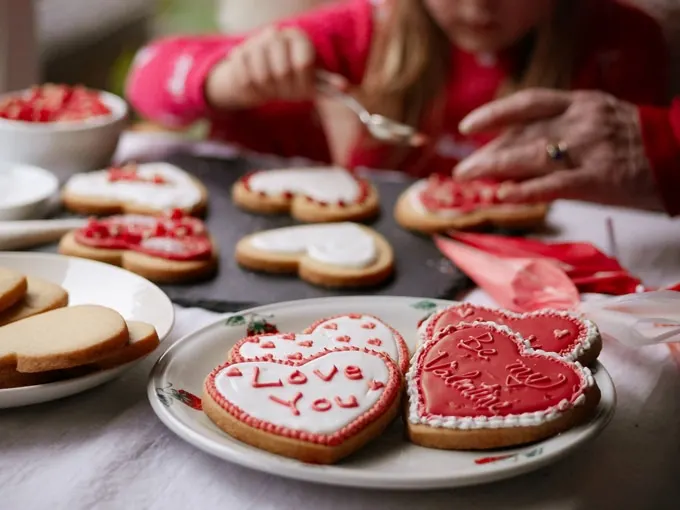 Freshly baked, decorate-it-yourself and bake-at-home Valentine treat options are available now for pre-order with in-store pickup starting Feb. 9.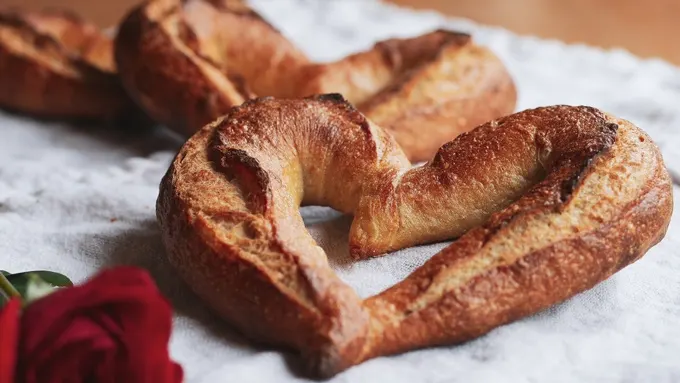 From naturally leavened heart-shaped baguettes for dreamy charcuterie presentations, to bake-at-home pain au chocolat for an impressive breakfast in bed, to freshly baked Valentine cookies for at-home decorating enjoyment, The Bench Bakehouse has something sweet for everyone.
The Bench 2021 Valentine Goods
Shortbread Cookie Boxes
The Bench Bakehouse has made its classic, hazelnut and maple pecan shortbreads into two-bite heart-shaped cookies and dipped them in milk, dark and ruby chocolate. Perfect for solo indulgence or letting someone know you care, these cookies are packaged up in mini and medium boxes tied up with a bow. The Bench's Valentine shortbread cookie boxes are priced at $14.50 for the mini and $24.50 for the medium.

Cookie Kit
Perfect for some self-care creativity, a relaxing date night in or a fun-filled family afternoon, The Bench's cookie kit is a delicious way to celebrate love. The kit comes with six freshly baked heart-shaped sugar cookies, royal icing (in red, white and pink) and plenty of candy embellishments. Priced at $20.

Sugar Cookies
Forget the card, give them something good to eat. A sweet token of affection, cookies are heart-shaped and hand-decorated with a unique message of love. Sold individually for $4.50.

Heart-Shaped Baguettes
A once-a-year only offering of love, these sourdough baguettes are exclusively available on Feb. 13 and 14 and sold for $8. Advance ordering online is encouraged.
Bake-at-home goods
• Croissants, $14 four-pack: made from scratch with high quality butter. Buy them frozen to serve freshly baked at home on Valentine's morning.
• Pain au chocolat, $16 four-pack: filled with dark chocolate and ready to bake at home. These are the ultimate show of love when served fresh from the oven.
Valentine's Day items will be available starting Feb. 9 at The Bench Bakehouse (1641 Commercial Drive, Vancouver) for takeaway. Advance online ordering is available now at thebenchbakehouse.com/order-online for pickup starting Feb. 9 – 14.
Nuba
Vancouver Middle Eastern comfort food-favourite Nuba is sweetening up Valentine's Day this year by offering a feature Coconut Nuhallabiya dessert at all four of its locations (Gastown, Kitsilano, Yaletown and Mount Pleasant).
The perfect way to cap off dinner or the evening on a sweet note, it's filled with coconut panna cotta with rose and vanilla, layered with organic strawberry compote and offered for $8 plus tax per dish from Friday, February 12 through Sunday, February 14.
Cheap Valentine's Day Ideas that are Super Fun
Valentine's Day doesn't need to be expensive in order to impress. In this roundup, I'll give you some cheap Valentine's Day ideas that are affordable (including some FREE options) and which are social-distancing friendly.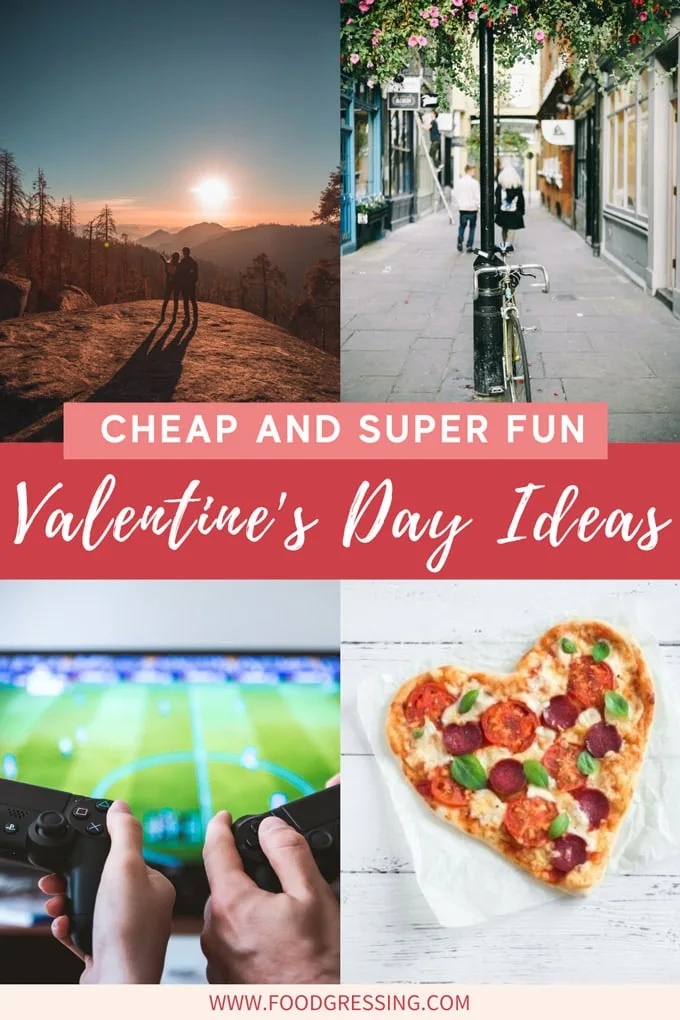 Family Valentine's Day Ideas
There are plenty of fun activities that you can do with little ones that are sure to make them feel the love on this special holiday.
Check out my post on family Valentine's Day ideas to make the day exciting for both you and the kids.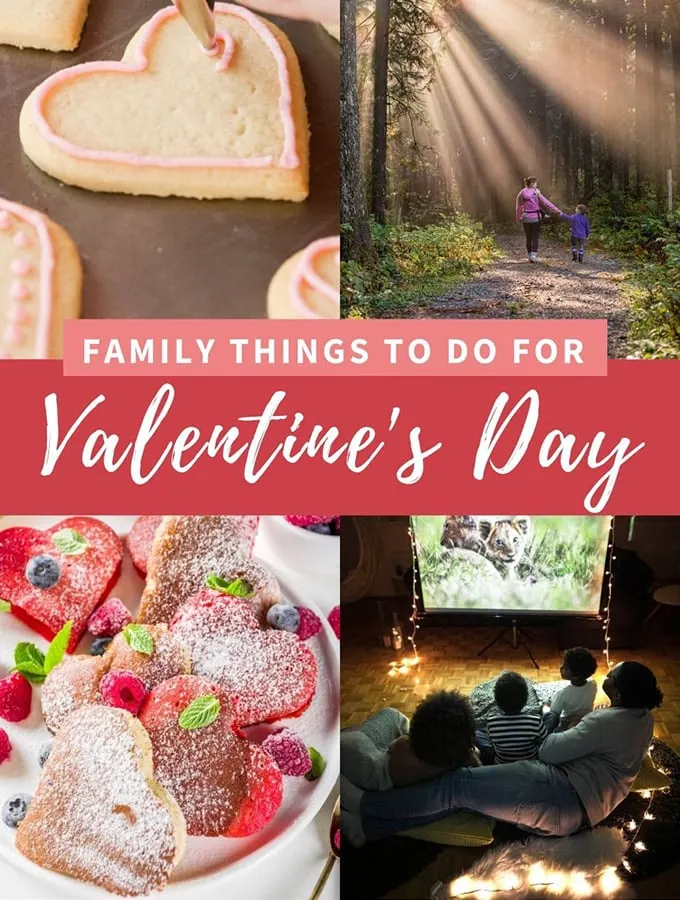 Eden West Gourmet has an online, by donation, Valentine's Day Heart Cookies for kids class.
Valentine's Day Flowers
Here are some places in Metro Vancouver for Valentine's Day flowers and celebration bouquets. Please check out their websites for offerings and pickup/delivery options.
[ninja_tables id="71152″]
Romantic Staycations & Hotel Packages for Valentine's Day Vancouver 2021
You and your significant other might want to enjoy a hotel stay to celebrate this romantic holiday. Check out my post on Valentine's Day Hotel Packages Vancouver for 2021.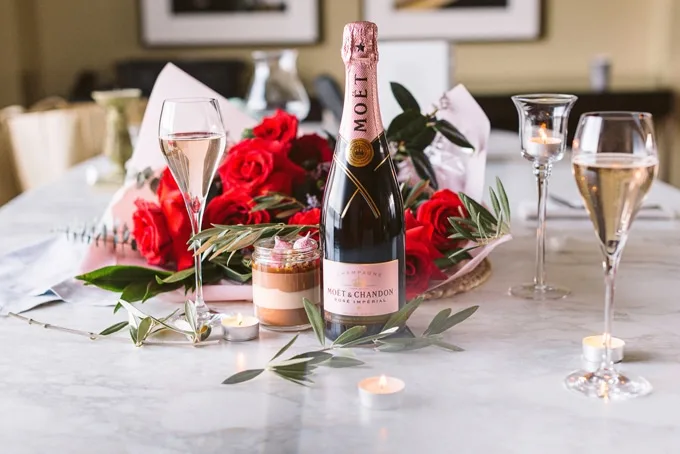 Also check out my guide on romantic destinations in BC.
Valentine's Day Quotes and Captions
If you struggle to find the right words to say on Valentine's Day, check out my list of 120+ Valentine's Day Quotes.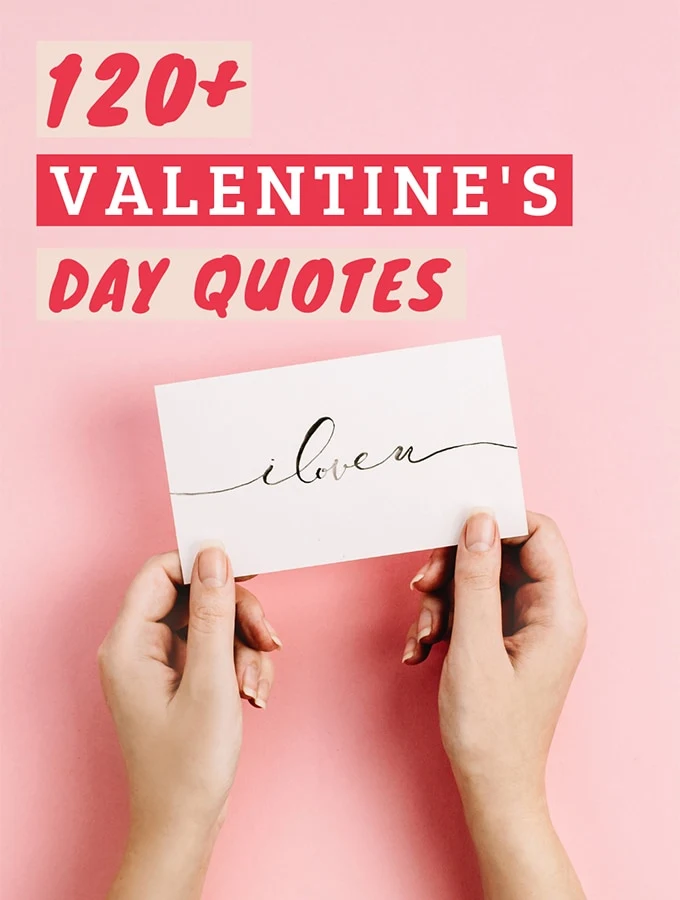 You'll find Valentine's Day quotes for him, for friends, for singles, for boyfriend, for girlfriend and more.
Instagram Captions about Love, Marriage, Family, Friendship, Self-Love
Here is a list of the best Instagram captions about love to complement your picture with your spouse, partner, family member, friend, or anyone else you might love.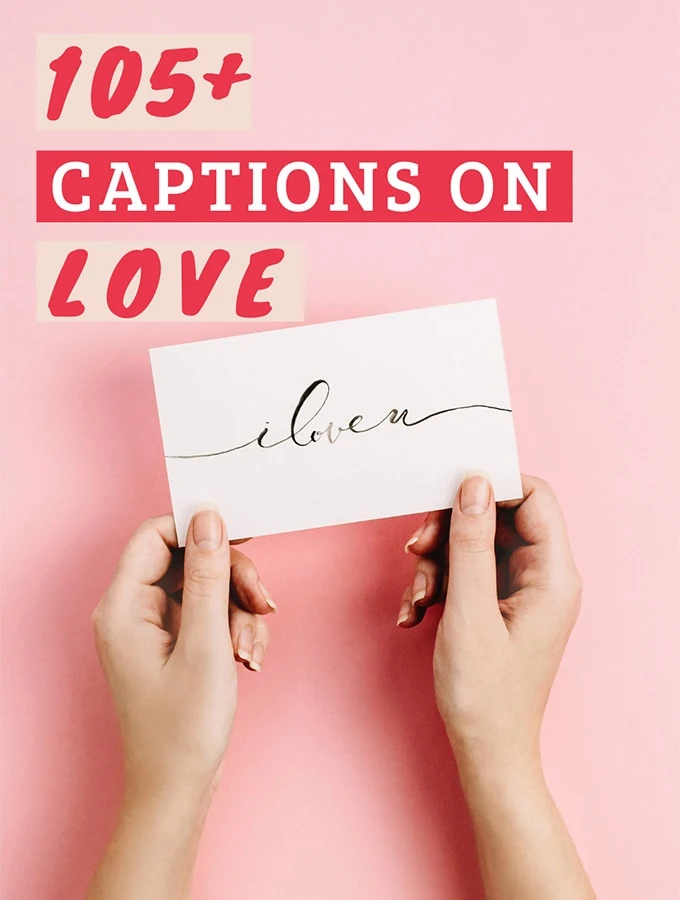 Special Deals
Shrink Wrap Urban Sweat Lounge
Yaletown's hottest new wellness studio Shrink Wrap Urban Sweat Lounge is offering clients a relaxing and restorative escape from the wet weather this February with a seasonal promotional offer on its signature infrared sauna treatments.
To mark the weekend of Chinese New Year and Valentine's Day, Shrink Wrap will be offering a special Winter Wellness promotional package featuring two infrared heat therapy sessions for $88 (regularly priced at $59 per treatment).