Looking for a chef for your private event? Here is a list of chefs and their teams who are offering private dining and catering services in Metro Vancouver.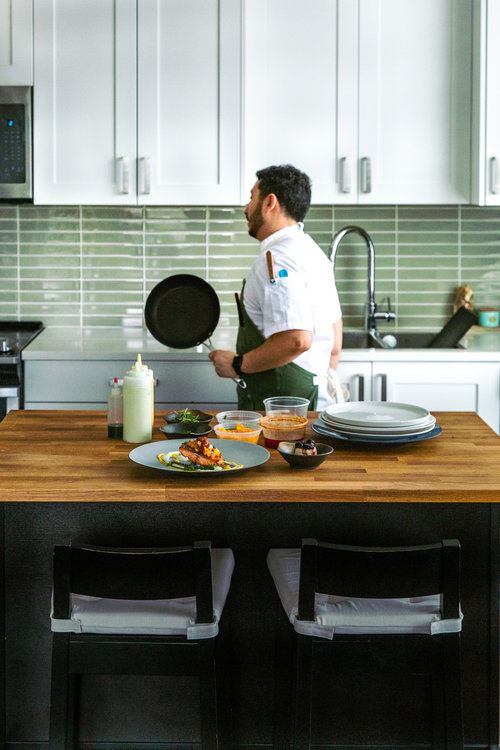 Any recommendations for this list? Please contact me at [email protected] or DM me on social media @foodgressing.
Vancouver Private Dining
Vancouver Private Dining is composed of a culinary team who has worked in some of Vancouver's best fine dining restaurants.
The team includes Chef Evan Elman (owner), Chef Warren Chow (culinary director), Chef Trevor Pavle (private chef), Chef Tushar Tondvalkar (private chef) and more. Their services include plated-dining, cocktail catering and in-house chef.
They use sustainable and local products from BC and have partnerships with local farmers and artisans.
Ronin Chefs
Chef-owned and operated Ronin Chefs is run by a trio of seasoned chefs: Jesse Hochhausen, Tarek Chellouf and Arie Kontos. They offer plated meals, family style dining, grazing menus and live-action stations.
Sun Catering
Sun Catering was founded by Chef Kameron Sun and Jenny Kuo in 2019. They offering catering for a range of gatherings from intimate dinners to larger groups. Clients can work with the chef to create personalized menus for the ultimate dining experience.
Bread and Butter Cafe and Events
Rising celebrity chef Felix Zhou, formerly a partner at Heritage Asian Eatery and the Executive Chef at The Parker Restaurant and Beach Bay Café, has opened Bread x Butter Cafe inside Cathedral Place at the corner of Hornby and Georgia.
The cafe is also an upscale boutique venue for special events on evenings and weekends outside using the beautiful courtyard space. They are able to create personalized menus for any event from family-style meals to artisan platters.
Chef Kristian Leidig
Chef Kristian Leidig (formerly owner and operator of brunch spot Ham and Eggman's in Vancouver) is available for private dining. Please contact him for more information.