Chinese New Year 2021 is Friday, February 12 and this is the Year of the Ox.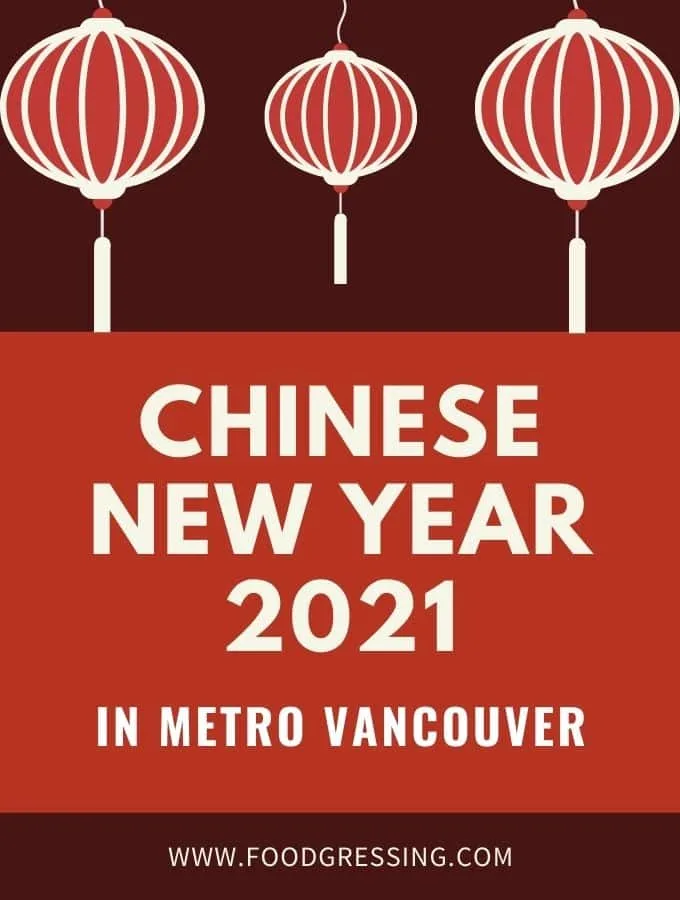 Although many large scale celebrations and festivals are cancelled this year, there are still many ways to celebrate Chinese New Year Vancouver 2021. Check out these ideas below.
This list is updated as information becomes available. If you have an event/business that wants to be added, please contact me at [email protected] or DM me @foodgressing on social media.
If you like this post, please share with your friends and family. This would help support the website and for me to continue doing these roundups.
Chinese New Year Vancouver 2021 Menus from Restaurants
2021 Dining for the Feast of Fortune
The 2021 Dining for the Feast of Fortune by Chinese Restaurant Awards features select menus offered by Metro Vancouver restaurants and cafes with some proceeds to raise money for the new St. Paul's Hospital.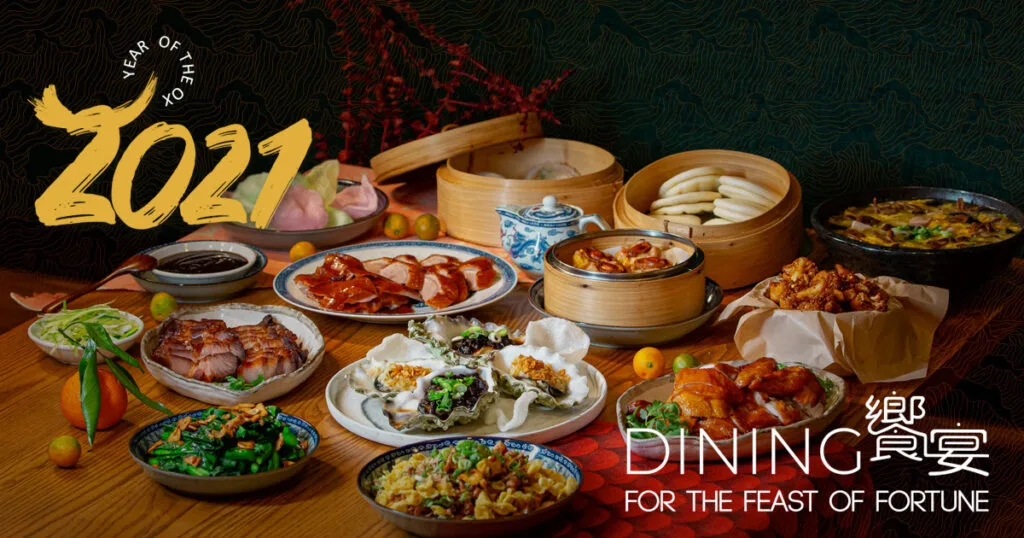 The dining festival runs February 8 – February 21. Eight amazing restaurants have joined forces to support the fundraising mission, by donating $25 CAD for each "Feast of Fortune" dinner menu.
The dining series menu prices range from $38-$100 CAD per person, and the restaurants will donate $25 CAD for each "Feast of Fortune" dinner menu served.
DINING for the Feast of Fortune has curated the Gifts of Fortune to further support our fundraising mission, of which pre-ordering will be from January 18th.
Chinese Restaurant Awards' Limited Edition – Premium Artisan XO Sauce is handmade by Executive Chef Cao Can Hui of the award-winning Dynasty Seafood Restaurant. They are priced at $35 for each 6.7oz jar, and 25% of the proceeds will be donated to the new St. Paul's.
The Year of the OX Macaron Special Edition Set by Pastry Chef Eric Ho of Little Fox Bakehouse is another fantastic gift idea. They are priced at $16 per box, and $3 of each box will be donated to the new St. Paul's.
Heritage Asian Eatery
To celebrate the Year of the Ox, Heritage Asian Eatery will offer special dishes of Mandarin Salted Egg Yolk Buns that symbolizes fullness and fortune for $7 per order, Longevity Noodles with shiitake and winter chanterelles for $18 as well as Golden Garlic and Black Bean Steamed BC Fanny Bay Oysters for $9 per order of two.
In addition, every dine-in or take-out order placed at its Broadway location will include a traditional red envelope that offers the chance to win complimentary dishes or discounts for future visits, with one 'golden ticket' available that will bestow a Heritage Family Feast for Four to Six to one lucky recipient.
The special Lunar New Year Feature Dishes are available for dine-in or take-out by calling the restaurant at 604-559-6058.
Chinatown BBQ
Chinatown BBQ has a few to-go feast offerings. Choose between a Good Luck Feast for 2 ($38), a Blessings Feast for 4 ($68), or a Happiness Feast for 6 ($88).
Available for curbside / restaurant pickup between February 2-11, 2021. Order on their website or call to order at 604-428-2626.
Good Luck Feast 大吉大利 $38.00 for 2
1 lb BBQ Pork
Half BBQ Duck
Half Soy Sauce Chicken
Lap Chong (Chinese Sausage)
Blessings Feast 五福臨門 $68.00 for 4
1 lb BBQ Pork
1 lb Roasted Crispy Pork
Whole BBQ Duck
Half Soy Sauce Chicken
Jellyfish Marinated in Sesame and Chili
Happiness Feast 八星報喜 $88.00 for 6
1lb BBQ Pork, Hong Kong Style
1lb Roasted Crispy Pork
Whole BBQ Duck
Whole Soy Sauce Chicken
Lap Chong (Chinese Sausage)
Jar of Homemade Ginger Scallion Sauce
Jellyfish Marinated in Sesame and Chili
Fortune Candy
New Fishport Seafood Bistro
New Fishport Seafood Bistro has a New Year's menu priced sat $398.
套餐内容:1. 肥美珍宝蟹 2. 酥炸龙虾枣 3.发财顺手一品窝(28头中东鲍四只、发菜、猪手、时蔬)4. 避风塘野生雪鱼 5. 金牌豉油鸡 6. 有米佬炒饭
Jiang Hu 江湖-台式鍋物熱炒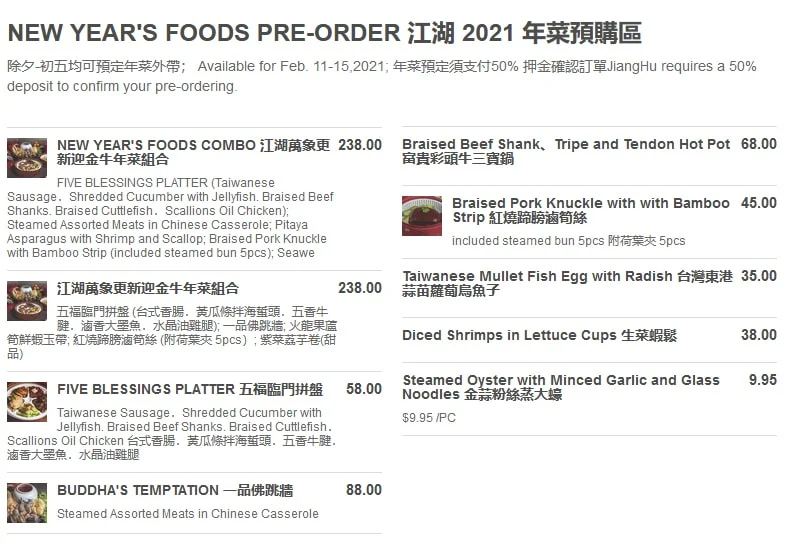 Jiang Hu is accepting New Year's preorders which includes platters, casseroles, hot pot and more.
MYST Asian Fusion
MYST Asian Fusion has a New Year's menu. Check out their Facebook for more details on their New Year's hours and delivery/pickup options.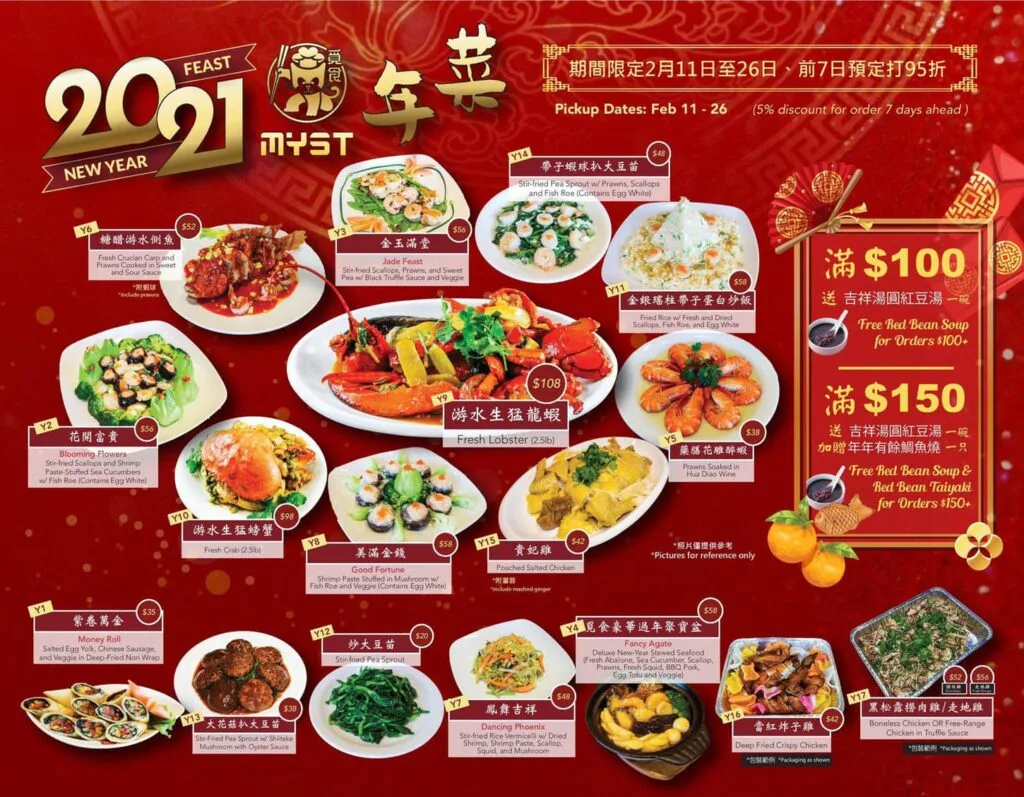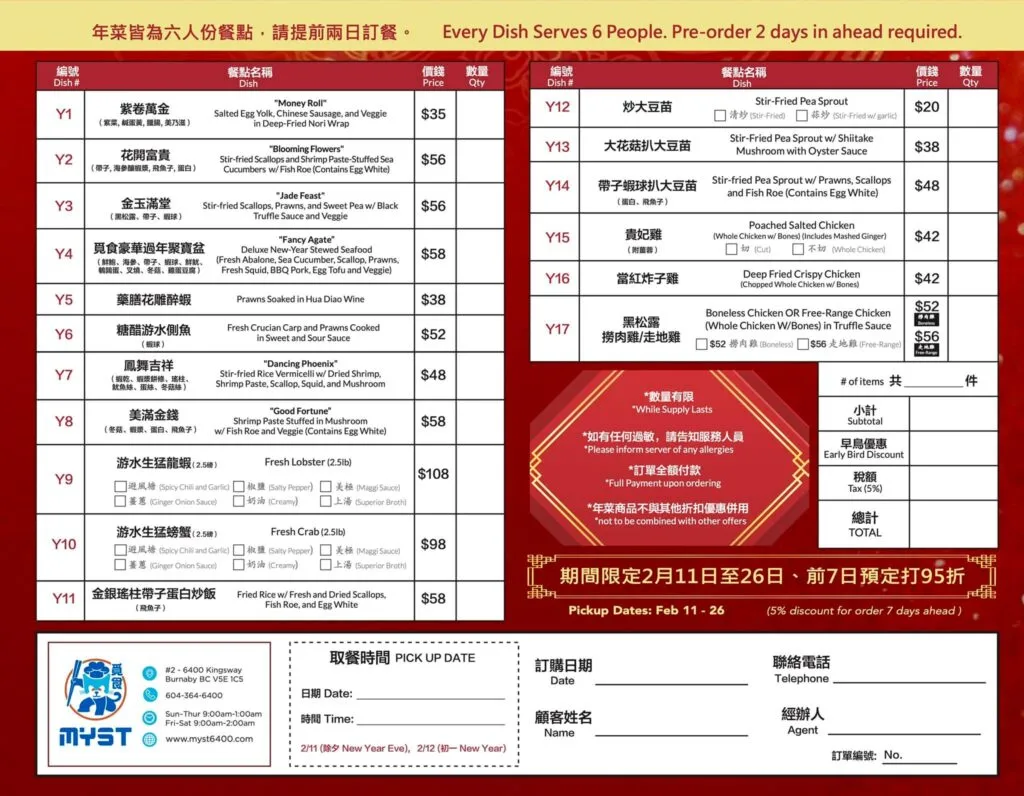 Kinton Ramen
KINTON RAMEN at UBC is celebrating and welcoming Lunar New Year with a special ramen feature.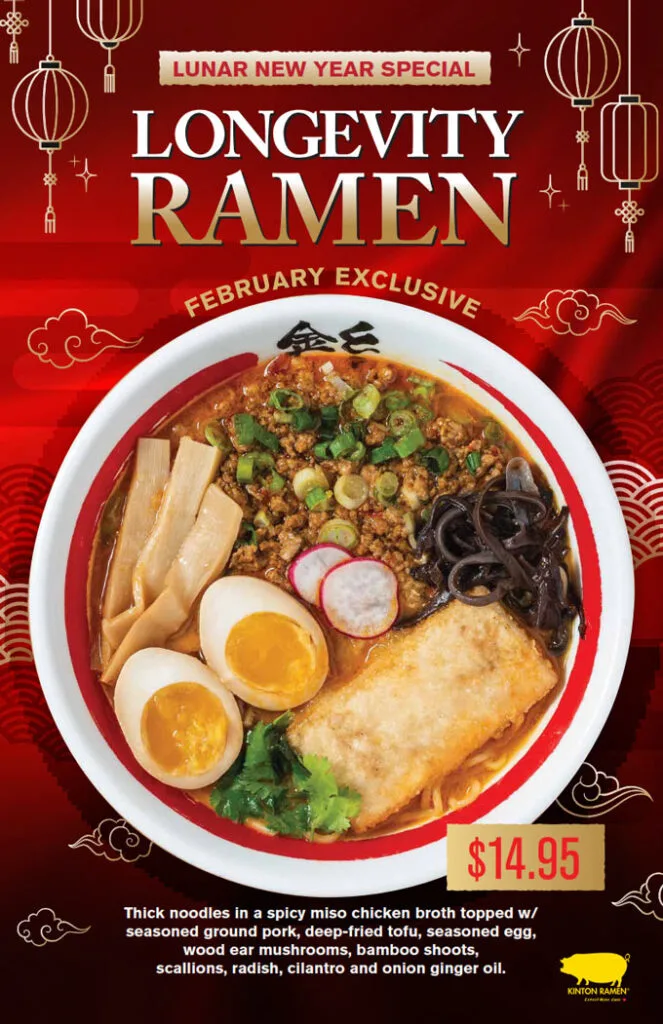 Longevity Ramen (Thick noodles in spicy miso chicken broth topped with seasoned ground pork, deep-fried tofu, seasoned egg, wood ear mushrooms, bamboo shoots, scallions, radish, cilantro and onion ginger oil)
This feature is $14.95 and available for dine-in, takeout and delivery from February 1 to 28.
Sequoia Group (Seasons in the Park, Sandbar, Cardero's)
Celebrate Lunar New Year's Eve and New Years Day with special platter features from Sequoia Company of Restaurants, great for sharing with your immediate family and welcome the Year of Ox. The platters are available on Feb 11 and 12.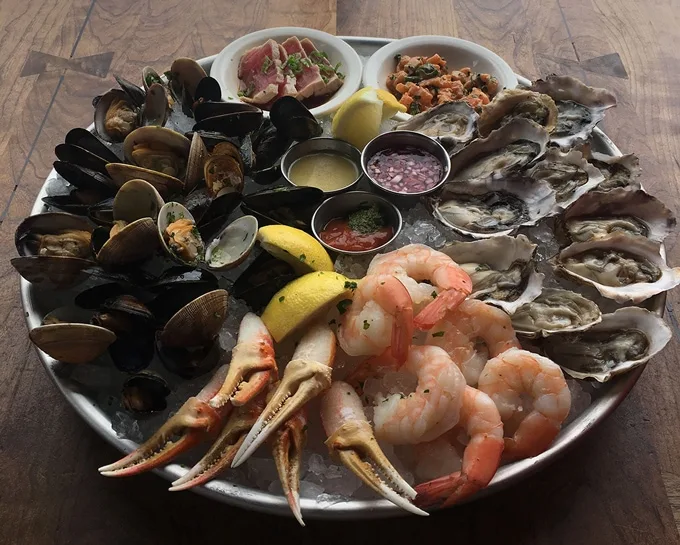 Seasons in the Park: 16oz wood grilled Bone-in Ribeye with maitre d'hotel butter and red wine demi-glace, Lois Lake Steelhead Salmon & Grilled Jumbo Prans with lemon caper butter sauce, french green beans. $95
Sandbar: Wood Grilled Chicken with roasted mushroom demi-glace, Alderwood Grilled Salmon, Garlic Butter Prawns, Coconut Jasmin Rice, Spicy Green Beans and herb roasted potatoes.$85
Cardero's: Dockside one dozen fresh oysters, chilled clams, prawns, mussels & crab claws, ahi tuna tataki, salmon poke, miso-ginger viniagrette, red wine mignonette, cocktails sauce. $98
Gotham Steakhouse and Bar
Gotham Steakhouse and Bar has a Lunar New Year celebration menu available for take-out or delivery, or to be enjoyed in the iconic restaurant's elegant dining room. Priced at $99.50 per person.
Dine-in guests can snuggle up and enjoy live music in the beautiful lounge.
The Menu is available from Tuesday February 9th through Monday February 15.
Fresh Seafood & Glass Noodles: Jumbo prawns, scallops, mussels, langostino lobster, baby heirloom tomatoes and cucumber Sunomono-style vinaigrette
Braised Short Rib: Asian pear-soy reduction, root vegetables, chestnuts & shiitake mushrooms
Matcha Crème Brûlée: coconut tuile
Hy's Steakhouse and Cocktail Bar
Hy's Steakhouse and Cocktail Bar has a special menu that is available from Tuesday, February 9 – Monday, February 15. For dine-in, takeout and delivery. Priced at $99.95 per person.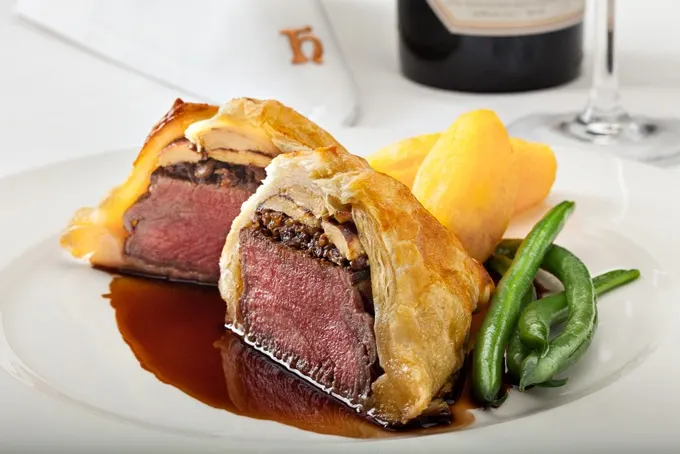 Hy's Famous Cheese Toast
Caesar Salad
Beef Wellington with Saskatoon berry reduction, Chateau potatoes & green beans
Hy's Cheesecake with mixed berry compote
Chinese New Year Dinner at Home
Here are some ideas on how to prepare a Chinese New Year Dinner at home.
Chefs Plate
Chefs Plate is launching a Chicken & Shrimp Chow Mein with chili-garlic oil meal kit, available to order January 24 – February 3, for meal kit delivery before February 12.
Customers can order up to 16 portions of this recipe with Chefs Plate's 'add on' feature.
This hearty dish comprised of delicious Chinese flavours, combines chicken, shrimp and mushrooms in an umami-packed noodle bowl. A drizzle of chili-garlic oil finishes off the recipe.
In many Asian countries, people eat long noodles on Lunar New Year to lengthen their life. One catch: You can't break the noodle from your plate to your mouth.
Recipe including ingredients and step-by-step instructions is attached for your reference a well.
Bring Home The Bacon
Bring Home The Bacon, an online meat delivery company in Vancouver, is pleased to offer two special meat boxes to ring in the Year of the Ox.
A female-founded small business, Bring Home The Bacon offers chef-curated, restaurant quality meat and seafood delivered conveniently and directly to the customers at 15% less than comparable online retailers and gourmet grocery stores.
Its products range from your everyday organic, hormone-free chicken, to pork and wild seafood, to the connoisseur favourites of duck confit, rack of lamb, and wagyu beef.
Named Fortune & Prosperity, and Wealth & Abundance, the two meat boxes feature products including Sablefish Steaks, where fish symbolizes wealth and abundance; Whole Chicken, a symbol for togetherness and wholesomeness; and White Prawns, of which the Cantonese name resembles laughter.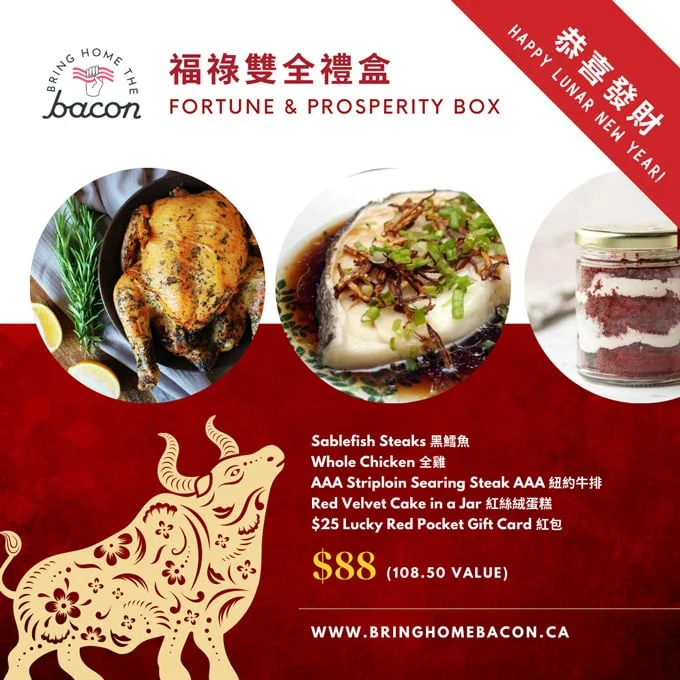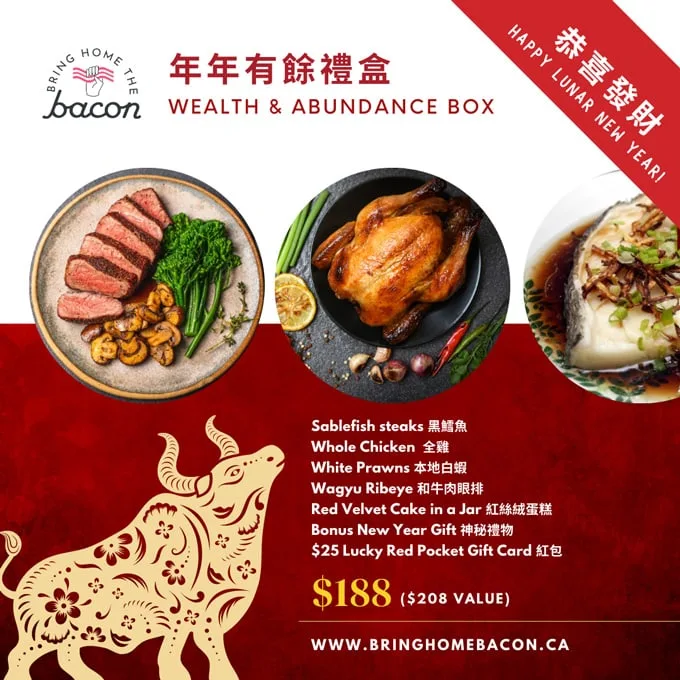 Since it's the Year of the Ox, customers will also find Striploin or Wagyu Ribeye in the boxes.
And to round up the carefully curated menu, Bring Home The Bacon is pleased to partner with Gary's Patisserie, another local small business, to include its Red Velvet Cake in-a-Jar in each box.
Priced at $88 and $188, each box includes a $25 Bring Home The Bacon gift card for the customers to return for more premium quality meat and seafood this coming year. The Wealth & Abundance Box has a bonus gift to celebrate the new year as well.
Only a limited quantity of these meat boxes are available and pre-order is required by Saturday, February 6, 2021 for delivery on February 9-11, 2021.
Order at https://bringhomebacon.ca/collections/cny today. Bring Home The Bacon is online 7 days a week, with delivery across Greater Vancouver.
Grocery Shopping in Vancouver Chinatown
Vancouver Chinatown shops offer many items at lower prices compared to elsewhere. There are shops that offer produce, meat and BBQ, live seafood, houseware and more. Check out my guide on where to shop in Vancouver Chinatown.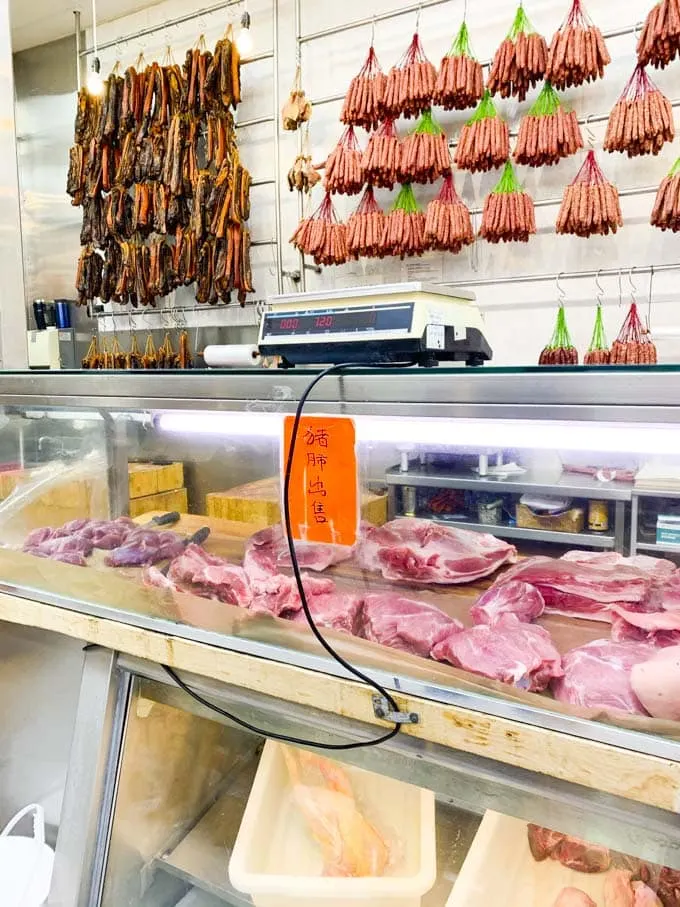 What you need for a hot pot at home
Many people opt for a simple but comforting hot pot at home to celebrate Chinese New Year. Check out my guide on where to buy hot pot ingredients in Vancouver for tip and ideas.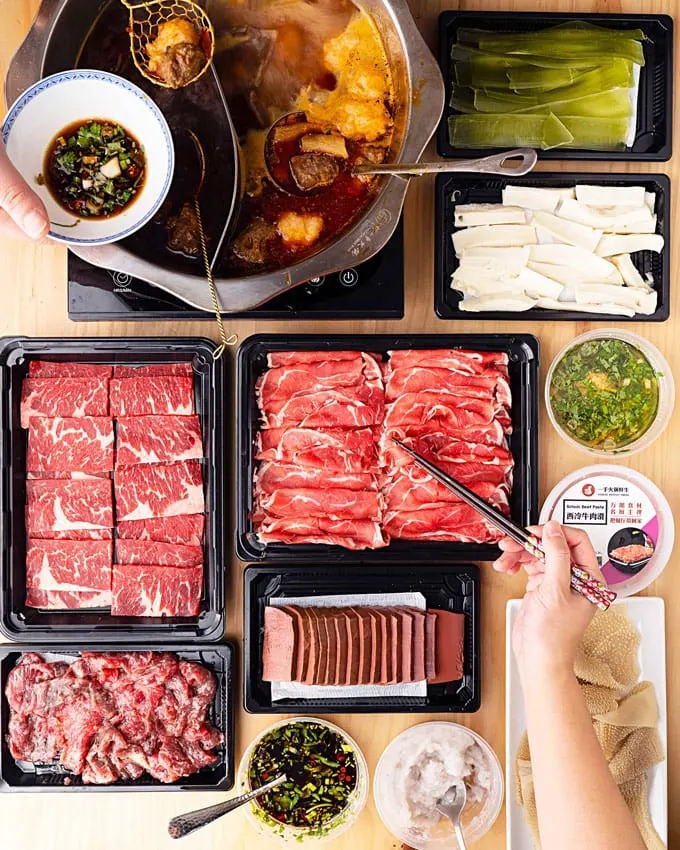 Party Platters
Party trays can be ordered from the following restaurants:
Western Lake (4989 Victoria Drive Vancouver, BC)
Peaceful Restaurant (Multiple locations: Broadway, Mount Pleasant, Kitsilano, Seymour, Robson, and Kingsway)
T&T Supermarket (various locations, check out the flyer section to see what they are offering)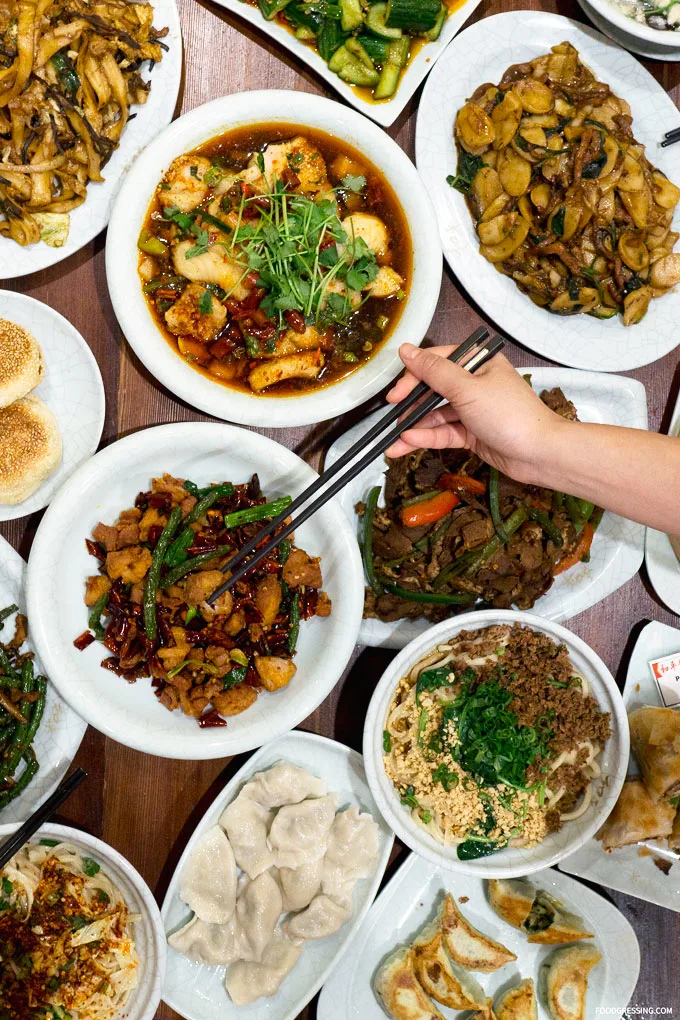 Frozen Dim Sum and Dumplings in Vancouver
Frozen dumplings come in handy at time of the year. Here's a look at where to buy frozen dumplings in Vancouver.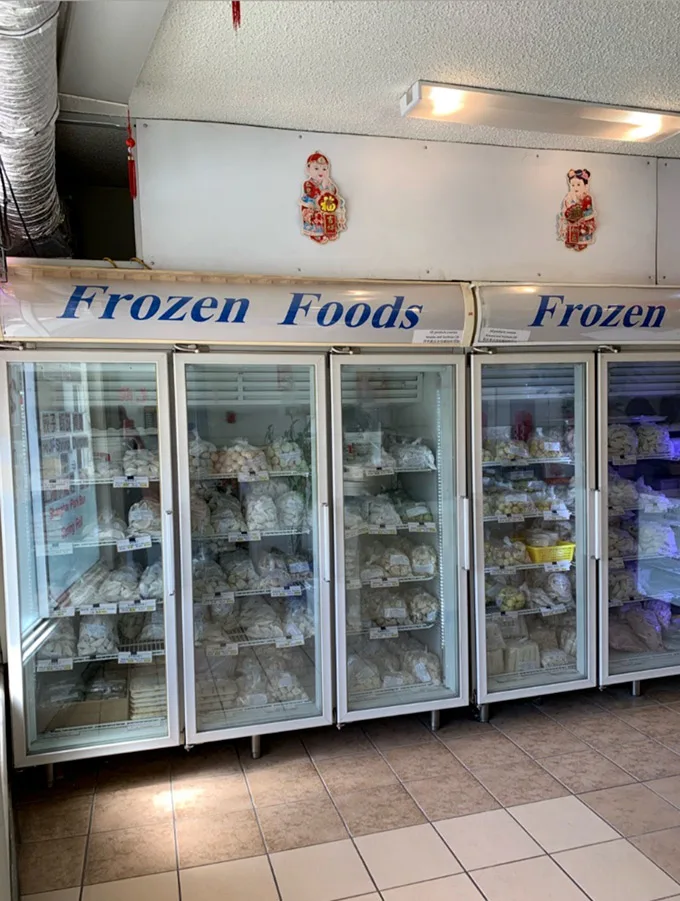 Best Dim Sum Takeout
Here are my recommendations on where to get the best dim sum takeout in Metro Vancouver based on ease of ordering and receiving, quality and taste of food, takeout options available and packaging of the food.
Chinese New Year Recipes
Check out my recipe on preparing Chinese Spicy Red Braised Pork Belly.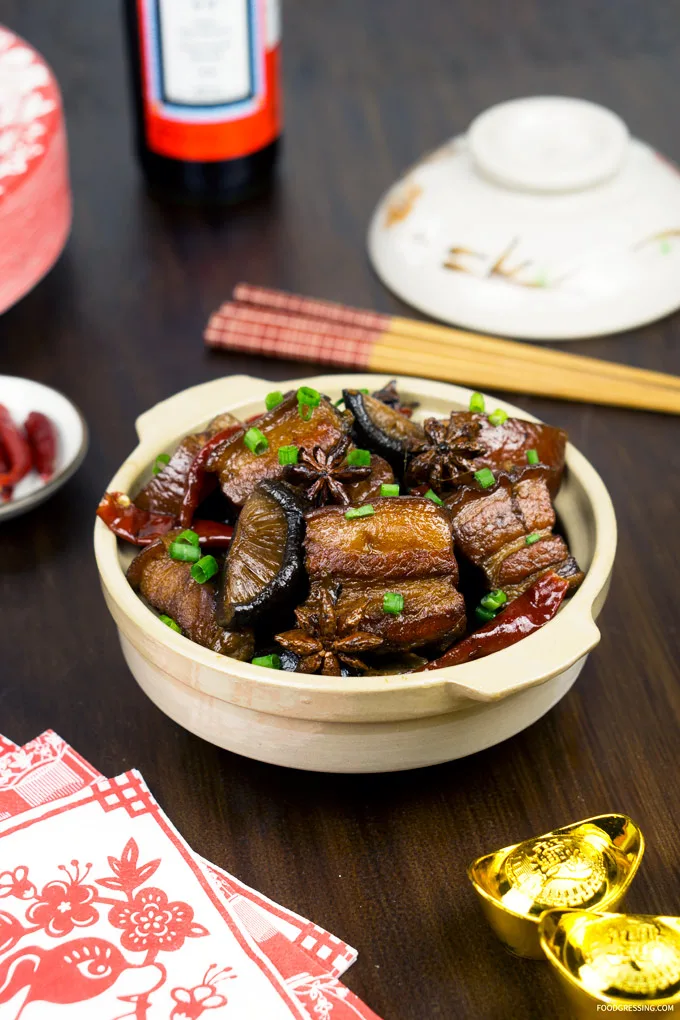 Sesame Bok Choy is a simple, healthy side dish to complement your Chinese New Year feast.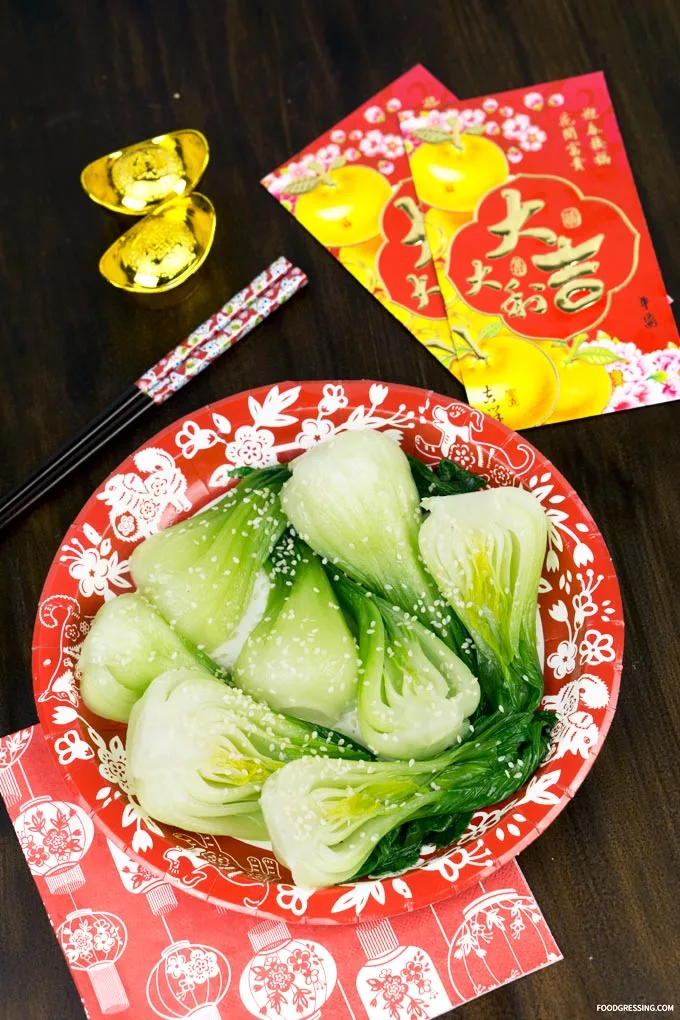 For a Chinese New Year breakfast, here is my recipe on Homemade Chinese Doughnuts, otherwise known as youtiao or 油条.
This simple Fried Turnip Cake in XO Sauce recipe by Executive Chef Cao Can Hui of Dynasty Seafood Restaurant makes a great addition to your Lunar New Year at-home feast.
Things to Do in Metro Vancouver
While public celebrations have been cancelled, here are somethings you can do to enjoy the Lunar New Year spirit.
Aberdeen Centre
Aberdeen Centre in Richmond has a Year of the Ox display in their Central Atrium. Enjoy some photo ops in front of it.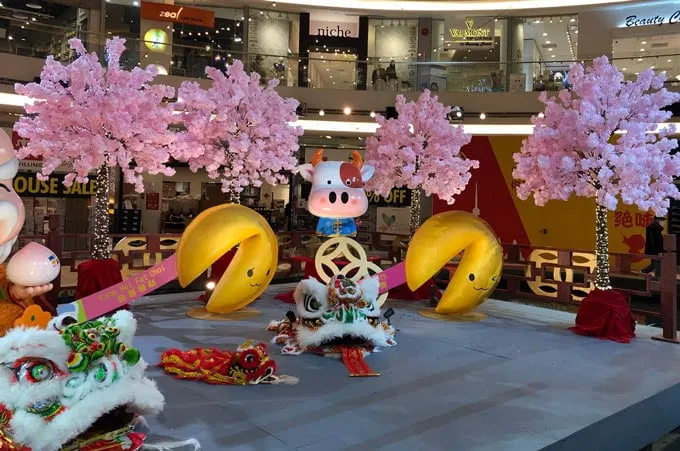 The Lantern City
There will be two lantern exhibitions by The Lantern City showcasing lanterns created by local artists.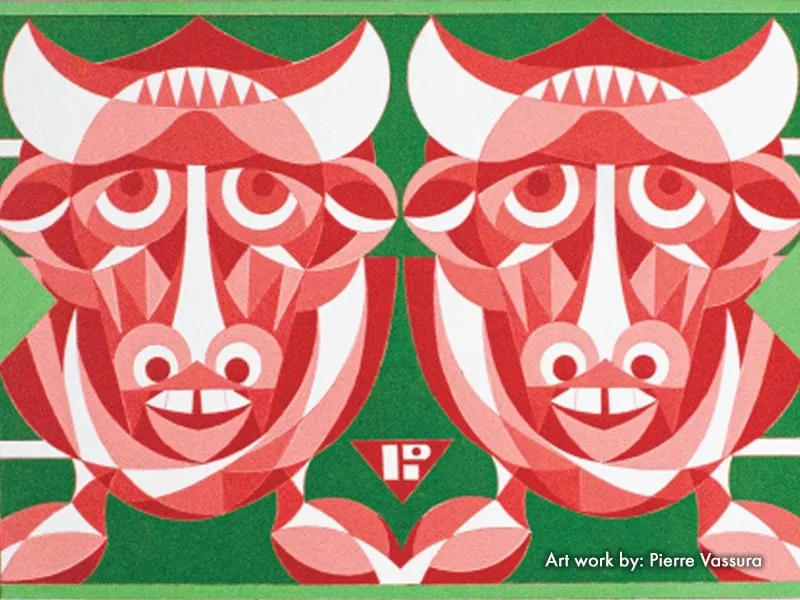 Coastal Lunar Lanterns will be set up at Jack Poole Plaza from February 11 – 28.
We are Family themed lanterns will be set up at šxʷƛ̓ənəq Xwtl'e7énḵ Square (formerly known as the Vancouver Art Gallery North Plaza) from February 11 – 23.
Lunar Fest Vancouver
More information is to come but check back on lunarfest.org and lunarfestvancouver.ca for Lunar New Year virtual programming in Vancouver.
Dr. Sun Yat-Sen Classical Chinese Garden
Dr. Sun Yat-Sen Classical Chinese Garden has a range of virtual programming for Chinese New Year 2021.
Go on a Dumpling Crawl: Richmond's Dumpling Trail
While it isn't a literal trail of dumplings – as deliciously amazing as that would be – the Dumpling Trail is a collection of restaurants serving up some of the most delectable dumplings in Richmond. Go on a self-guided Dumpling Crawl.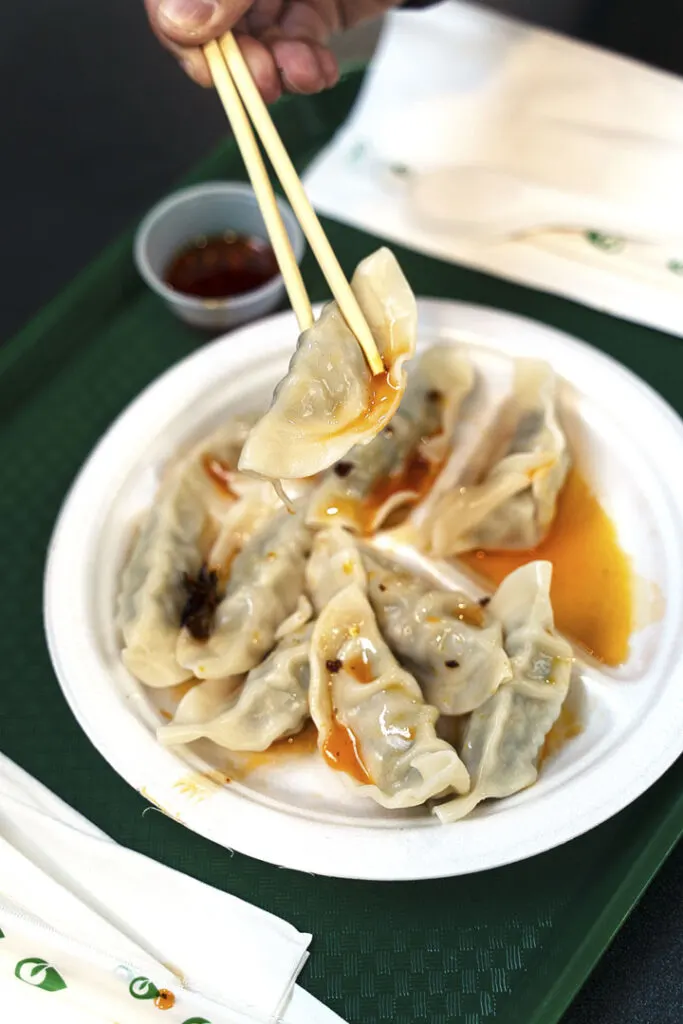 Pick up Chinese New Year decorations
Many Asian supermarkets will have Chinese New Year decorations like door couplets, paper cuttings, lanterns and more.
International Buddhist Temple Visit
Many visitors stop by the International Buddhist Temple around New Year's time to pray for a prosperous year ahead. Please visit their site for information on hours and safety protocols for Chinese New Year Vancouver 2021.
Location: 160 Steveston Hwy., Richmond, BC
Website: buddhisttemple.ca
Central City Surrey
Central City Surrey (10153 King George Blvd, Surrey) has put up a New Year's display.
Here are a few other things that are happening in Vancouver during the Lunar New Year period.
Vancouver's much anticipated annual food and drink festival, Dine Out Vancouver, makes its return in 2021. The festival will be running from February 5 – March 7, 2021 0 – which means you can enjoy the Dine Out menus over Valentine's Day.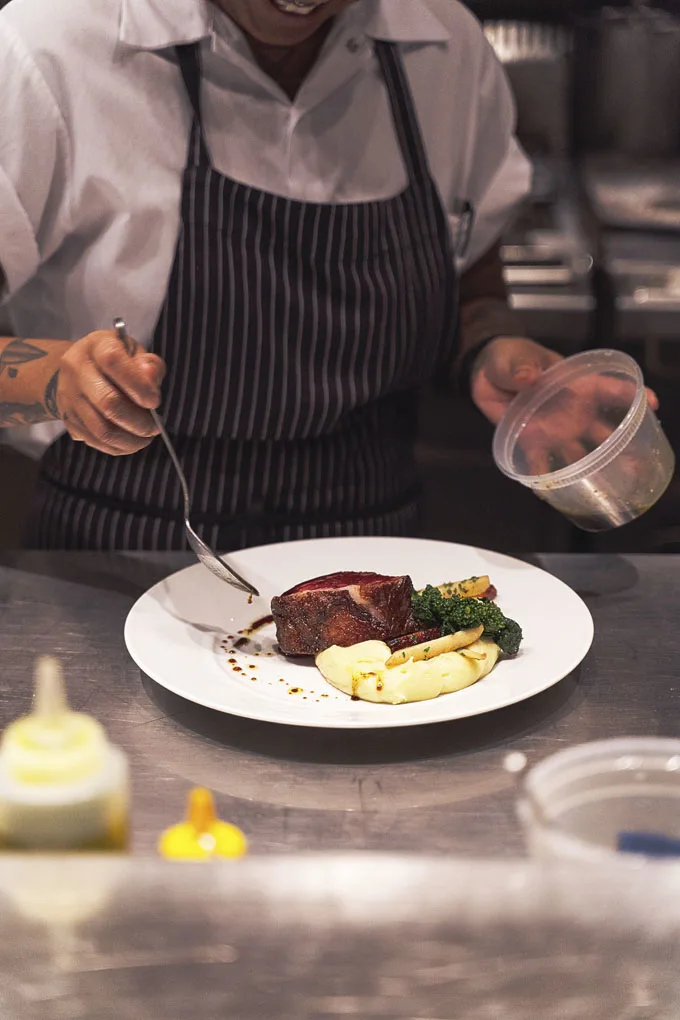 Hot Chocolate Festival 2021 makes it return January 16 – February 14 with 38 vendors and 87 fantastic hot chocolate creations. All drinks will be available as takeout and some vendors will be offering hot chocolate goodie bags that you can purchase to take or mail to the friends who won't be with you this year.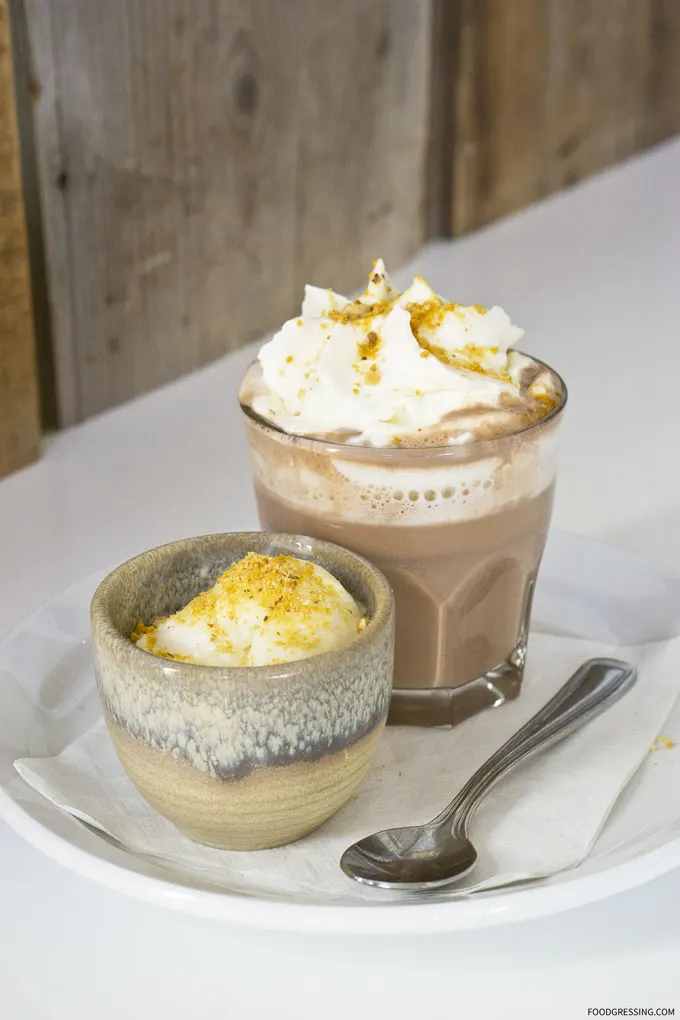 Have a chowder with your sweetheart in support of the Ocean Wise program!
For the month of February 2021, Ocean Wise Seafood is launching its first ever National Chowder Chowdown Festival.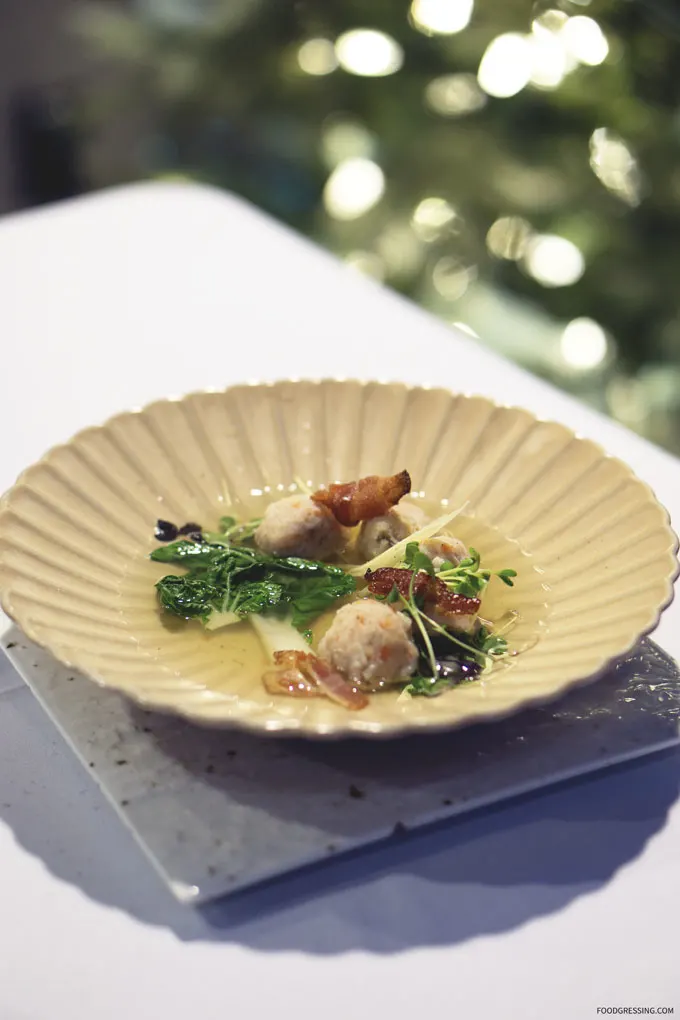 Between February 1 and 28, Canadians will be able to purchase delicious sustainable seafood chowders at restaurants, retailers and venues across Canada with part-proceeds supporting Ocean Wise's not-for-profit sustainable seafood program.
Chinese New Year Free Printables for Kids
I'm offering FREE Chinese New Year printables to help kids learn about Chinese New Year (and to keep them busy!). You'll find activity sheets, colourings pages, bing and more.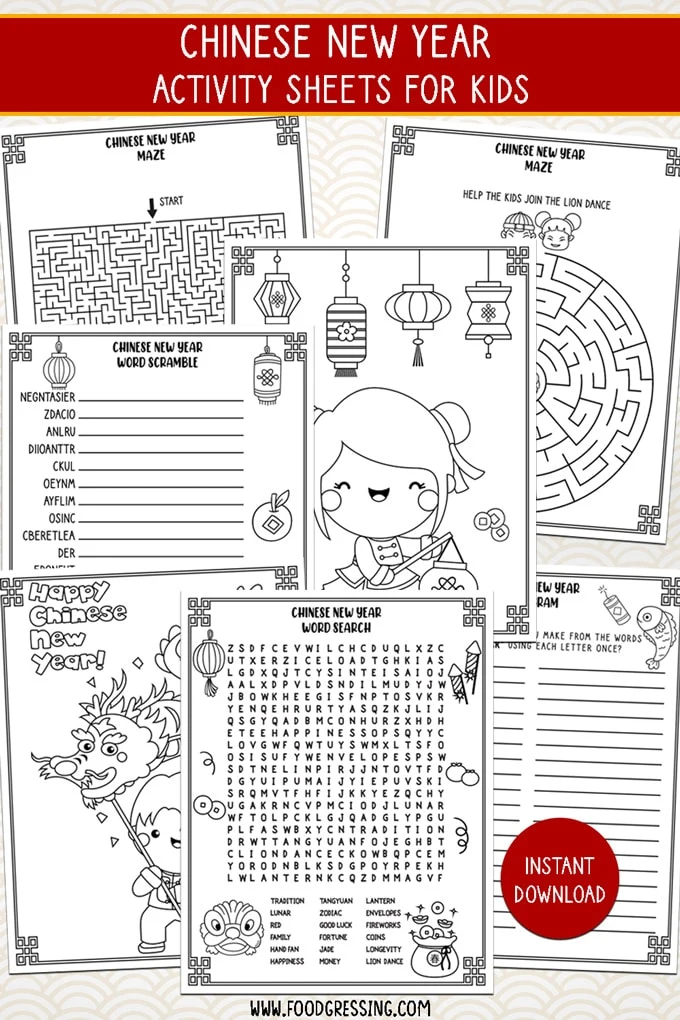 Gift Ideas for Chinese New Year Vancouver 2021
Support Lion's Gate Hospital Foundation
The Lion's Gate Hospital Foundation has teamed up with more than 20 local restaurants, spas, and businesses to kick off the Year of the Ox.
Purchase a gift card to one of these businesses through the Foundation's website, and 50% of the proceeds will be donated to Lions Gate Hospital.
Simply download the order form, and send the completed form back to Stephanie Io at [email protected].
Proceeds will support improved care in the Emergency Department at Lions Gate Hospital.
** Receive 10% off the purchase price when you buy gift cards valued at $500 or more**
Orders will be accepted between: January 13 – February 5, 2021. Deliveries will commence between: January 20 – February 15, 2021.
Buttermere Patisserie
Buttermere Patisserie in Chinatown Vancouver has several Lunar New Year offerings.
Year of the Ox Cake 牛年吉祥
6 inches @ $65
Assam Tea and Chestnut Panna Cotta Cake
Mini Dessert Set
6 pieces per set @ $38
大吉大利Lemon Dacquoise Fortune Orange
步步高升 Sesame and Osmanthus Whipped Ganache Puff Pastry
張燈結綵 Chocolate Financier Pineapple Lantern
柑橘馬卡龍 White Citrus Macaron
黑芝麻馬卡龍 Black Sesame Macaron
芭樂馬卡龍 Red Guava Macaron
Lunar New Year full set which includes both the Year of the Ox Cake and Mini Dessert Set for $98
Order on their website with the option for delivery (at an additional cost) or pick up during regular business hours.
Orders need a minimum of 2 days notice; the last day to order for February 16th is the 14th.
Wild Sweets By Dominique & Cindy Duby
Richmond Chocolatiers, Wild Sweets, has a Chinese New Year Chocolate Collections Gift Set. Available from January 08 – February 14, 2021 or until supply last, which ever comes first.
There are 3 concept gift boxes with 12 chocolates each:
Signature Cocoa Bean To Bar Tasting Box
Signature Cocoa Bean To Bar Tasting Box + Double Origin Cocoa Bean To Bar Truffe Chocolat
Signature Cocoa Bean To Bar Tasting Box + Double Origin Cocoa Bean To Bar Truffe Chocolat + Salted French Caramel & Roasted Nuts
Kirin Restaurants
Kirin Restaurant group is offering signature cakes and other delectable treats like Chinese Radish & Dried Scallops Pudding (savoury), Taro Root Pudding, and Water Chestnut Pudding. These are available for sale starting January 28.
Chinese New Year Cake (sweet) – $16.75
Water Chestnut Pudding (sweet) – $16.75
Chinese Radish Pudding (savory) – $18.75
Taro Root Pudding (savory) – $18.75
Please note that Water Chestnut & Taro Root Pudding will need to be ordered 3 days in advance.
*****Purchase 1-9 to get 10% off, 10+ to get 20% off. *****

To order, please call:
Kirin Downtown: (604) 682-8833
Kirin Richmond: (604) 303-8833
Kirin Starlight: (604) 528-8833
Pineapple Cakes
Pineapple cakes make for great holiday gift. 3 Quarters Full Cafe (1789 Comox St, Vancouver) makes their own house-made pineapple cakes without preservatives.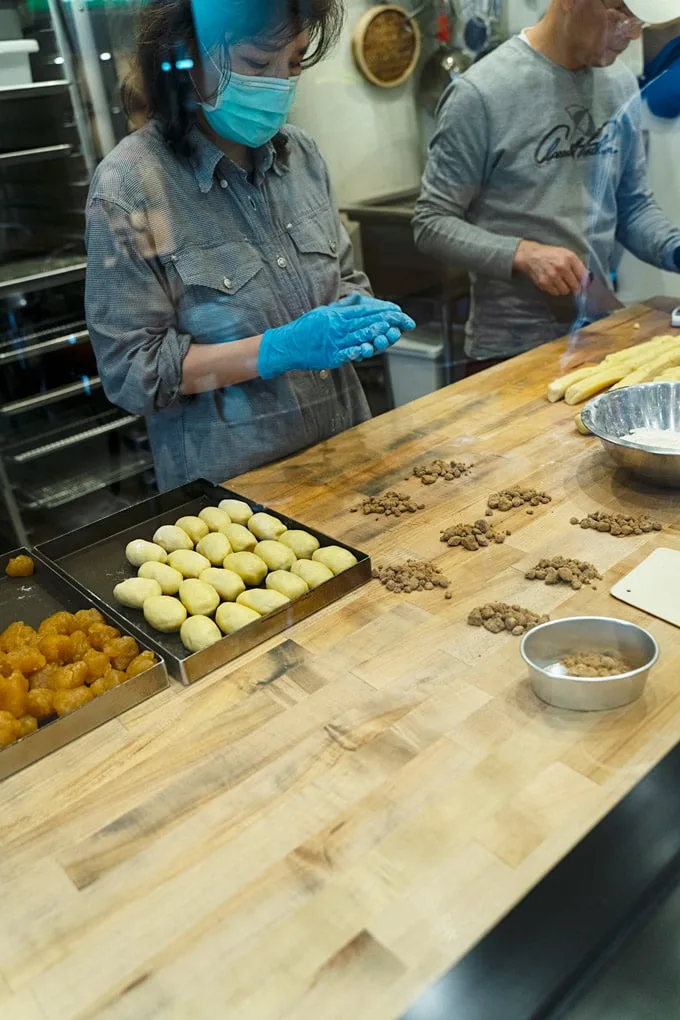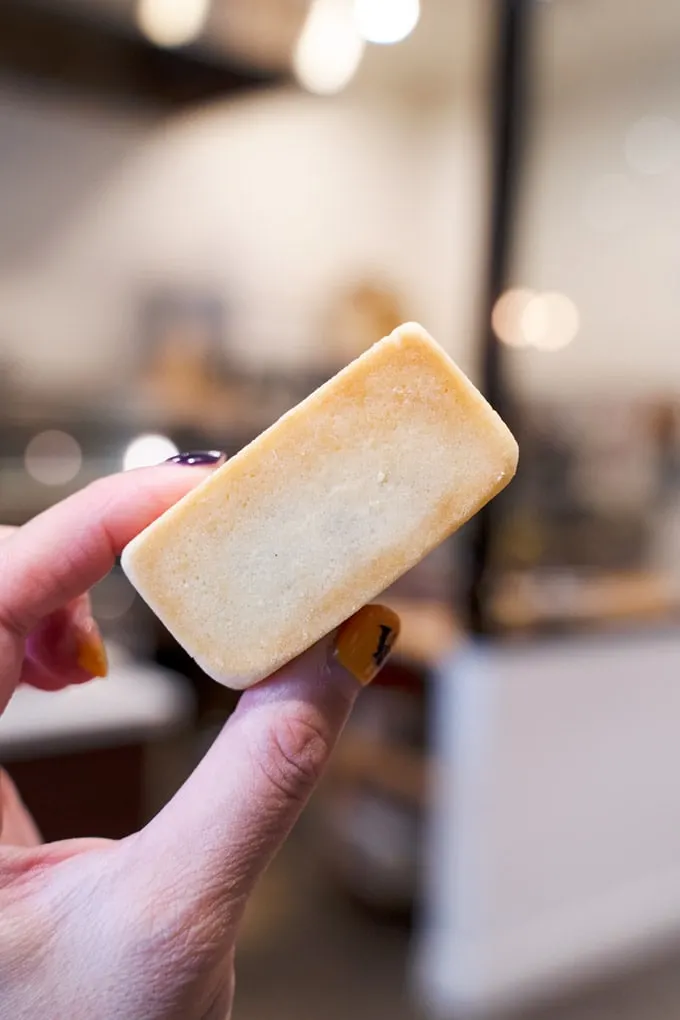 Temper Pastry
Temper Pastry in West Vancouver is offering a OX Chocolate Showpiece for Lunar New Year from Temper Chocolate and Pastry. Available starting February 1 and priced at $35.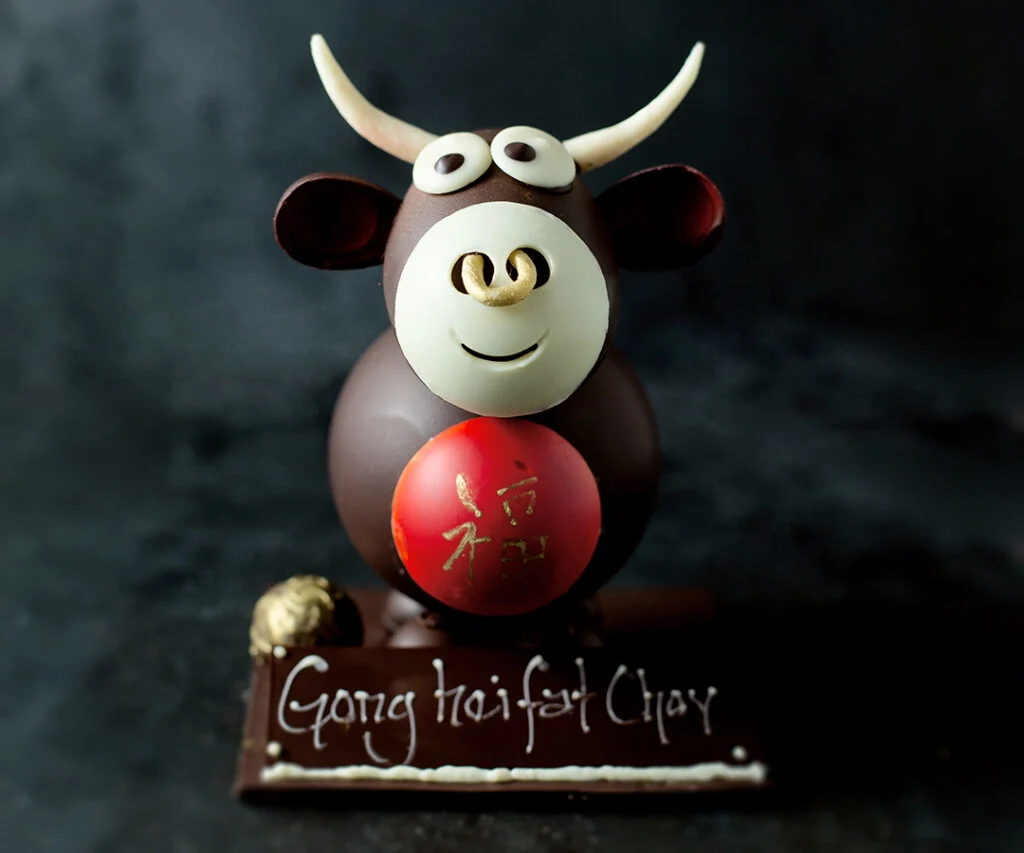 Wine Pairings
Did you know that Icewine goes well with Asian cuisine, particularly savoury and acidic dishes?
Inniskillin Icewines are renowned for their honeyed sweetness balanced by refreshing mouthwatering acidity which pair well with Asian dishes.
Below are a few suggestions on pairing Inniskillin Icewines with Asian flavours.
Inniskillin Vidal Icewine is made from the quintessential Vidal grape because it reaches a sweet intensity while retaining acidity. It offers aromas of tropical fruit and a medley of sweet citrus flavours with a subtle nuttiness. Available at LCBO, Wine Rack and GreatEstatesNiagara.com for $49.95/375mL.
Inniskillin Vidal Icewine pairs well with:
Lap Chong (Cured Chinese Sausage): the sweetness of the Vidal complements the sweet and smoky flavours used to cure the sausage while the acidity balances the sausage's richness and oily texture.
Fried Flounder with Ginger: the acidity in the wine brightens the flavours and complements the richness of fried foods. The wine's citrus notes are highlighted by ginger.
Black Vinegar: Black Vinegar has a slightly sweet flavor that is like Worcestershire sauce, but with clove and cinnamon. It offers the same two characteristics in the Vidal while also enhancing the wine's peach flavours.
Inniskillin Riesling Icewine is revered for its intensity. The Riesling grape produces Icewines with rich, fruit-forward flavours like candied citrus peel, apricots and orange blossoms, balanced by strong acidity, extenuating the exotic flavors of Asian cuisine. It's available at LCBO, Wine Rack and GreatEstatesNiagara.com for $42.95/375mL.
The tangy notes of citrus accentuate the candied citrus and orange blossom flavours of the Icewine.
The spicy notes of ginger are showcased with the Icewine's bright citrus and tropical fruit flavours.
The sweet notes of the Icewine calm the heat of spicy, Szechuan peppercorns.
Cocktails
The Victor
The Victor is offering a Lunar New Year Cocktail Feature called Ox Reviver feature cocktail. Gin, Kuei Hua Chen Chiew, lychee, lime.
Each cocktail will come with a fortune cookie, some that will have prizes which will then be given out in red envelopes. Available Feb 12 – 28.
Special Deals
Trees Cheesecake + Organic Coffee
Trees Cheesecake + Organic Coffee is offering a deal on their gift cards. Buy $20 get $25 from February 4 – 12, 2021 at our participating cafes.
Shrink Wrap Urban Sweat Lounge
Yaletown's hottest new wellness studio Shrink Wrap Urban Sweat Lounge is offering clients a relaxing and restorative escape from the wet weather this February with a seasonal promotional offer on its signature infrared sauna treatments.
To mark the weekend of Chinese New Year and Valentine's Day, Shrink Wrap will be offering a special Winter Wellness promotional package featuring two infrared heat therapy sessions for $88 (regularly priced at $59 per treatment).
The luxurious studio space will also be getting in the festive spirit all weekend long with red lighting in all sauna pods, and red balloons and red lanterns throughout the space in celebration of luck and love.