Icewine is a world-renowned style of wine that can only be crafted under specific -8 degree to -10 degree Celsius temperatures, for which the cool Canadian climate is ideal.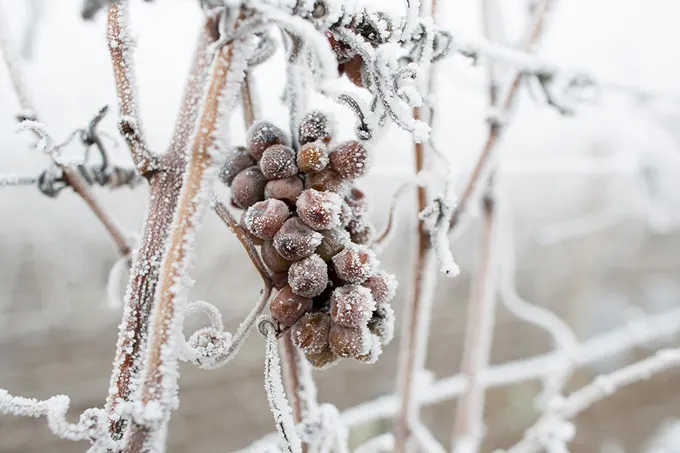 But to many, Icewine remains a bit of a mystery drink — they see a type of wine with deep colours in a skinny little bottle that they aren't used to seeing on the wine shelves in the liquor store.
It looks different than a typical bottle of wine, so questions are raised about how it should be stored, serving temperature, pouring etiquette, proper glassware and what should be enjoyed with it.
In this post, we cover 12 things to know about Icewine: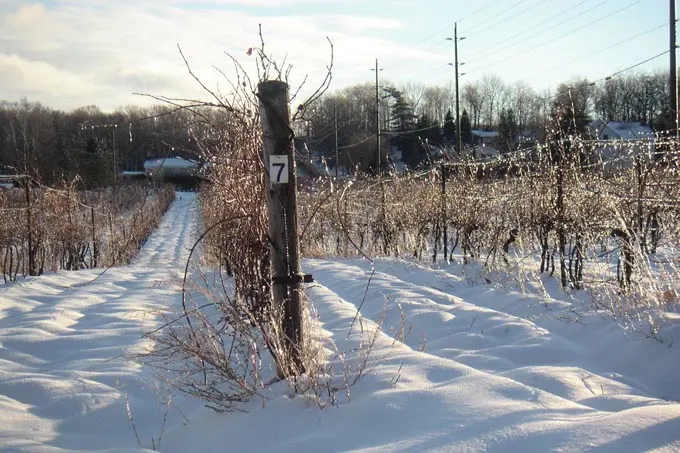 How is Icewine made?
Making Icewine is a detailed and complex process that starts during harvest when the winemaker decides which grapes are going to be left on the vines until winter's deep freeze hits.
There they will stay until late December or January — exactly when they are picked is determined by Mother Nature when she graces the vineyard with three or four days where the temperature stays below -8°C.
The grapes, which now resemble little frozen marbles, are hand-picked and pressed while frozen to extract a small amount of sweet, concentrated nectar — typically yielding about 15% of what those grapes would have produced had they been picked during the earlier table wineharvest.
Following the unique harvesting procedures, Icewines are then fermented and aged in the same process as a regular dinner wine.
The Icewine is then bottled in their signature tall bottles and the sweet treat is ready to enjoy!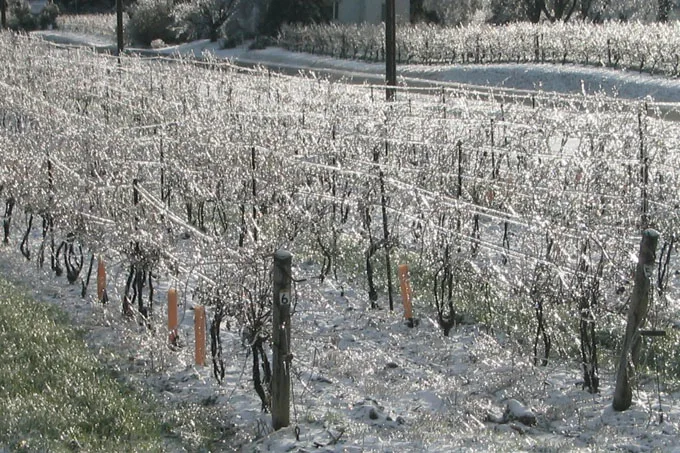 The common grape varieties for Icewine are Vidal Blanc, Riesling, and Cabernet Franc.
Less common but still used for Icewine production are Gewürztraminer, Chardonnay and Cabernet Sauvignon.
How do I store Icewine?
Icewines will keep for several years stored in the right conditions — on a slant to keep the cork wet, away from vibrations and with a consistent temperature around 12-15°C.
But as with any table wine, not all Icewines will benefit from aging, and that all depends on the varietal selected.
Chardonnay, Cabernet Franc and Merlot ice wines should be enjoyed while still young while something like a Riesling will age nicely.
Once the bottle is opened, you should enjoy it within three to five days.
How do I serve Icewine?
Icewines are ideally enjoyed chilled between 10-12°C, so if you are taking out of the cellar it may need some time in the fridge. And not just any fridge mind you.
You need a fridge that is capable of getting as low as 10-12 C.
It's always worth reading these reviews from Materialist and getting a fridge that's capable of these low temperatures.
Too warm and it will lose its crispness; too cold and it cuts the aroma.
Due to how sweet and rich an Icewine is, about two ounces per glass should suffice.
When do I pour Icewine?
There is a stereotype that Icewine is a dessert wine and should be held to the end of the meal.
And while it is great as a dessert, it also matches well with seafood or other main course dishes that involve something caramelized.
Check out more below on how to pair Icewine.
What kind of glass is best for Icewine?
Ditch the skinny dessert glasses.
To fully enjoy the aromas of Icewine, use a standard white wine glass that will allow the wine to breath and give you space to swirl the wine before enjoying it.
Pro tip: chill the wine glasses in the fridge for 10 minutes before pouring the Icewine in.
You could have a look at wine glassblowers and vendors such as Cornet Barcelona to look at some suitable glasses, as well as decanters.
Do I have to drink it straight?
Absolutely not.
A splash of Icewine is a great addition to a cocktail or to add a little something extra to a glass of sparkling wine.
What does Icewine taste like?
Icewine is very sweet and can come in a variety of flavours including ripe tropical fruits, peach, honey, citrus, melon, strawberry and even chocolate flavours.
What should I pair it with?
Dessert
If you are enjoying your Icewine with dessert, the first rule is you don't want the dessert to be sweeter than the Icewine.
If you have a white, enjoy it with fruit-based desserts while red Icewine is exquisite with dark chocolate.
Cheese
They are also ideal with a variety of cheeses.
Balance out the sweet Icewine with a savoury cheese like Roquefort or Gorgonzola.
The crucial element to Icewine is its balanced acidity, which is naturally complemented by many cheeses with salty and savoury flavours.
Main course
If pairing with a main course, go spicy — Thai, Indian, Mexican or Creole.
It's a nice balance to the sweetness of the wine, and may help cool off a burning palate.
Asian dishes
Icewine also goes well with Asian cuisine particularly savoury and acidic dishes.
Inniskillin Icewines are renowned for their honeyed sweetness balanced by refreshing mouthwatering acidity which pair well with Asian dishes.
Below are a few suggestions on pairing Inniskillin Icewines with Asian flavours.
Inniskillin Vidal Icewine is made from the quintessential Vidal grape because it reaches a sweet intensity while retaining acidity.
It offers aromas of tropical fruit and a medley of sweet citrus flavours with a subtle nuttiness.
Inniskillin Vidal Icewine pairs well with:
Lap Chong (Cured Chinese Sausage): the sweetness of the Vidal complements the sweet and smoky flavours used to cure the sausage while the acidity balances the sausage's richness and oily texture.
Fried Flounder with Ginger: the acidity in the wine brightens the flavours and complements the richness of fried foods. The wine's citrus notes are highlighted by ginger.
Black Vinegar: Black Vinegar has a slightly sweet flavor that is like Worcestershire sauce, but with clove and cinnamon. It offers the same two characteristics in the Vidal while also enhancing the wine's peach flavours.
Inniskillin Riesling Icewine is revered for its intensity.
The Riesling grape produces Icewines with rich, fruit-forward flavours like candied citrus peel, apricots and orange blossoms, balanced by strong acidity, extenuating the exotic flavors of Asian cuisine.
The tangy notes of citrus accentuate the candied citrus and orange blossom flavours of the Icewine.
The spicy notes of ginger are showcased with the Icewine's bright citrus and tropical fruit flavours.
The sweet notes of the Icewine calm the heat of spicy, Szechuan peppercorns.
Icewine Tasting
You can create your own Icewine "tasting bar" to enjoy.
Some suggestions on what to include for the Icewine tasting are with some of Inniskillin's most popular Icewines like the 2016 Inniskillin Okanagan Vidal Icewin.
This is an award-winning Icewine that boasts delicious aromas of pear, lychee, mango and citrus.
Additionally, the 2018 Inniskillin Riesling Icewine's rich palate is overflowing with sweet nectar flavours and balanced with a crisp acidity.
Icewine History
The first Icewine, or Eiswein, has been traced to Germany when in 1794 an early frost froze grapes on the vine.
With the hope that they could salvage some of the crop, the monks who tended the vineyard picked and pressed the frozen grapes.
The reward was a sublime nectar that could rival some of the famous sweet wines of the world.
Dependent on Mother Nature, this wine was only produced in the coldest winters with great variability.
Where is Icewine produced in Canada?
The Niagara Falls region is the top producing region of icewine in Canada.
Icewine Cocktail Ideas & Recipes
Yes, you read that right – cocktails!
You can create a breadth of delicious cocktails with Icewines. Here are some recipe ideas featuring Inniskillin Icewines.
"Inn Fashion"
Freshen up your cocktail game in quarantine with the "Inn Fashion" – a take on the classic Old Fashioned, made with the Inniskillin Vidal Icewine.
Ingredients:
1½ oz. Inniskillin Vidal Icewine
1½ oz. Scotch whisky
2 dashes of Angostura bitters
Preparation:
Combine all ingredients in a rocks glass with ice. Stir to chill. Garnish with an orange twist.
"Inn-rita"
Bring the taste of summer with the "Inn-rita", a take on the classic cocktail.
Ingredients:
2 oz. Inniskillin Cabernet Franc Icewine
1 oz. tequila blanco
½ oz. freshly squeezed lime juice
1 oz. freshly squeezed grapefruit juice
Preparation:
Combine all ingredients in a mixing glass, add ice, stir until cold, strain over one large ice cube into a rocks glass and garnish.
Canadian '75
The Canadian '75 made with a splash of gin, was named after the year Inniskillin Wineries was first licensed.
Ingredients:
1 oz. Gin
1 oz. Inniskillin Riesling Icewine
1/2 oz. Fresh Lemon Juice
3 Dashes Pear Bitters
2-3 oz. Jackson-Triggs Reserve Sparkling Moscato
Lemon Twist to garnish
Preparation:
Pour gin, Icewine, lemon juice, bitters into a cocktail shaker with ice. Shake well.
Strain into a chilled flute glass. Top with sparkling and garnish.
Finally, the Canadian '75 made with a splash of gin, was named after the year Inniskillin Wineries was first licensed.
Niagara Peach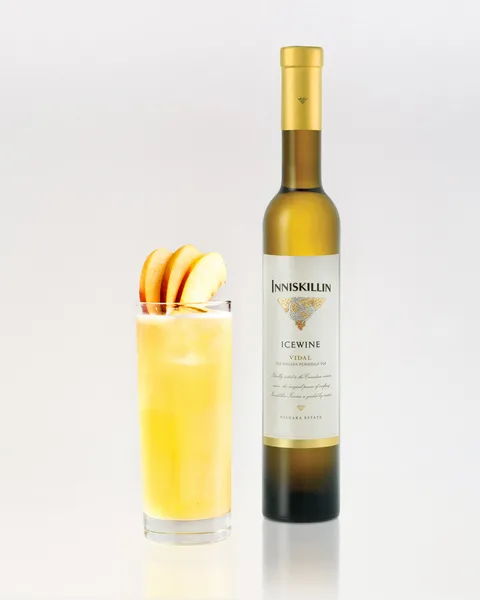 Ingredients:
1 oz gin
1 ½ oz peach juice
Soda water
Lemon and peach slices for garnish
Directions:
Combine Inniskillin Vidal Icewine, gin and peach juice in a mixing glass. Add ice, shake and strain over fresh ice into a highball glass. Top with soda water and garnish with lemon and peach slices.
The 375mL Inniskillin Vidal Icewine is available where wine is sold for around $49.95
The Manhattinn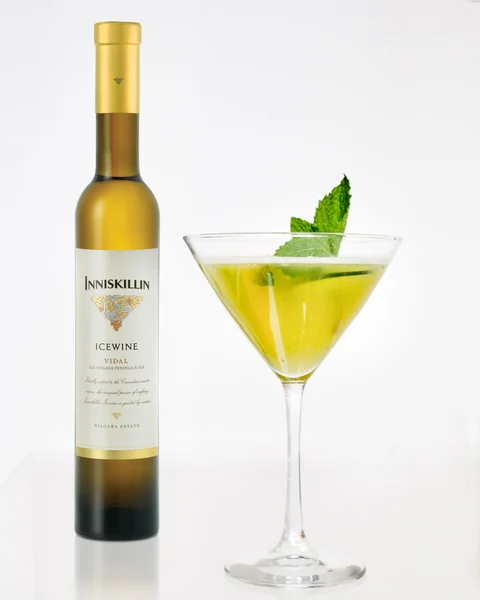 Ingredients:
0.75 oz rye whiskey
2 dashes Angostura bitters
Lemon peel for garnish
Directions:
In a cocktail shaker or mixing glass, combine all ingredients. Add in ice and stir until cold. Strain over one large ice cube into a rocks glass. Finally, garnish with lemon peel.
The 375mL Inniskillin Cabernet Franc Icewine is available where wine is sold for around $99.95.
Icewine Martini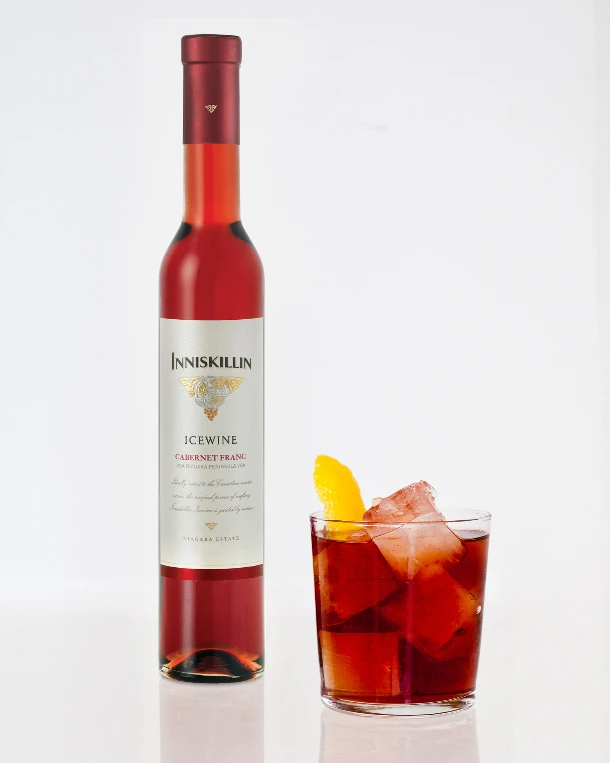 Ingredients:
½ oz London Dry Vermouth
1 lemon slice for garnish
Sage leaf for garnish
Directions:
In a cocktail shaker filled with ice, add Inniskillin Vidal Icewine and vermouth. Shake sharply and strain into a cocktail glass. Garnish with a lemon slice and sage leaf.
The 375mL Inniskillin Vidal Icewine is available where wine is sold for around $49.95.