Cadbury is reigniting Canadian's passion for the Caramilk Secret by giving Canadians the chance to win $100,000 through a virtual Unlock the Secret Caramilk contest 2021 starting August 15.
Throughout the years, Caramilk has challenged Canadians to "Unlock the Secret" in a variety of ways, making it one of Canada's most loved and enduring mysteries.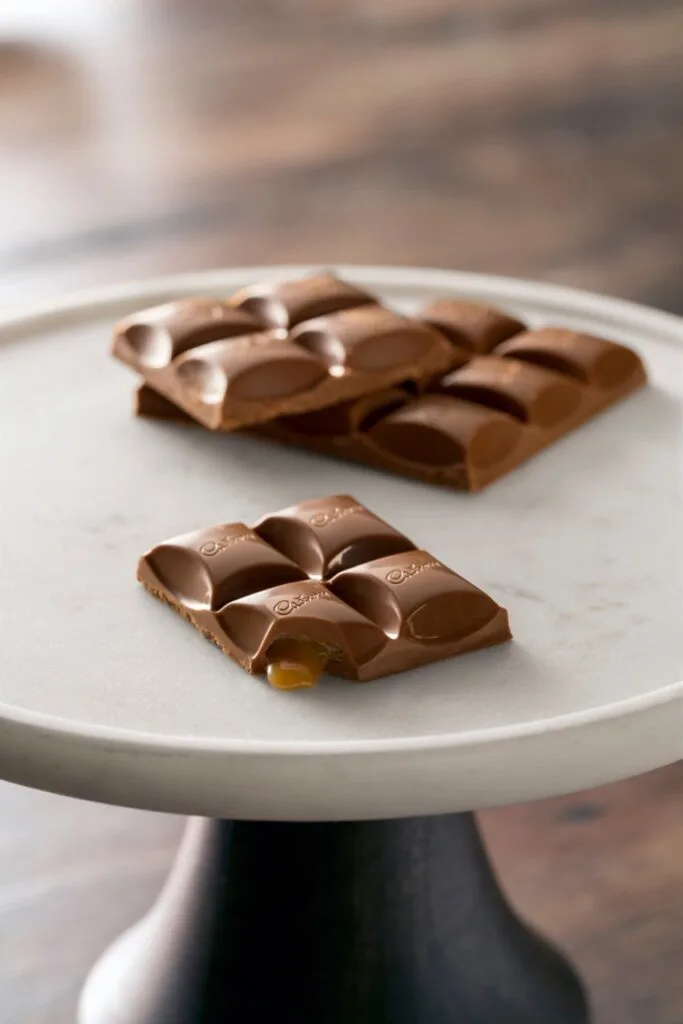 Like last year, the contest is completely virtual, so everyone in the country, no matter where they live, will have an equal chance of becoming a finalist and winning the grand prize.
How to Enter Caramilk Contest 2021
Caramilk Contest 2021 is open to Canadian residents, age of majority.
Buy a participating product
Starting August 15, 2021, look for participating specially-marked Caramilk products which contain a unique 12-digit alpha PIN code inside:
Caramilk Singles (50g)
Caramilk King (78g)
Caramilk Multi-Pack (4x50g) bars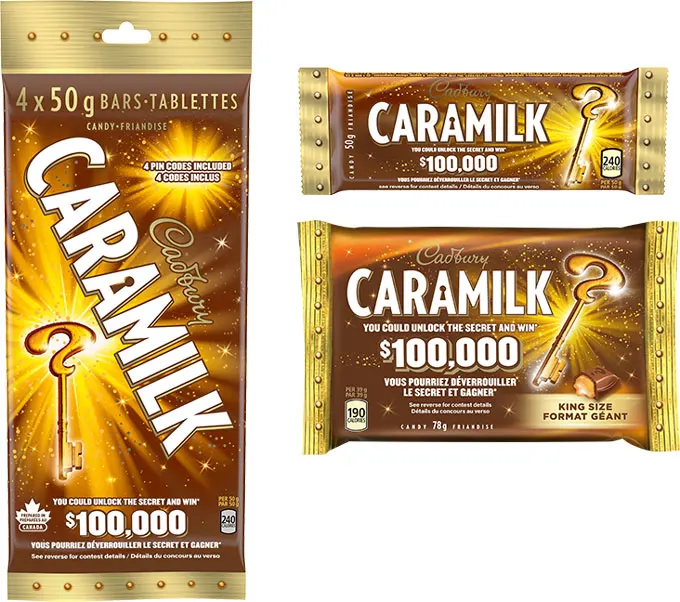 No purchase necessary method
To enter without making a purchase of a Participating Product, you may request a PIN code by sending a 75-word handwritten essay about why you love Caramilk along with your full name and email address on an 8.5" x 11" piece of paper and mail it in an envelope with proper postage to "Caramilk Unlock the Secret", c/o BSTREET Communications, 6 Belsize Drive, #216, Toronto, ON, M4S 1L4.
Limit of one request per outer envelope with sufficient postage.
All requests must be postmarked by October 15, 2021 to allow sufficient time for processing.
Once the PIN code is received via email, enter the PIN code at the Contest Website during the Contest Period and provide your full name and email address.
Limit
Each PIN code is valid only for a single entry.
There is a limit of 10 contest entries, per email address/person, per day regardless of method or combination of methods of entry.
Where do I enter Caramilk code?
Enter the PIN code at www.caramilk.ca during the Contest Period and provide your full name and email address.
Upon entering the PIN, you will instantly find out if you are one of the lucky 10 finalists.
Caramilk Contest 2021 Prizes
There are 10 Instant Win Prizes each consisting of CDN $1,000.
There is one Grand Prize of CDN $100,000 available to be won from among the Instant Win Prize winners at the virtual Caramilk "Secret" Vault Unlocking Ceremony held on Wednesday, November 17, 2021 from 2:00 – 3:00 p.m. ET.
Instant Win Prizes will diminish as claimed.
There will be approximately 6 million PIN codes available in the Contest through Participating Products and 100,000 PIN codes available through the No Purchase Necessary method, with no particular geographic allocation.
Grand Prize Ceremony
Each of the Instant Prize winners will receive an invitation to join the Grand Prize Ceremony held on Wednesday, November 17, 2021 from 2:00 – 3:00 p.m. ET.
The invitation will include a link to join the Ceremony via Zoom, as well as a toll-free phone number to be used in the event that the Finalist is disconnected or is unable to join via Zoom.
At the Ceremony, each of the Finalists will have the opportunity to select a key.
The event moderator will draw finalist names at random to determine Key selection order.
Names will be recorded in the order in which they are drawn (i.e., the first name drawn will be noted under slot #1 on the board).
Finalists will then select, in order from slot #1 to #10, a numbered Key which will be placed beside their name.
The event moderator will attempt to open the Vault with the Finalists' Keys in order, until one of the keys unlocks the Vault.
The Finalist whose Key opens the Vault will be deemed the potential winner of a cheque or direct deposit for the Grand Prize of CDN $100,000.00.
Odds of Winning
Odds of winning depend on number of (and when) eligible entries are received during the Contest Period.
Correct answer to skill-testing question required.
Contest Period Dates
The contest starts August 15, 2021 and ends on October 22, 2021.
Official Rules
For more information, visit caramilk.ca.
Good luck!