Mexican churros-focused cafe, La Churreria, opened this week at 1105 Davie Street in the West End.  The people behind La Churrerira are no strangers to the restaurant business; they own Los Amigos Taqueria across the street.   According to the Georgia Straight, the owners decided to open La Churreria after they enjoyed success in selling churros at their restaurant.  After hearing on social media that they opened, I decided to visit La Churreria which is conveniently in my neighbourhood.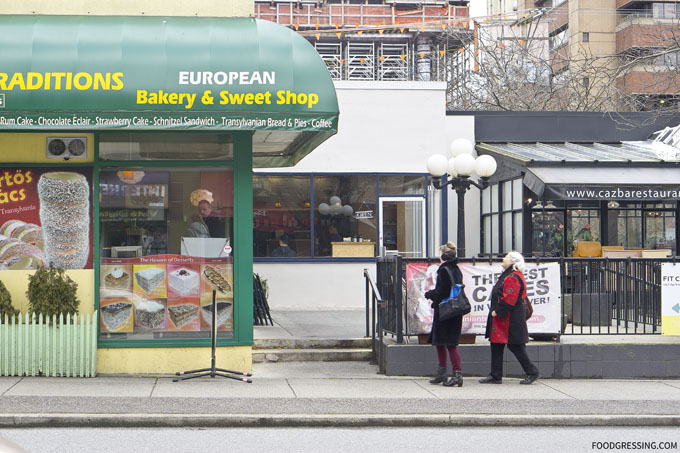 Note:  This is not a sponsored post.  The food was not complimentary.  I did not receive any compensation or incentive to share about my experience.  The restaurant did not know that I am a blogger.
Davie and Thurlow
La Churreria is a small cafe located within a plaza at Davie and Thurlow (with popular neighbour Transylvania Traditions).  The interior is just 500 ft and seats about 16 people.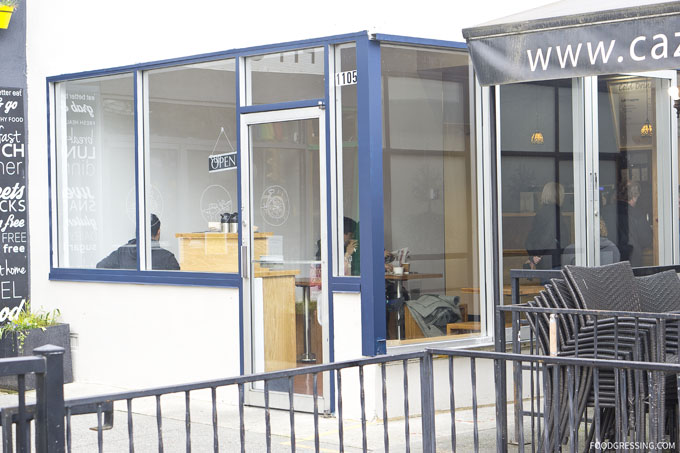 The design seemed minimalist with wooden tables and stools.  It felt warm and inviting and the space welcomed lots of natural light.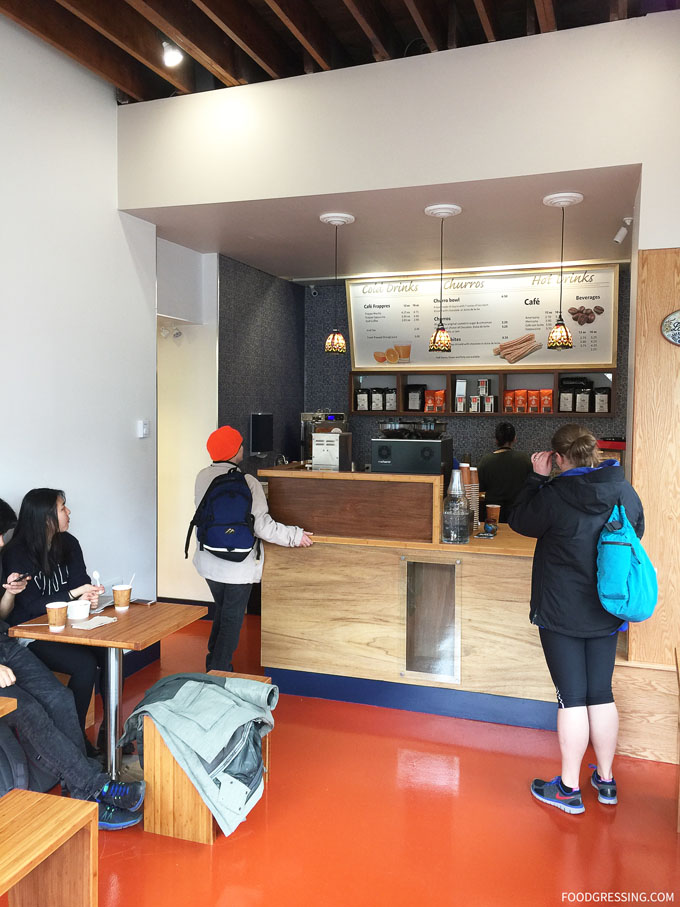 La Churreria Menu
On the menu at La Churreria are espresso-based cold and hot drinks.  Some particular stand-outs in the beverage area is the Mexican coffee and the Fresh Pressed Orange Juice.  It was reported that the Mexican coffee has spices, piloncillo (made of cane sugar), and cinnamon.  La Churreria also owns a special machine to create fresh cold-pressed orange juice on site.
For those unfamiliar with churros, it is a fried-dough pastry originating from Spain.  La Churreria offers churros in plain ($2.25) or filled ($3.25) varieties.  Also offered are churros bites with chocolate or dulce de leche drizzle ($5.25).  The ultimate dessert on the menu is a churro bowl ($6.50) which has circular-shaped churros as the base and then topped with a scoop of ice cream followed by a drizzle.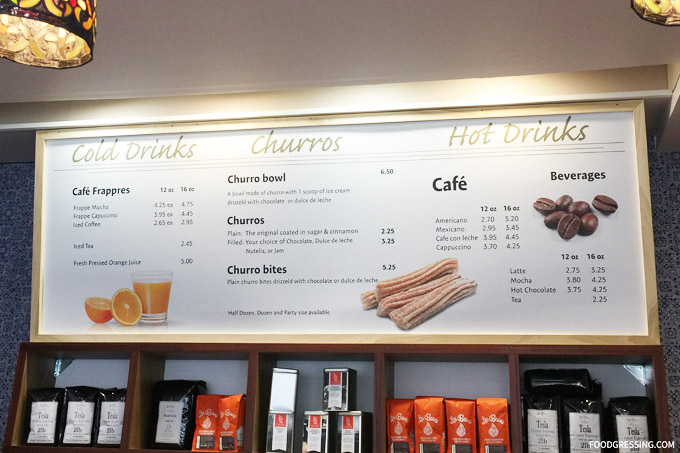 What I Tried
When I was there, the staff looked like they were still working out their processes.  I ordered a plain churro ($2.25) and one filled with dulce de leche ($3.25).  The texture of each churro was wonderfully crunchy on the outside and the surface looked appropriately ridged from the piping process.  Churros are usually piped from a syringe-like tool called a churrera with a star-shaped nozzle.  The outside of the churros was packed with cinnamon and sugar while the inside was light and fluffy.
In terms of taste, I liked it but thought it was just a bit too sweet for me personally.  I've had churros elsewhere in Vancouver – namely Hugo's Churros and most recently The Pawnshop YVR – and can't recall it being that sweet.  Another issue I had was that the filled churros didn't really have enough filling.  Mine had dulce de leche – a creamy caramel spread – but when I bit into the churro, I couldn't see much of any filling.  As a result, both the plain and the dulce de leche tasted quite similar.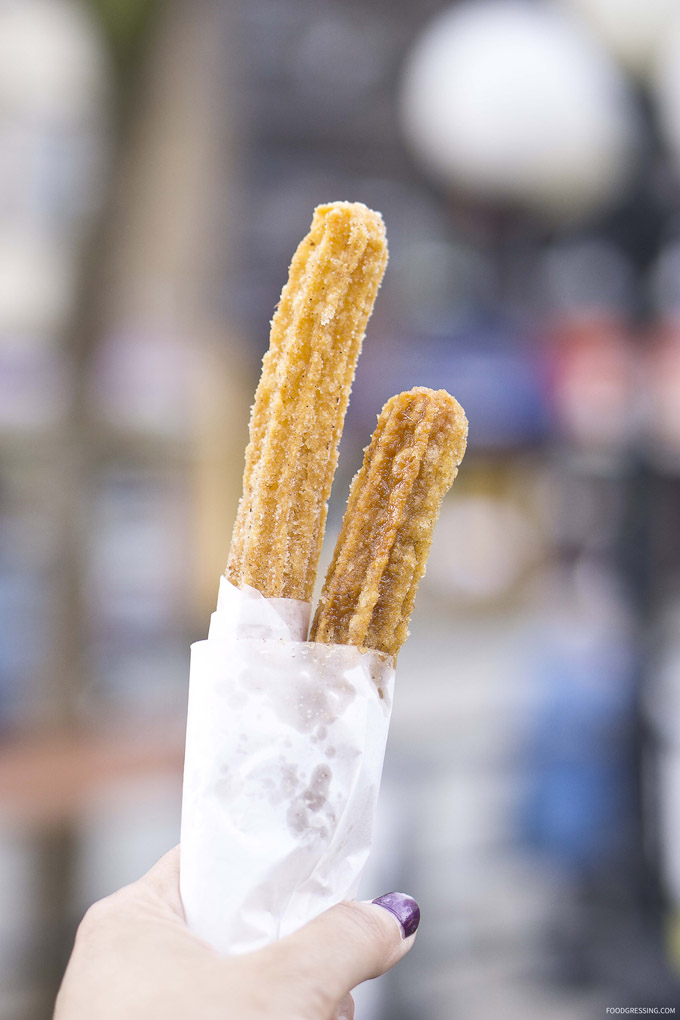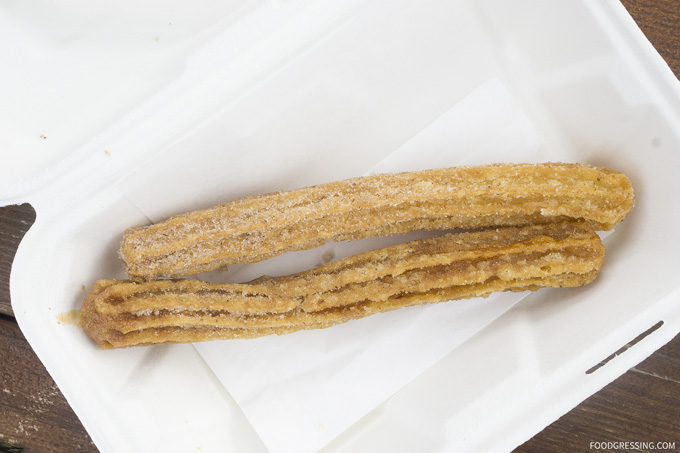 Overall Impression
I thought that the churros from La Churreria were generally well-executed.  However, I think that the filled version (at least for the dulce de leche) needs improvement as the filling was not substantial enough.  I'd be interested in trying their churros bites, Mexican coffee and fresh pressed OJ in the future after they've moved beyond the opening phase.  Rating: 3.5/5
Facebook: @lachurreriayvr