Chocolate loving Vancouverites have a reason to celebrate because Cacao 70 Vancouver is now open.  Chocolate-focused Cacao 70's new location at 1047 Denman Street marks their 11th location in Canada and first expansion to the West Coast.  In Quebec and Montreal, there are 10 Cacao 70 locations.  I had visited their Downtown Montreal location in 2015 (see review here) and enjoyed my brunch experience then.  So, when Cacao 70 invited me to try their new Vancouver cafe, I was excited to see relive the Cacao 70 experience.  With me on this media tasting was Diana (Foodology.ca) and our plus ones.
Disclosure:  All food and beverages in this review were complimentary.  Opinions are our own.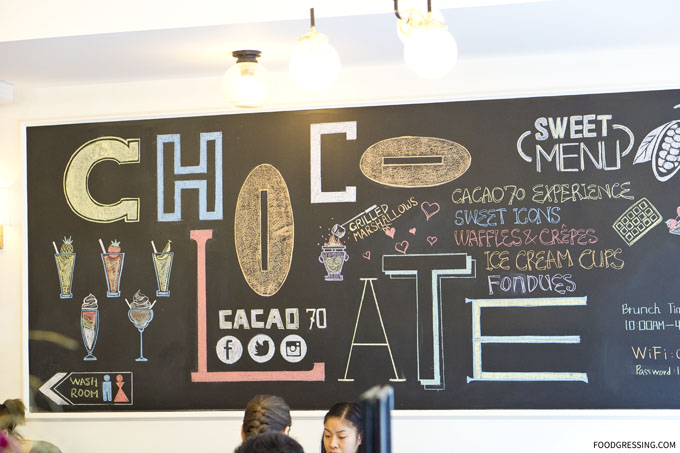 Cacao 70 Vancouver Menu
To say that Cacao 70 is a chocolate lover's heaven is a bit of an understatement.  Their sweets menu is extensive, not for the faint-of-heart and utterly mouthwatering.  It can be a nightmare for the indecisive or a dream come true for the chocolate fanatic.  For me, their menu is the stuff dreams are made of: triple chocolate cake, choco-nut waffles, classic chocolate crepes, quadruple chocolate parfaits, and the infamous chocolate pizzas in numerous varieties. 
While chocolate is the main focus of their menu, they also have a very good selection of savoury items for brunch including sandwiches, paninis, crepes, salads, omelets, and more.  So if you are dining with individuals who want to go a savoury route, there are options.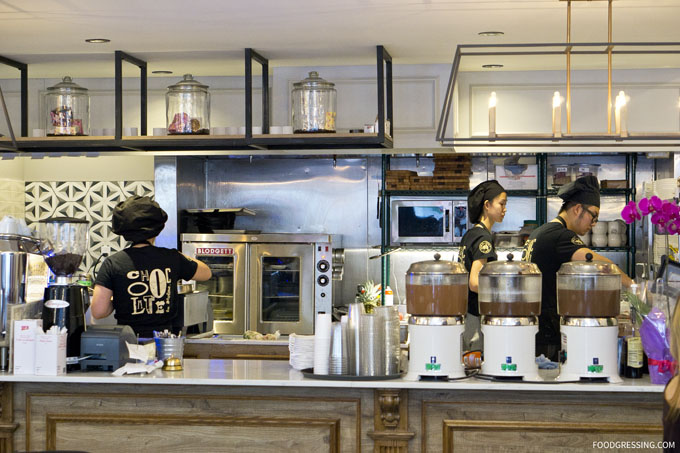 Modern and Bright
Cacao 7o Vancouver is bright, modern and smelled of chocolatey goodness.  There are a mix of dining tables and cozy banquettes.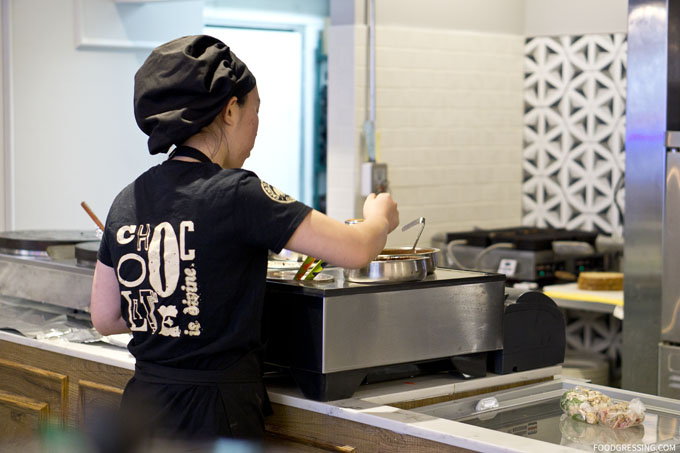 What We Tried
Our party of four went in on a Saturday morning for brunch and tried the following:
Beverages

American Style Hot Chocolate, Large ($7.50)
Drinking Chocolate ($9.75)

Sweets

Chocolate Marshmallow Pizza ($28.95 for 12″)
Illegal Chocolate Waffle ($13.50)

Savouries

Meat Lover Omelet ($13.50)
Spinach and Egg Crepe ($13.75)
Europa Pressed Crepe Sandwich ($13.50)
Beverages
The American Style Hot Chococolate was a rich and decadent beverage featuring Cacao 70's classic hot chocolate with marshmallows.  It is drizzled with melted chocolate with choice of milk, semi-sweet or dark.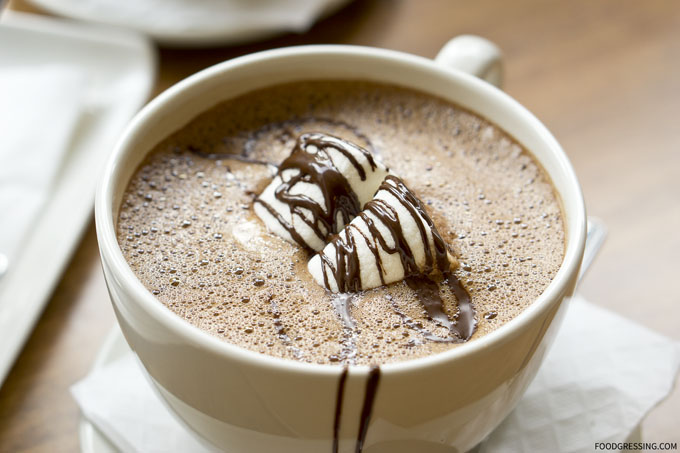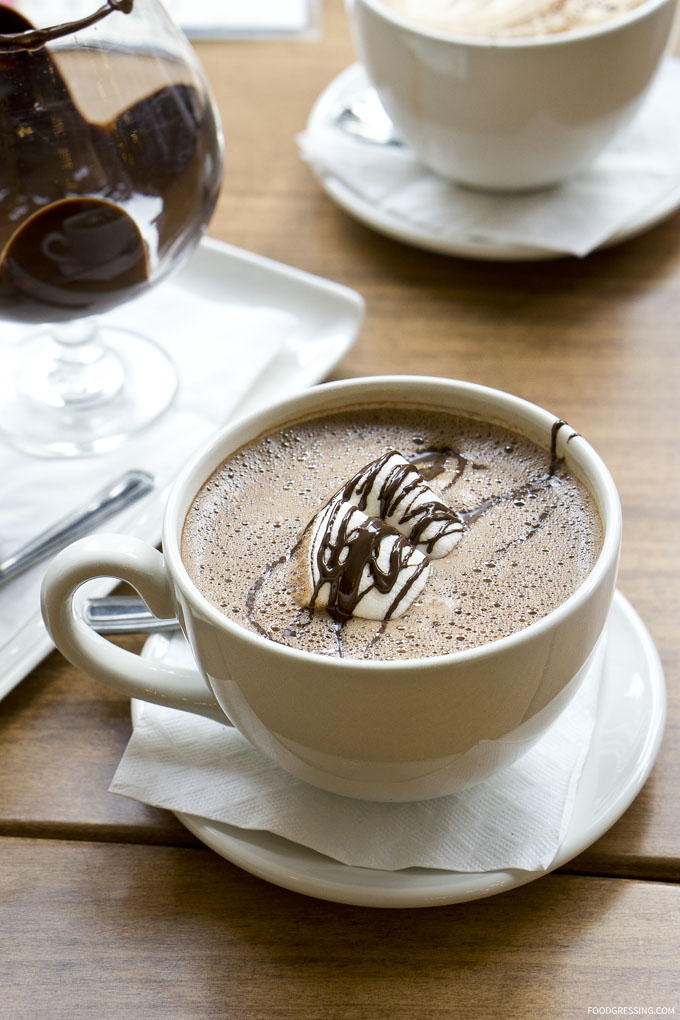 The Drinking Chocolate involved some fun pouring action.  The one we had was the 76% Equator which had powerful dark chocolate and fruit flavours with hazelnut notes.  Given the intensity of the flavour, I recommend this for *serious* chocolate lovers only.  You can even add an alcohol shot for $3.50.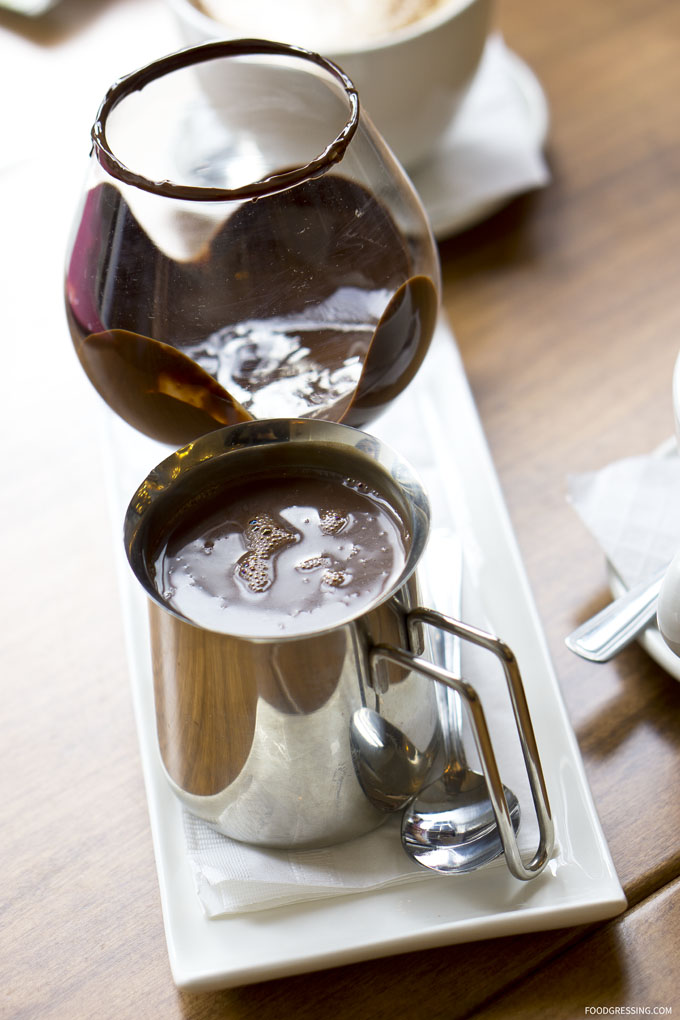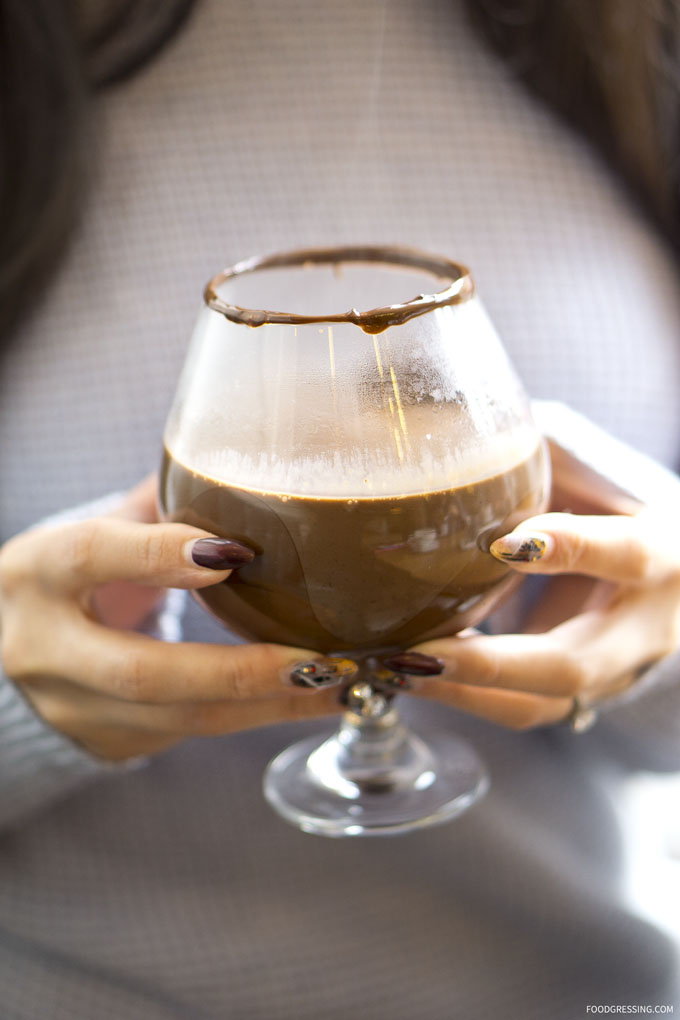 Sweets
One of the iconic Cacao 70 offerings is chocolate marshmallow pizza.  It's the perfect combination of two of my favourite foods: chocolate and pizza.  I had previously had a quarter slice of it in Montreal but this time we had the full 12″ pizza which is great for sharing!  The pizza is warm and topped with roasted marshmallows, melted milk chocolate and served with sides of bananas, chocolate dip and strawberries.  Again, this pizza looks beautiful and mouthwatering but certainly is a very rich, decadent menu item.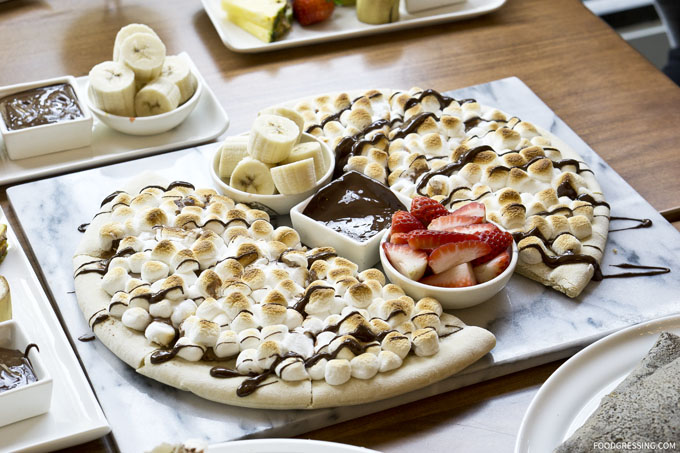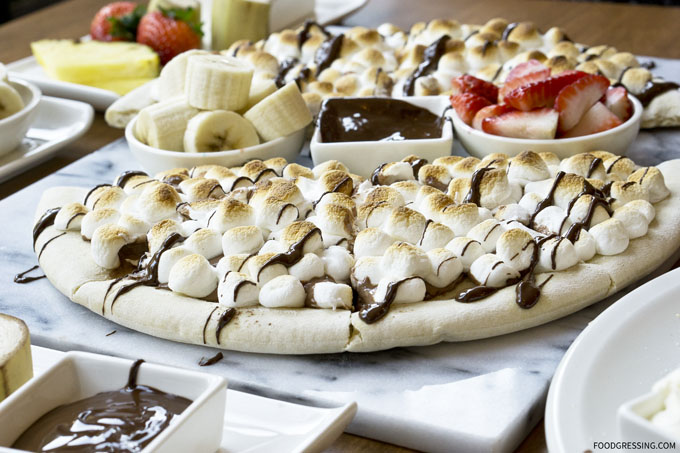 The Illegal Chocolate Waffle has a classic waffle topped with pure melted milk Belgian chocolate, milk chocolate shavings, and caramelized bananas.  On the side were crunchy chocolate wafer balls, melted chocolate and whipped cream on the side.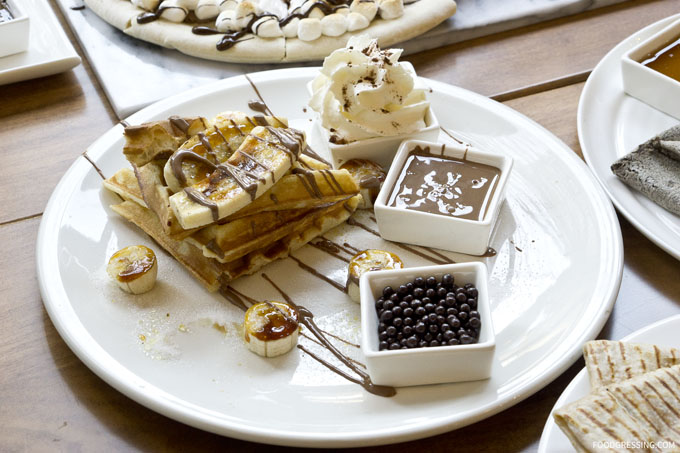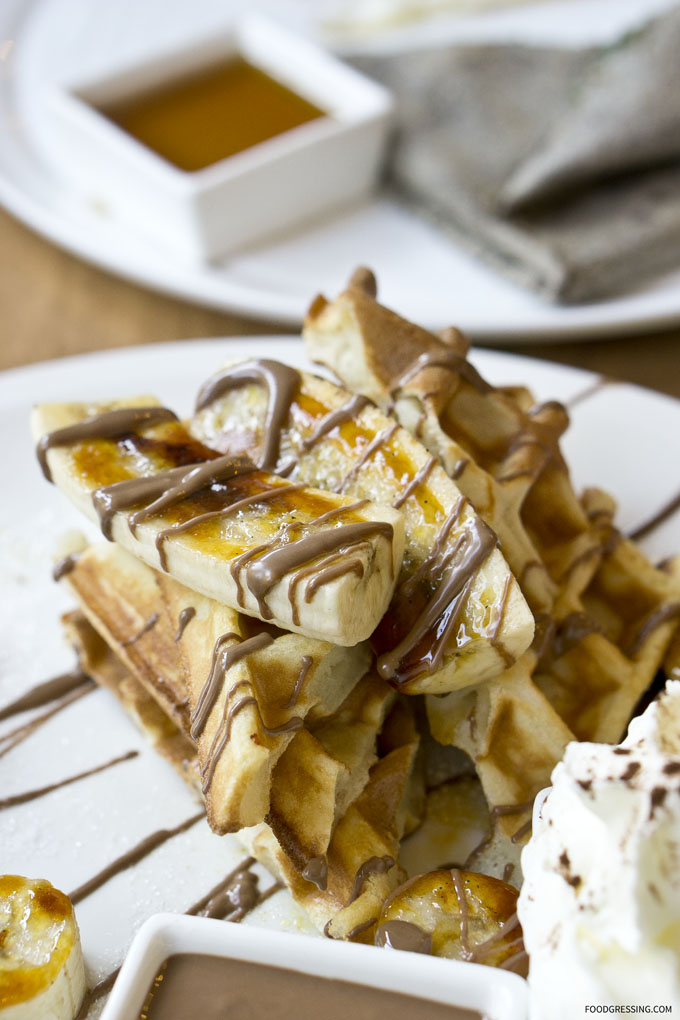 The idea is to dip the waffle into the chocolate sauce and then coat it with whipped cream and crunchy chocolate wafer balls.  I really loved the wafer balls for textural contrast.  I thought this was overall a fun way to enjoy waffles.
Savouries
To balance out all the sweets during our brunch, we tried several of their savoury brunch items.  The Meat Lover Omelet had 3 eggs cooked with bacon, ham, Italian sausage, folded over a layer of melted cheddar cheese.  On the side were potatoes, whole-wheat toast, and fresh fruits and melted chocolates.  It's the kind of dish that seems to cover all food groups, is filling though not super memorable in terms of taste.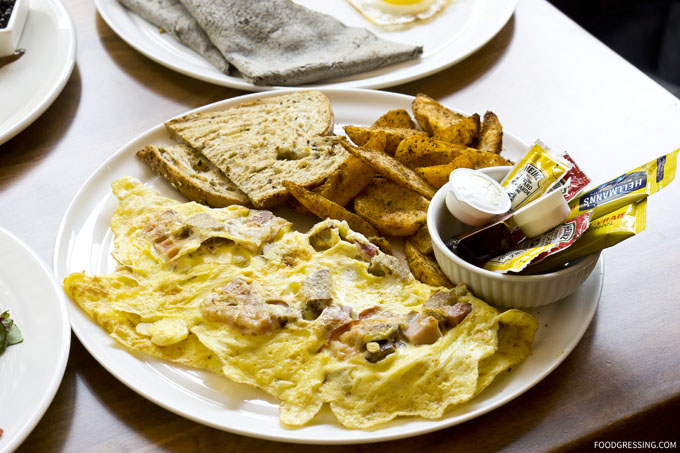 The Spinach and Egg Crepe comes with 2 fried eggs with a buckwheat base French style crêpe stuffed with baby spinach and feta cheese.  It is also served with fruit and melted chocolate.  The crêpe was light, crispy and a good gluten free option.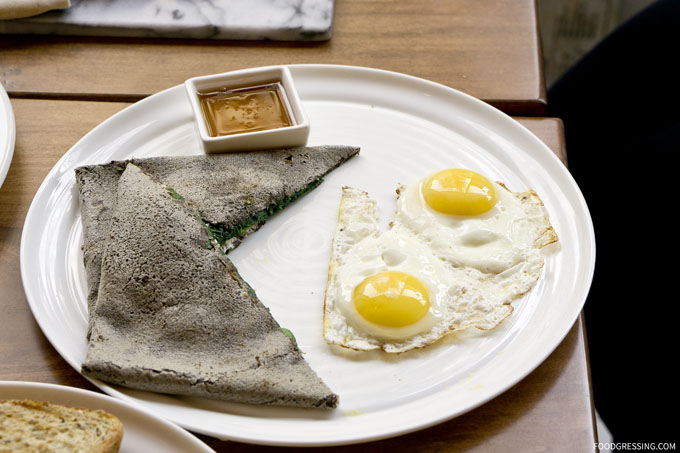 The Europa Pressed Crepe Sandwich was a light, refreshing savoury option which had ham, Swiss cheese, and a Parisienne sauce.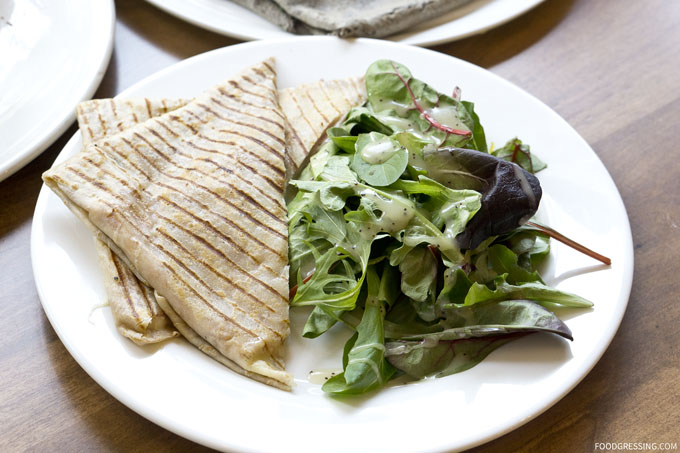 Overall Impression of Cacao 70 Vancouver
My favourite items from the tasting were the American Style Hot Chocolate, Illegal Chocolate Waffle and Europa Pressed Crepe Sandwich.  The Chocolate Marshmallow Pizza is best to be shared.  Rating: 3.5/5
Website: www.cacao70.ca