Chocolate for brunch? Yes, please. That was the case when my family and I visited the popular chocolate-focused cafe, Cacao 70, in Montreal. Cacao 70 has been delighting Quebecers with decadent, chocolate-based desserts with three locations in Montreal alone. There are also two other cafes in Quebec and five more in Ontario. This review is a bit overdue because they have since opened a new location right here in Downtown Vancouver (review coming soon). And so my inaugural Cacao 70 experience began at their Downtown Montreal location where we visited them for brunch at 10 am.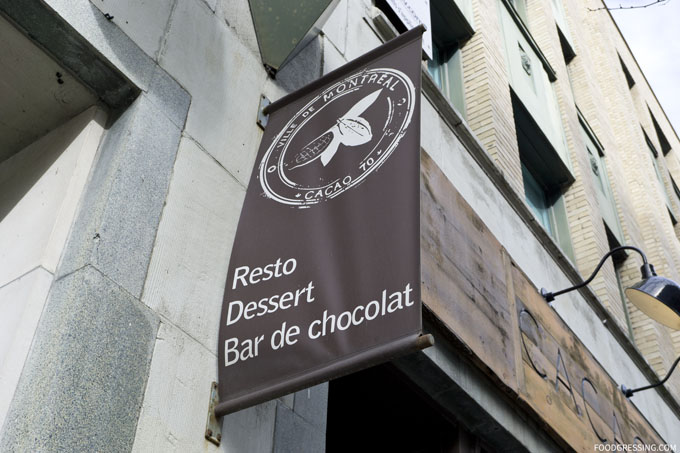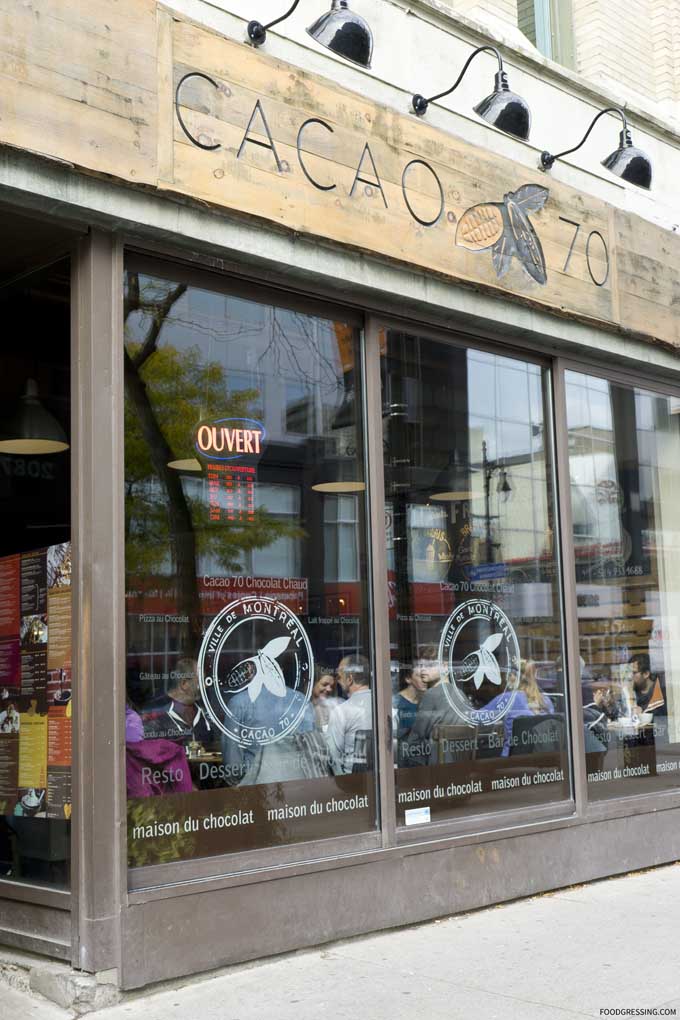 Cacao 70 Menu
To say that Cacao 70 is a chocolate lover's heaven is a bit of an understatement. Their sweets menu is extensive, not for the faint-of-heart and utterly mouthwatering. It can be a nightmare for the indecisive or a dream come true for the chocolate fanatic. For me, their menu is the stuff dreams are made of: triple chocolate cake, choco-nut waffles, classic chocolate crepes, quadruple chocolate parfaits, and the infamous chocolate pizzas in numerous varieties.
While chocolate is the main focus of their menu, they also have a very good selection of savoury items for brunch including sandwiches, paninis, crepes, salads, omelets, and more. So if you are dining with individuals who want to go a savoury route, there are options.
What We Tried
For brunch, we had the infamous chocolate marshmallow pizza (one quarter for $13.75). It's the perfect combination of two of my favourite foods: chocolate and pizza. The pizza is warm topped with roasted marshmallows, melted milk chocolate and served with sides of bananas, chocolate dip and strawberries. At least you get a decent fruit serving with this decadent dish!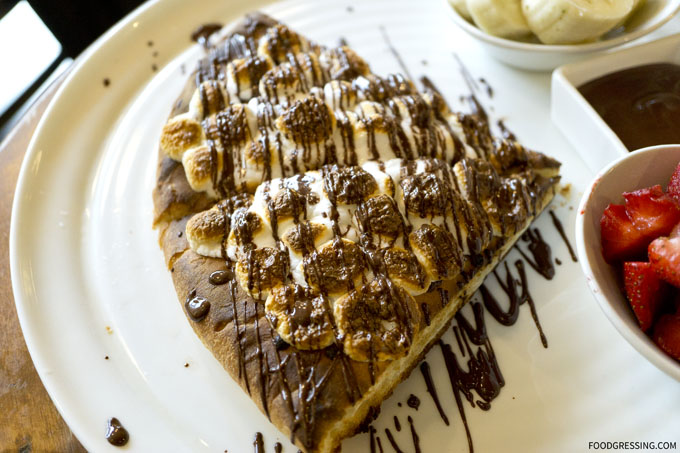 The pizza crust is light, airy and chewy. The first bite of the chocolate pizza was rather thrilling.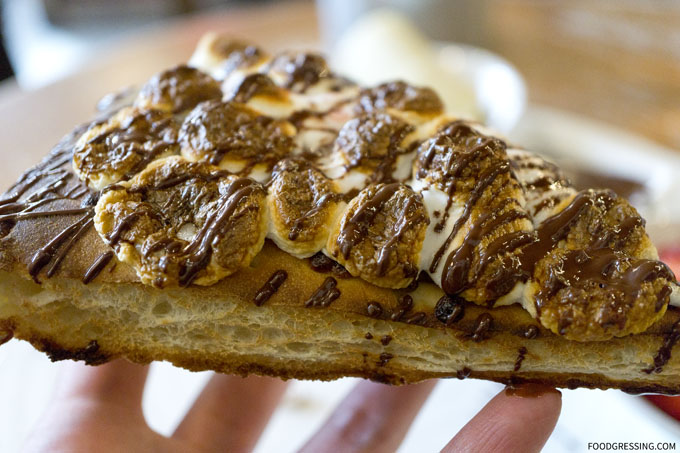 We also got a simple classic waffle ($5.00) which had a nice presentation for the price. There was some chocolate drizzle, icing sugar, and hazelnut dip on the side.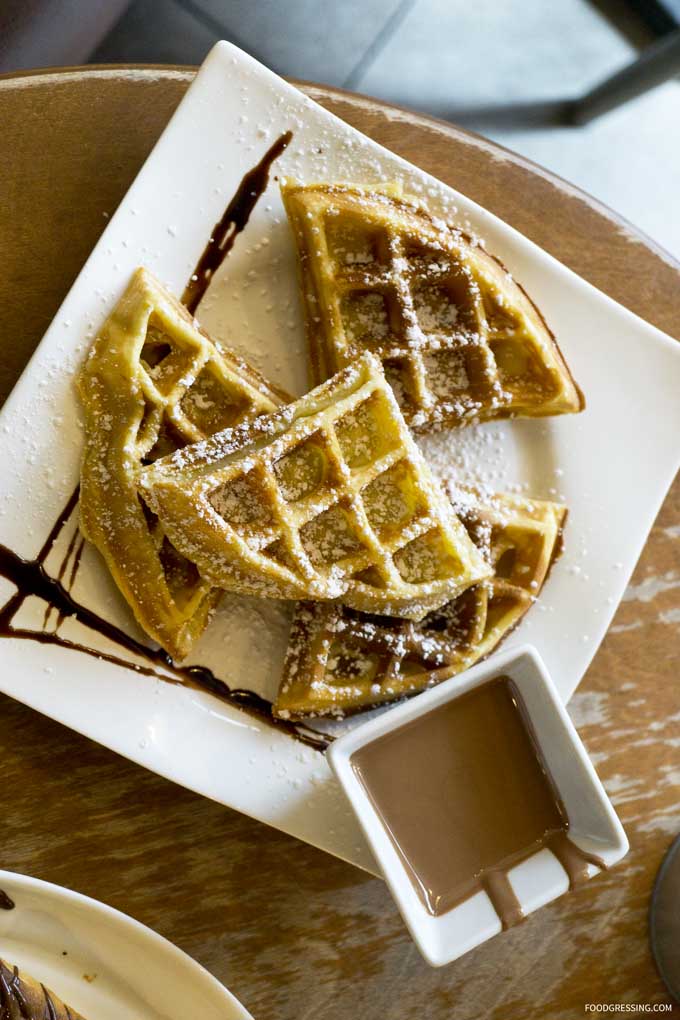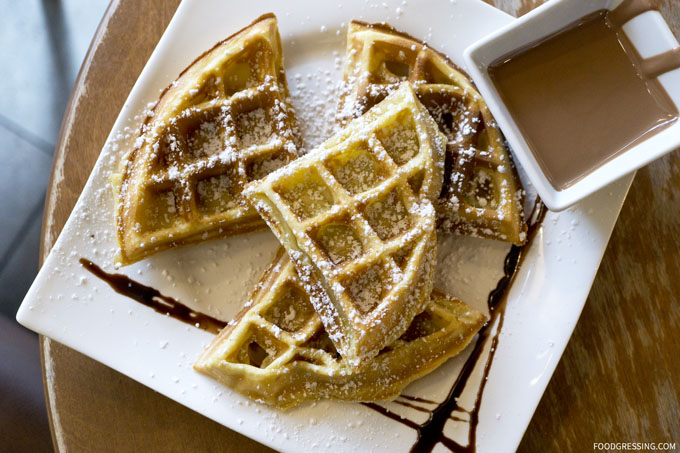 Overall Impression of Cacao 70
I thought that the desserts at Cacao 70 were delicious overall with a good balance of chocolate flavour versus everything else. They have so many items on their menu that it's easy to become a repeat customer. Look out for my review of Cacao 70 sometime next week! Rating: 4.5/5