Foodies, get ready because things are just about to get sweeter on Robson Street.  L'Éclair de Génie, a Parisian pastry shop that only sells éclairs, is opening their 1st North American retail location at 1210 Robson Street in Vancouver on April 22.
The founder of L'Éclair de Genie is Christophe Adam whose remarkable career has taken him from Michelin-starred restaurants in London to a burgeoning career as a luxury food purveyor with boutiques in Paris and Tokyo.  Chef Adam has opened L'Éclair de Génie stores in Japan, Hong Kong, and Moscow, and the one in Vancouver will be the first L'Éclair de Genie in North America.
"We have 257 kinds of éclairs, and I still have fun playing with new flavours, textures and colours," says Chef Adam.  At the Vancouver shop, they will start with 10 kinds of éclairs and introduce two new ones each month, like every other store.  Coffee will also be on the menu.
The éclair is the most popular patisserie treat in France because it's comforting, easy to eat, and able to be made at home, albeit with varying degrees of success.  It originated in France in the early 1800s, first made by Marie-Antoine Carême, a pastry chef for French royalty.  Éclair is the French word for lightning, and the pastry could have been so named because it glistens when coated with confectioner's glaze, or because chefs joked it is "in a flash."   The Chambers English Dictionary defines it as "a cake, long in shape but short in duration."
Learn How to Make A Good Éclair at home
Chef Adam is the author of the new Spring 2017 release Eclairs: Easy, Elegant & Modern Recipes.  He notes, "I want to teach technique that isn't intimidating, so students can make a good éclair at home. You can come up with your own funky colours and flavour combinations but first learn how to make choux paste and the correct way to pipe the filling, and of course (make) the custard — life is about eating custard."
Éclairs must be fresh when assembled.  The shell, made from choux paste, is easy to make and freezes well.  The inside is typically filled with vanilla custard and the top is brushed with chocolate glaze, but the possibilities are endless. By following a few rules, you'll be a genius.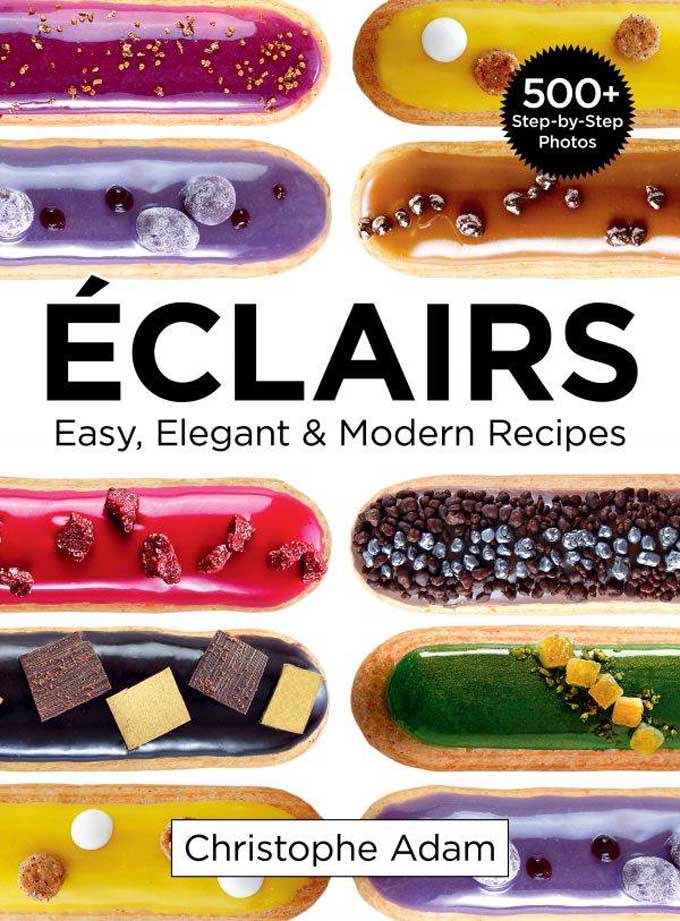 Click here to download  the recipe for Christophe Adam's strawberry éclairs (recipe reprinted with publisher permission).
Win a copy of Éclairs by Christophe Adam
Thanks to Robert Rose, I am giving away a copy of Éclairs.  Giveaway is open to US and Canadian residents and ends on April 22  at 23:59 PST (grand opening day of the Vancouver shop).
The book is available on Amazon and Barnes & Noble, or check out http://www.robertrose.ca/book/eclairs for store locations.
Disclosure: I received a copy of Éclairs to review and Robert Rose is providing one copy for a giveaway prize.  All opinions are my own.