Sura Korean Restaurant is known for their affordable lunch sets which includes a wide number of dishes. They offer a $15 set menu featuring 11 dishes and 3 sides as well as a $20 set menu with 13 dishes and 3 sides. For each lunch set, the menu requires a minimum of 2 orders and the set is available to order until 3:00pm daily. Last year (working through my backlog here!), my husband and I tried out their $20 lunch set at their Robson location.
Note: This is not a sponsored post. This meal was not complimentary. I did not receive any compensation or incentive to share about my experience. The restaurant did not know that I am a blogger.
The $20 Lunch Set
The items included in the $20 lunch set as currently published on their website are:
Dong–chimi / Green Salad / Yam Mousse / Tang–pyungchae / Galbi Jjim / Kimchi Pancake / Bossam / Jeyuk Bulgogi / Japchae / Mackerel Jorim / Tang-sooyuk / Doenjang / 3 kinds of Side-dishes / Korean Rice Punch
However, the items are subject to change.
What We Tried
House special spicy seafood

Tang–pyungchae (mung bean salad)
Bossam (braised pork belly wraps)
Mackerel jorim (deep fried basa fillet)

Galbi jjim (braised beef short rib)
Japchae (Korean glass noodle)
Potato pancake
Doenjang (Korean stew)
Jeyuk bulgogi (pork)
Korean rice punch
Tang-sooyuk (pork)
The House Special Spicy Seafood has stir-fried squid and masago (at least) with spicy house special sauce.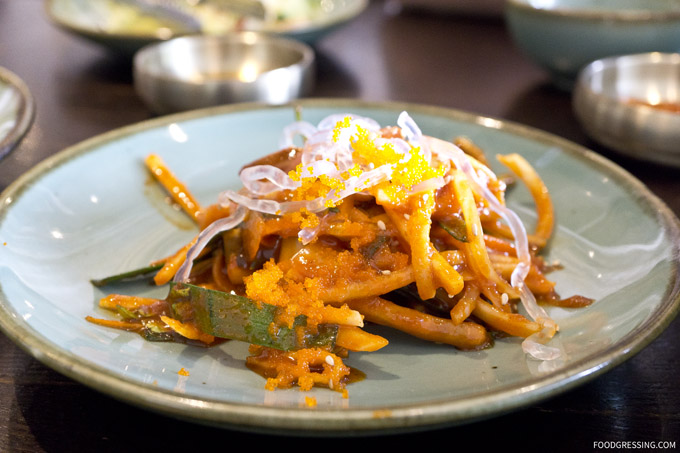 The Tang–pyungchae or mung bean salad was gelatinous and essentially tasteless. It was flavoured with a spicy sauce.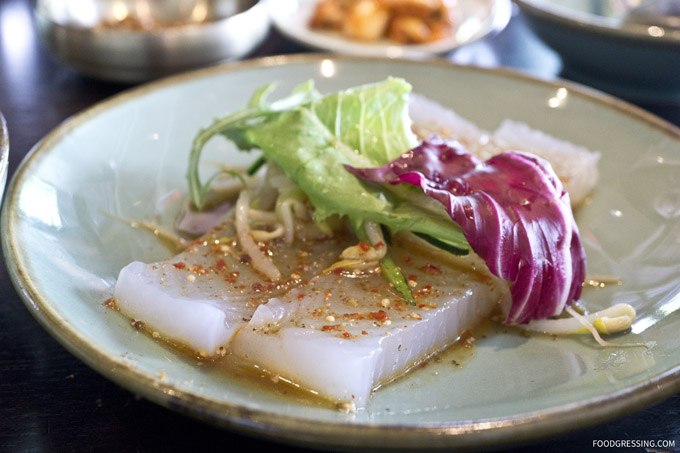 Bossam or braised pork belly wraps had the pink pickled radish as the wrap. The pork belly pieces were tender and fatty and had sesame seeds on top. There was also some kimchi and a spicy paste that you could add to the wrap.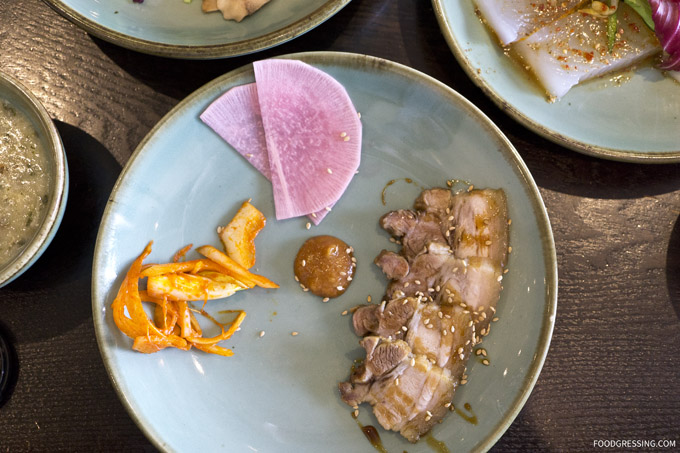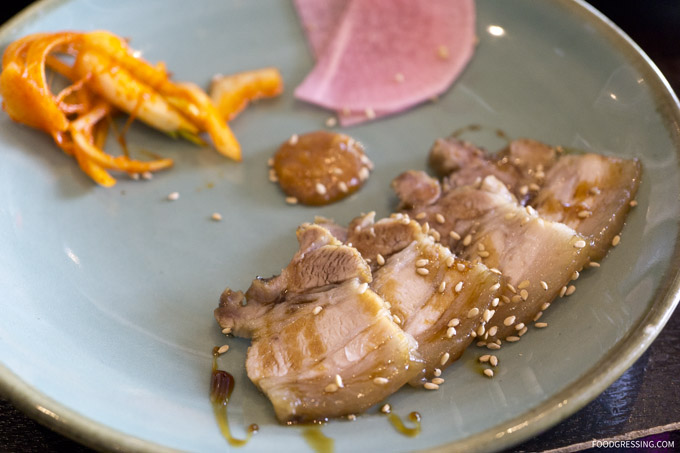 The Mackerel Jorim or deep fried basa fillet had crispy, breading on the outside and tender fish on the inside.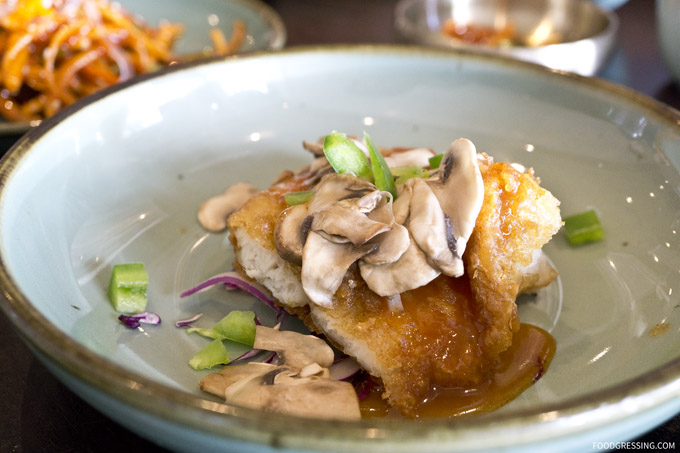 The Galbi Jjim or braised beef short rib were very tender.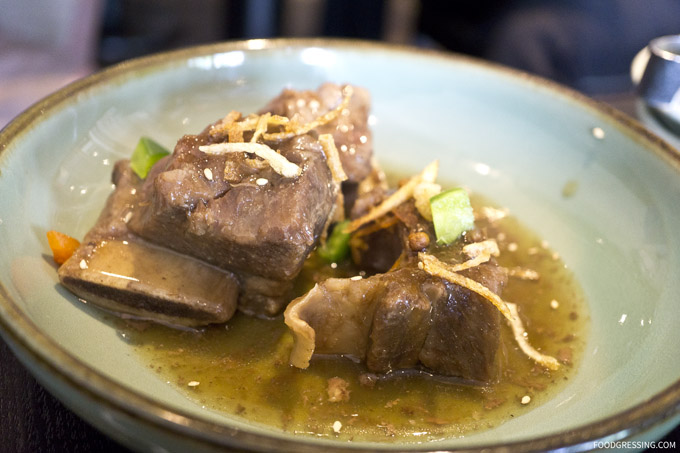 The Japchae or Korean glass noodle stir fry with meat and vegetables was a little savory, sweet and nutty.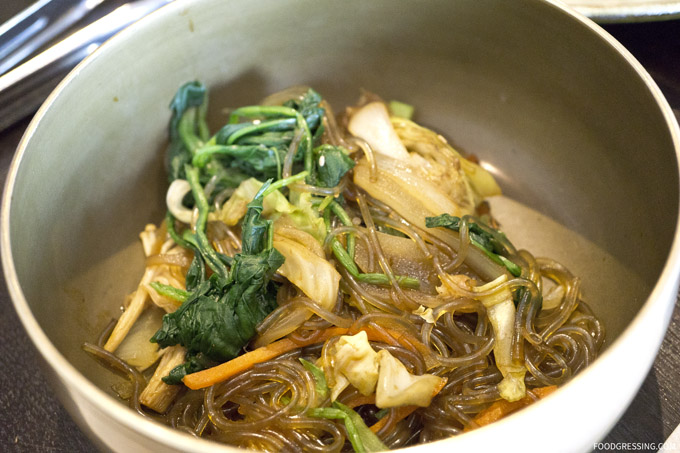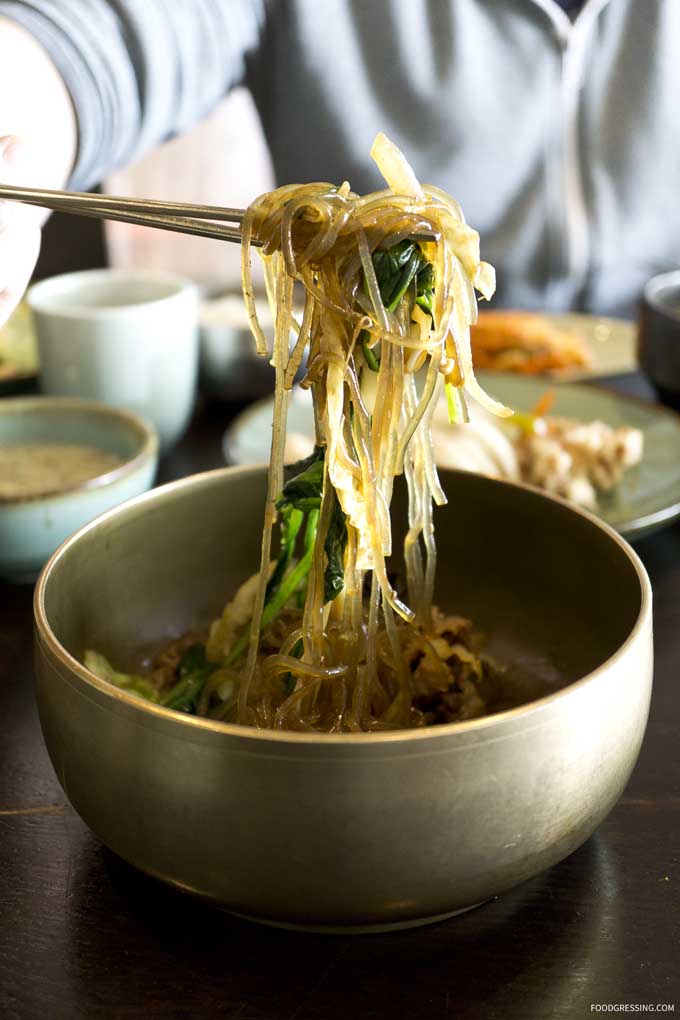 The potato pancake was crispy but a bit too greasy.
The Doenjang (Korean Stew) has tofu, veggies, and kimchi. Just enough spice to tickle the tongue.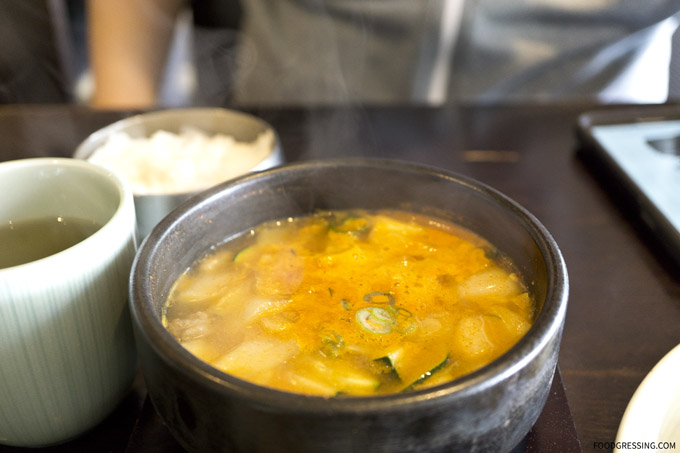 The Jeyuk bulgogi (pork) was nicely spicy, had good flavour and was tender.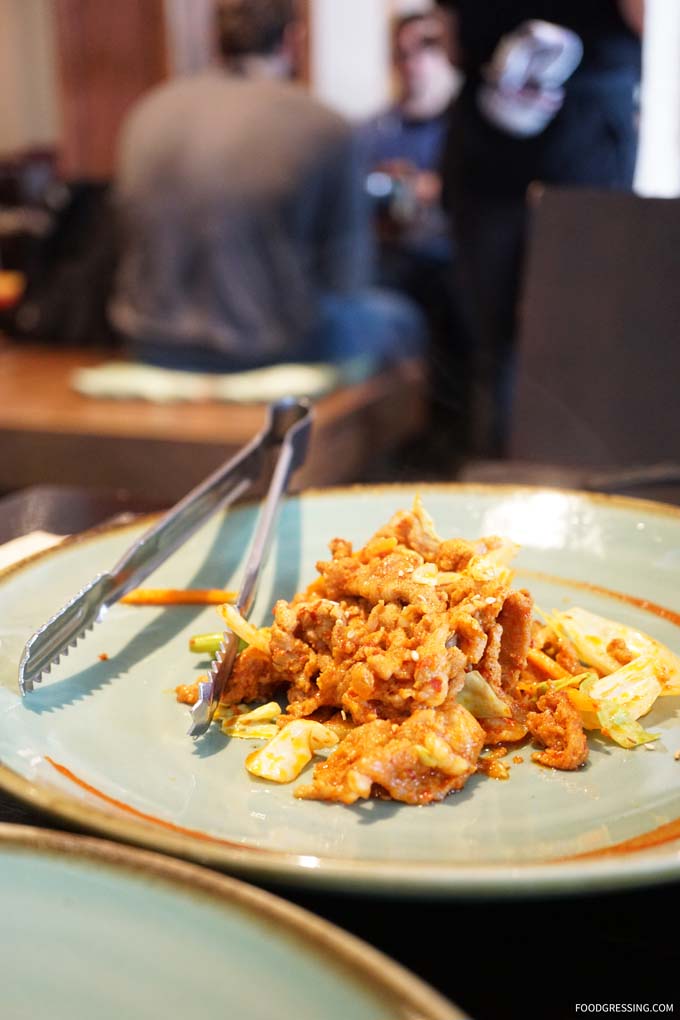 The Tang Sooyuk (pork with sweet and sour sauce) were nicely cripsy on the outside, tender on the inside and tangy in flavour.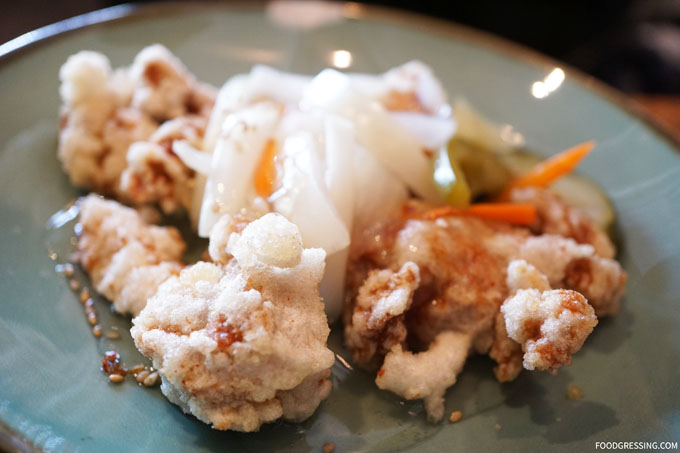 The Korean rice punch was a wonderful sweet finish to the meal.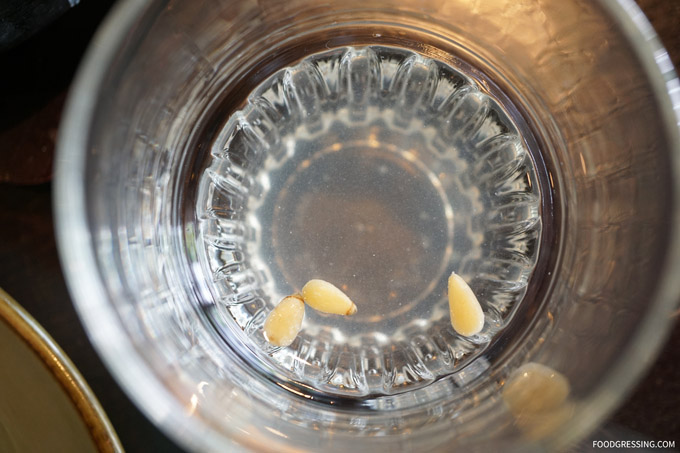 Overall Impression
Good value, food quality, and variety with the $20 lunch set combo at Sura. My favourites were the Tang–pyungchae (mung bean salad), Japchae (Korean glass noodle) and Bossam (braised pork belly wraps). I would return for their lunch set combo again. Rating: 4/5
Website: www.surakoreancuisine.com