Bento Sushi recently launched a new line of burritos that are made for hungry sushi lovers, who want more than just finger food. The Colossal Cali, Big Katuna and Salmon Tsunami combine three traditional dishes, SUSHI+BURRITO+POKE, rolled into one 3/4 pound meal. I was invited to try new sushi burritos offered by Bento Sushi.
Disclosure: All food in this review were complimentary. All opinions are my own.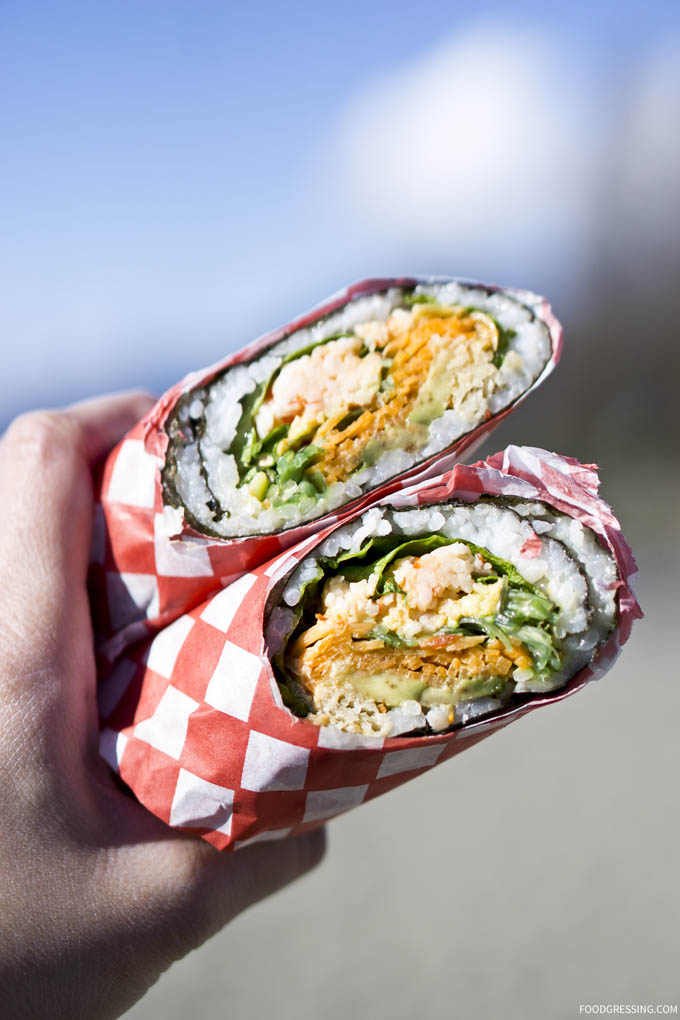 The burritos can be found at any Bento Sushi location. For those who are unfamiliar, Bento Sushi sells their products within major grocery stores like Loblaws and Safeway. The closest Bento Sushi kiosk to me was inside the Independent Grocer on Davie in Downtown Vancouver. The burritos, which come in a pack of 2, retail for $10.
What I Tried
I went with the Big Katuna Burrito which had tuna, mango, avocado, cucumber, carrot, green onion, lettuce, sesame seeds and teriyaki sauce. It had 470 calories, 64 g of carbs, and 17 g of protein. I also had the Colossal Cali Burrito with spicy imitation crab, seaweed salad, avocado, cucumber, carrot, lettuce, crispy onion and spicy mayo. It had more calories and carbs than the Big Katura: 640 calories, 76 g of carbs, and 11 g of protein. The burritos also contain artificial ingredients like xantham gum. The full list of ingredients are posted on the Bento Sushi website.
Taste Test
In terms of taste, I thought the burritos were pretty tasty and filling. I normally wouldn't buy grocery store sushi as I have had bad experiences in the past, but these ones by Bento Sushi were pretty good. I thought the proportions of rice versus other ingredients were reasonable such that it wasn't so rice heavy.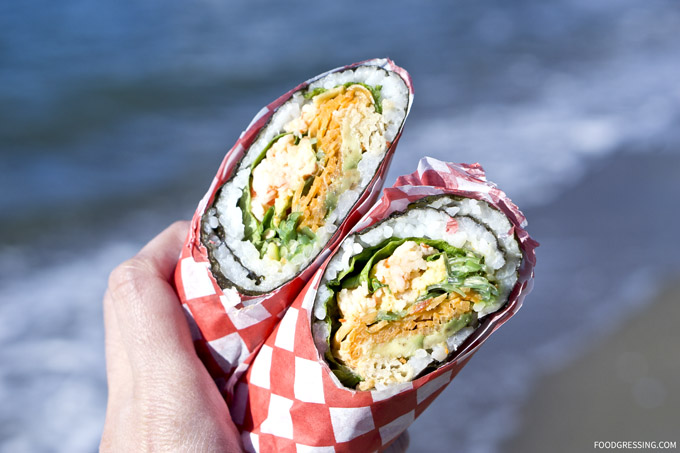 On the day I picked up the sushi burritos, it was particularly sunny. I decided to head to the beach for a mini video shoot to go with the "ocean" theme of these burritos. As shown in my Instagram video, I encountered a funny situation with a standup paddleboarder:
Bottom Line
I wouldn't mind having these sushi burritos by Bento Sushi in the future. At the price, quality and portions, I thought they were reasonable.
Website: www.bentosushi.com