Robson Street is home to some amazing restaurants in Vancouver serving up a wide range of cuisines.  If you're craving Indian food, you might just consider Spicy 6 (Robson & Thurlow) that offers authentic Indian food with a modern twist.  Last month, I had the opportunity to visit Spicy 6 and try a few of their offerings.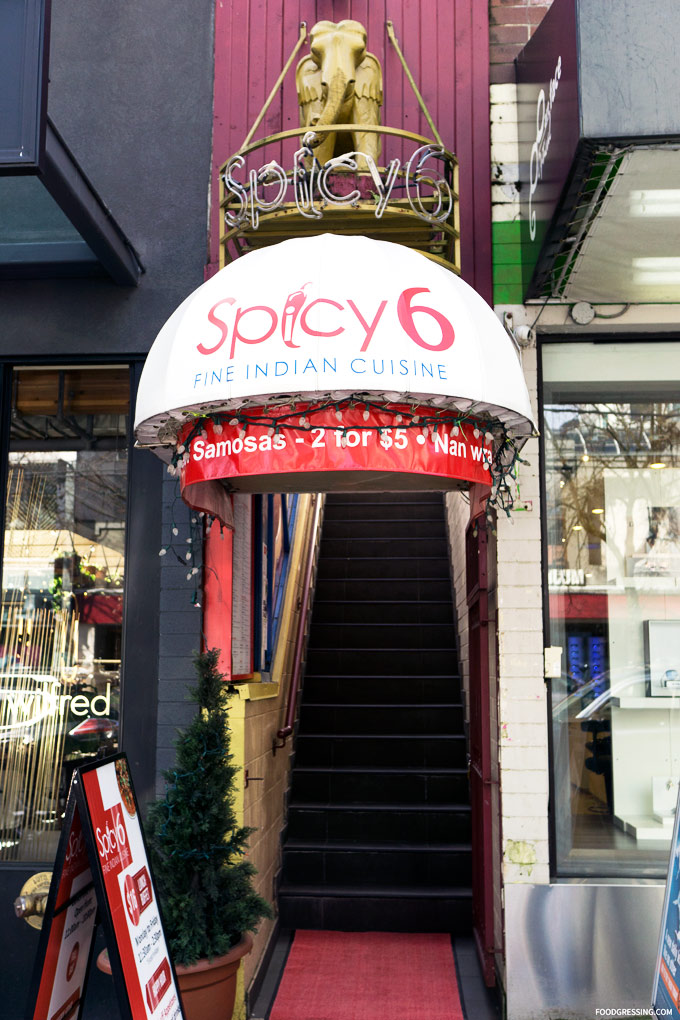 Disclosure:  All food and drinks in this review were complimentary.  Opinions are my own.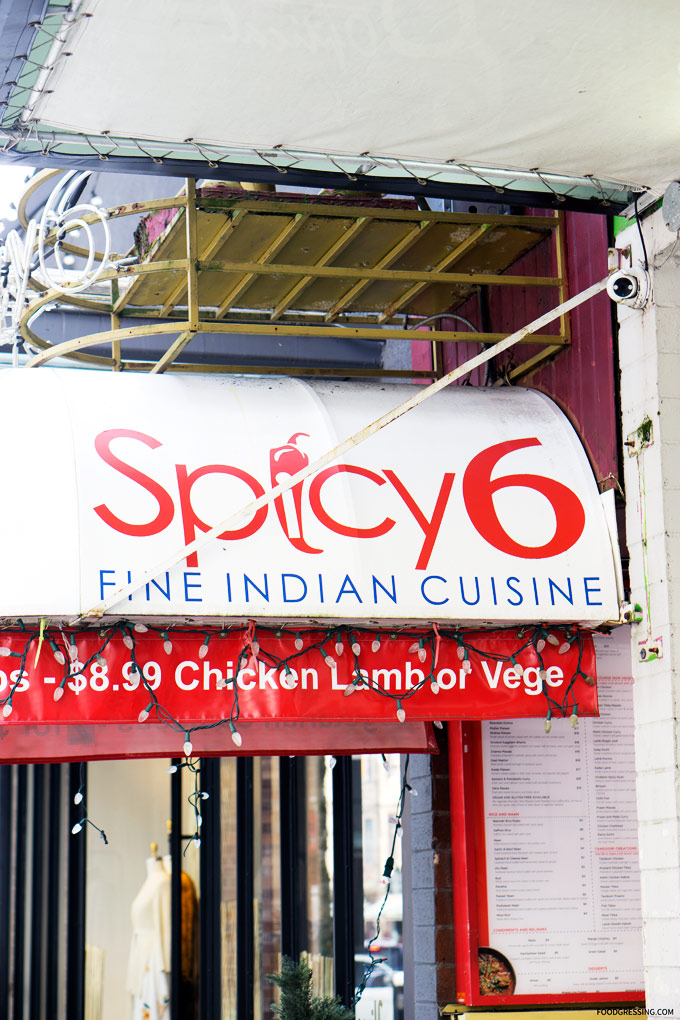 Charming and Elegant Interior
Spicy 6 is sort of a hidden gem being located on the second level of the building.  Walking into the restaurant, I noticed the calm and relaxing atmosphere; it's a nice respite from the hustle and bustle of the city.  If you sit by the window, you can enjoy the views of Robson Street.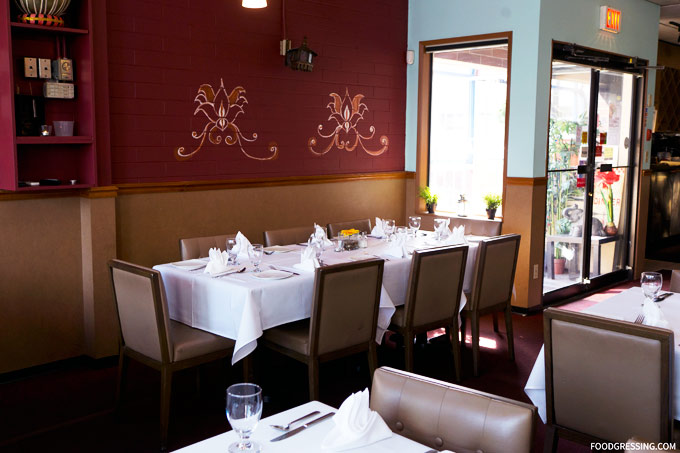 The well-appointed interior boasts beautiful and colourful Indian-inspired murals.  The restaurant is more on the fine dining side with its ambiance.  White tablecloths with neatly folded napkins and simple floral centerpieces.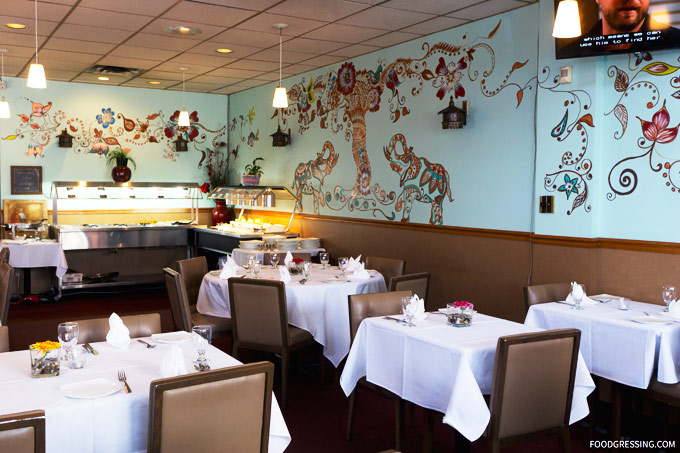 Spicy 6 Menu
The chefs from Spicy 6 are from New Delhi and they specialize in tandoori dishes.  Some of the tandoori creations on the menu include Mustard Chicken Tikka, Lamb Sheekh Kabob, Tandoori Prawn and so forth.  Also on the menu are a variety of non-vegetarian (like Chicken Korma, Saag Chicken, Kadai Lamb) and vegetarian main dishes (like Muttar Paneer, Aloo Gobi, Okra Masala).  They also offer a lunch buffet.
What I Tried
Exotic Saffron Chicken ($25)
As I was a judge in the Vancouver Foodster Curry Challenge, I had the opportunity to try Spicy 6's participating curry.  The Exotic Saffron Chicken featured stuffed chicken with cottage cheese in a savoury curry.  Served with jasmine rice and naan.  I liked how they got creative and stuffed the chicken with cheese; that made the dish much more memorable.  A good, savoury curry overall.  Spicy 6 end up being the third place winner in the media judge's category for the challenge.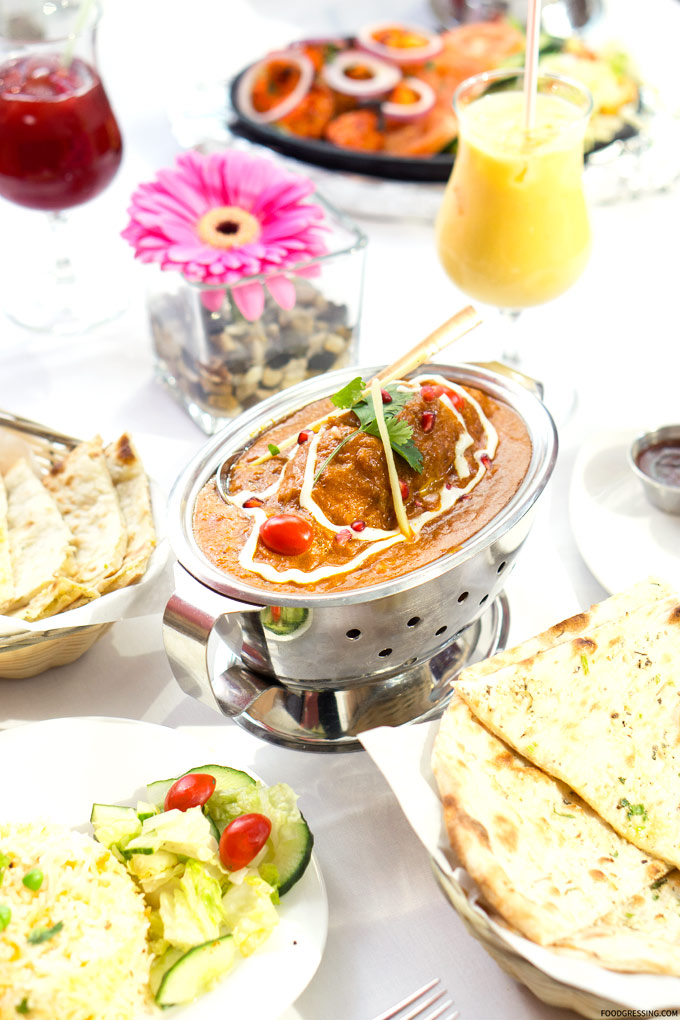 Tandoori Prawn ($19)
I also tried the Tandoori Prawn featuring jumbo prawns marinated in grounded mustard, yogurt and spiced cooked in a clay oven.  The prawns were nicely sized, bouncy and I enjoyed the smokey flavours.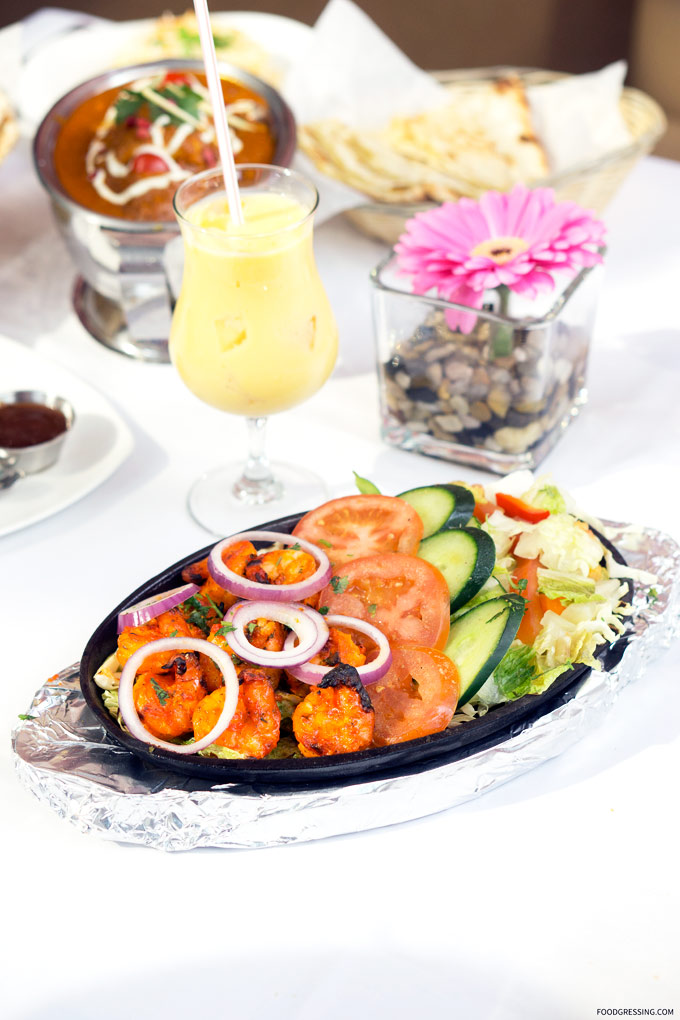 Butter Chicken ($17)
I've been looking for new place to order butter chicken for takeout on a regular basis and Spicy 6 just might be it!  I really loved their rich, flavourful butter chicken which had a nice balance of sweet and tomato flavours.  The chicken pieces were  tender and juicy.  I would definitely love to have this again.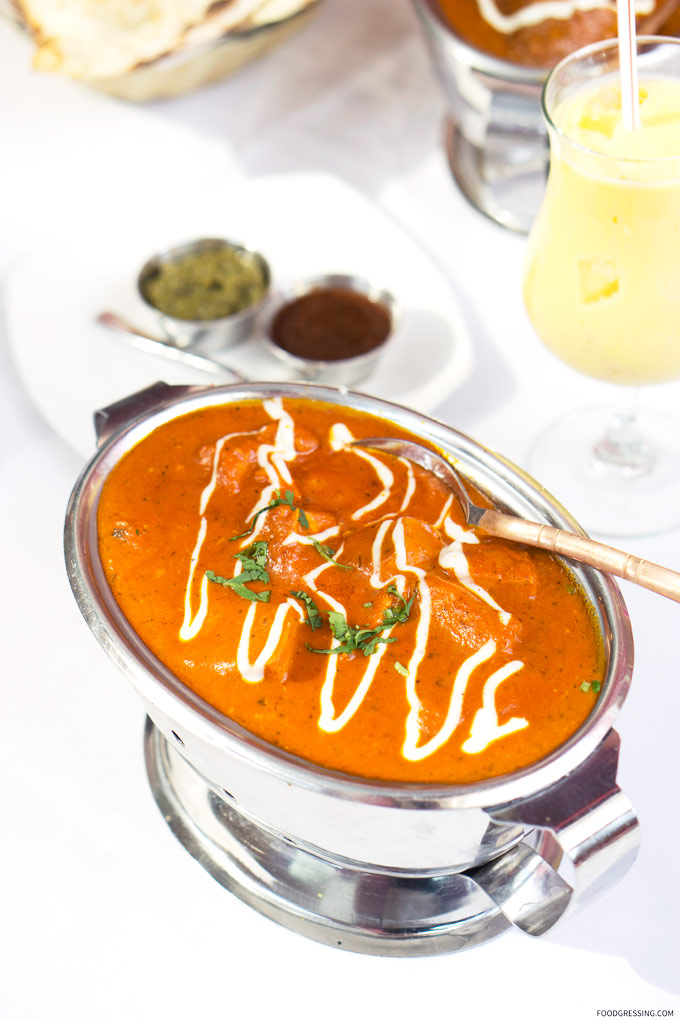 Naan
I also thought that Spicy 6's naan was well-executed being crispy and chewy on the outside and light on the inside.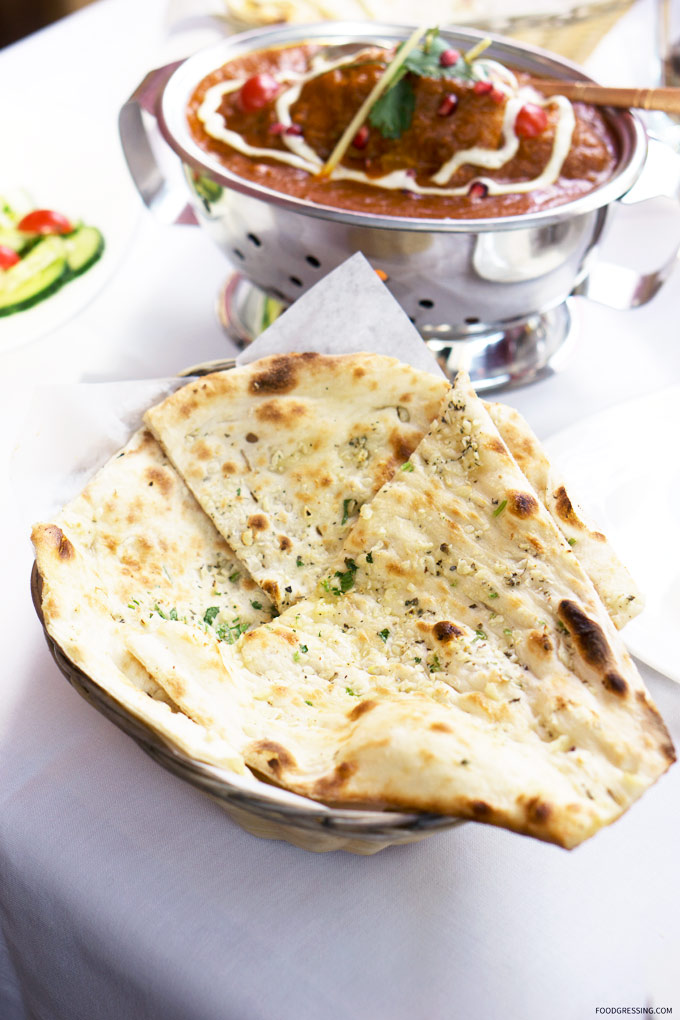 Peshawari Naan ($6)
One of the surprising standouts from the meal was the peshawari naan, which is a sort of dessert naan.  I've never had a sweet naan before so this was a real treat for me.  This naan was stuffed with cashews, pistachio, raisins and coconut.  Loved the sweet nutty flavours and textures; it's really worth having either as a side or dessert.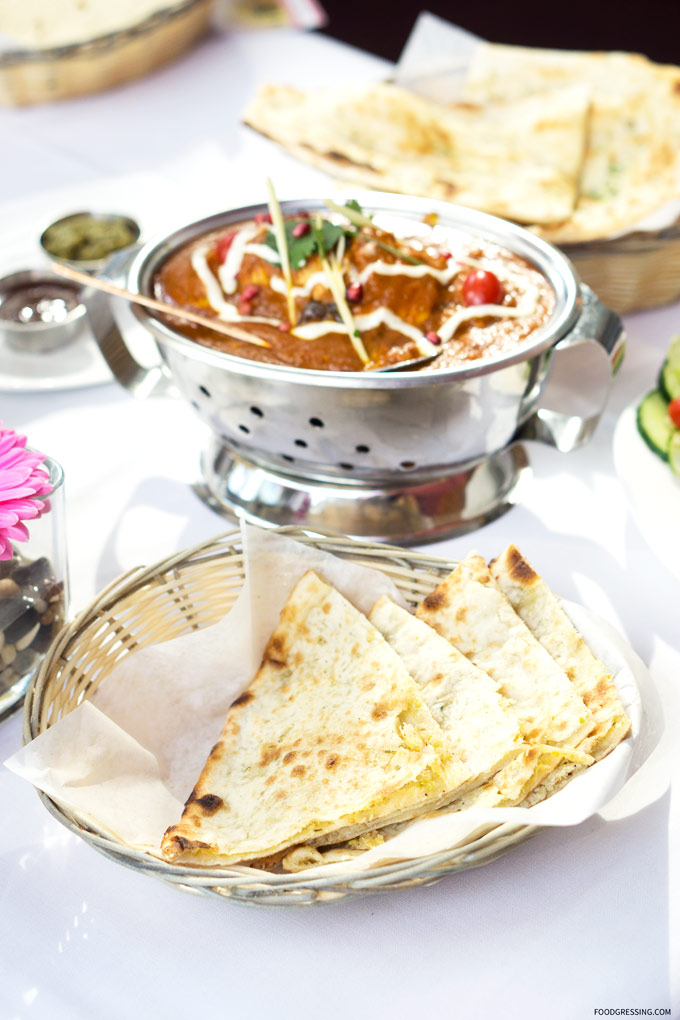 Overall Impression of Spicy 6
I really enjoyed the rich, flavourful Indian dishes at Spicy 6 and thought the prices and portions were reasonable for the area.  I'd certainly be interested in revisiting as well as ordering some takeout.  If you do want a nice sit-down experience for Indian cuisine, Spicy 6 has a lovely atmosphere to enjoy a meal.  Rating: 4/5
Spicy 6 Fine Indian Cuisine
Address: 1116 Robson St, Vancouver, BC
Website: www.spicy6.com