Here is what is happening in Metro Vancouver during July 2019. If you have an event suggestion, please email foodgressing@gmail.com. This list is updated as more information becomes available so check back regularly!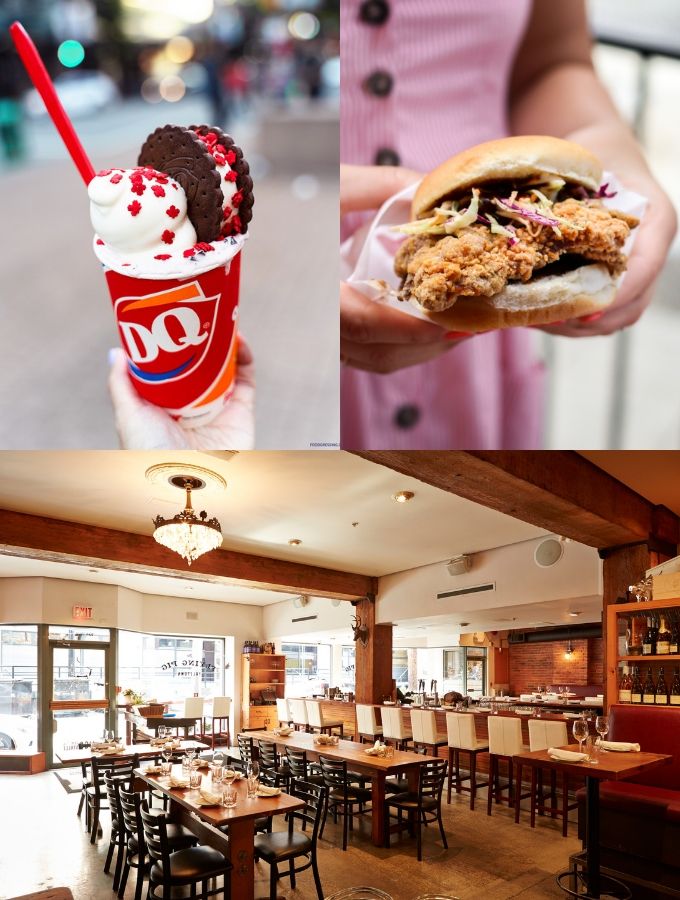 ---
July 1: Canada Day
Here are a few places in Metro Vancouver that are offering special menus and features so you can show your patriotic spirit the foodie way. Full post here.
July 4 – 14: Indian Summer Festival 2019
The 9th annual Indian Summer Festival returns to Vancouver from July 4 – 14, bringing locally and internationally renowned artists to venues across the city. This year's theme is "Tricksters, Magicians, and Oracles,"and the 2019 festival lineup features futurists, novelists, stand-up comedians, musicians and storytellers from around the world. Read about festival highlights here.
July 4: Tacofino x BETA5 Evening Summer Social
Tacofino and BETA5 will mark a special summer ice cream collaboration by co-hosting an Evening Summer Social at BETA5 (413 Industrial Ave.) on Thursday, July 4 from 6 to 9 p.m. Each guest will receive a Tacofino taco, beer from Strange Fellows Brewing and a Tacofino-inspired Lime-Mint Freshie-Inspired sundae featuring lime and mint shaved ice with avocado ice cream, fresh pineapple, Tajín-spiced churros and condensed milk Chantilly. Tickets are $29 per person and available online at shop.beta5chocolates.com.
July 5: Official Farmhouse Fest Saison and Wild Ale Kickoff at Bells and Whistles
Bells and Whistles (3296 Fraser St.) will host the official kickoff for the fifth annual Farmhouse Saison and Wild Ale Fest. Beer lovers can sample a wide array of styles from some of the country's best small-batch, farmhouse-style beer purveyors during a 16-tap takeover that features Halifax's Stillwell Brewing; Quebec's Brasserie Dunham; Ontario's Bellwoods Brewery, Blood Brothers Brewing, Bench Brewing Company and Burdock Brewery; and Alberta's Blindman Brewing. The event also showcases US producers such as Oregon's The Ale Apothecary, Gigantic Brewing Company, Upright Brewing, and pFriem Family Brewers; Jester King Brewery from Austin, TX; Maine's Oxbow Brewing Company; and E9 Brewing Co. and Holy Mountain Brewing Company out of Washington State.
July 5, 12, 19 & 26: PNE Adults-Only Friday Nights
Running every Friday in July (5, 12, 19, 26), Playland will host evenings dedicated to adults-only. Read more here.
July 6: Celebrate National Fried Chicken Day at Juke Fried Chicken
Juke Fried Chicken will commemorate National Fried Chicken Day by offering their famous Fried Chicken Sammies at half-price for $3.25 at both Juke's original Chinatown (182 Keefer St.) and 'Little Juke' (1074 Davie St.) locations all day long. Juke's fried chicken sandwich is made with gluten-free, free-range chicken marinated for 24 hours in buttermilk and garnished with house-made barbecue sauce and slaw.
July 7, 14, 21 & 28: Sunday Seafood Boil Series Continues at Boulevard Kitchen & Oyster Bar
Boulevard Kitchen & Oyster Bar (845 Burrard St.) continues its popular al fresco Sunday Seafood Boil Series for a fifth consecutive year throughout the summer. Guests are invited to pull up a chair and tuck into a true, East Coast-inspired communal seafood feast of fresh-caught lobster, jumbo prawns, clams, mussels and Dungeness crab piled high on butcher's paper and served with all the fixings. Tickets are $68 per person (plus gratuity, taxes and service fees) and available online via Eventbrite at: https://www.eventbrite.com/d/canada–vancouver/boulevard-kitchen/
July 7, 14, 21, & 28: Sunday Night Movie Series at Bells and Whistles
Bells and Whistles (3296 Fraser St.) gives cinephiles a front-row seat to some classic flicks every Sunday night at 9 p.m. during its Sunday Night Movie Series, which continues this July with screenings of Talladega Nights (July 7), Three Ninjas (July 14), Days of Thunder (July 14) and Beverly Hills Cop (July 28). Guests can also take advantage of late happy hour specials from 10 p.m. to close that include $7 Negronis, $5.50 draught beer, $5 classic hot dogs and $7 chili cheese dogs and Chicago dogs.
July 11 – 28: Snack 'N Snap
Snack 'N Snap your way through Metropolis at Metrotown's Grand Courtwith larger-than-life foodart displays, sampling from sweet & savoury snack retailers, pop-up treat carts, Workshop Wednesdays to make your own tasty treats, and contest giveaways.
The giant pink donut, 10-foot lollipop tree and cupcake house is back! New this year, Metropolis has added an 8-foot pretzel and melting popsicle displays that will make you want to snack for real! Snap 'N Share! During the exhibit, shoppers can snap endless selfies in front of the jumbo displays, share their photos on Instagram by tagging @metropolisatmet and #METSNACKNSNAP, and enter for a chance to win a prize pack or a $500 Metropolis at Metrotown gift card.
Shoppers can guess daily how many hundreds (or thousands) of jellybeans are in the display case and enter their guess for a chance to win a $1,000 shopping spree. There are also random contests for prize giveaways on Metropolis' Facebook and Instagram.
July 14: Ubuntu Canteen Hosts Community Backyard BBQ
Organic, family-focused café and counter-service restaurant Ubuntu Canteen (4194 Fraser St.) will host a Community Backyard BBQ from 3 to 9 p.m. that underscore its mission to cultivate a sense of community in the heart of Vancouver's Fraserhood and beyond. Ubuntu will fire up the grill, and will feature cocktails, local craft beer and A Sunday in August wine, while local DJs provide the perfect summer soundtrack. Admission is free, with food and drink tickets available for purchase on site.
July 16: Hip Hop Trivia Night at Juke Fried Chicken
Whether you're a Biggie or a Tupac fan, all Eyez are on Juke Fried Chicken when the Chinatown location of the chicken-and-rib joint (182 Keefer St.) gets Ready to Fry by hosting Hip Hop Trivia Night on the third Tuesday of every month at 7 p.m. Teams of up to six are invited to take part in five rounds of questions on all things Hova, Dre and Wu-Tang with food and drink specials and prizes up for grabs. Sign up as an individual or a team of up to six via email (info@jukefriedchicken.com), Instagram (@jukefriedchicken) or Facebook (/jukefriedchicken) to guarantee a spot. Walk-ins are also welcome
July 22: Ubuntu Canteen Hosts Farm-to-Bottle Wine Dinner
Organic, family-focused café and counter-service restaurant Ubuntu Canteen (4194 Fraser St.) will co-host the latest edition of its Farm-to-Bottle Dinner Series with That's Life Gourmet to present an evening of Spanish wine paired with Spanish-inspired fare. A limited number of tickets are available for $135 per person and may be purchased at the restaurant or by calling Ubuntu at 604-336-9097.
July 27 & 31: Honda Celebration of Light (Canada)
Honda Celebration of Light 2019 takes place for three nights this year as three countries light up the shores of English Bay each night in a fireworks competition. The dates and competing countries for 2019 are: July 27 (India), July 31 (Canada) and August 3 (Croatia). Read more here.
Tacofino x Four Winds Brewing Dinner at Tacofino Hastings
Tacofino will host the final event in its 2019 Beer Dinner Series at its Hastings location (2327 E. Hastings St.) by collaborating with Delta's Four Winds Brewing Company on Thursday, July 25 at either 6 or 8:30 p.m. Guests will enjoy a custom, five-course menu paired with a range of unique and exclusive beer from the notable local brewery. Tickets are available for $55 per person inclusive of tax, gratuity and ticketing fees and available via Eventbrite at https://www.eventbrite.ca/o/tacofino-hastings-15476556818.
Vancouver Pride 2019: Restaurant Features Cocktails, and Events
Find out more here: foodgressing.com/vancouver-pride-2019/
---
Special Menus/Features
July 15 – 20: Origo Club One-Year Anniversary Menu
Origo Club is celebrating one-year anniversary by offering a signature French-inspired table d'hôte menu by Chefs David Pan and Tony Hua, wine pairings by Sommelier Melanie Gravel. Menu: https://origoclub.ca/one-year-anniversary/. This menu is available from July 16 – 20 for dinner only. Reservations are highly recommended.
NaMì food truck has launched the Su Su Fried Chicken which consists of Vietnamese-style Fried Chicken that is fried under a waterfall of oil. Topped with the usual delicious fixings of carrots, daikon, cucumber with a drizzle of lemon grass chilli oil and spring onions and crispy fried shallots.
The Flying Pig will be capping off each weekend with a Sunday Porchetta Dinner feature, available for $21 per person at all three Vancouver locations. Sourced from family-run Geldermans Farm in the Fraser Valley, the premium porchetta is slow roasted on site for four hours to create succulent pork meat with a crispy, crackling skin. Stuffed porchetta will be hand carved and served alongside crackling mashed potatoes, fresh seasonal vegetables and house-made gravy for a true farm-to-table feast. As The Flying Pig's Sunday Porchetta Dinners will be available in limited quantities and are expected to sell out, early seatings are recommended in order to avoid disappointment.
Related post: