Blue Water Cafe's Unsung Heroes Festival, one of the most anticipated events on Vancouver's culinary calendar, is back for the 15th year. Offered from February 1 – 28, this special menu creatively forged by Executive Chef Frank Pabst aims to raise awareness on local and unique seafoods and to avoid species that are over-fished or harvested in ways that can damage ocean beds.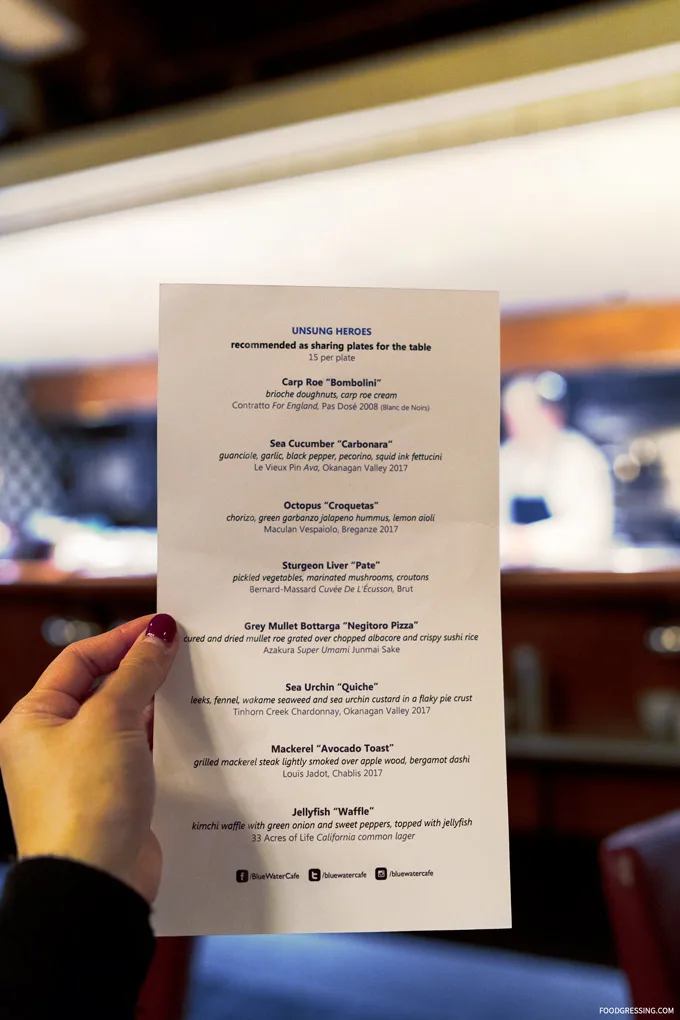 The Unsung Heroes festival celebrates lesser known and often overlooked fin and seafood to educate diners about alternative sustainable Ocean Wise choices through fresh experiences and new flavours.
As a founding member of the Ocean Wise program, Blue Water Cafe continues their longstanding support by serving sustainable seafood to guests. With every sale of an Unsung Heroes dish, Blue Water Cafe will contribute partial proceeds to benefit the Oceanwise program – for generations to come.
This past week, I attended a media preview of the 2019 Unsung Heroes Menu. Priced at $15 each, these dishes are meant to sides to complement the regular menu at Blue Water Cafe. Wine Director William Mulholland has wine, sake and beer suggestions to accompany each dish. Here'a look at what you can expect.
Sturgeon Liver "Pate"

We enjoyed the sturgeon liver "Pate" as a great starter dish to share with pickled vegetables, marinated mushrooms, mustard seeds, and grilled bread. Paired with Bernard-Massard Cuvee De L'Ecusson, Brut.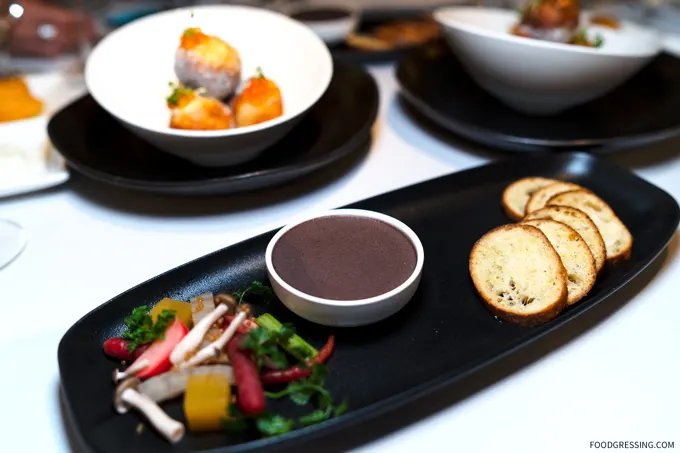 Carp Roe "Bombolini'
These savoury doughnuts were lightly crispy on the outside and had a delicious, creamy carp roe cream. The pairing is Contratto For England, Pas Dose 2008 (Blanc de Noirs).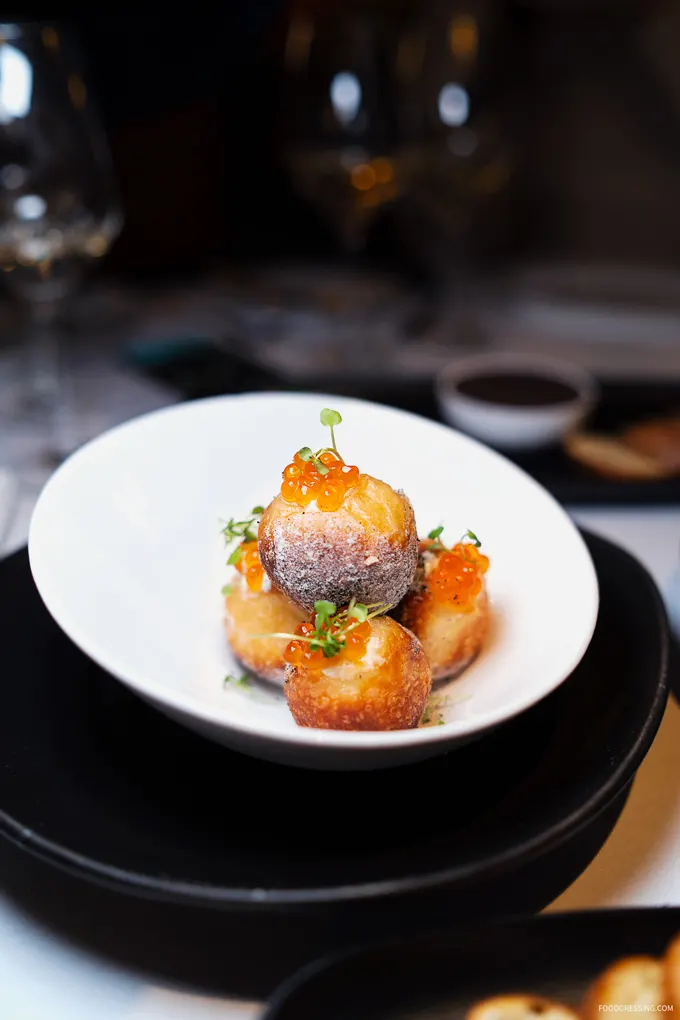 Red Sea Cucumber "Carbonara"
For a pasta option, the very al dente squid ink fettucini with red sea cucumber and guanciale was very satisfying. Paired with Le Vieux Pin Ava, Okanagan Valley 2017.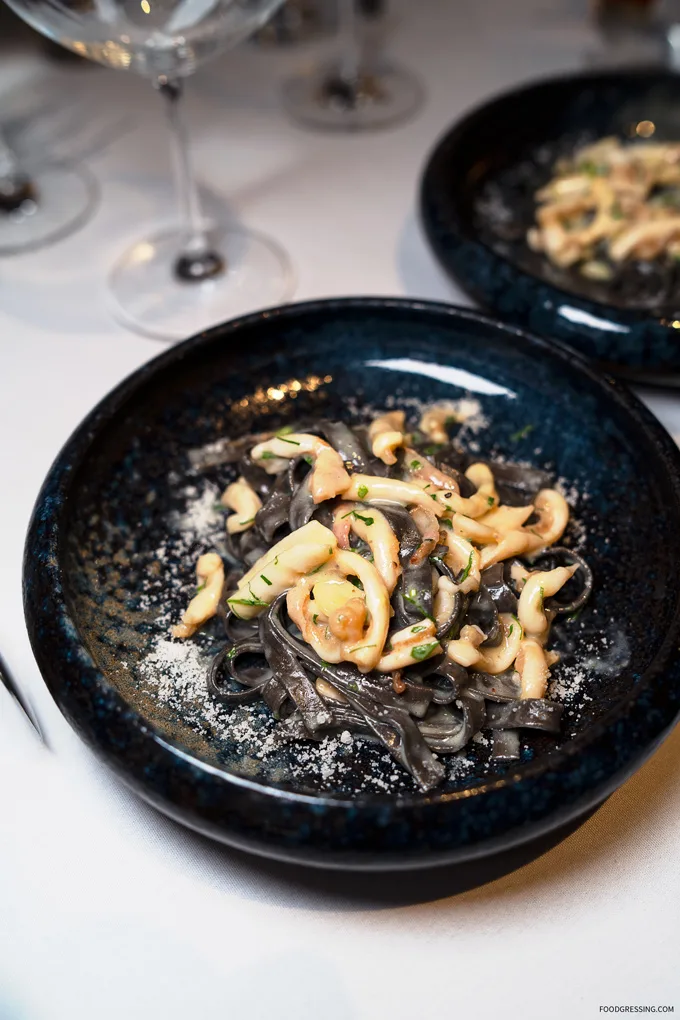 Octopus "Croquetas"

These tasty, deep-fried bites were a delight and filled with octopus, chorizo, green garbanzo jalapeno hummus, and lemon aioli. This was paired with Maculan Vespaiolo, Breganze 2017.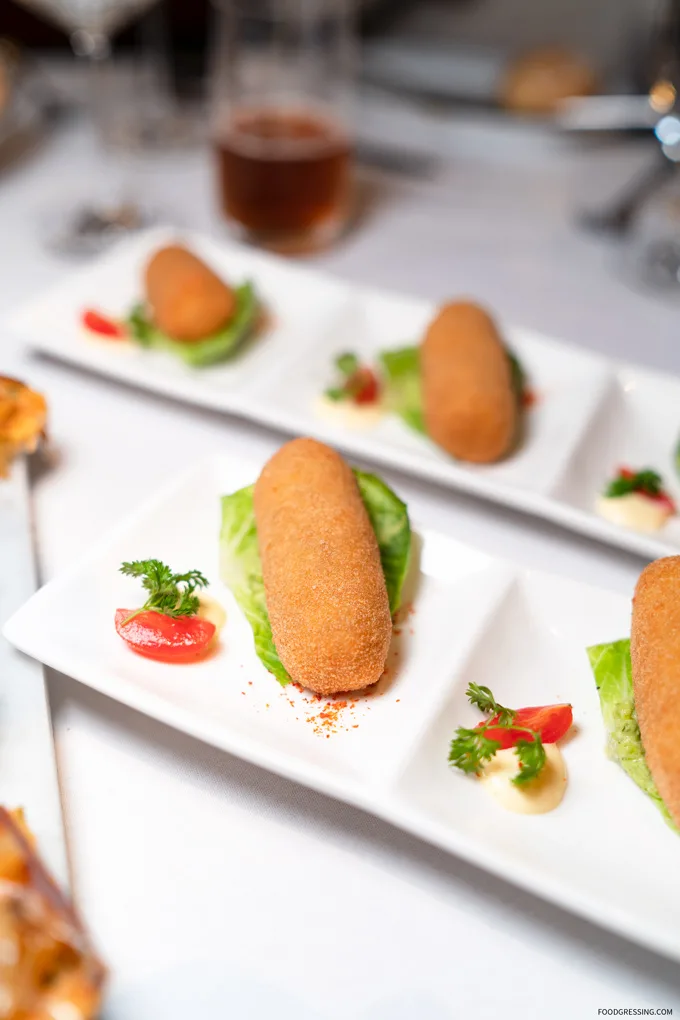 Grey Mullet Bottarga "Negitoro Pizza"
One of the more innovative creative dishes of the evening featured cured and dried mullet roe grated over chopped albacore and fried crispy sushi rice. The pairing was Azakura Super Umami Junmai Sake.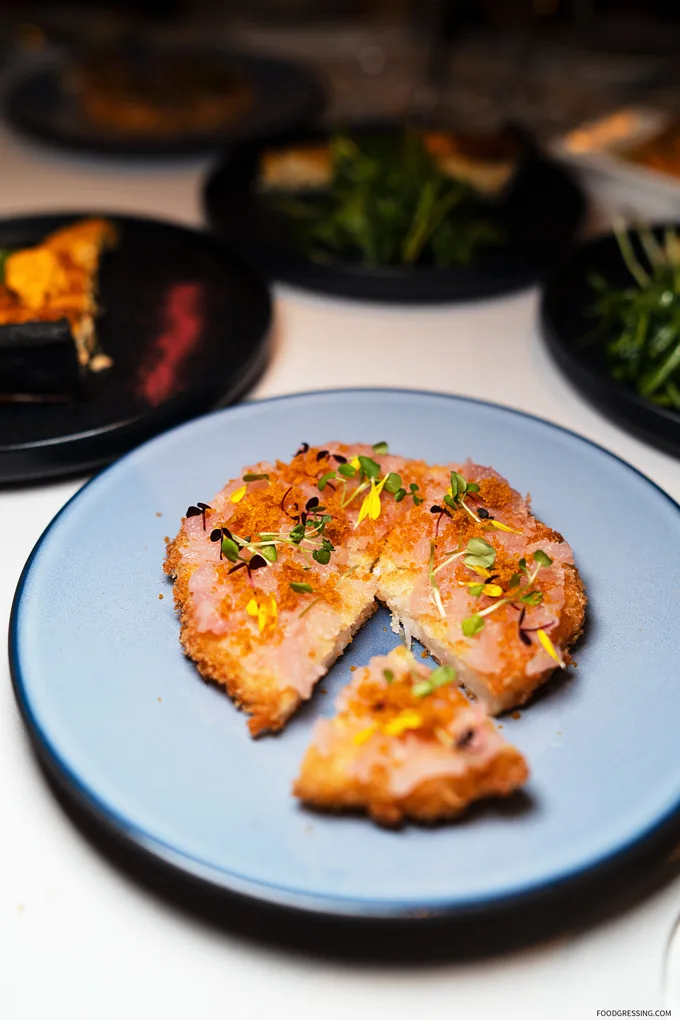 Jellyfish "Waffle"
We were surprised by the creative and delicious pairing between the Korean pajeon waffle with green onion (inspired by a Korean green onion pancake) and jellyfish (like the one you would find as a Chinese appetizer). This dish had a beer pairing of 33 Acres of Life California common lager.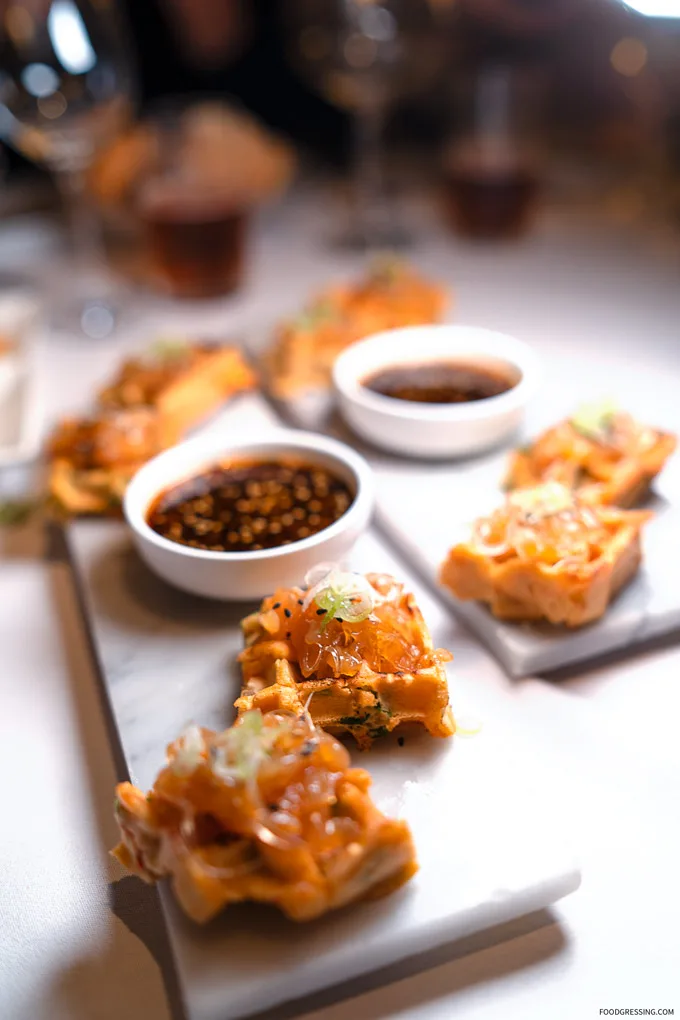 Sea Urchin 'Quiche'
Another creative dish was the sea urchin custard prepared as a quiche with leeks, fennel, wakame and seaweed. This was paired with Tinhork Creek Chardonnay, Okanagan Valley 2017.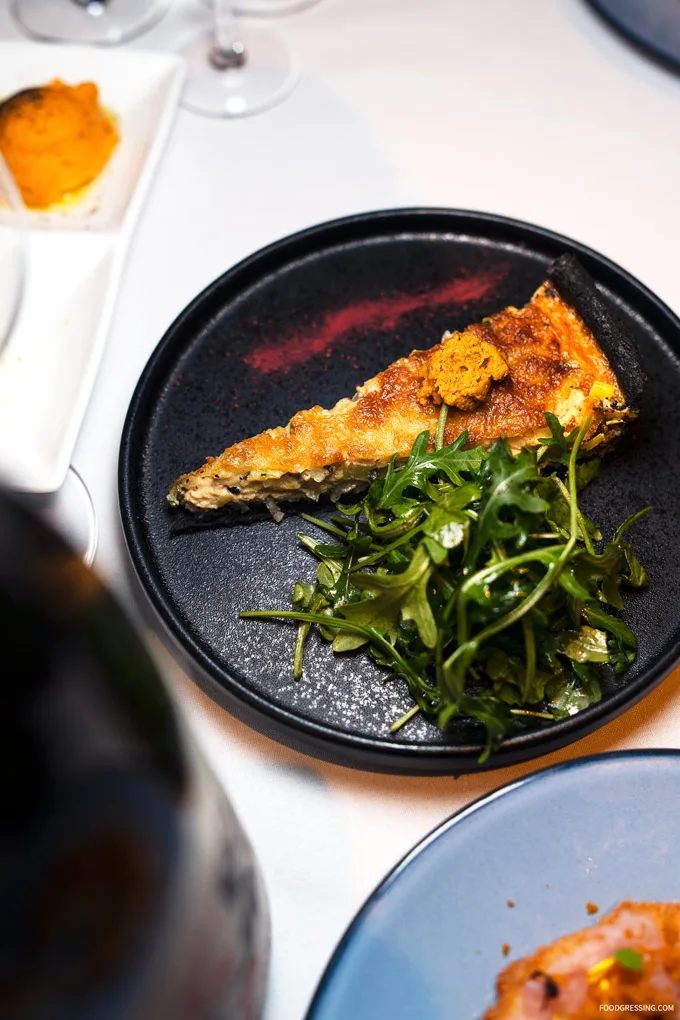 Mackerel "Avocado Toast"
Media also very much enjoyed the grilled mackerel steak lightly smoked over apple wood with bergamot dashi. Paired with Louis Jadot, Chablis 2017.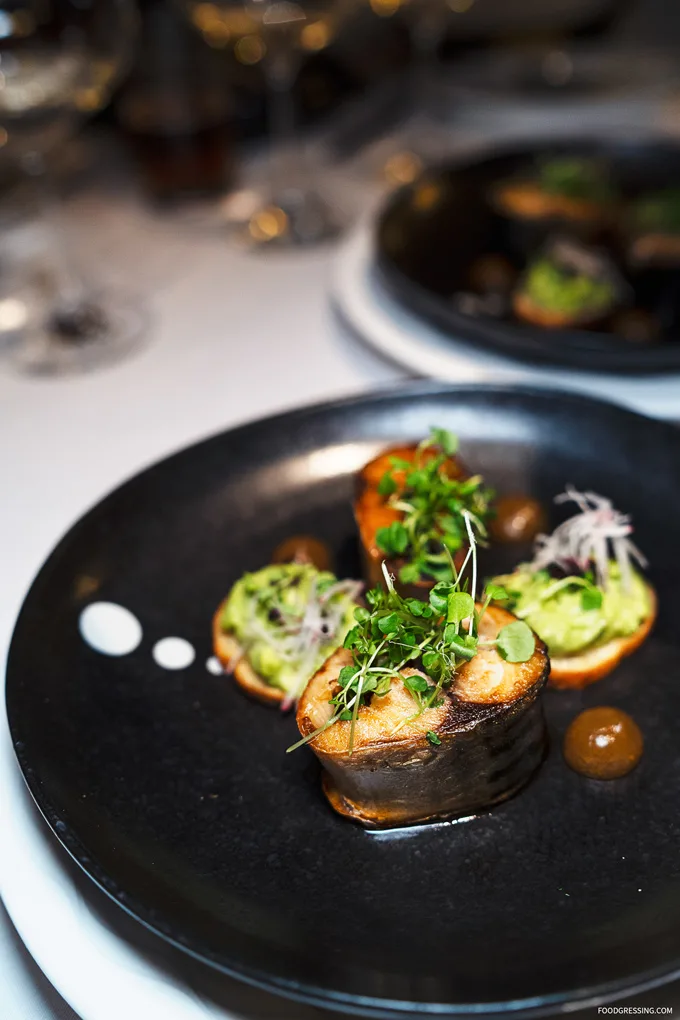 My top 3 of the evening were the Carp Roe "Bombolini," Octopus "Croquetas" and the Sea Urchin "Quiche."

For further information or reservations, please contact Blue Water Cafe by telephone at 604 688 8078 or online at www.bluewatercafe.net.