Salsa and Agave is a Yaletown Mexican restaurant that has been around for several years now. They occupy two locations on Pacific Boulevard between Davie and Drake: one is a full-service sit down restaurant and the the other is a take-out counter. They're the only eatery in the Yaletown area serving Mexican cuisine with blockmates being Little Saigon and DD Mau. Based on other people's reviews, I get the impression that their food is somewhere in between authentic but not quite Tex-Mex. This last summer, I visited their takeout counter on two occasions, which is only open Monday to Friday during lunch hours.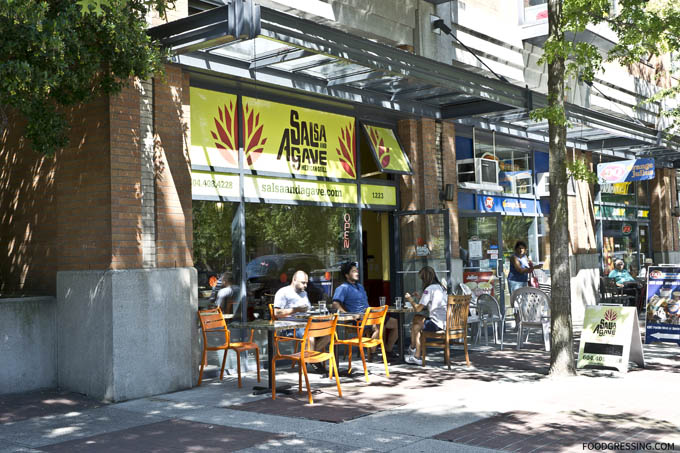 Salsa and Agave Takeout
The takeout menu looks to be more or less the same as the menu at their sit down restaurant. It's very extensive ranging from burritos, tacos, tortas, rolled tacos, soups, salads and more. It's casual eatery where prices are reasonable.
Salsa and Agave's takeout counter is located at 1223 Pacific Boulevard. They have a few dining tables inside and outside. Since the weather has been good on the times that I have visited, I have chosen to eat at one of their outdoor tables.
What I Tried
Complimentary tortilla chips and salsa are served when you dine in which I thought was a nice touch. They appear to be using Que Pasa brand tortilla chips because I noticed a few boxes of them in their restaurant. I regularly buy Que Pasa from grocery stores and am familiar with the taste. However, I thought that the ones served at Salsa and Agave tasted stale. In fact, if you look on Yelp, a few reviewers have also commented the same. Their salsa was disappointingly mild and watery, and I found similar Yelp comments on that as well.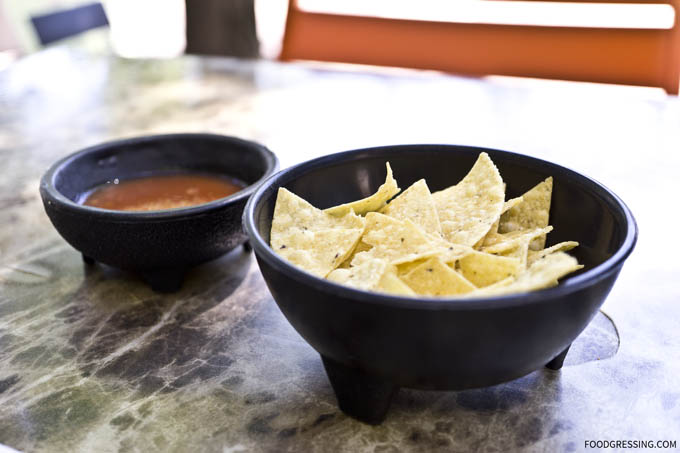 On my first visit, I had the BC Burrito ($10). It comes with diced steak, roasted chicken, rice, beans and sliced avocado with your choice of Morita, Red Mexican or Avocado sauce inside.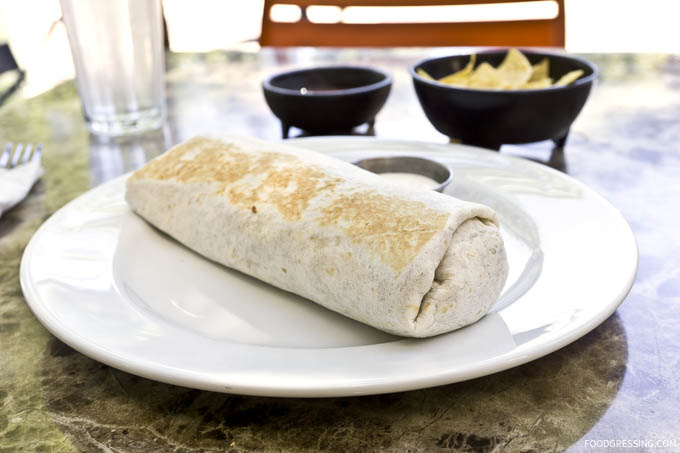 For $10, it was definitely big and filling but the taste was nothing to rave about. It was very bland; the chicken was dry; the steak was tough and the sauce was like a pureed mush.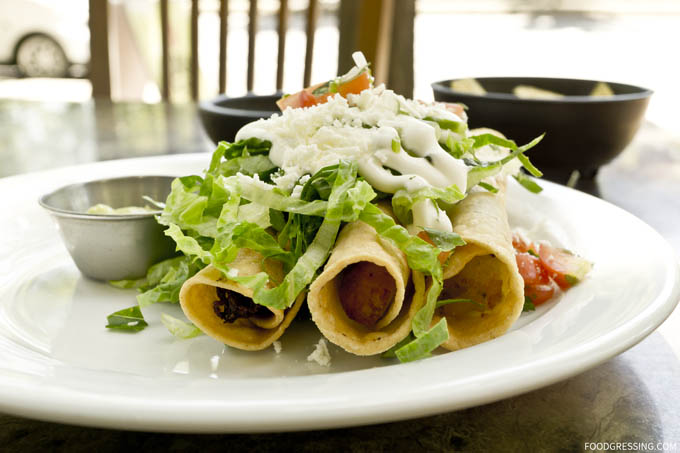 I decided to go to Salsa and Agave a second time to give them another chance. Perhaps I just ordered one of their "bad" items last round. This time, I went with a trio of rolled tacos ($9.50). These were stuffed corn tortillas that were pan fried, topped with lettuce, sour cream, tomato, cheese and house avocado sauce. For protein, I chose a mix of papa (potato), pollo (shredded chicken), and carne (shredded beef).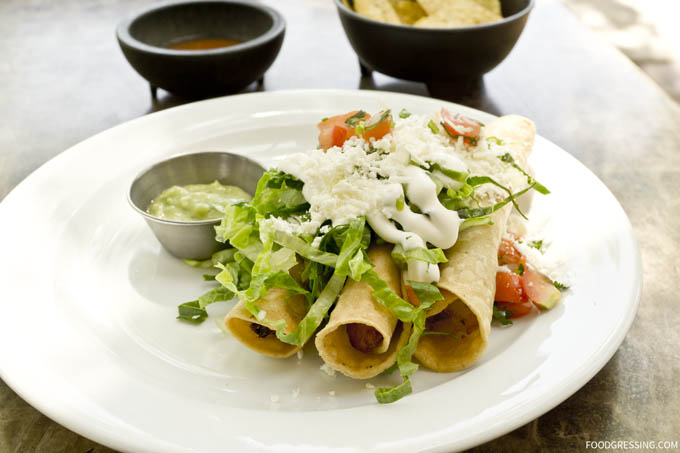 The tortillas were pretty crispy on the outside, but again the meat was dry. The best one of the trio was the potato one which was very tender. Oh, and if you search for "dry" in Salsa and Agave's Yelp page, you'll find it to be a common occurrence in their food.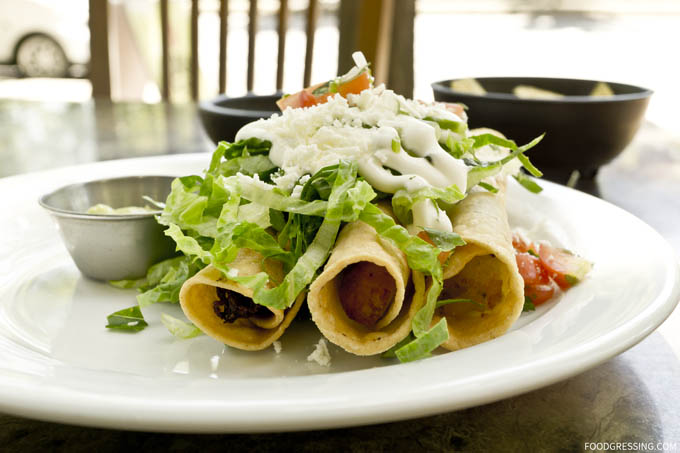 Overall Impression of Salsa and Agave
I really wanted to like Salsa and Agave, but unfortunately the food was mediocre. Good portions for the price but the taste was nothing to write home about. They are the only Yaletown Mexican restaurant, but I would rather go elsewhere in Downtown Vancouver (Molli Cafe, La Catrinas, Los Amigos). Rating: 2/5