Disclaimer: All food in this review was complimentary. Opinions are my own.
I first came to know of Little Saigon in Yaletown from a friend who is a regular customer there. He loved the fact that their food is MSG free yet still very delicious. I was curious about his recommendation and ventured to Little Saigon on two occasions. Having very much enjoyed my dining experiences there, I was very excited when Little Saigon invited me for a menu tasting. During the tasting, I also had the opportunity to learn more about them including the story behind a beautiful tribute hidden against a wall.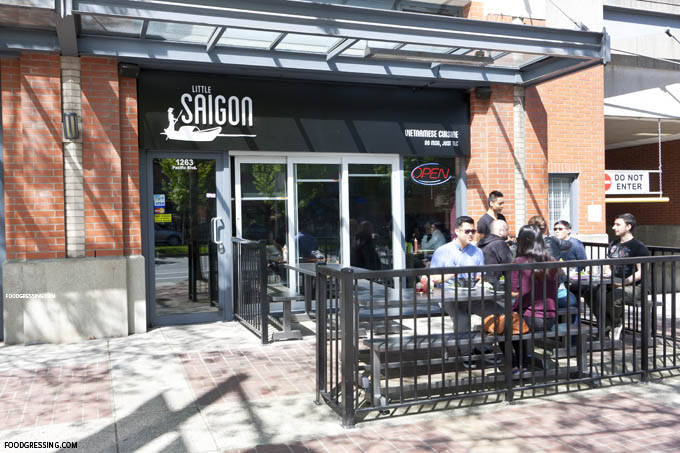 3 locations, 3 cities
Little Saigon started out as a small family run business with their first restaurant opening in 2006 in Mission. Serving healthy, authentic ,Vietnamese cuisine without MSG or preservatives, Little Saigon quickly gained popularity. A second restaurant then followed four years later in Abbostford and then Vancouver's Yaletown in 2013.
A Beautiful Tribute
The interior of Little Saigon is modern yet cozy and comfortable with a mix of dining tables, banquettes and booths. I love how Little Saigon has a classier feel to its interior compared to other Vietnamese eateries. There is a beautiful murale of a woman in a red dress – that is the owner's wife! If you look closely, her upper body is on the back wall while the bottom part of her dress is on the front counter.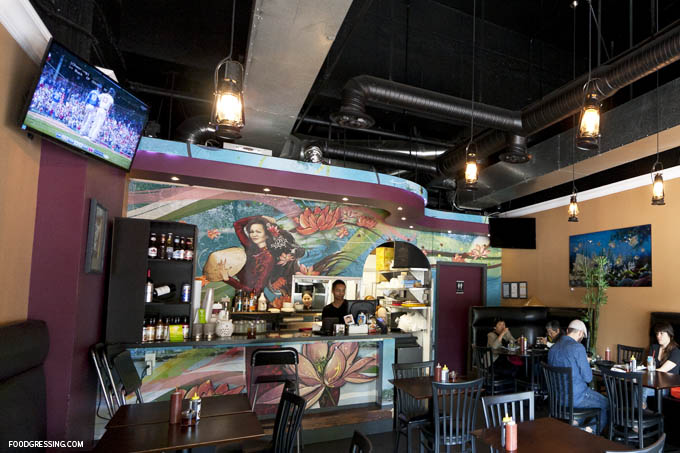 Little Saigon Menu
At Little Saigon, you can enjoy salad rolls, pho, soups, curry, stir-fry, and bánh mì. There are also many build-your-own options for salad rolls, curry stir fry, pho and other entrees.
They also produce their own line of sauces, being the only Vietnamese company in BC to do so. Little Saigon Vietnamese Sauces are produced in Abbotsford based on family recipes and using quality ingredients and are MSG-free. Their sauces are available at Save On Foods, PriceSmart Foods, Overwaitea Foods to name a few.
What I Tried
To start, we had the Little Saigon iced tea ($3.50) and Saigon Vietnamese coffee ($4.00) sweetened. Both were wonderfully refreshing and sweet. The Vietnamese coffee was first steeped in hot water then poured over ice and sweetened with condensed milk. The iced tea was very citrusy while the coffee was nicely strong.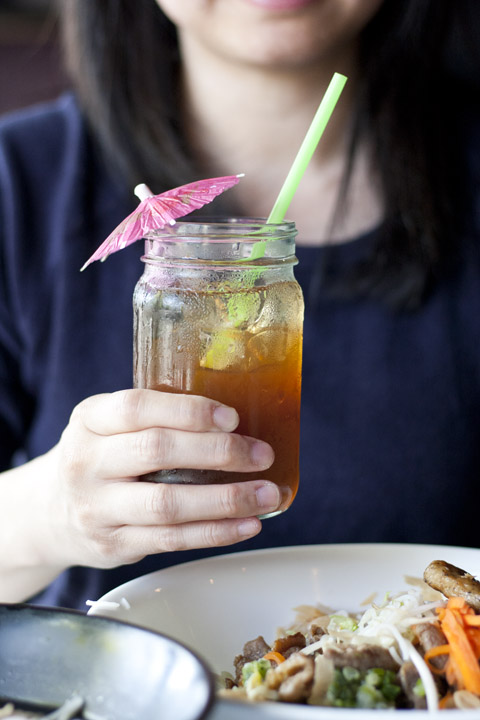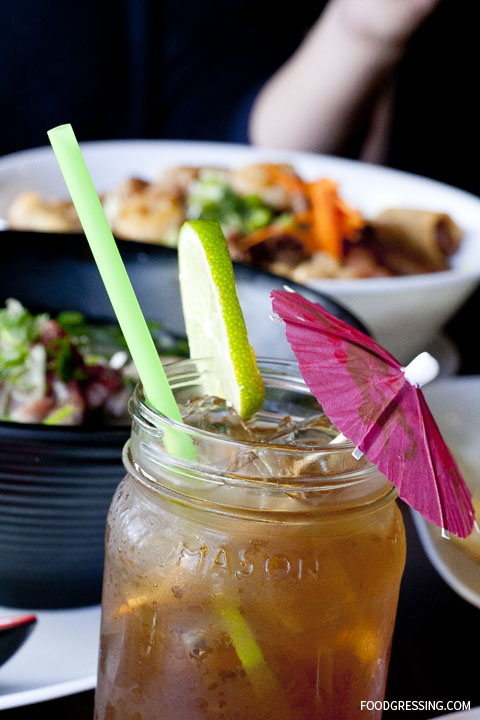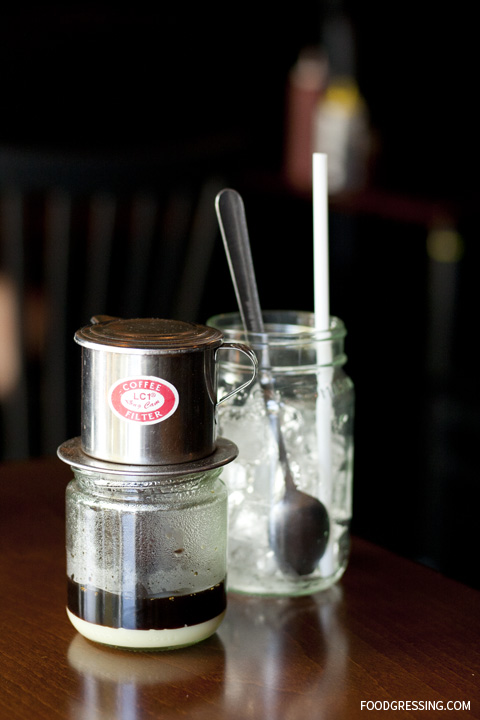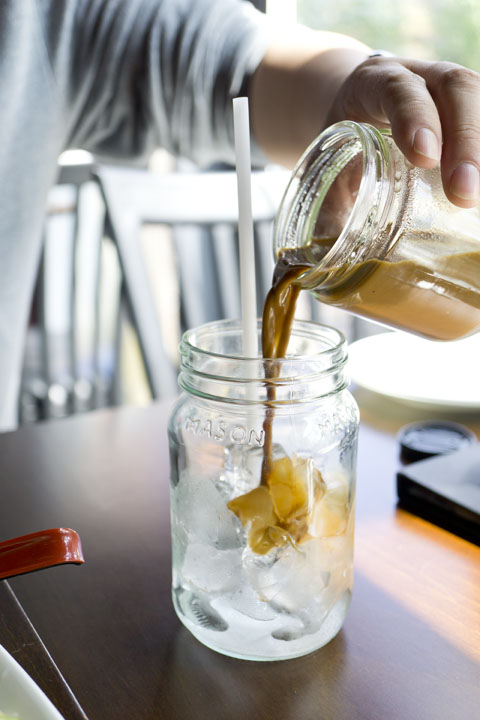 Our first appetizer was the prawn salad rolls ($9.75) filled with lettuce, bean sprouts, cucumber and cilantro wrapped in rice paper served with peanut sauce. The wrap was thin but still held everything well together. The salad rolls were thick and had a nice amounts of prawn. The peanut sauce added sweetness to the salad roll.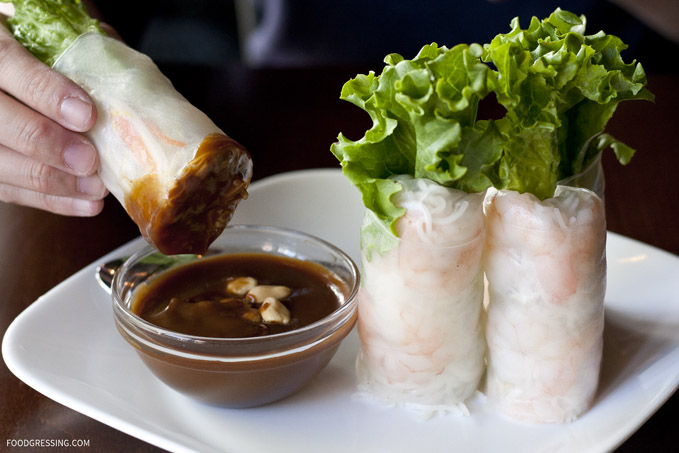 Our second appetizers was the spicy tofu on rice ($12.95). A sweet and spicy dish, the tofu was tossed in a wok with chillies, garlic and mixed onions in Little Saigon sauce. This dish definitely set my taste buds on fire. I did feel that the tofu could be crispier.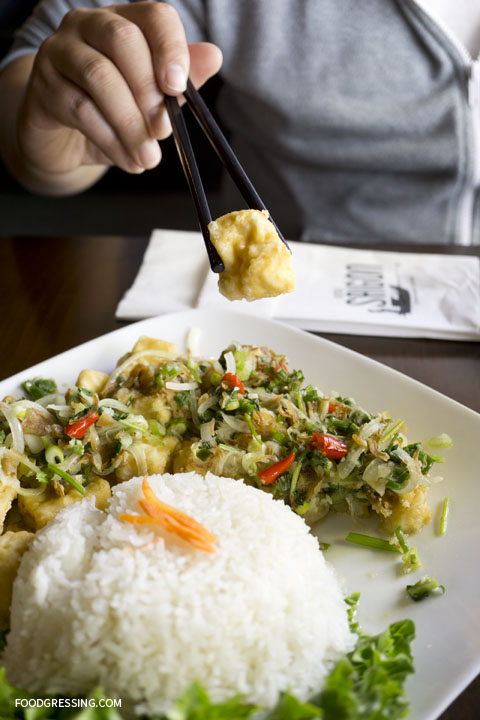 Next up is the Saigon special ($14.95) with grilled lean pork, pork patty, chicken patty, tiger prawns and spring rolls on vermicelli. For first-timers to the restaurant, I would recommend this dish because of the variety of ingredients. The spring rolls were very crispy on the outside while the grilled lean pork was very tender and sweet. The pork patty was the least favourite item in this dish. It's a bit hard and chewy and I prefer the smaller, grilled lean pork pieces a lot more.
The rare beef and beef meatballs pho (large $9.50) was very comforting. The soup is light and apparently made with the freshest, leanest Canadian AAA grade meat cooked at a simmering heat for 10 hours. The beef slices were nicely thin and tender.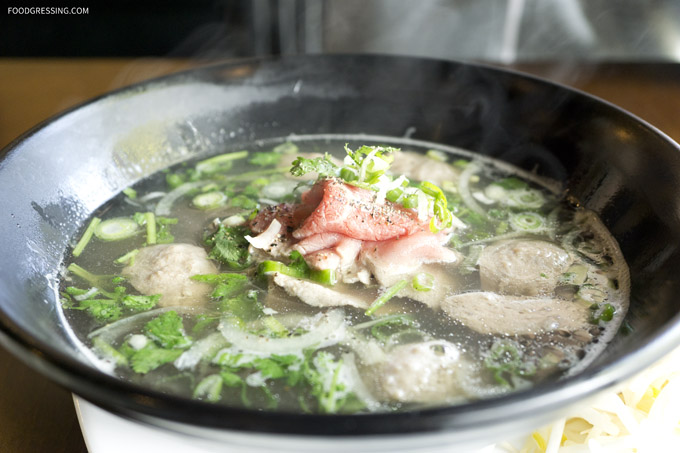 As a coconut and curry fan, I had to order the coconut curry stew ($10.95). The curry was very rich and flavourful and the vegetables (carrots, yams, potatoes) were very thick cut!
Overall Impression of Little Saigon
All in all, Little Saigon impressed me with their tasty Vietnamese cuisine yet still MSG-free. I love their cozy and comfortable interior. Portions are very reasonable for the prices and quality is not compromised since they use quality ingredients and not preservatives. They are certainly my no-frills go-to Vietnamese eatery in Yaletown. Rating: 4.5/5
Website: www.littlesaigon.ca/