This week I have been taking over the West End Business Association's Instagram account to feature some of the tastiest eats in the neighbourhood.  One of the restaurant's I visited was The Grotto, a newer eatery serving classic Italian-inspired eats.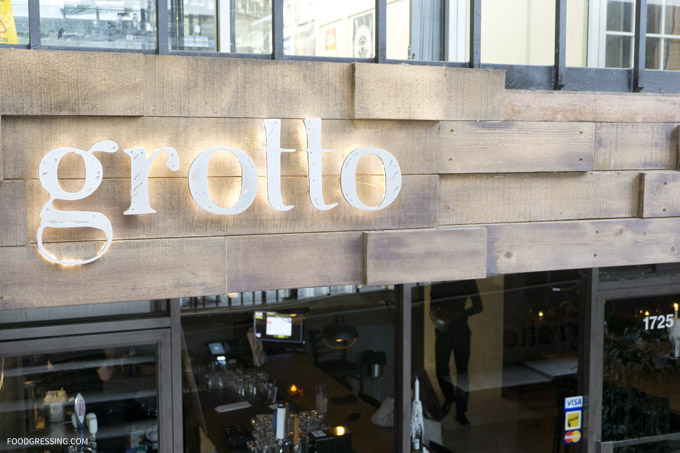 Classic Italian Dishes
The Grotto opened late last year by restaurateur Fiona Grieve who also owns the Buckstop located at 833 Denman Street.  The concept is similar to that of Buckstop – that is, a friendly neighbourhood atmosphere and an uncomplicated menu of Italian food and drinks.  The location is a bid of an odd one being sub-street level; it is sort of a basement eatery.
On the menu is a selection of antipasti (arancini, pork belly, humboldt squid and more), pasta (gnocchi, ravioli, spaghetti and more) and pizza (prosciutto, margherita, funghi and more).  All food are made in-house and from scratch by Chef Dan and his team.  The drink list includes Italian spirits, beer on top, classic cocktails and sorbet martinis featuring Grieve's line of Spitfire Biters.
Cozy and Intimate
The interior of the Grotto has a nice wooden finish with industrial lights giving way to a cozy and quiet ambiance.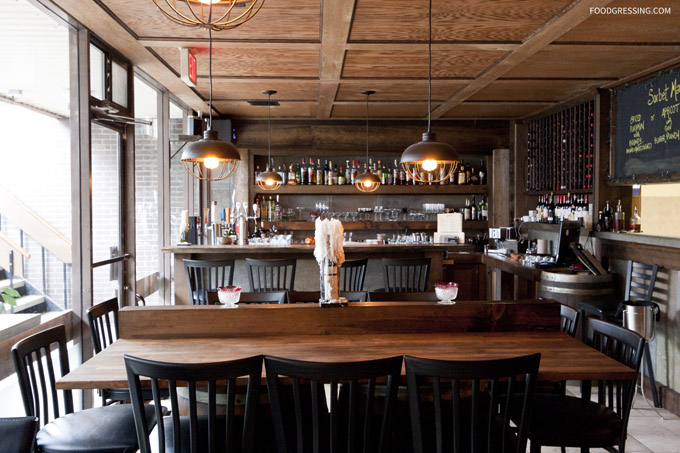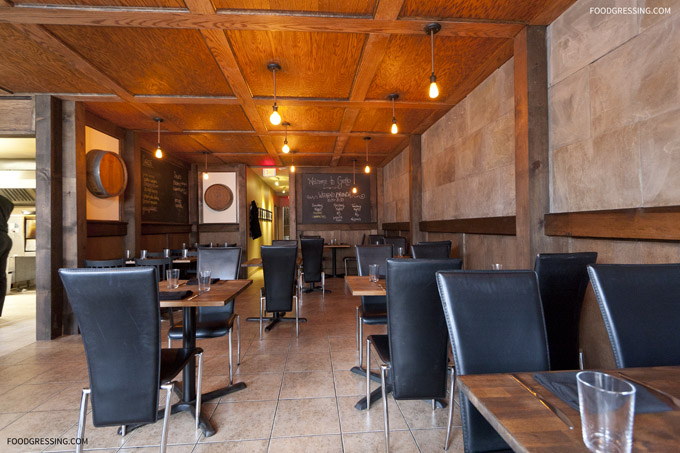 What I Tried
I had purchased a Groupon voucher ($30 for $50 worth of food) a while back and redeemed it for this dinner experience.  To start, we had the arancini balls (provolone, arrabiata, preserved lemon) ($12) which were scrumptious.   Very crispy breading on the outside with a centre filled with cheese.  The spicy arrabiata sauce put my taste buds on fire. The lemon accent was a nice touch.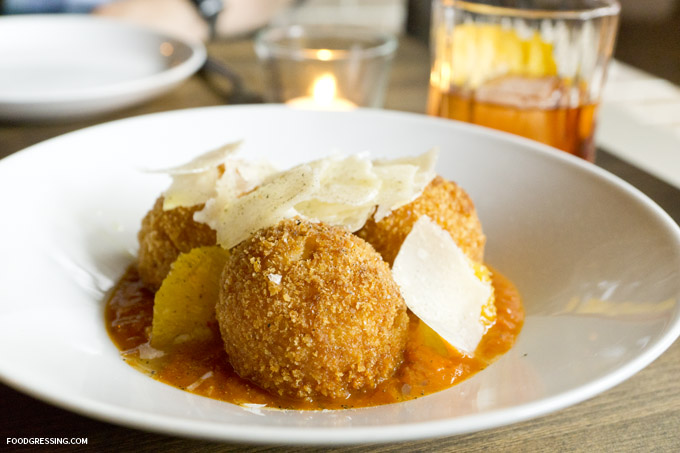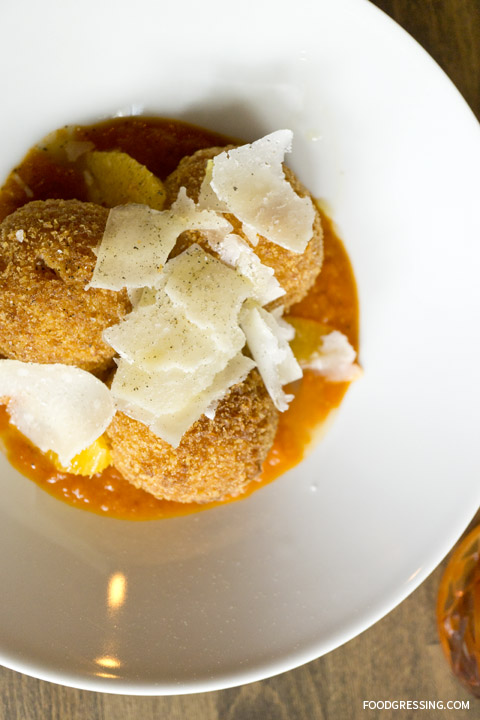 The prosciutto ($16) pizza with mozzarella and figs was absolutely delicious.  It's one of their most popular pizzas.  Super thin crust pizza with crunchy edges.  The sweetness of the figs balanced the saltiness of the prosciutto.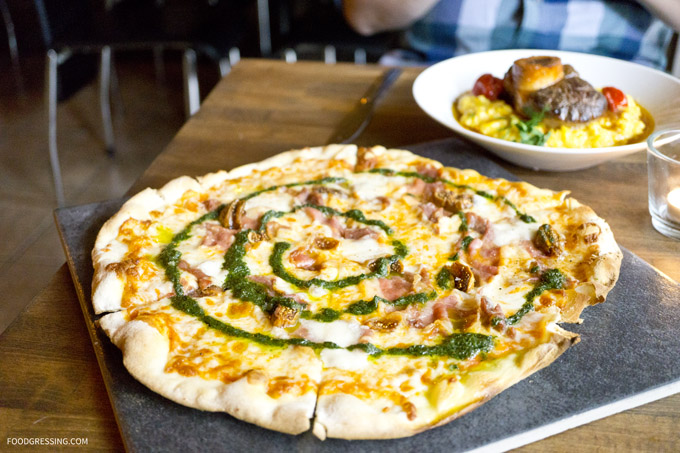 Another popular dish we tried was the ossobucco on saffron risotto with gremolata and oven dried tomato ($19).  The lamb was roasted to perfection to a melt-in-your-mouth goodness.  The meat fell off the bone very nicely and was very moist.  The oven dried tomatoes were very flavorful.  My only dislike was that I found the saffron risotto to be too heavy.  We were unable to finish the risotto because of that.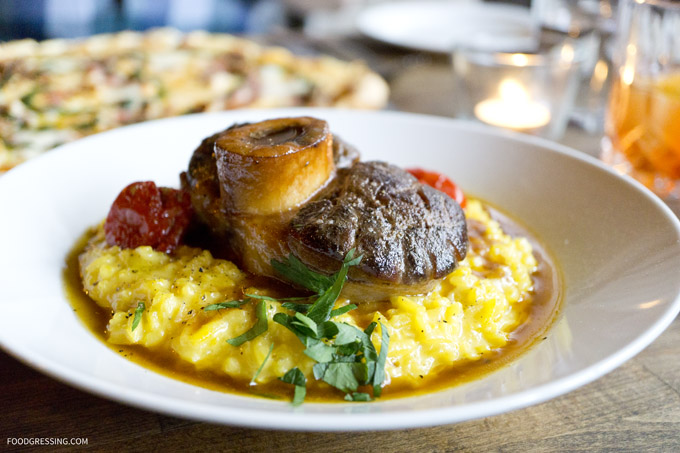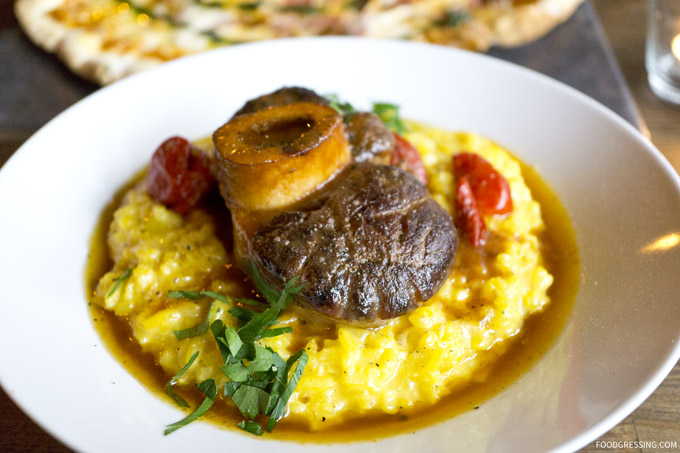 Service
The service was friendly and attentive.  We had one server but Fiona herself was around to bring out the dishes as well.
Overall Impression of The Grotto
Overall, I enjoyed the delicious, comforting Italian-inspired eats at the Grotto.  I found the portions and quality to be reasonable for the value; we were most certainly full.  The atmosphere is very cozy and intimate which is fitting for its location being sub-street level.  Rating: 4/5
Website: http://grottoitalian.ca