All week long, I'm showcasing delicious eats on the West End Business Improvement Association Instagram account.  No West End feature would be complete if it didn't include the prominent dessert spot – Nero Belgian Waffle Bar.  It had been a while since I last went there, so I was glad to revisit Nero to capture new shots for the Instagram feature.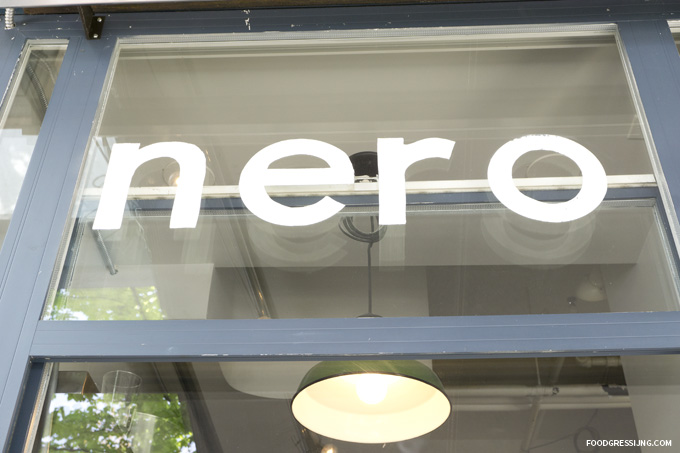 Waffles, Waffles, Waffles
If you haven't been to Nero yet, let me start off with a bit of an intro.  Whether you are in the mood for dessert after your ramen fix or looking for brunch worthy waffles, Nero Belgian Waffle Bar is the go-to spot.  This waffle place in the West End is small in size but big in terms of popularity among locals and tourists.  Nero Belgian Waffle Bar serves authentic Belgian waffles in two varieties, Brussels and Liege, and has options for savoury and sweet toppings.
Nero Belgian Bar Menu
Savoury Brussels waffles are $9 and includ the Parisienne, Rocket and Chevre Doux.  Sweet waffles range from $4 – $9 and there are different topping combinations of fresh fruit, Belgian chocolate, whipped cream and vanilla ice cream.  The sweet toppings can be on top of either a Brussels or Liege waffle.
What I Tried
This time around, I had my family with me again for the visit and we ordered Heaven like last time ($7).   Beautiful in presentation, it had fresh strawberries and real whipped cream on a Liege waffle.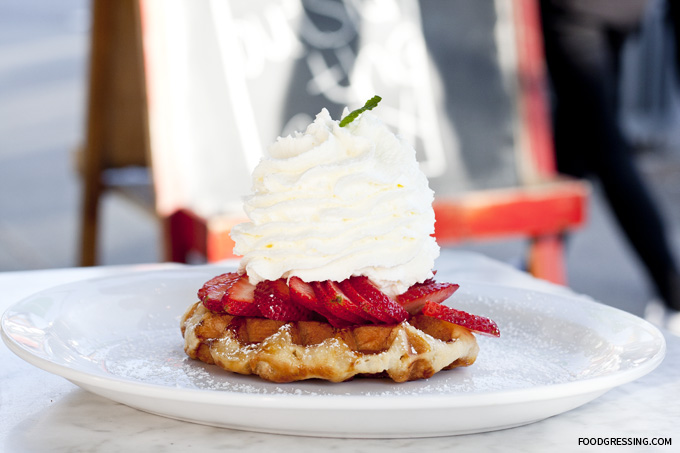 We also had the Fruity ($9) with strawberries, raspberries, banana, orange and kiwi on top of a Brussels waffles.  Super refreshing and you'll get your daily dose of Vitamin C from the fruits.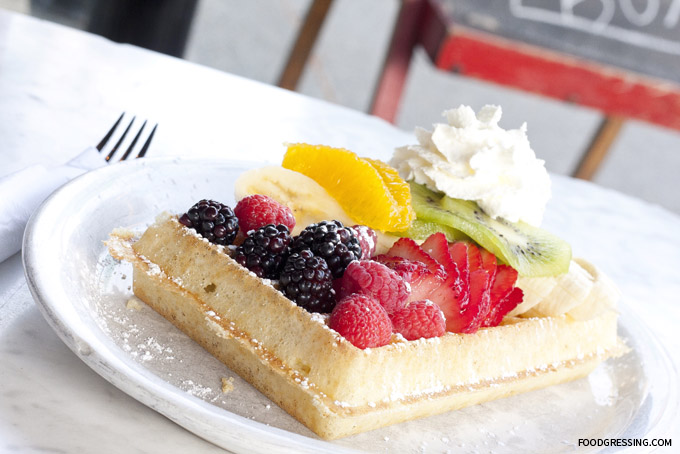 A few tips
Nero is also known for their line-ups so if you want to avoid waiting, go off peak times.  If there is a wait, one of the servers will take your name and call you when a table is ready.  Nero's space is small and narrow;  there are tables inside and three tables outside.  You can also purchase mini Liege waffles for here or to go for $2 each.
Beautiful and tasty waffles require time and care during preparation.  Don't expect to get your waffle right away after you sit down.  I have watched how the staff take their time in carefully preparing each waffle.  Don't worry because the wait is worth it!
Overall Impression of Nero Belgian Waffle Bar
Nero is a cute little dessert spot in the West End.  Brunch or dessert, consider visiting Nero to satisfy your next waffle craving.  Rating: 5/5
Read about my previous visit to Nero here.