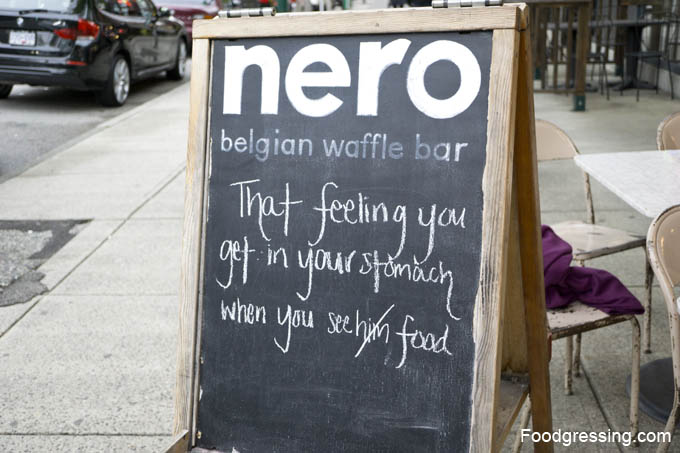 Whether you are in the mood for dessert after your ramen fix or looking for brunch worthy waffles, Nero Belgian Waffle Bar is the place for you. This waffle place in the West End is small in size but big in terms of popularity among locals and tourists. Nero Belgian Waffle Bar serves authentic Belgian waffles in two varieties, Brussels and Liege, and has options for savoury and sweet toppings.
Brussels versus Liege
I did a bit of research to learn more about the differences between Brussels and Liege waffles. Brussels waffles are made leavened with yeast, which makes them lighter and crispier. Their shape is rectangular with defined edges, and they have deep holes. Liege waffles, on the other hand, are made with thicker batter like bread dough. Pearl sugar is added to the dough, which then becomes caramelized when the waffle is cooked. In comparison to the Brussels waffle, the Liege is softer, sweeter, chewier and thicker.
Nero Belgian Waffle Bar Menu
Savoury Brussels waffles are $9 and there are three options: the Parisienne, Rocket and Chevre Doux. Sweet waffles range from $4 – $9 and there are different topping combinations of fresh fruit, Belgian chocolate, whipped cream and vanilla ice cream. The sweet toppings can be on top of either a Brussels or Liege waffle.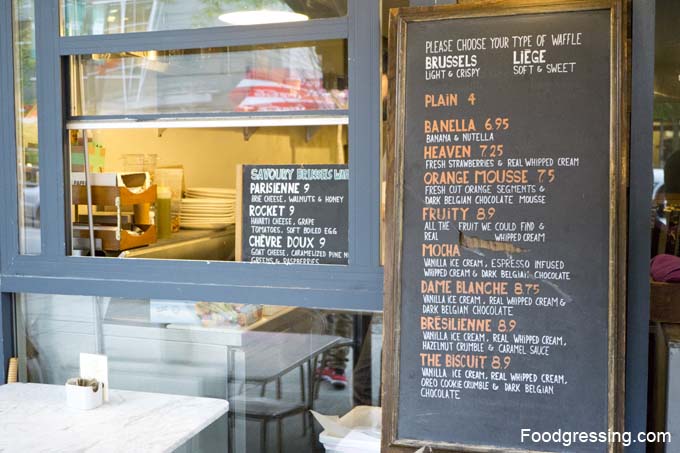 I tried Nero Waffle Bar on different occasions. Here is a culmination review of all the waffles I have tried so far.
Sweet Heaven
Heaven is definitely a piece of heaven. It had fresh strawberries and real whipped cream on a Liege waffle. The whipped cream was light and fluffy and the presentation was impressive.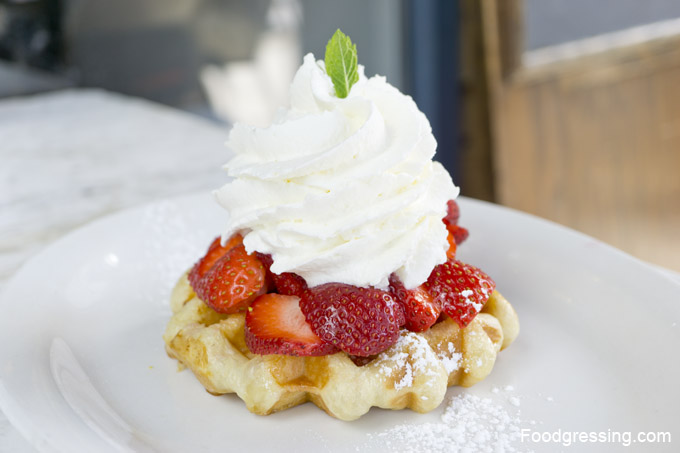 I also tried the Rudolph, which was one of their specials. It had vanilla ice cream, real whipped cream, fresh raspberries and drizzled Belgian chocolate on a Liege waffle. The dark Belgian chocolate mousse came on the side. This was also another definite winner! On a side note, I've been looking at buying one of the Best Waffle Maker machines, and when I do, I'm definitely going to try and recreate this recipe!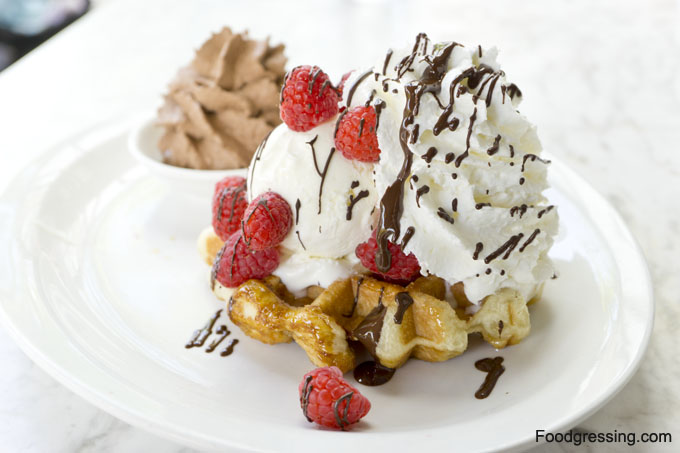 Savoury Sensations
The Rocket is truly a savoury waffle. One of the staff mentioned to me that the other two savoury waffles offered have hints of sweetness because they have some sweet ingredients like honey. The Rocket had havarti cheese, grape, tomatoes, and a soft boiled egg sliced in halves. The ingredients were fresh and this waffle is a great brunch option.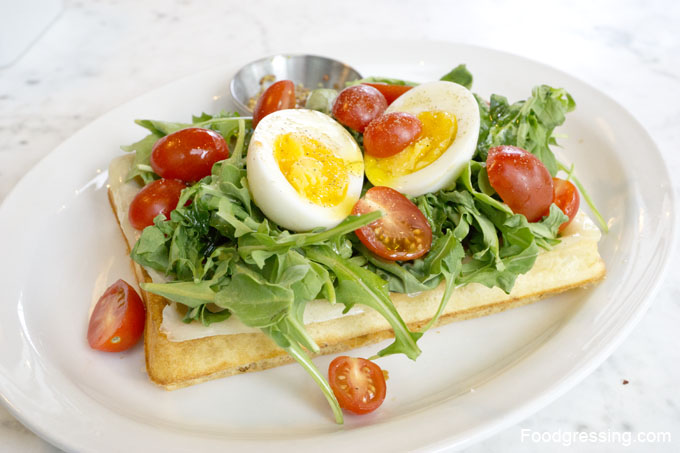 I also enjoyed The Chèvre Doux, which had goat cheese, caramelized pine nuts, greens and raspberries. At this point, I can say that everything I have tried at Nero has been delicious!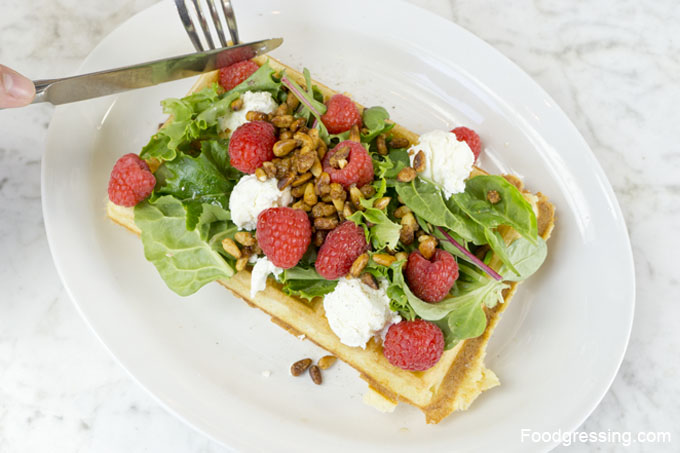 A few tips
Nero is also known for their line-ups so if you want to avoid waiting, go off peak times. If there is a wait, one of the servers will take your name and call you when a table is ready. Nero's space is small and narrow; there are tables inside and three tables outside. You can also purchase mini Liege waffles for here or to go for $2 each.
Beautiful and tasty waffles require time and care during preparation. Don't expect to get your waffle right away after you sit down. I have watched how the staff take their time in carefully preparing each waffle. Don't worry because the wait is worth it!
Overall Impression
Nero Belgian Waffle Bar has some *beautiful* and delicious waffles. For your next waffle craving, be sure to check it out!
Facebook: www.facebook.com/nerobelgianwafflebar