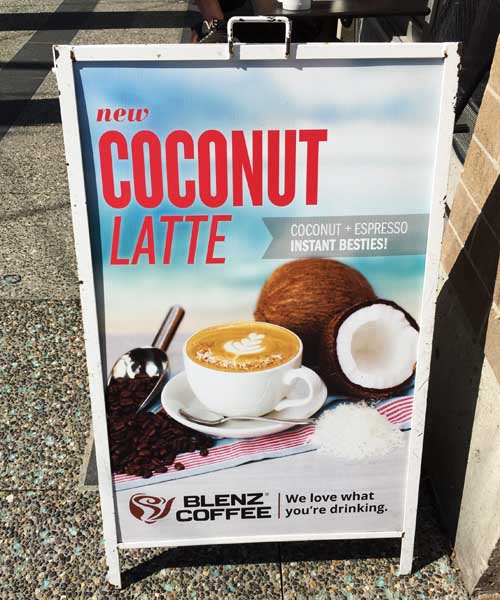 I had seen Blenz Coffee promote their new coconut latte on social media and with signage at their stores. The new Blenz Coffee coconut latte is made of real coconut shavings, coconut syrup and premium espresso and comes in hot or cold varieties. Blenz Coffee currently has a terrific deal where you can get two coconut lattes for the price of one from 4 – 6 pm. Did I mention that I am also fan of coconut? I eagerly grabbed my bestie and headed to the Blenz on Granville and Davie to try out the coconut latte.
The Staff
I had not been to this Blenz location before and the staff was quite nice that day. First of all, I wasn't sure whether to get whipped cream on top of the coconut latte. The barista gave me a sample of the whipped cream to try. It tasted fresh, light and fluffy such that my answer to whipped cream at Blenz is always yes now. The barista also said that the whipped cream at Blenz is his favorite. I also had a seat outside and he kindly helped carry one of the mugs out for me. I was impressed by the service!
The Coconut Latte
The coconut latte was very nice and had hints of coconut flavour which were not overpowering. It had a nice balance between espresso and coconut taste. I also enjoyed crunching on the shredded coconut in between sips. If you're wanting to try and enjoy one of this coconut latte's in the comfort of your own home, you can look over the internet to Learn more about what machines can allow you to make different types of latte's!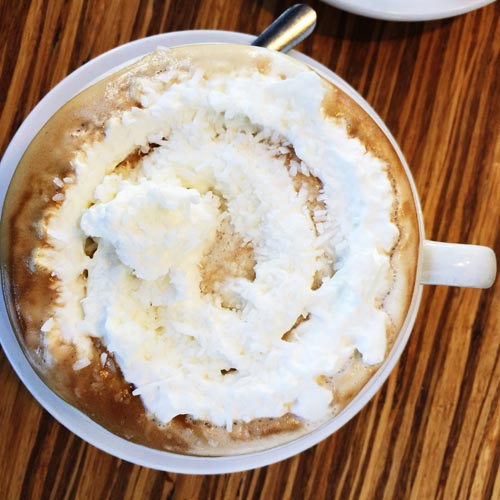 Your coconut latte might also be featured on Blenz's digital screens. Hashtag your coconut latte pic with #BlenzBesties on Instagram, Facebook or Twitter. The best ones will be chosen for display.
If you are curious about the coconut latte, head to your local Blenz and take advantage of the great 2-for-1 offer!
Website: http://blenz.com/coconutlatte/