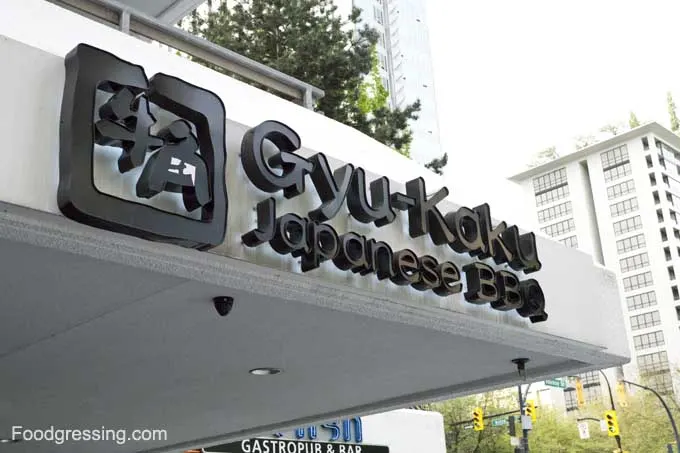 Gyu-Kaku Japanese BBQ is my go-to place for an Asian barbeque dining experience in Downtown Vancouver. At Gyu-Kaku, you engage yourself in a Japanese Yakiniku dining experience where you grill bite-size meat and vegetables over a flaming charcoal grill. In Vancouver, their other location is on Broadway, but they actually have 650 restaurants world wide!
I had been receiving their newsletter for a while, and most recently they advertised the idea of spending Mother's Day at one of their locations. Mother's Day grillin' sounded like a fun idea so we headed there on that day. I love hearing the sizzling of food as it is being cooked!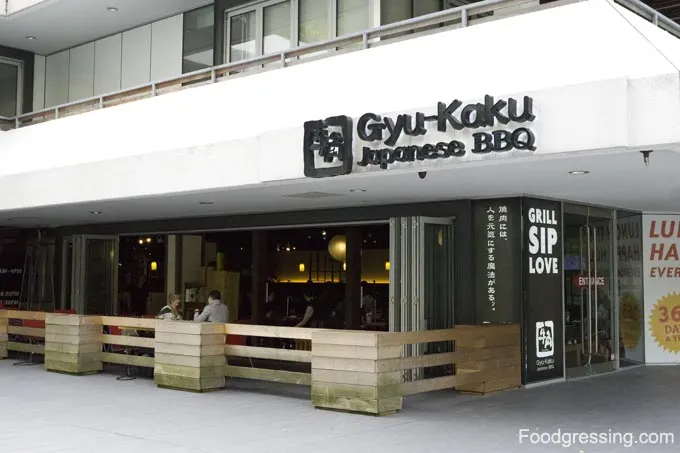 Grillin' in Da Dark
Gyu-kaku does take reservations over OpenTable but it was all full when I looked into it. I gave the restaurant a call the morning of Mother's Day and they were still accepting walk-ins. We were greeted by the hostess when we arrived there and then seated promptly in an area where there were four booths. That area unfortunately had *no* natural lighting and was very dimly lit. Other areas of the restaurant have access to natural lighting which are definitely more favorable for a food blogger who is looking to take nice food photos!
Gyu-kaku Happy Hour
"Happy Hour" was still in effect when we were there. I do find that it is a bit of a misnomer because their lunch Happy Hour is all day Monday, and 11:30AM–6PM on all other days. The Happy Hour discount is between $1-$2 for certain items.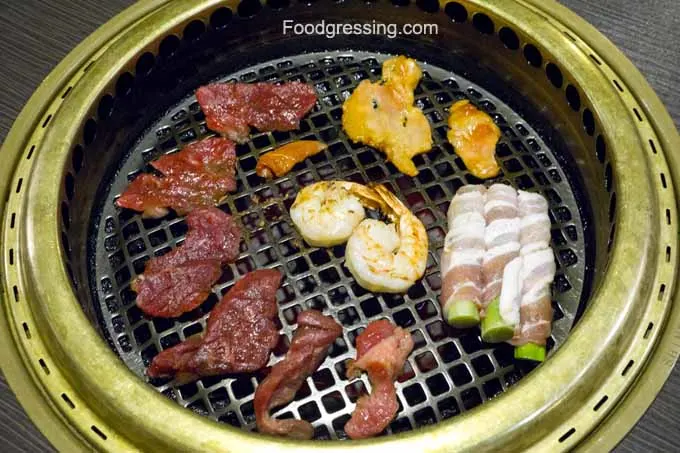 The staff also let us know that there was a 2-hour limit to our dining experience due to Mother's Day. We ordered fried gyoza dumpling appetizers, Kobe style beef, spicy pork, P-toro, bacon wrapped asparagus, shrimp and bacon wrapped scallop.
I loved the P-toro, which is fatty meat from the pork cheek and neck.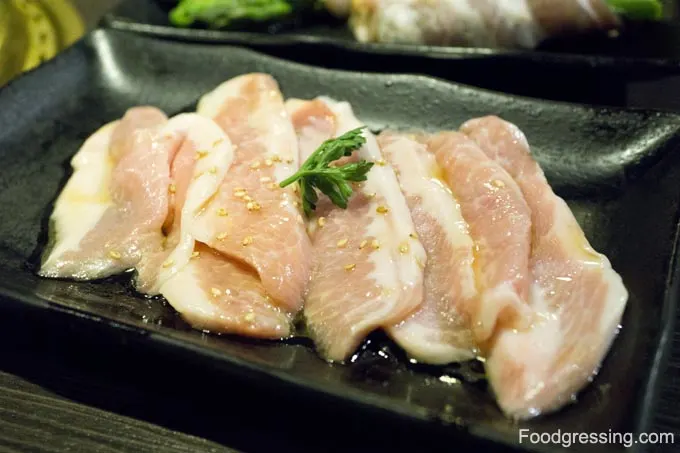 I really loved the bacon wrapped asparagus and scallops, probably because bacon wrapped food are delicious to me. My must-have Asian barbeque item is spicy pork, and it did not disappoint. It was nicely marinaded and came out delicious.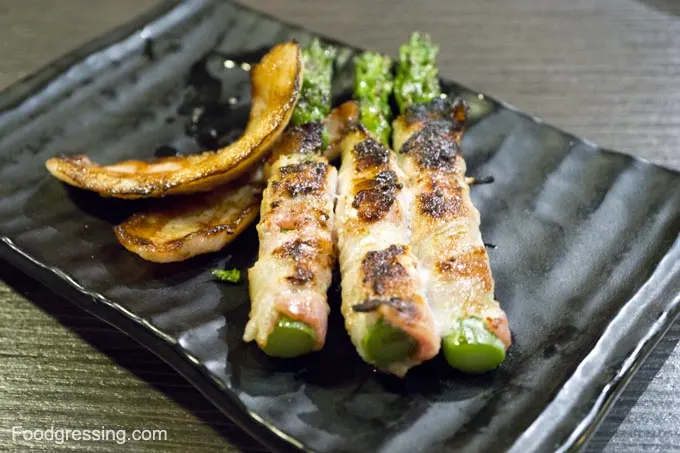 The gyoza, however, was just standard in taste.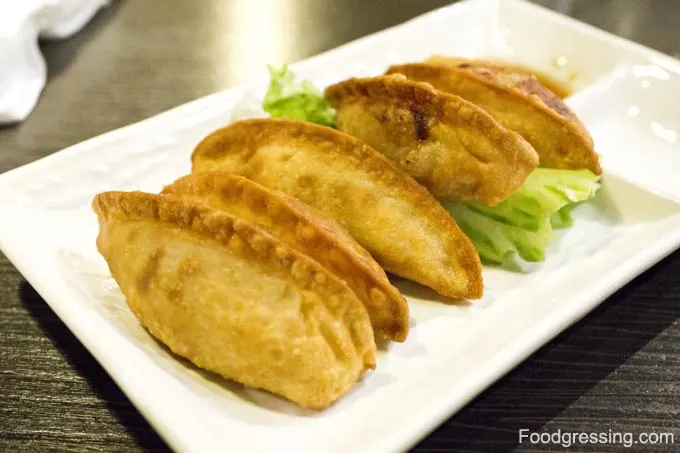 Although their name says "Japanese BBQ," they also have Korean dishes like bibimbap. We added a sukiyaki bibimbap as a filler to complete the meal.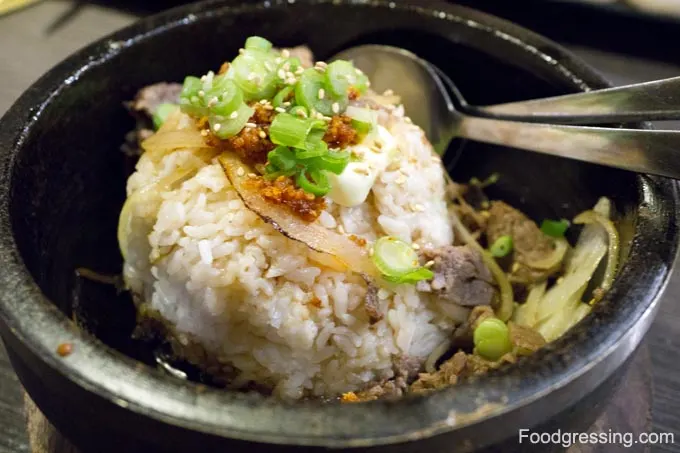 Kinda kid-friendly?
The staff kindly brought over a high chair for my toddler and helped us to get settled. He wasn't really having any of it when he was sitting in the chair, so I had to show him some english songs on YouTube for him to settle down. Unfortunately, the dial for the grill was located in the middle of the table's edge. As a result, my toddler could not sit at the table because he would be playing with the dial. There were other kids in the restaurant but none were in high chairs. A booster seat in the booth would probably not be ideal either since my son would be a lot closer to the grill than in a high chair. Anyhow, I just wanted to share this part of my experience for other parents who might consider taking their small kids to Gyu-Kaku.
Get Rewards
Gyu-Kaku also has an app where you can earn points towards rewards after each meal. There is a code at the bottom of your receipt which you enter into the app. You get 2 pts for every dollar you spend. Rewards start at 100 points for ice cream and s'mores.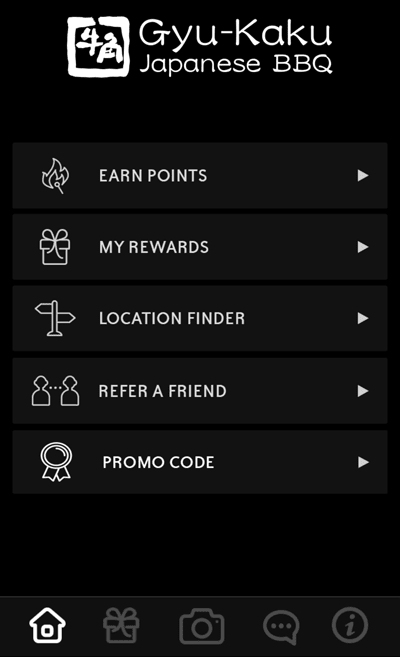 Service
The staff was helpful in suggesting menu items and was on top of changing the grill as needed. They also seemed extra nice that day and they wished me and my mom a lovely Happy Mother's Day.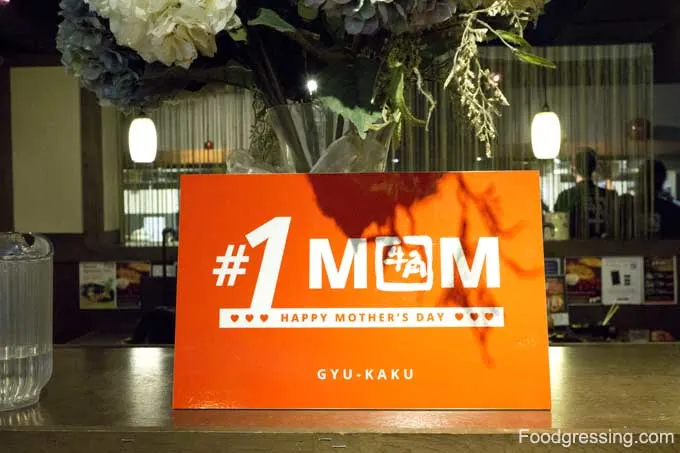 Overall Impression
Gyu-kaku is a fun social dining experience and I would recommend it for any occasion.