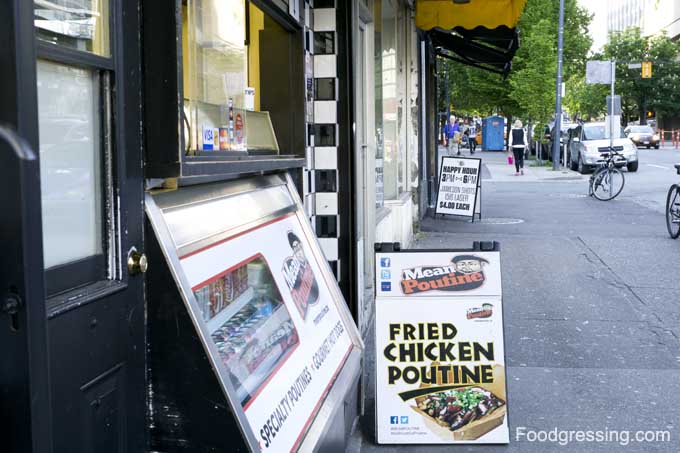 Late night revelers in Downtown Vancouver can always seek comfort in poutine at various establishments around Granville and Nelson. In the last while, I have tried Frites and Smoke's Poutinerie which are both located in that area (though during the daytime). It had been a few *years* since I last visited Mean Poutine so I decided to go there for an updated experience.
Mean Poutine Menu
Mean Poutine opened in 2011 by former BC Lions football players Sherko Haji-Rasouli and Jon Hameister-Ries. Their menu includes a selection of classic and gourmet poutine and hot dogs, including build-your-own options. Some interesting poutine flavours including Fried Chicken, Southern BBQ and Mama's Mean Meatballs. For the hot dogs, there are the Zen, Mac and Cheese, and Chilli Cheese to name a few. They also offer Red Bull to complement your poutine or if you are in desperate need of caffeine. Poutines range from $7-$10 and hot dogs between $6-$8.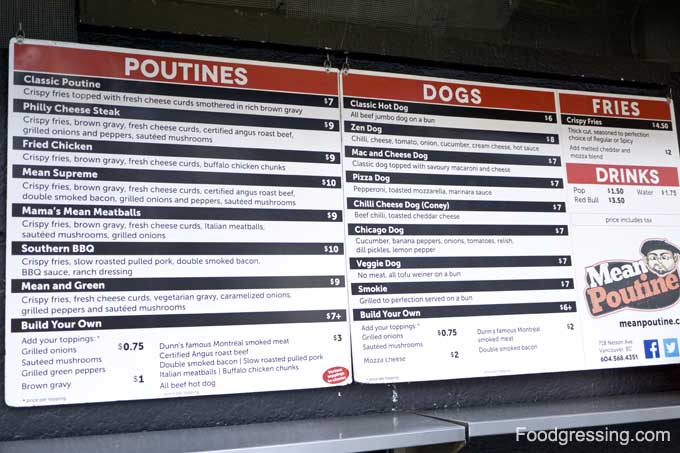 Grab N' Go
Mean Poutine is almost literally "a hole in the wall" sort of place. It is not a sit-down restaurant, but rather a grab n' go food stall. They do have a counter on the side to put your food on and stand and eat.
Poutine and Hot Dogs
My first experience at Mean Poutine was in 2012, and I tried the classic poutine with green onions. The poutine was delicious but the cheese curds were not very squeaky. It was nice to have the green onion toppings.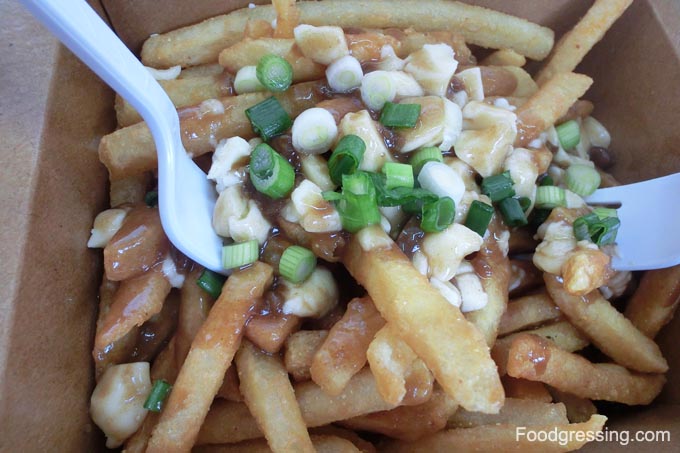 Fast forward to 2015 and I tried the Fried Chicken poutine, which had buffalo chicken chunks. I can totally see this poutine being addictive because of the fried chicken. The chicken pieces were crispy and tasty and it left me longing for more.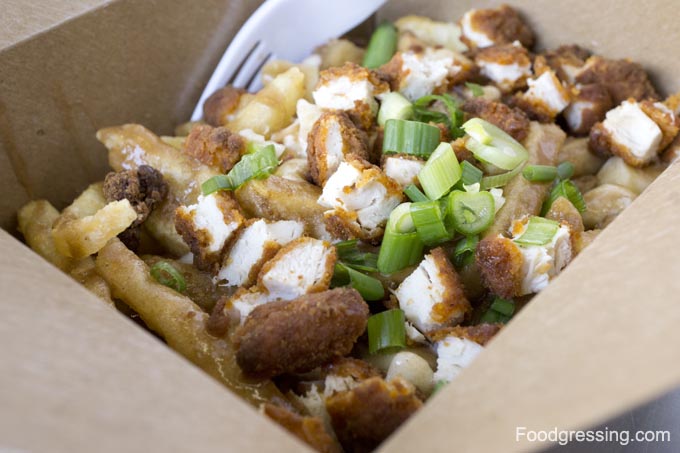 I also tried the Chicago Dog, consisting of cucumber, banana peppers, onions, tomatoes, relish, dill pickles and lemon pepper. The hog dog had a nice spicy kick to it, though not too overwhelming.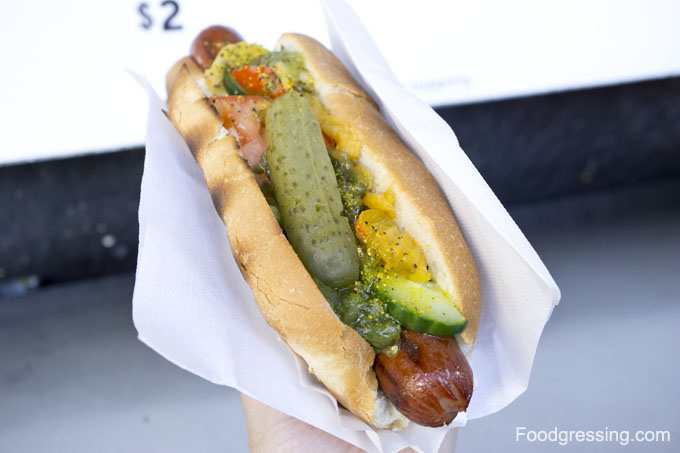 My only criticism from all the items that I have tried is that the food tasty too salty. The gravy, fries and even the hot dog could have used less salt.
Overall Impression
Mean Poutine has some fun poutine and hot dog flavours. Whether you have a late night craving or are just coming out of the clubs, Mean Poutine is an option for some late night eats.
Website: http://www.meanpoutine.ca/