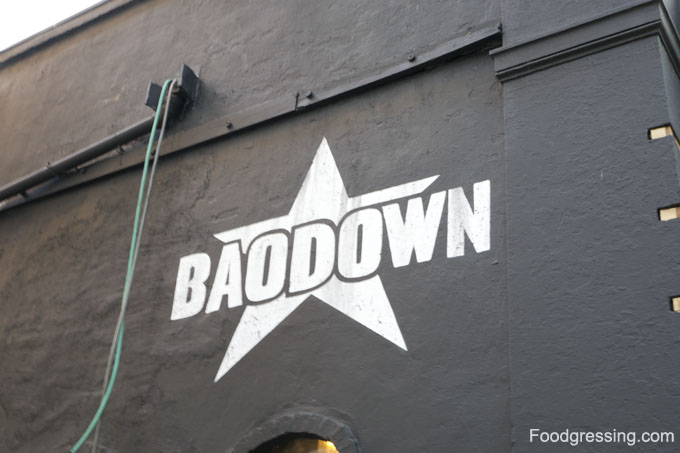 Prior to their opening in Gastown, Bao Down generated social media buzz with mouthwatering photos of their buns with colourful fillings. I was curious about these bao buns after seeing these tempting photos and headed to Bao Down to try them out.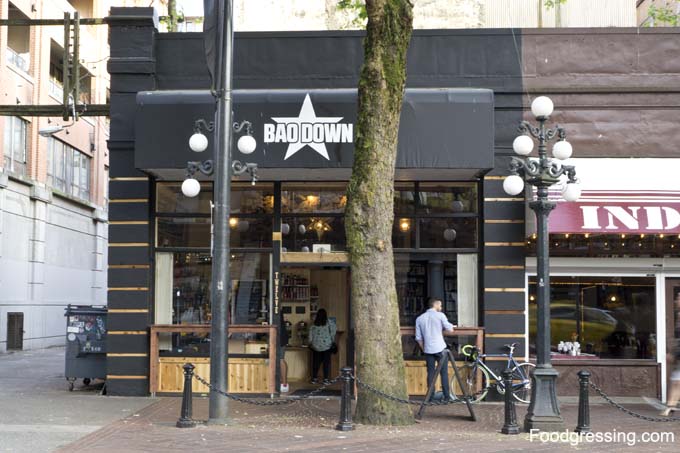 Bao Down is a 25-seat eatery with a fun and relaxed vibe. They have upstairs seating with wall art of ninja pigs as well as a counter outside the restaurant where you can stand and eat.
Bao Down Menu
Bao Down's menu consists of steamed baos ($5-$7) and street sandwiches ($10-$12). They also have interesting sides like The Ninja (rice paper roll) and Kimchi fries. Their specialty is steamed baos, which are like the Asian fusion counterpart of the taco. They currently have 7 regular varieties for their steamed baos with some daily specials as well. The buns are made off-site, while the fillings are mostly sourced locally with most made in-house. Their full menu is available on their website.
The first item I tried was the Vevo steamed bao. It was loaded with veggies including tamari-braised shitake mushrooms, garlic pea shoots, sprouts, organic red kale, avocado, organic carrot, beet strings, ginger-peanut sauce and toasted sesame seeds. The Vevo seems more like a Thai-inspired bao with the ginger-peanut sauce added. The sauce contributed to the bao's overall sweet taste. The bao bun itself was very fluffy and soft.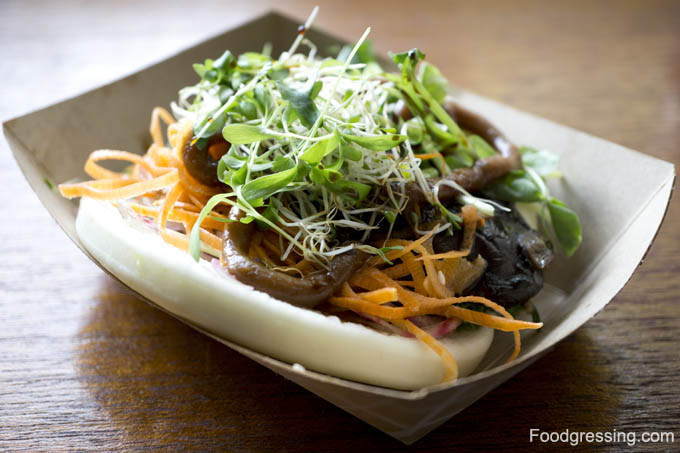 Next was the YVR which had a nice mix of ingredients which I think are true to our city. It had sesame seared Ocean Wise albacore tuna, wasabi mayo, baby pea shoots, avocado, sweet soy and double smoked *bacon.* It was another delicious bao with nicely seared tuna and had a milder sweet and spicy taste.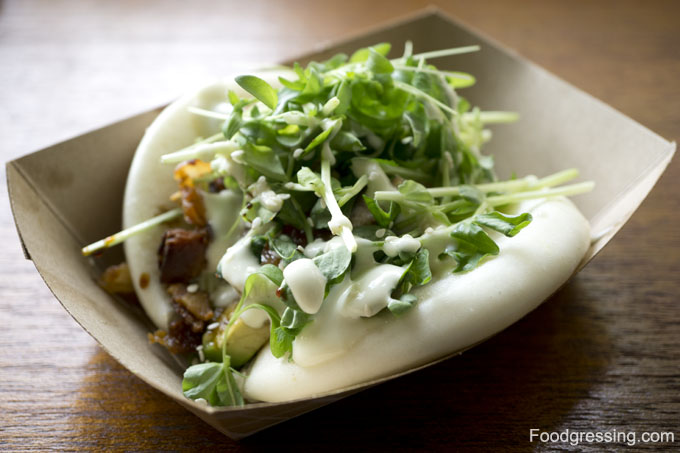 A review of posts on Instagram show that the kimchi fries are much buzzed about. The fries also had other toppings like pork belly sisig, chicharon, sweet soy, crispy garlic, bean sprouts, garlic scape mayo and scallions. The fries had a nice mix of sweet and savory and was overall delicious. However, I think the portion of kimchi was too just small for it be justifiably named "kimchi fries." The pork belly was fatty (if you like it that way) but felt hard and dry. The bean sprouts were a nice touch and provided a bit of a healthy contrast. Nevertheless, I think that this is a must-have side for the baos, and I recommend it.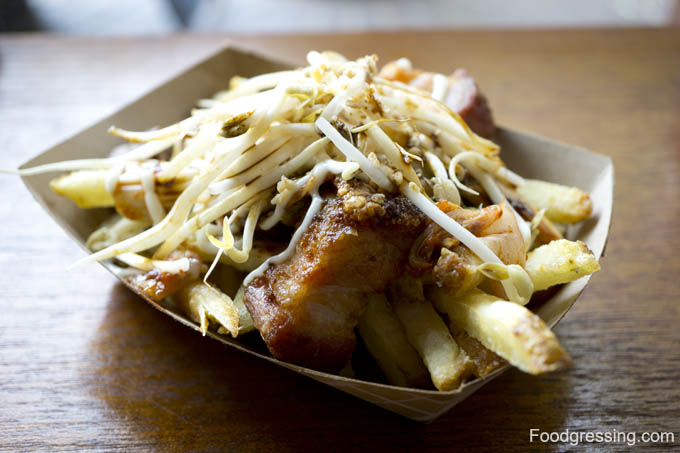 Just How Many Baos?
Some reviews ave addressed how many baos one should order for a meal. I was reasonably hungry and felt satisfied after one bao and a small kimchi fries. However, most seem to suggest a minimum of two baos, or 3-4 if you are really hungry.
Overall Impression
Bao Down is a relaxed and casual eatery with some fun and delicious Asian fusion eats. I am ready to #baodown next time I am in Gastown!
Website: http://baodown.ninja/
Facebook: www.facebook.com/baodowngastown