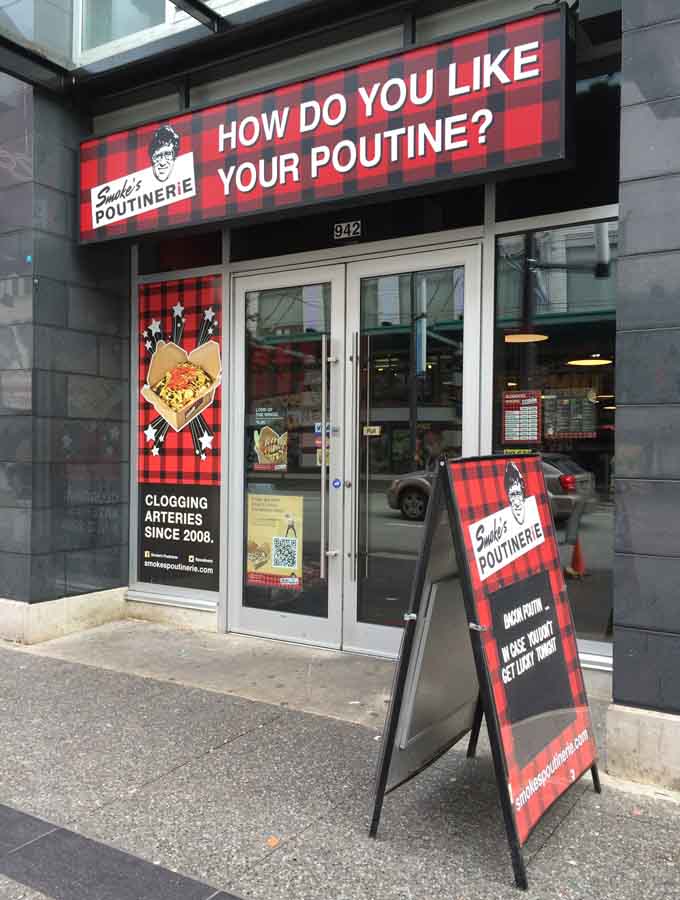 "How Do You Like Your Poutine" says the sign above Smoke's Poutinerie. I had been curious of this poutine shop every time I walked by it. When I saw their Social Shopper deal for $9 for two meal-sized speciality poutines, I was excited. I had never tried their poutine, so the deal was a good way to try their food at a discount.
Smoke's Poutinere has 20 locations across Canada. Located in the Granville Entertainment district of Downtown Vancouver, it is open late to cater to club goers.
A nod to the 80's
You see the face of "Smoke" everywhere inside Smoke's Poutinerie. Who is Smoke, you ask? According to their website, Smoke is the guy who creates the different poutine recipes. He apparently is stuck in the 80's and has an extensive collection of Cabbage Patch Kids and He-Man action figures. He also lives in a penthouse cabin made of Lego deep in the woods. He sounds kind of cool and creepy at the same time.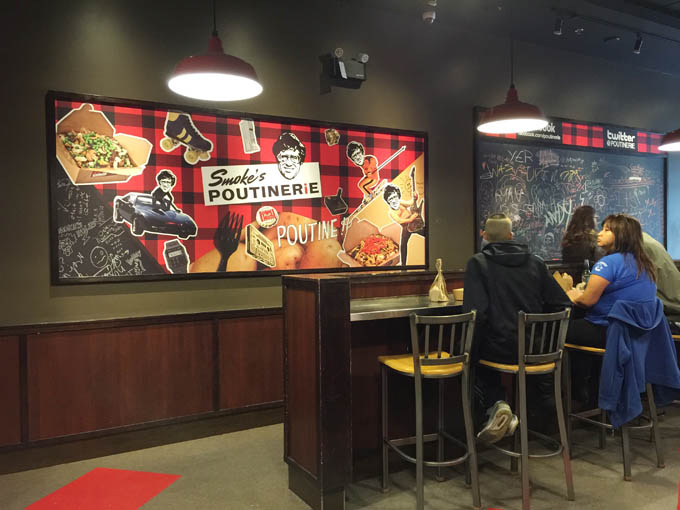 The interior of Smoke's Poutinerie is retro-inspired as Smoke is such a fan of the 80's. There is lots of seating available: a mix of tables and counters.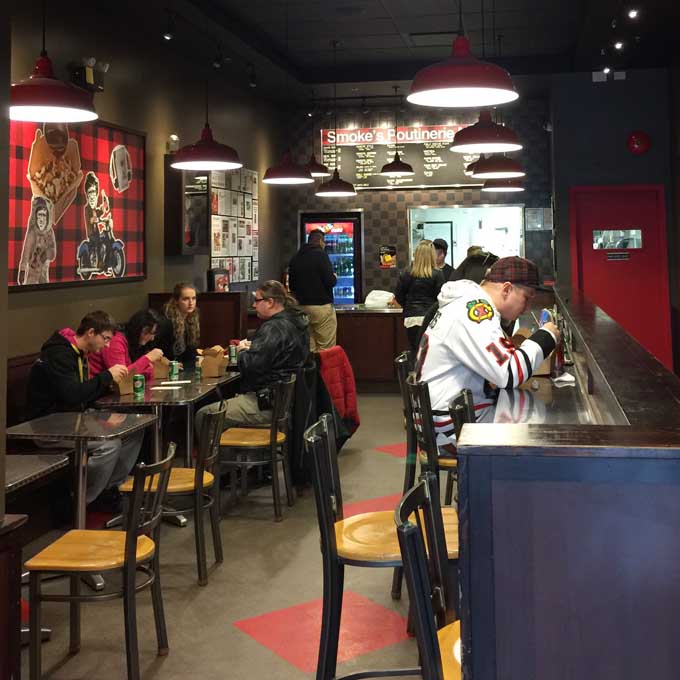 There is a wall that showcases media articles that praise Smoke's poutines.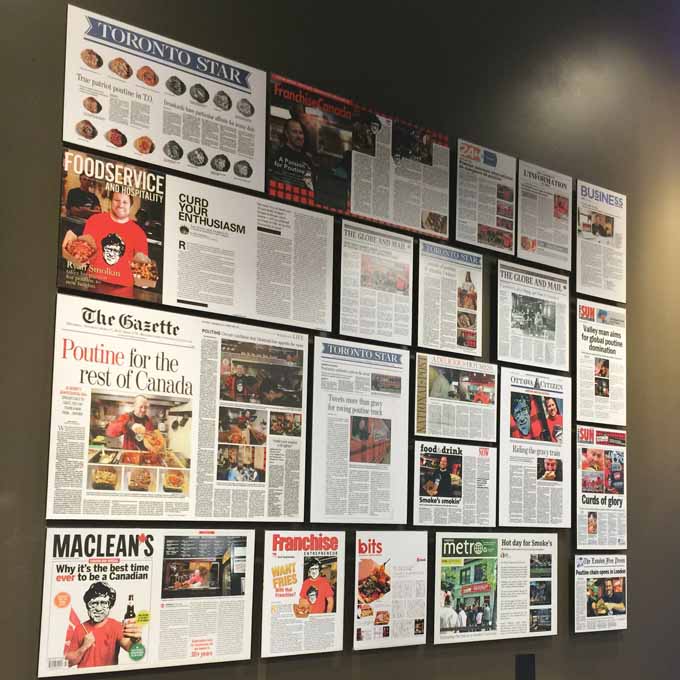 Cant' get enough of Smoke? You can get yourself some Smoke fan gear including t-shirts and baseball caps.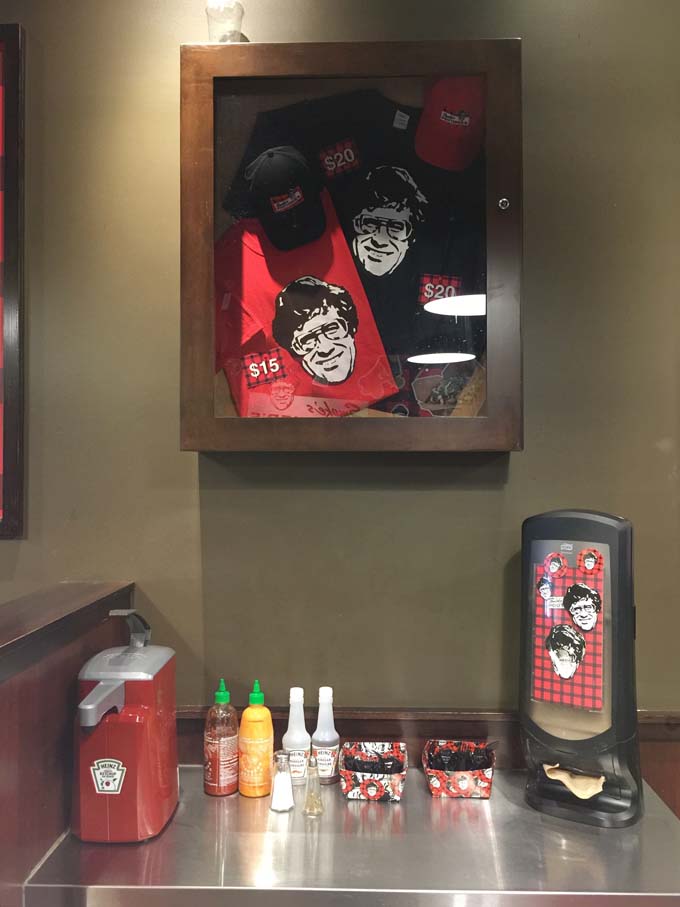 Smoke's Poutinerie has 30 Types of Poutine
There is no shortage of poutine variety at Smoke's Poutinere: they have 30 different types. A traditional meal-sized poutine costs $6.99 while a specialty one is $8.99. We decided on the Veggie Rainbow (sriracha, cheese sauce, guacamole, sour cream) and the Chicken Inferno (grilled chicken, mushrooms, and peppercorn gravy).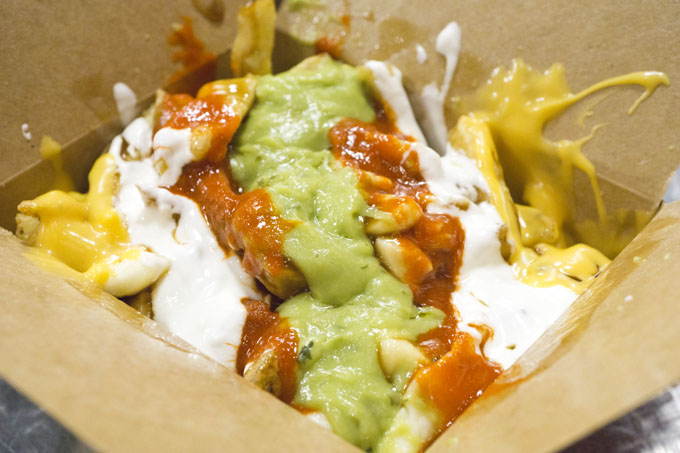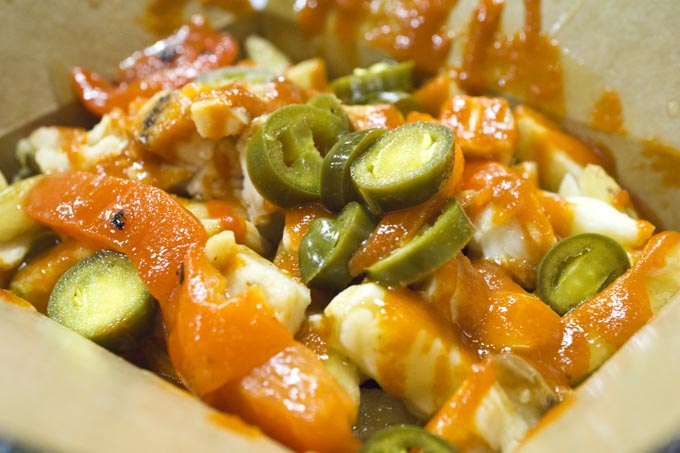 Did Smoke impress us with his poutines?
We found the poutines to be just *okay.* The fries would be crispier and the gravy could be more flavorful. The veggie rainbow was a bit too sour and salty for me. I did not find the chicken inferno that appetizing but my husband thought it was fine. It did not seem obvious to me that the curds were squeaky.
I prefer the poutine at Frites, which I reviewed recently : fries were crisper, gravy was tastier, toppings were more delicious. Their space is small but clean and bright versus the 80's inspired decor. Frites is also located close by, so I think they would be my go-to place for poutine if I had a choice between the two.