This week, I am excited and honoured to be doing an Instagram takeover for the West End Business Improvement Association. I'm going to be sharing some of the tastiest eats in the West End. Be sure to follow @westendbia to see some mouthwatering photos!
One of the places I am featuring is Chicco Japanese Dessert – a very cute and quaint dessert cafe located at Robson and Nicola. What they are known for is their photogenic parfaits, macaron ice creams, cakes and baked sweets.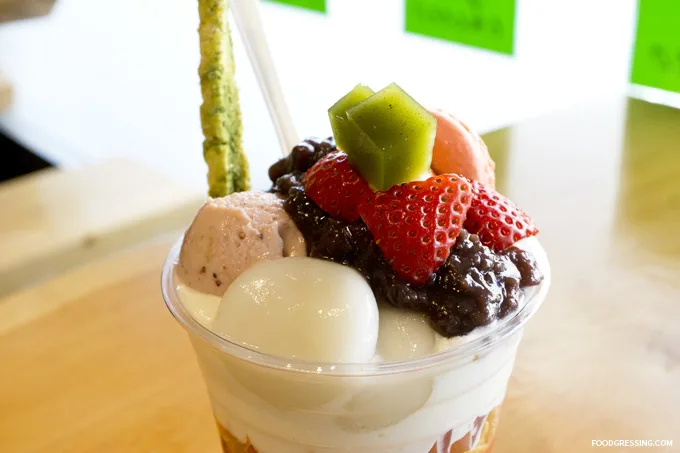 It smells so good!
As soon as you enter the Chicco Japanese Desserts, you will instantly be comforted by the sweet smell of their baked goods. The cafe is small with just two communal tables and a small bench. The ladies/pastry chefs who work at the front are very sweet and friendly. They accept cash and debit only.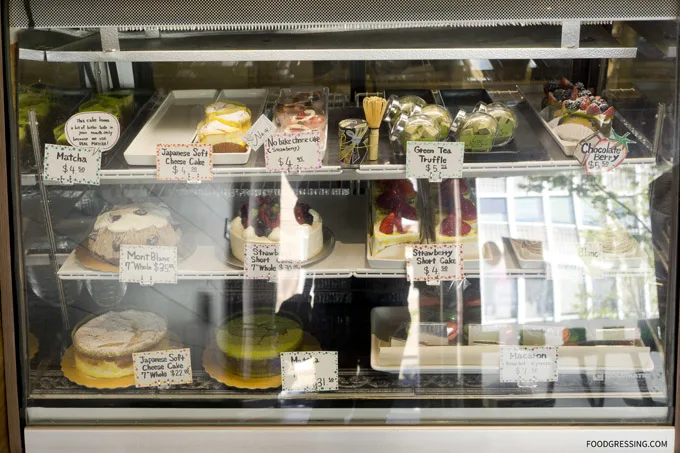 Chicco Menu
The parfaits are priced at around $8 and come in different flavours like green tea, black sesame, tiramisu and cheesecake. They also have a tantalizing selection of cakes such as Mont Blanc and Japanese cheesecake.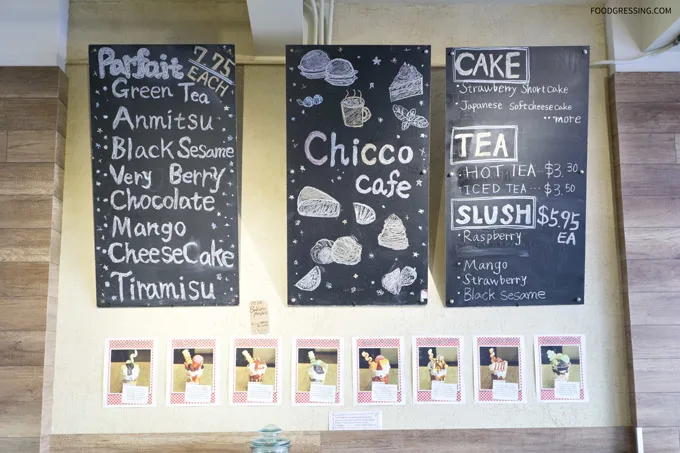 What I Tried
I tried the feature spring parfait – the Sakura. Starting from bottom to top, the ingredients are whipped cream, sponge cake, vanilla ice cream, fruits, cornflakes, strawberry jellies, whipped cream (again!), green tea jellies, rice cake, red beans, strawberries, strawberries ice cream and green tea pie stick. The parfait was overall less sweet than I expected except for the macaron which is very sweet as it should be., The rice cake offered a nice neutral taste. I loved the play on textures particularly the crunchy cornflakes. In my opinion, it tasted less artificial than Kellogg's brand.
On a different visit, I had the Very Berry Parfait. It was made up of raspberry and strawberry marble sorbet, strawberry macaron, orange stick, strawberry jelly, sponge cake, strawberries, blueberries, blackberries, strawberry sauce, cornflakes and whipped cream.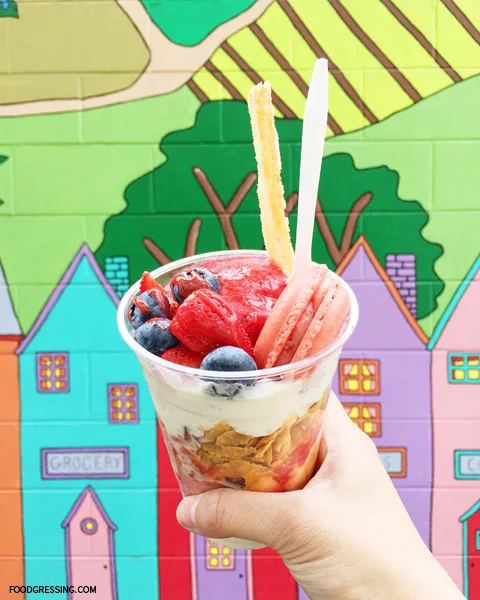 I have to agree with fellow food blogger, Simon's, view that there needs to be some sort of strategy in eating these parfaits. You need to wait for the soft ingredients like the whipped cream and ice cream on the top layers to moisten the harder ingredients like the cornflakes and berries. However, you can't wait too long for everything to be mixed well together because the bottom layer becomes too mushy to want to eat.
Overall Impression of Chicco Japanese Cafe
Chicco is such a dainty and adorable little cafe. The staff who work there are polite and sweet. Love how the mix of ingredients they use to make these parfaits. Delicious but don't wait too long as it will become too mushy. Rating: 4/5