A newly opened Gastown Japanese restaurant is Kozakura, a 25 seat eatery serving sophisticated Japanese food. Located at 280 Carrall Street, Kozakura is the new culinary concept by Chef William Robitaille who also ran the Italian-themed Notturno in that same space. At Kozakura, you won't find sushi on the menu. It's all about Kappo-style, meaning the customers can sit across the chef and watch as he prepares the food. The chef de cuisine is Keith Allison (formerly of Guu) who is half-Japanese/half-Canadian and trained in Japan. I recently visited Kozakura with five other food bloggers (Foodology, Drunkennoms, Vie a Maggi, Picky Diner) on a regular, non-media sponsored outing.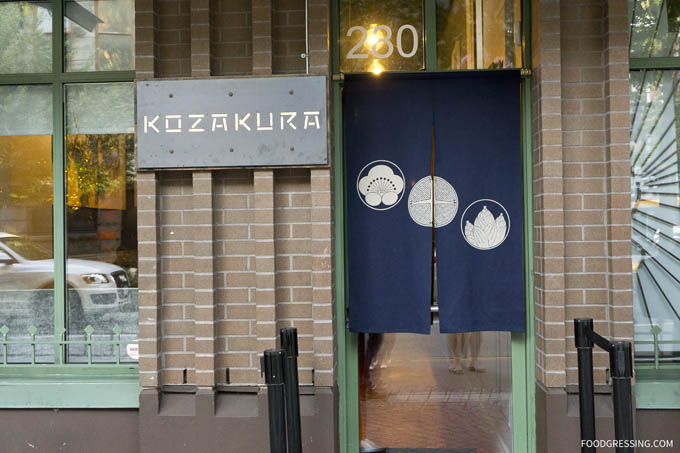 Rustic Look
The interior of Kozakura certainly has got quite a rustic feel with the use of reclaimed wood. There is numerous seating around the bar for customers to watch Chef Allison as he prepares the dishes.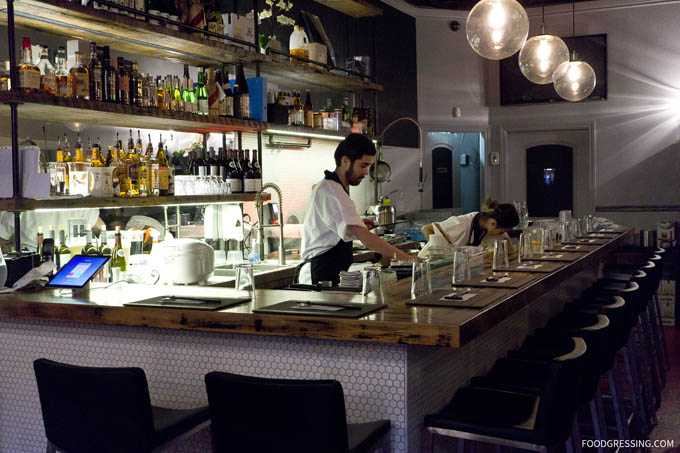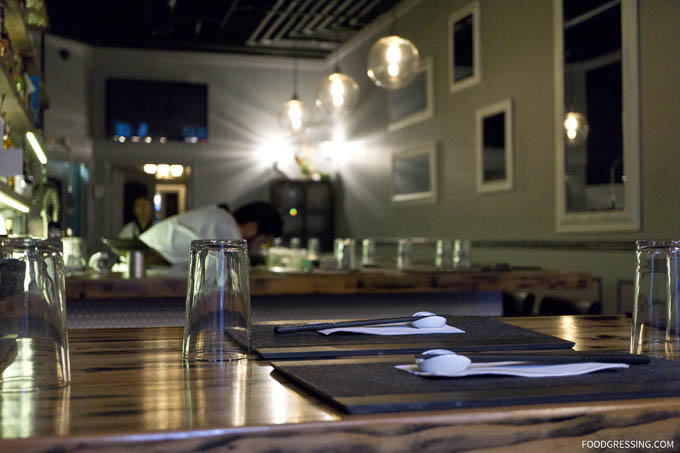 What We Tried
For dinner, we ordered the following (thanks to Nosh & Nibble for the recap):
Honjitsu no Osashimi | Daily Sashimi selection (large: $25 + $5)
Onsentamago Ohitashi ($6)
Sunomono ($8)
Tako no Yawarakani ($12)
Aigamo Sumiso ($9)
Sake Kasu Salmon ($10)
Madai Sakamushi ($12)
Sanshou Steak ($12)
Yuzu Miso Buta Niku ($10)
Anago Dashi Chazuke ($10)
In general, I thought that Kozakura served up some very simple yet sophisticated dishes. However, the meal was largely unmemorable. If you asked me to name something that had a wow factor, I couldn't really think of one. Although sharing was encouraged, the portions were just to small to be shared for three people (which is what we did). For two people, maybe. And although we ordered 2 orders of 9 dishes and 1 large sashimi platter to share between 6 people, I still left hungry. Perhaps our approach to ordering what just wrong and we didn't order enough of the filling items. My bill came out to be around $40 (without an alcoholic drink). Either way, I'd say that you need to buck up some money for a meal at Kozakura or leave hungry. Nevertheless, here are a few of my comments on the dishes we had.
To start, we had a daily sashimi selection. We paid $5 extra dollars to ensure that we had enough for each person since we were a group of 6. The kitchen also accommodated our large group by slicing the sashimi into 6 pieces. Great, clean tasting sashimi where the pieces were lustrous and glistening.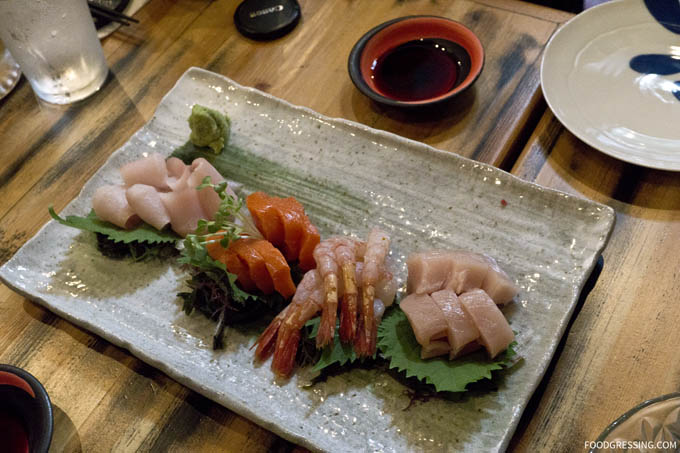 The Onsentamago Ohitashi is a more a traditional Japanese dish with a poached onsen egg, snap peas and dashi soy. This slow-cooked egg had a soft and silky egg whites and a yolk that looked uncooked appearance-wise but was in fact firm. I just couldn't bring myself to appreciate this dish which I wouldn't recommend by the way. To fully enjoy this dish I think, you should have it on your own and drink up all the soup blended with the egg yolk. At $6, I would pass.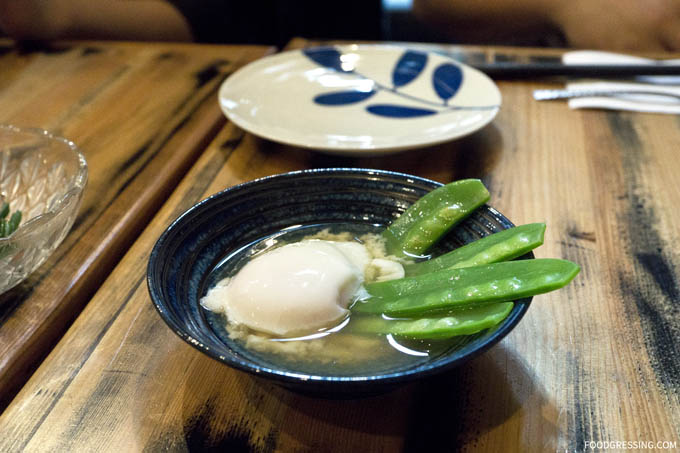 The Sunomono was a dish that I had forgotten about. Other than it had a refreshing taste, I had to review the menu to remember that it had crab, mozuku (seaweed), sliced cucumber, and tosazu vinegar.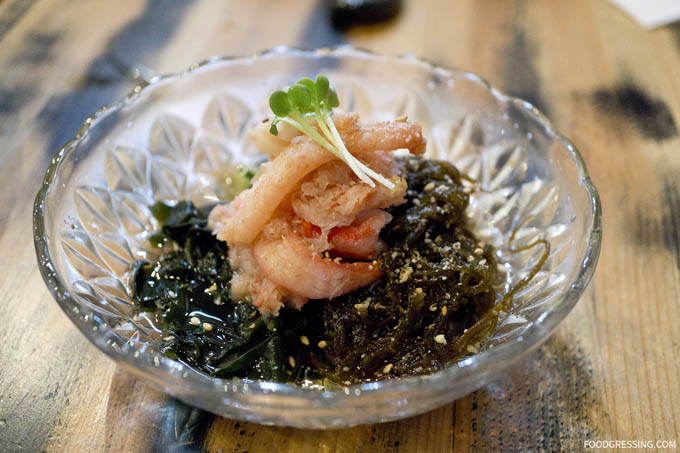 The Tako no Yawarakani (sous vide octopus, smoked ponzu, mizuna) was priced at $12 – the most expensive small plate we had. Portions were just so small but I appreciated that the octopus had just the right texture by not being overly chewy.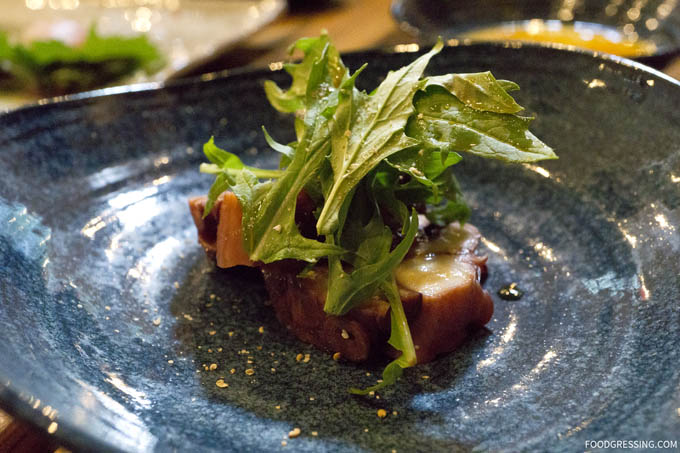 The Aigomo Sumiso was sweet soy cooked duck breast, sumiso and flowering chives. It was a bit lackluster in terms of presentation but the duck was nicely tender with a mix of sweet and savoury flavour.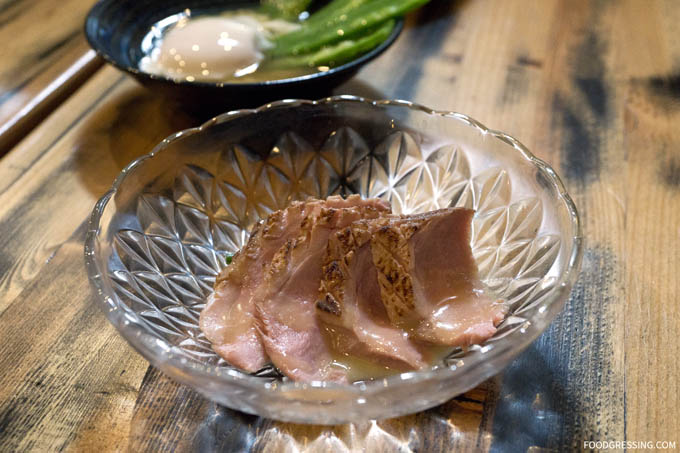 The Sake Kasu Salmon was one of my favourite dishes of the evening. It was $10 for just this small fillet, but the fish was cooked perfectly: moist and flaky. I quite enjoyed the sake aftertaste.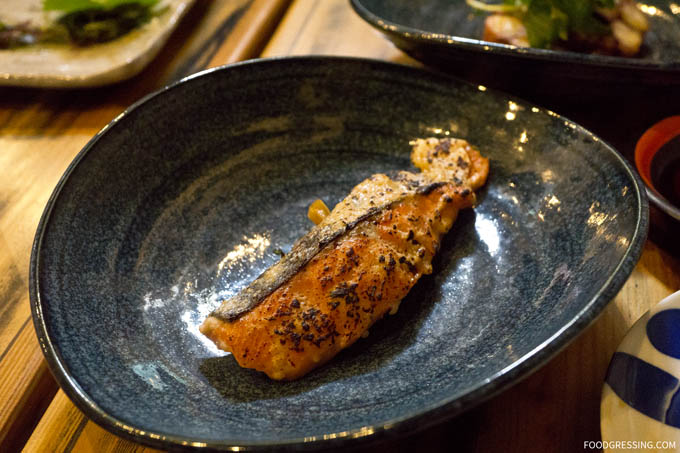 The Madai Sakamushi (steamed seabream with seared skin, boy choy, and thick soy dashi) was a very simple and delicate dish.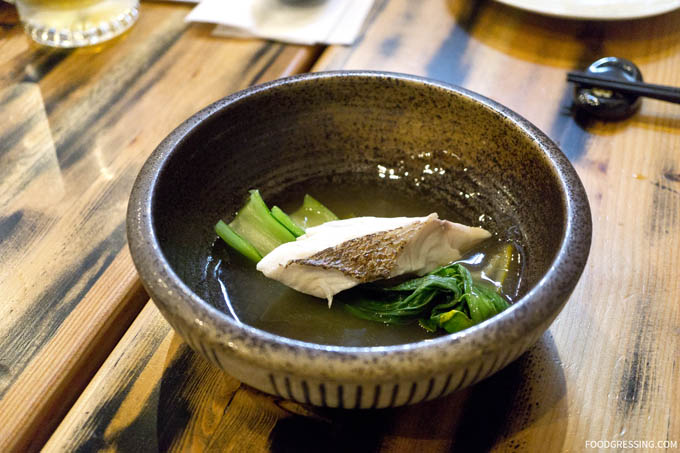 The Anago Dashi Chazuke was one of the more filling dishes because it had rice! I can't remember the last time where I welcomed rice closer to the end of meal (no wait, here). The eel on top of the rice should have been the main focus, but at that point, I was so tired of the small plates that I just focused on getting more rice. The food was presented in a lovely ceramic bowl and I enjoyed the broth which had a nice umami taste.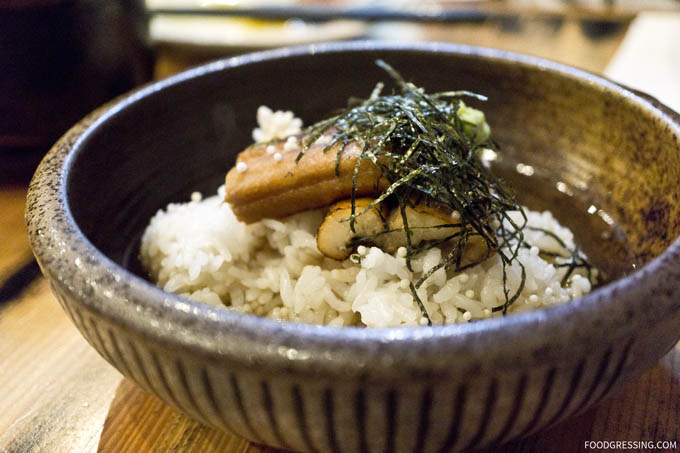 The Yuzu Miso Buta Niku with sous vide pork loin, yuzu miso paste and apricot glaze wasn't very memorable.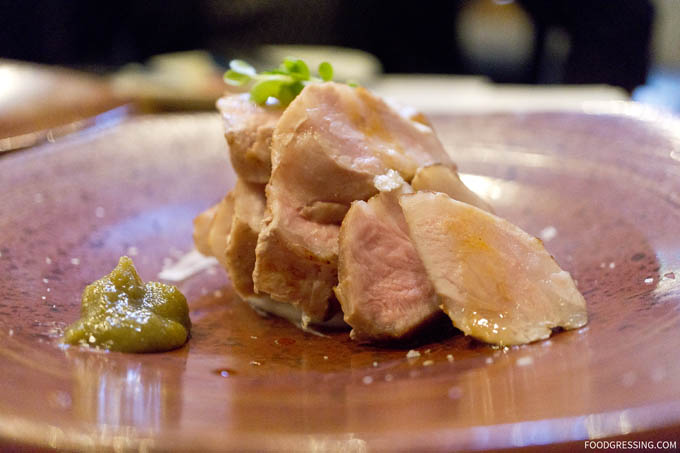 The Sanshou Steak had tender ribeye slices and had a tingly flavour from the peppercorns.
Service
Our server was friendly but I was quite disappointed in that we were charged 18% gratuity. This was not mentioned on menu and we were really the only customers at the restaurant during our visit. We joked that we should have sat in smaller groups at different tables.
Overall Impression
All in all, Kozakura failed to impress me with their dishes. The food didn't taste bad just too simple for me to remember much of it really. I can't say that I'm a connoisseur of sophisticated Japanese cuisine. But what I can say is that I left hungry and I won't be back nor would I recommend the place. Rating: 2.5/5
Website: www.kozakuragastown.ca