When it comes to poutine, I must admit that I am a purist. I really just want a classic poutine with fresh freshly made fries, squeeky cheese curds and well-seasoned gravy. In the past, I have taken a more adventurous route by trying more inventive poutines with creative toppings like kalbi beef, crispy chicken and even kimchi. But I never want to reorder those ones as I find their flavours too complicated in my opinion. The heart wants what it wants – and that is, a traditional poutine.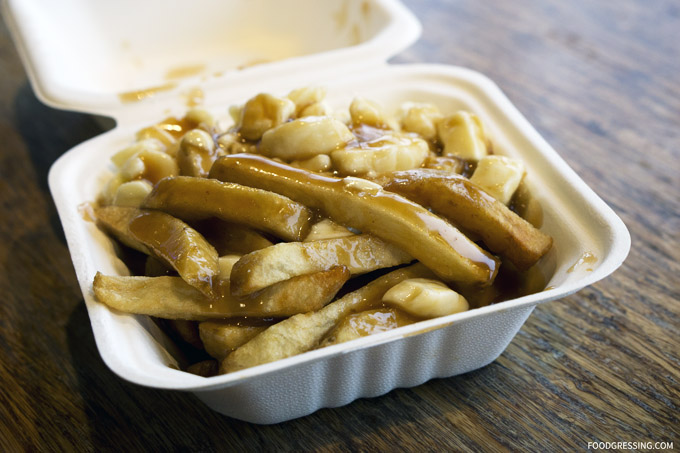 Now living in the Downtown Vancouver, there are quite a few poutineries within reach. I've been to La Belle Patate, Mean Poutine, Frites on Granville and Fritz. A popular place for poutine that I had not been to (but has been around since 1999) is Belgian Fries on Commercial Drive. While I was in the neighbourhood this past summer, I decided to try Belgian Fries and order simply a classic poutine.
My small, classic poutine was $6.50 and came steaming hot. The fries are fresh cut apparently and they were nicely crispy and not burnt. The cheese curds weren't super squeaky and were perhaps a bit bigger than I would like. I like smaller, dainty cheese curds. The gravy was well-seasoned and not overly salty. Portions were reasonable for the price.
As for the interior, there's not much to write about. Spacious interior with ample seating. I came here for the food so the interior wasn't a big factor for me. Hence, the lack of photos.
Overall Impression of Belgian Fries
The poutine from Belgian Fries was pretty good and I would give it a solid 4/5. It isn't good enough to make me leave Downtown for it but if I were in the neighbourhood I could see myself indulging in their poutine again.
Related: 12 Ways French Fries are Eaten Around the World
Belgian Fries
Address: 1885 Commercial Dr, Vancouver, BC
Website: ‎www.belgianfries.ca