Newly open at SFU's Burnaby Campus is The Study Public House, an arcade-inspired pub and social space located inside the Maggie Benston Centre. The Study is a collaborative venture between the university and the Joseph Richard Group, one of B.C.'s fastest growing food, beverage and entertainment organizations with more than 20 public houses, restaurants and liquor retail outlets in BC and Alberta.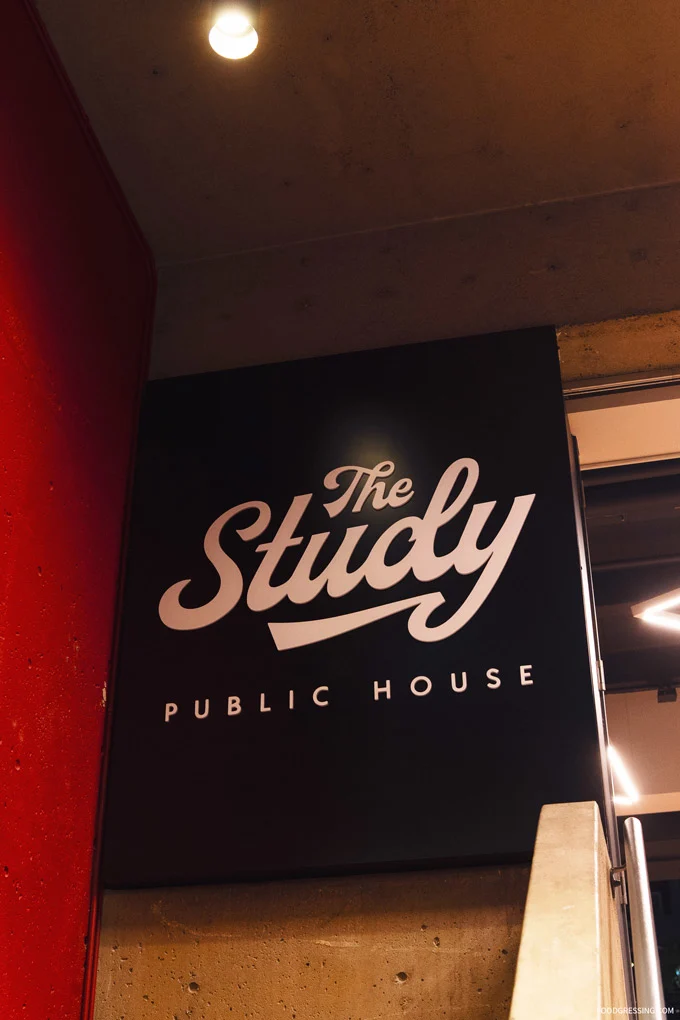 I was invited to a media event this past weekend to see the new space and to try some of the menu offerings. Here's a look at what you can expect.
---
Arcade-Inspired Social Space
The Study Public House seats 320 along with an expansive patio with views from Burnaby Mountain.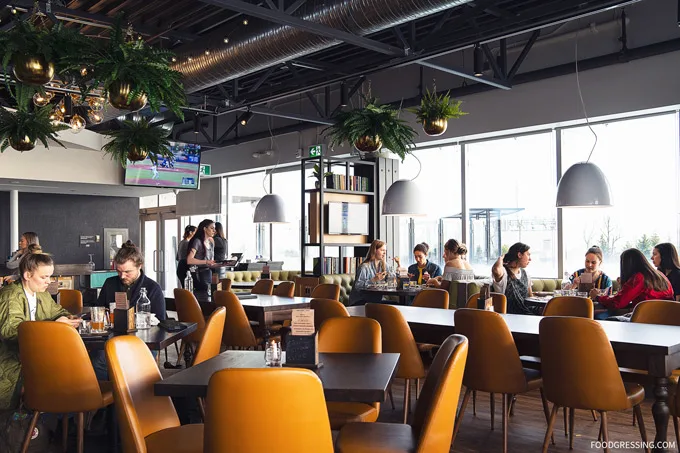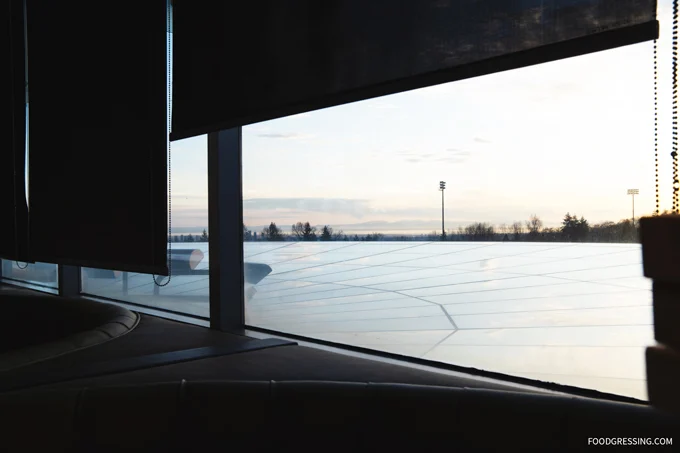 The lower level features an arcade complete with pinball machines, a shuffleboard table, a pool table and so forth.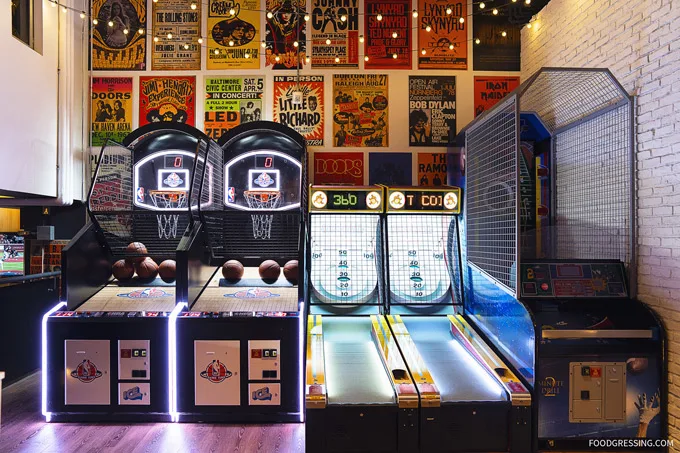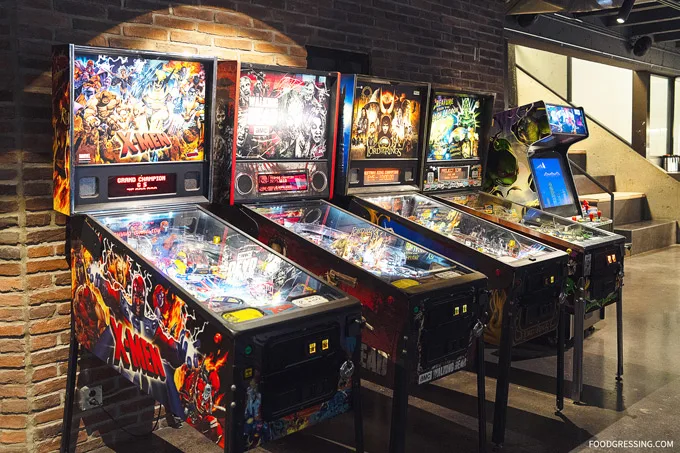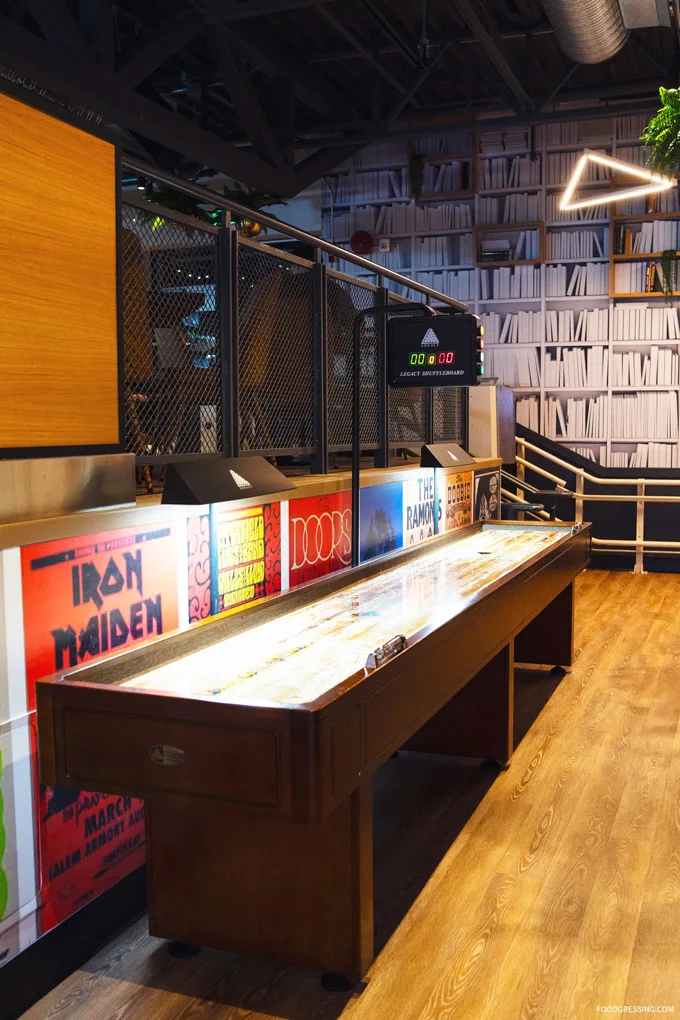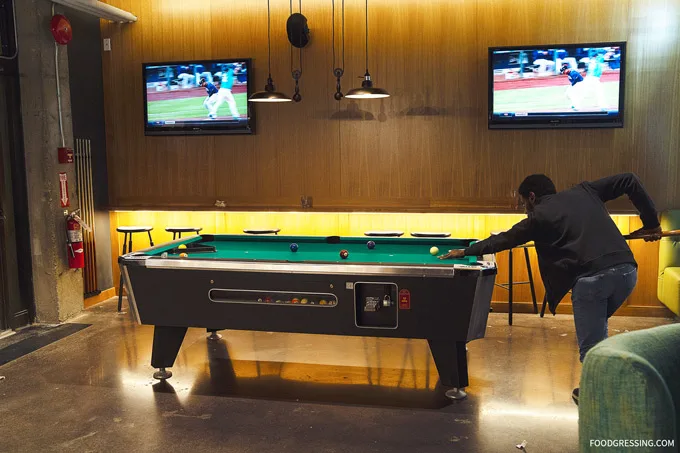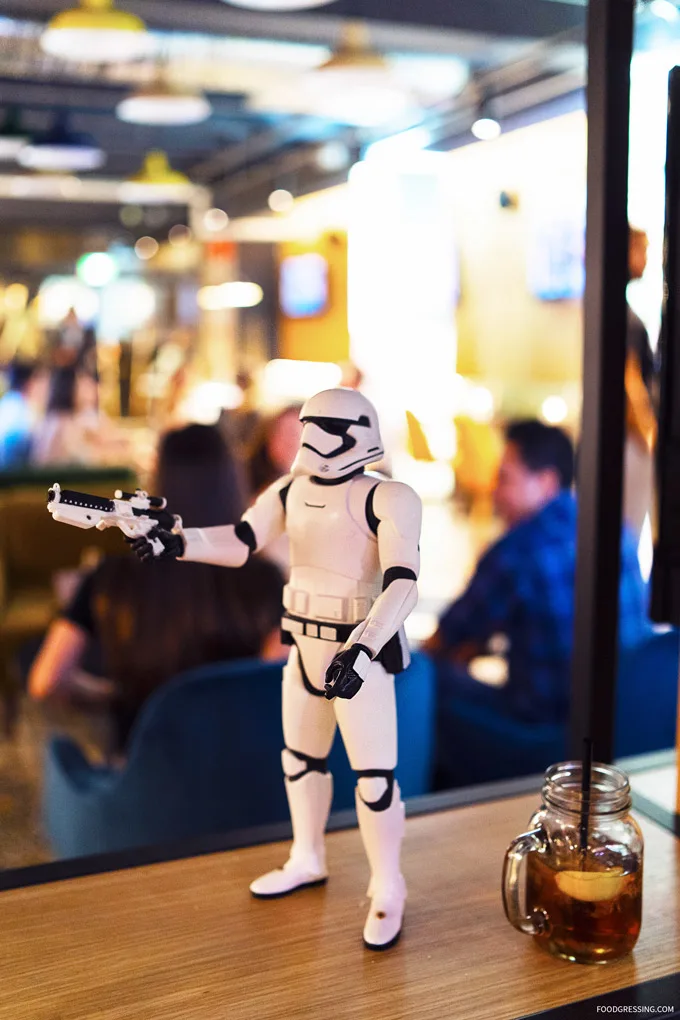 ---
The Study Public House Menu
The Study menu features local, craft, made-from-scratch products, traditional fare and tasty classics.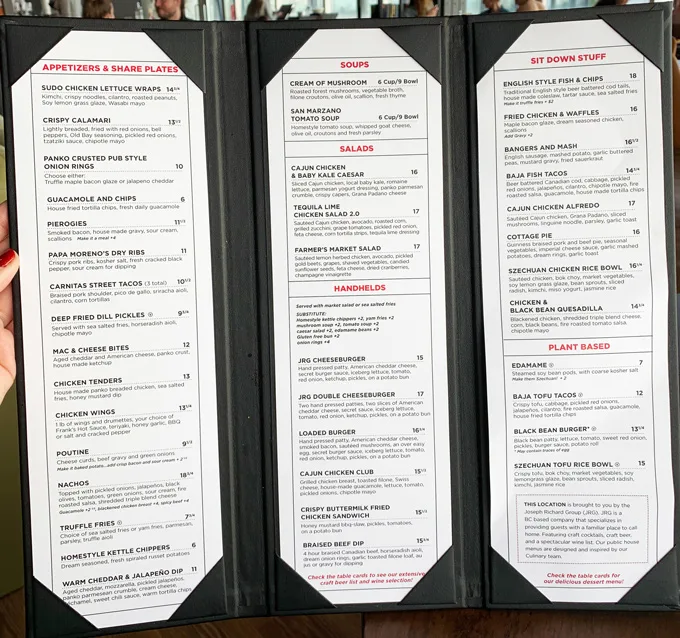 For shareables, there are the classics like nachos, chicken wings, poutine, and panko crusted pub-style onion rings and so forth. Featured handhelds include the JRG Double Cheeseburger, Cajun Chicken Club, Crispy Buttermilk Fried Chicken and so forth.
You'll also find other entrees like Bangers and Mash, Cottage Pie, and Szechuan Chicken Rice Bowl. The menu also has a a few plant-based items like the Black Bean Burger, Szechuan Tofu Bowl and Baja Tofu Tacos. For drinks, you'll find craft beer, signature cocktails as well as wine.
---
What We Tried
At the media event, we tried a variety of offerings on the menu.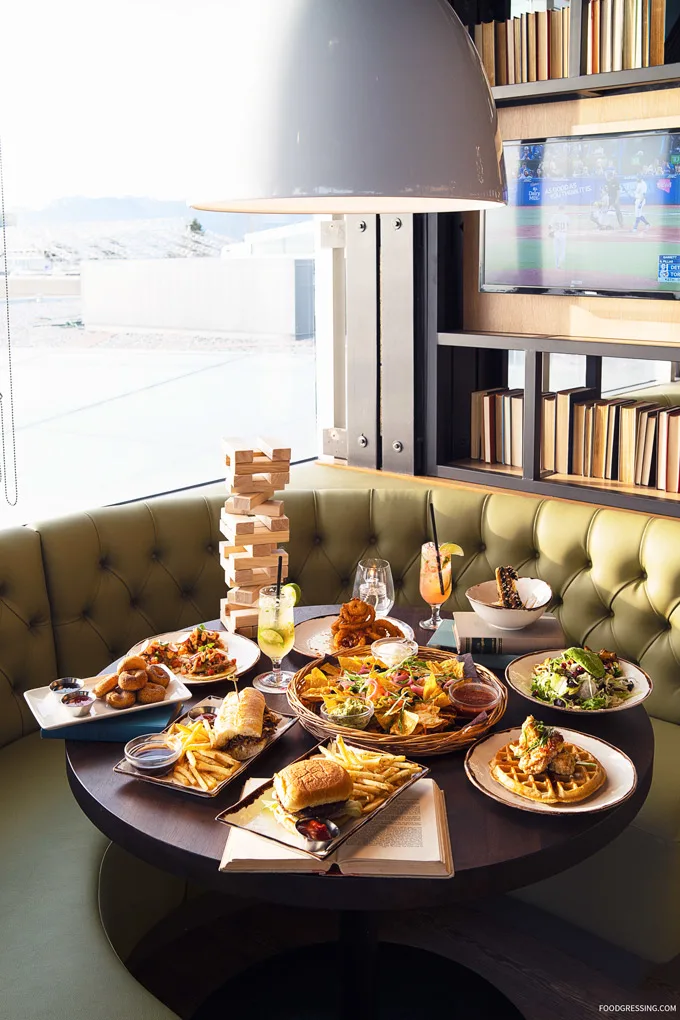 ---
Cocktails
We tried a few signature cocktails including the Watermelon Mojito ($6)(raspberry vodka, fresh cubed watermelon, mint sprigs, syrup) and Apple Mint Fizz ($6) (wisers apple, pineapple, mint & bitters).
---
Appetizers & Share Plates
Nachos ($18.75), the perfect shareable in a pub setting, came fully loaded with pickled onions, jalapenos, black olives, tomatoes, green onions, sour cream, fire roasted salsa, and shredded triple blend cheese.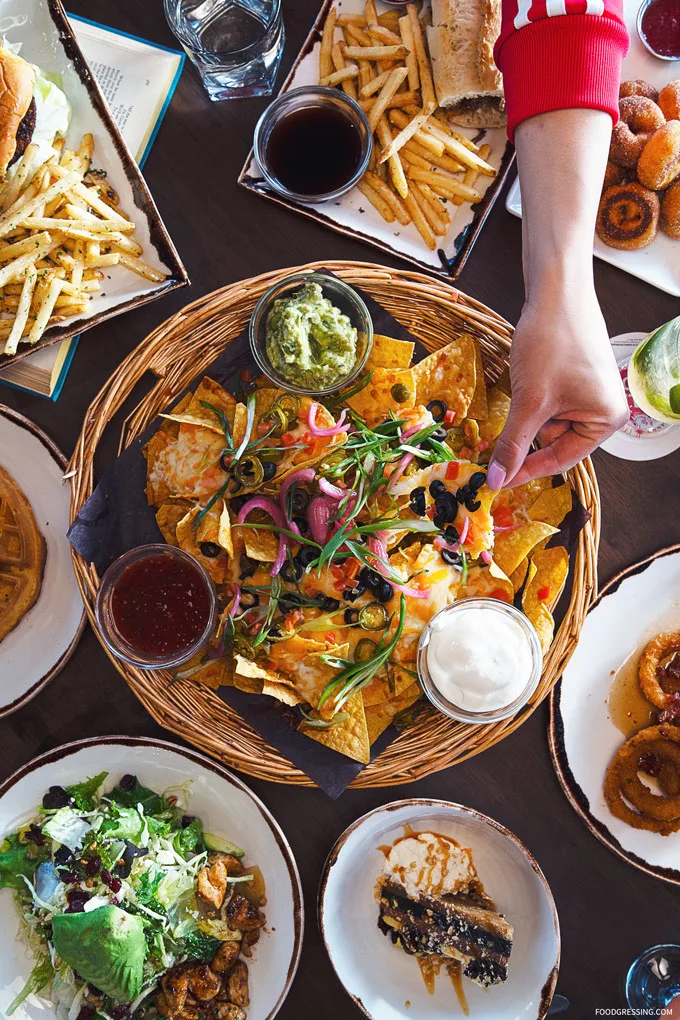 The Carnitas Street Tacos ($10.50) were a trio of braised pork shoulder tacos with pico de gallo, sriracha aioli, and cilatro served on a double-stack of corn tortillas.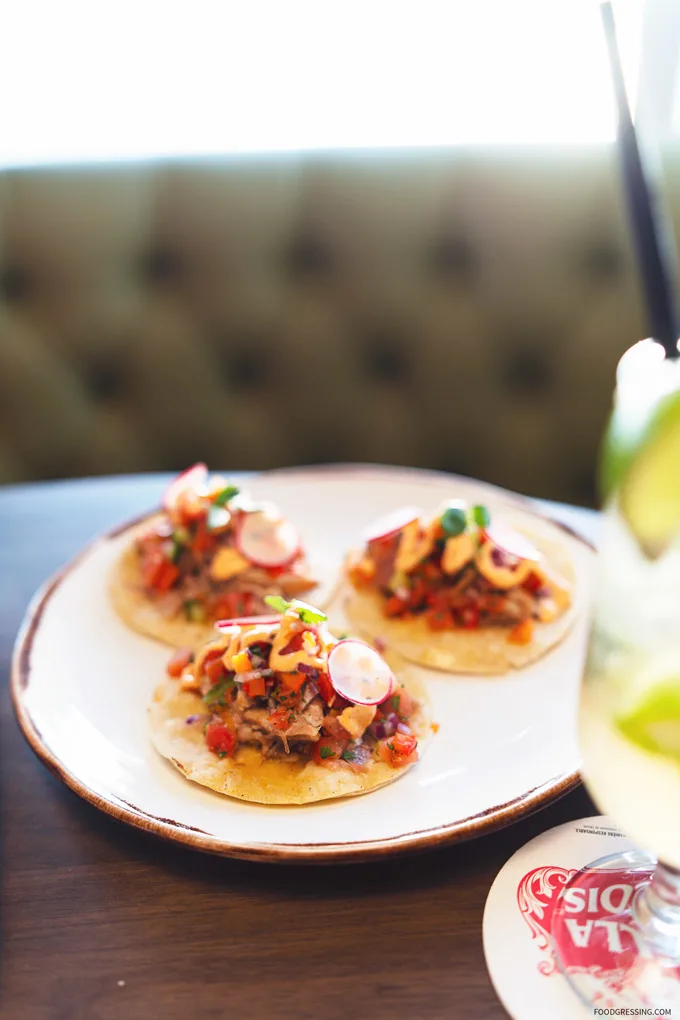 The Panko Crusted Pub Style Onion Rings ($10) come either with truffle maple bacon glaze or jalapeno cheddar. We went with the truffle maple bacon glaze which resulted in sweet and salty onion rings.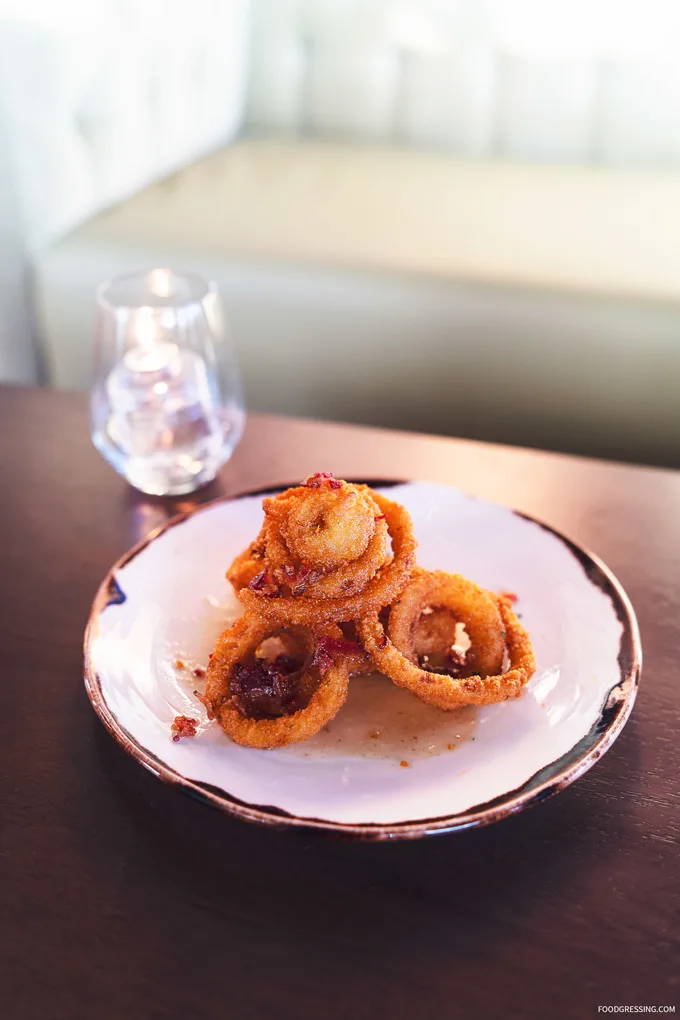 ---
Salad
The Farmer's Market Salad ($17) was very refreshing. The sauteed lemon herb chicken had a sweet and sour taste and was accompanied by pickled golden beets, grapes, shaved vegetables, candied sunflower seeds, feta cheese, dried cranberries, champagne vinaigrette and topped with avocado.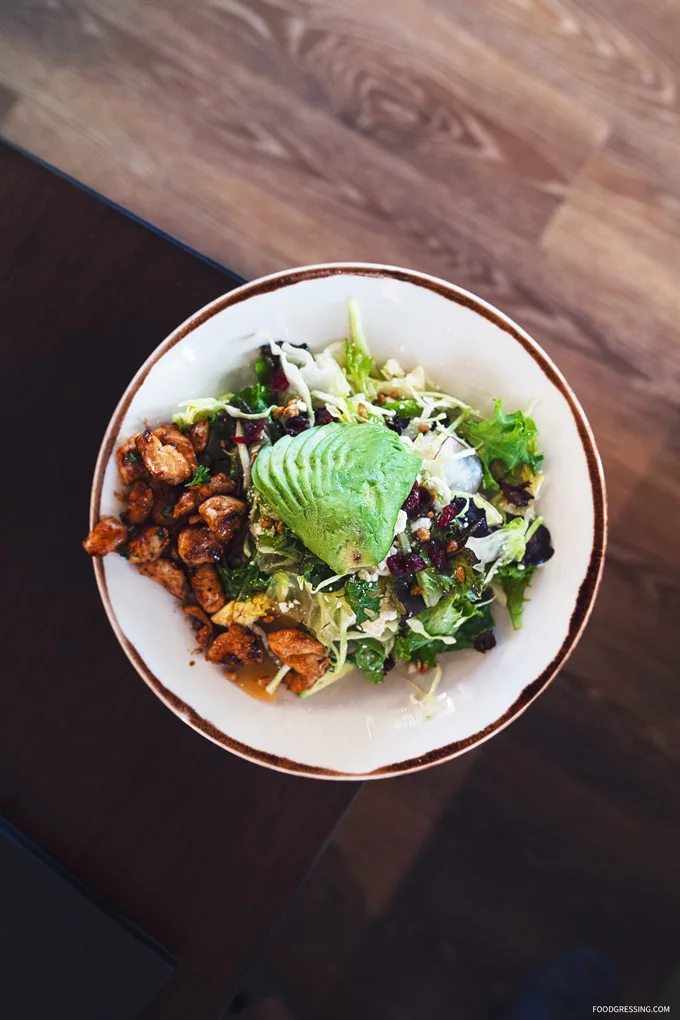 ---
Handhelds
For handhelds, we tried the 4-hour braised Canadian beef sandwich ($15.75) with horseradish aioli and onion rings on garlic toasted filone loaf. You can either have au jus or gravy for dipping.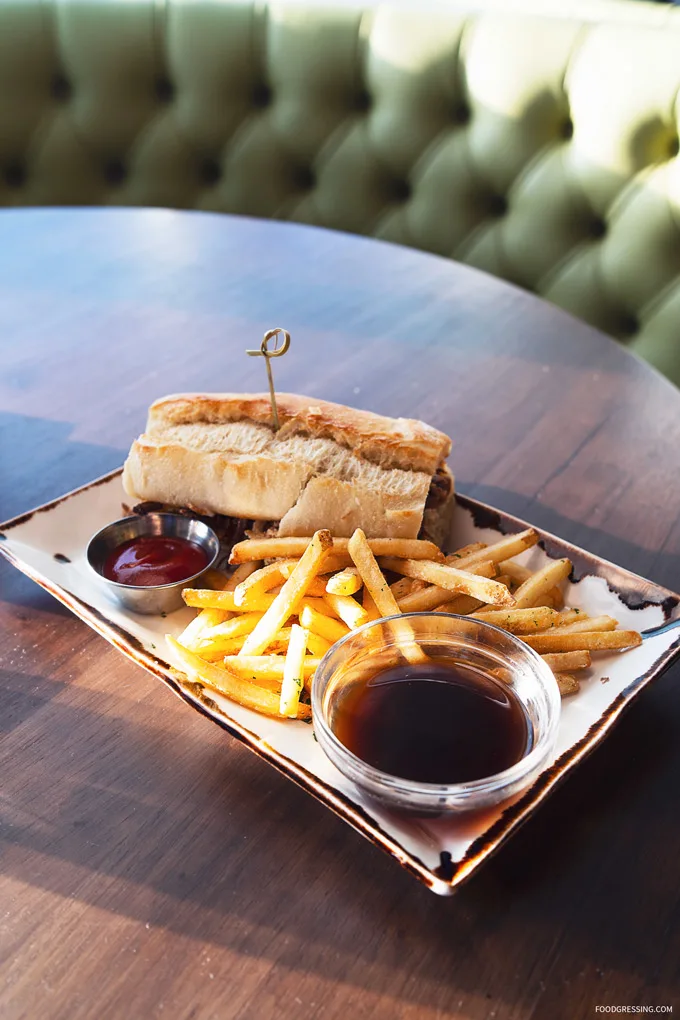 ---
Sit Down Stuff
The Fried Chicken & Waffles ($16) had maple bacon glazed chicken topped with scallions. The batter for the fried chicken was nicely seasoned and the meat was juicy and tender.
---
Plant-Based
The Black Bean Burger ($13.25) had a tender (not crumbly or mushy, tasty black bean patty with lettuce, tomato, sweet red onion, pickles, burger sauce and potato roll.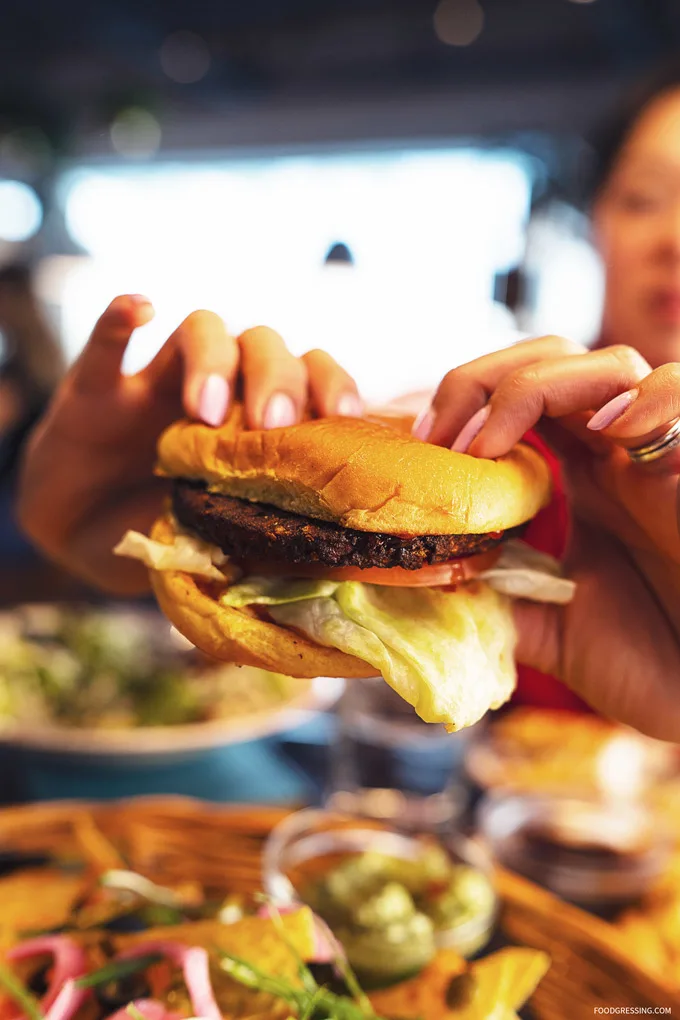 ---
Dessert
You wouldn't need to wait until the PNE to get those mini donuts, because The Study has them on their dessert menu. The Sack-O-Doughnuts ($6) are tossed in cinnamon and sugar and served with house made strawberry compote and chocolate sauce for dipping.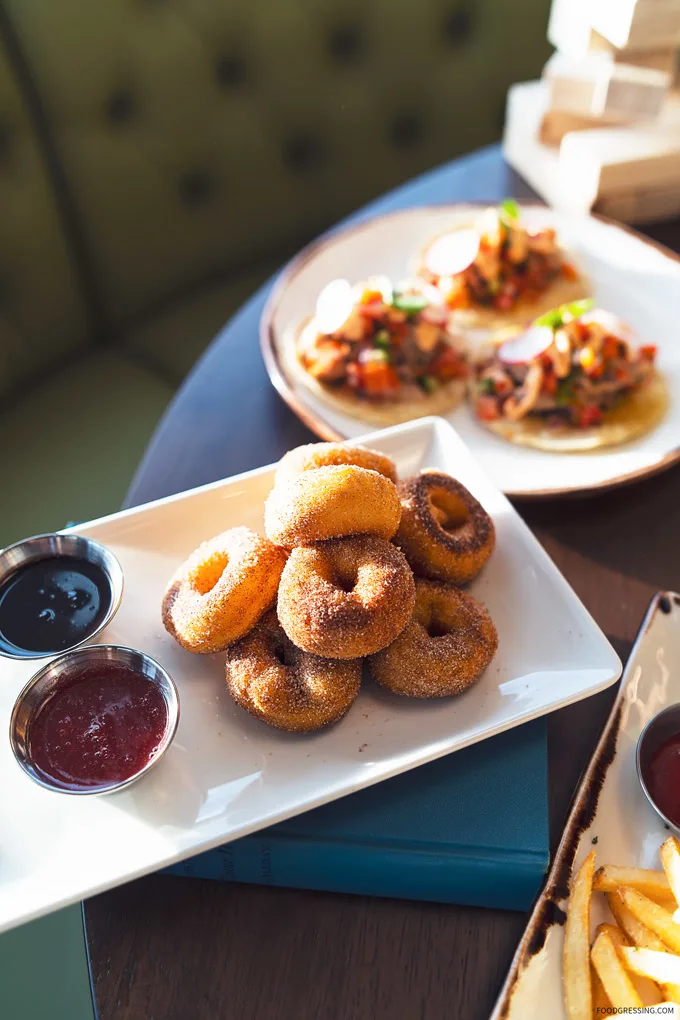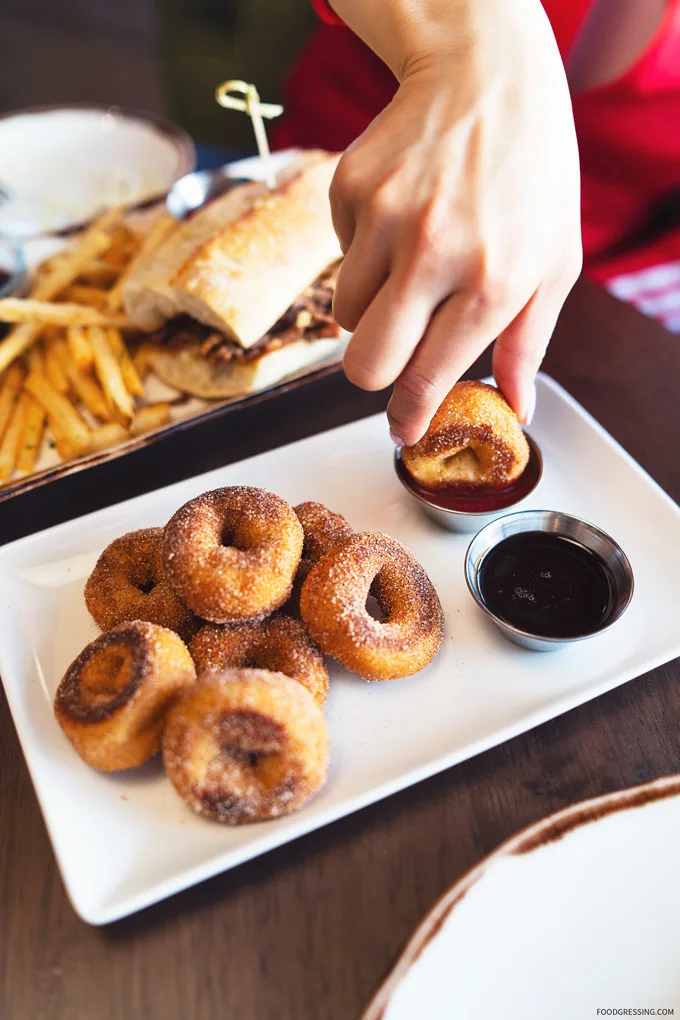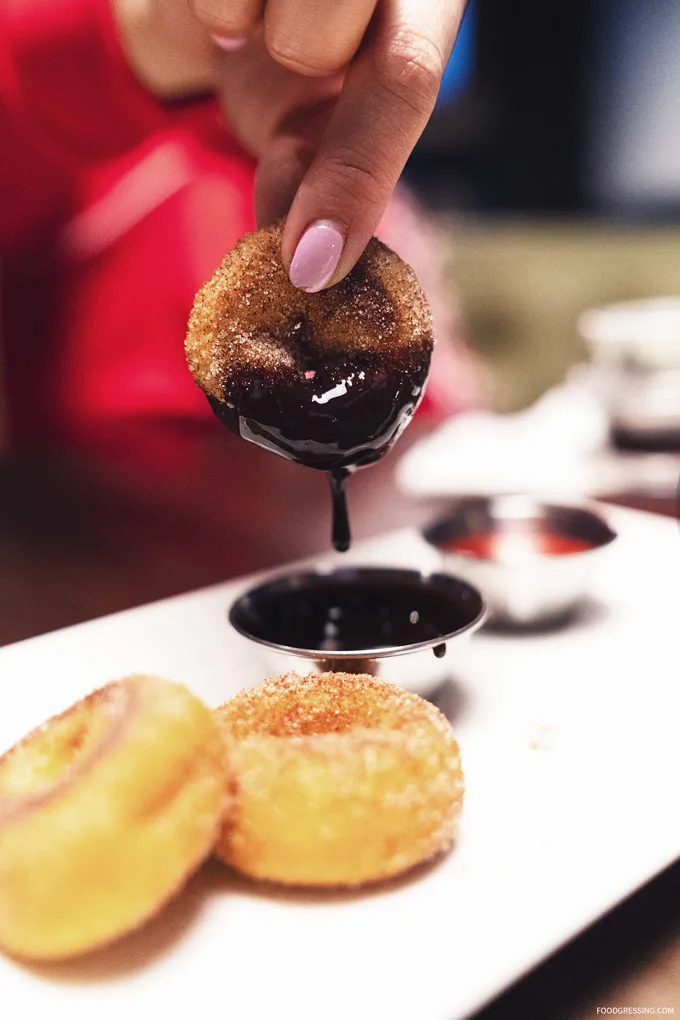 A more decadent dessert offering is the Peanut Butter Chocolate Stack ($7) featuring a dark chocolate brownie layered on a soft and rich peanut butter cookie, topped with crispy milk chocolate and peanut butter ganache. Served with whip cream and crushed peanuts all drizzled with caramel sauce.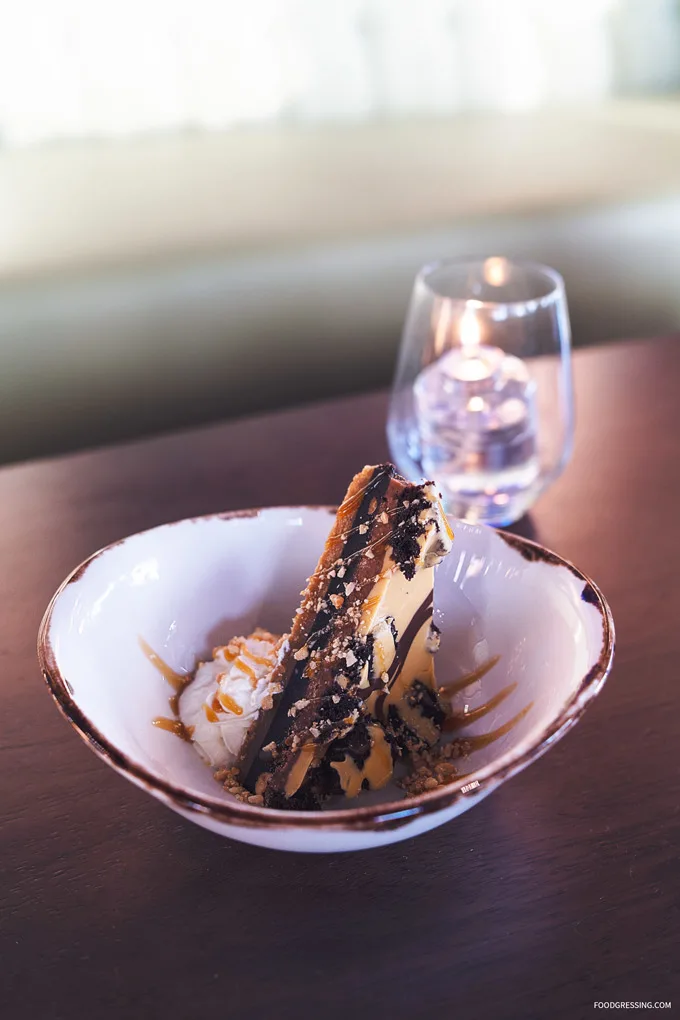 My top choices for a 3-course would be the nachos, plant-based Black Bean Burger, and the Sack-O-Doughnuts.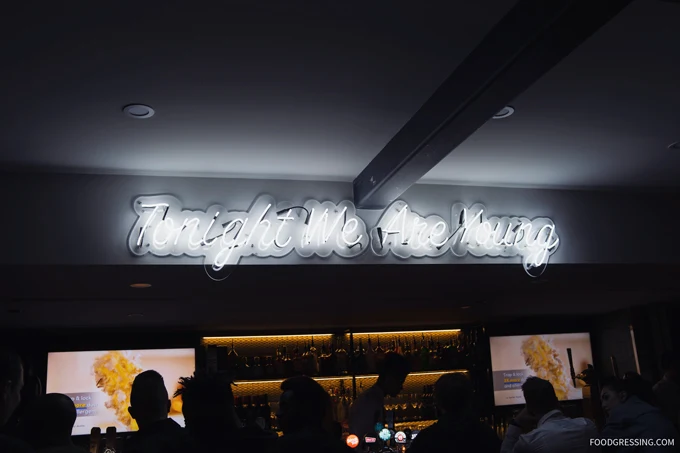 The Study officially opens their doors April 1. They are open Monday – Saturday from 11am – 1am to Sunday from 11am – 12 am. For more information, visit www.jrghospitality.ca/establishment/the-study/.
The Study Public House
8888 University Drive
Maggie Benston Centre, Burnaby, BC
www.jrghospitality.ca/establishment/the-study