As a West End resident and foodie, I am very privileged to be able to regularly dine at some of the top ramen spots in the city. At the same time, it irks me sometimes to visit, experience and write about new ramen restaurants that open in the area where competition is stiff. Take for example two ramen restaurants in the West End, Touhobenku and Menokura, which opened up and closed within a year or two. Vancouverites know a good ramen and they will keep returning if it's good. If a ramen restaurant can't manage to draw customers, the downfall is swift.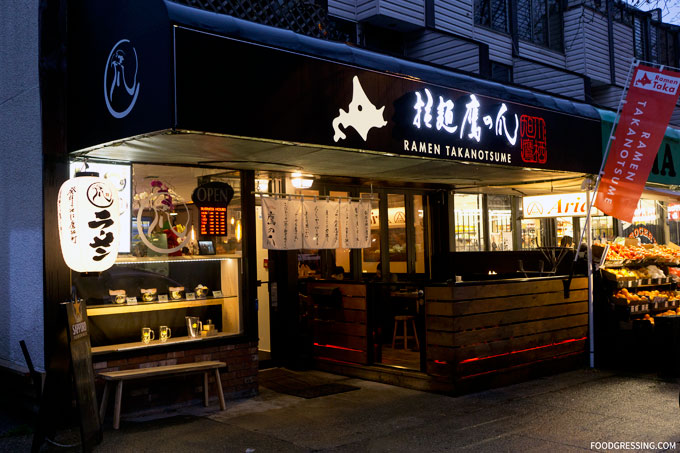 Hokkaido-based
The latest entrant to the competitive ramen scene in Vancouver is Hokkaido-based, Ramen Taka, at 841 Bidwell Street (off Robson Street). They take over the space formerly occupied by The Ramenman, which has since moved to Davie. Ramen Taka has five locations in Japan and this new Vancouver restaurant is their first international venture.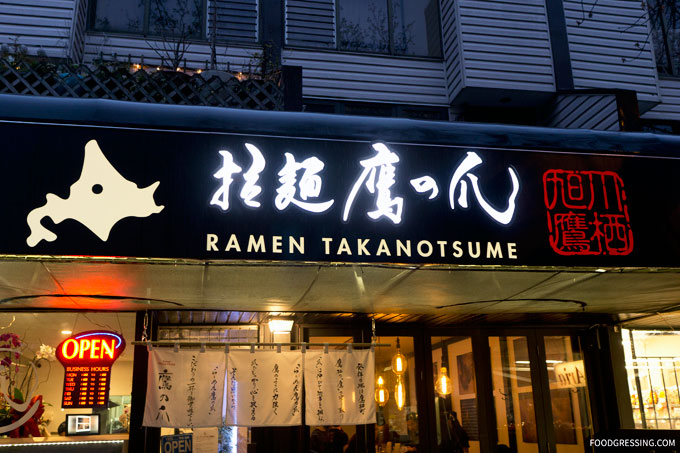 Ramen Taka Menu
Ramen Taka specializes in Asahikawa-style ramen which is known for shoyu (soya sauce based) broth that consists of a blend of pork, vegetable and seafood. The broth of Asahikawa ramen has the characteristic of being quite oily, and there is often a thin layer of oil on top of the soup. And yeah, oily it was (more on that later).
On the menu, you will find 5 types of ramen: Dragon's Dewdrop (shoyu), White Dragon (sea salt), Supreme Dragon (miso), Dynamite Pork (spicy miso) and Vegan Ramen (miso). Customers can order extra toppings like green onion, corn, seaweed, chashu and more. There are just a few side dishes including chicken karaage, gyoza and French fries.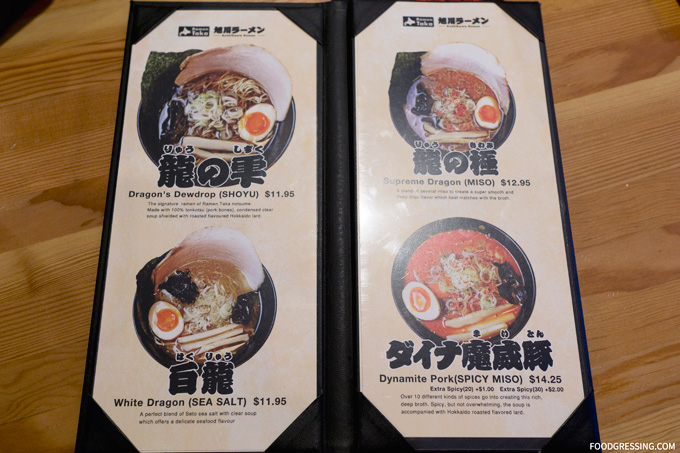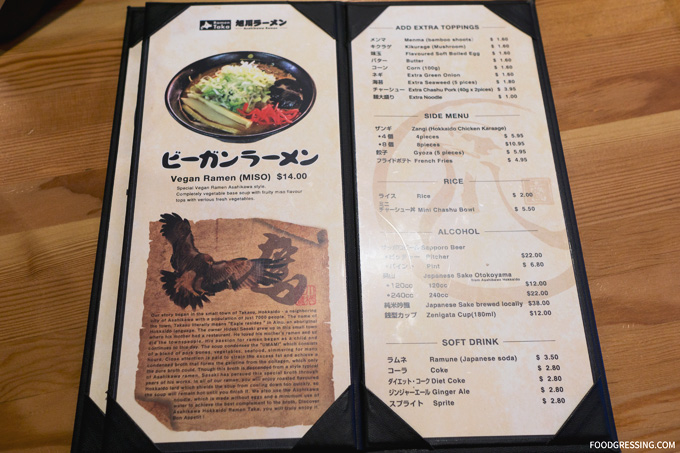 Their Grand Opening is today (April 9) and they will start to offer a special dinnertime menu. What stood out on the dinner menu was a Deluxe Truffle Ramen with sliced roast beef and truffle salt. This is probably the most expensive ramen out there in Vancouver as it is priced at $22.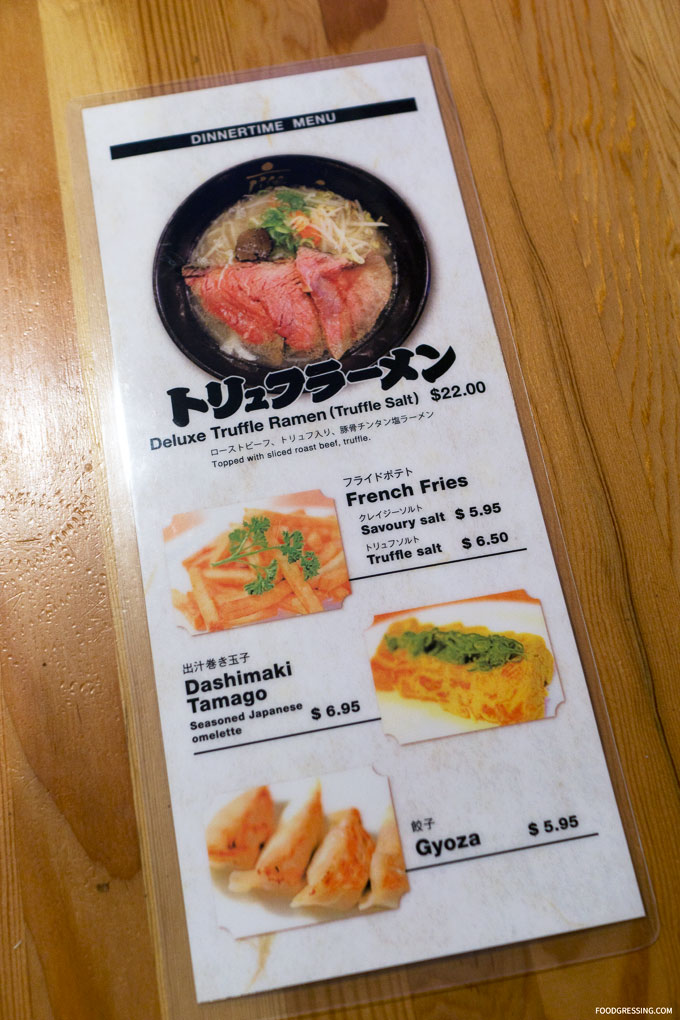 The choices for side dishes also have expanded with the dinnertime menu and include French Fries (with savoury or truffle salt), Dashimaki Tamago (seasoned Japanese omelette), chashu with horseradish, octopus balls, and so forth.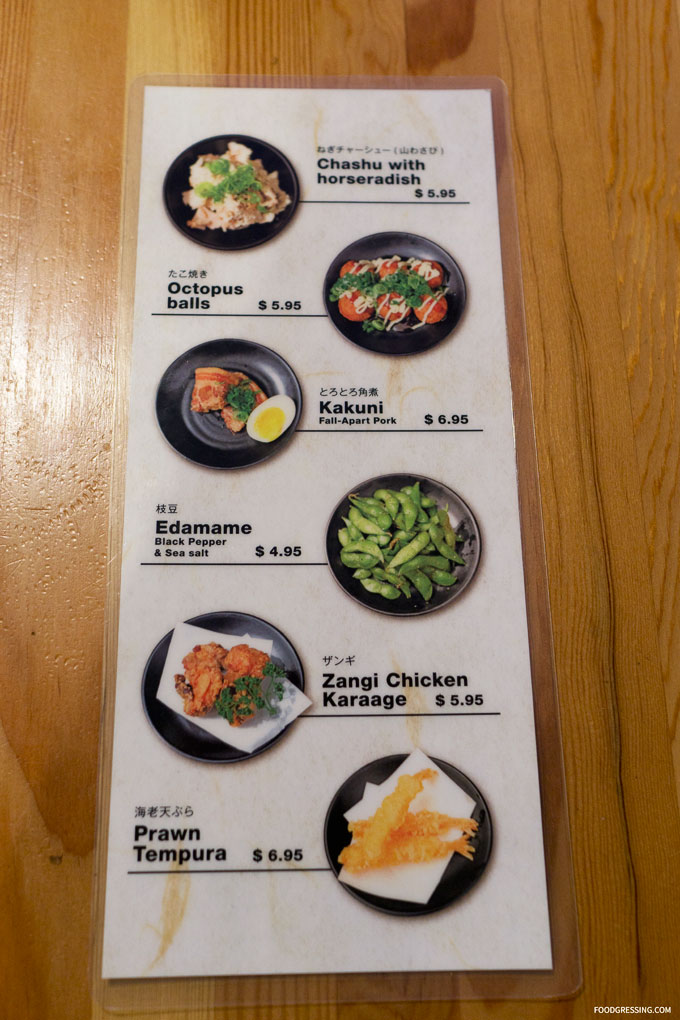 Interior
Ramen Taka seems to have retained the same vibe and layout as The Ramenman. A hipstic-chic sort of place with a few dining tables at the back, a large communal table in the middle, and counter seating by the kitchen.
What We Tried
My friend and I visited Ramen Taka last night as she was interested in trying them out after seeing David's Instagram post from his media tasting.
Disclosure: We visited Ramen Taka as regular customers but the chef end up offering us a few more side dishes to try on the house.
Zangi (Hokkai Chicken Karaage)
We started off with a 4-piece chicken karaage starter ($5.95). Unfortunately, the karaage missed the mark with me as the batter wasn't particularly crispy and the inside was not very juicy or tender. The karaage pieces weren't particularly big either. I would not order this again.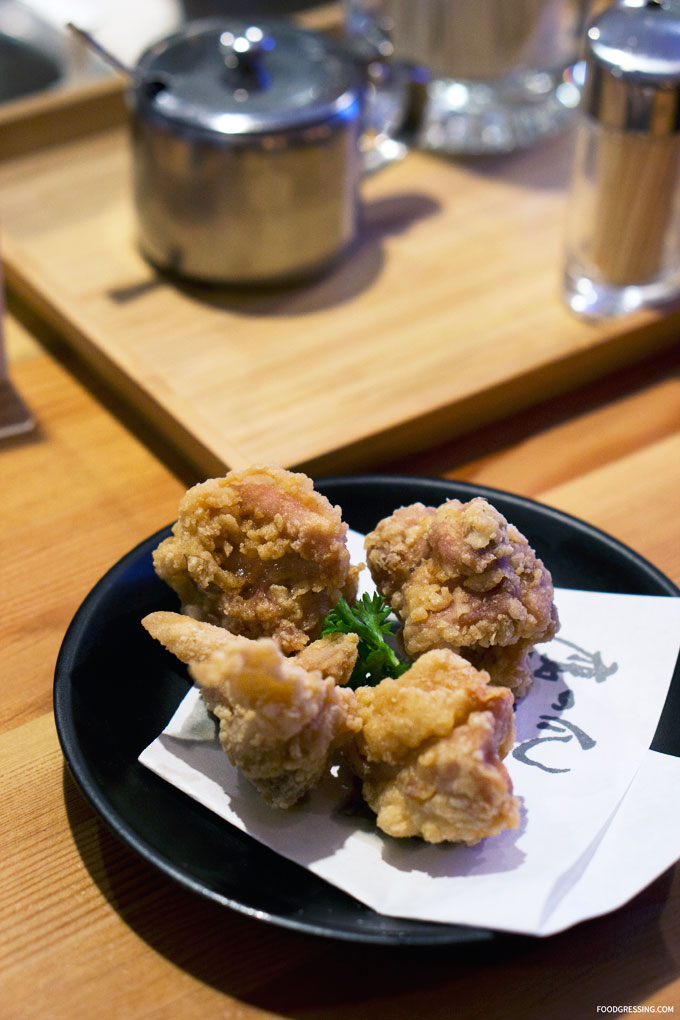 Dragon's Rice
This dish featured seasoned rice mixed with chopped chashu and mushrooms. The chef offered this as a complimentary tasting but it is regularly $5.95. The texture and flavour of the dish was reminiscent of Chinese sticky rice, No Mai Fan. It is too bad that it stand out for me in terms of flavour.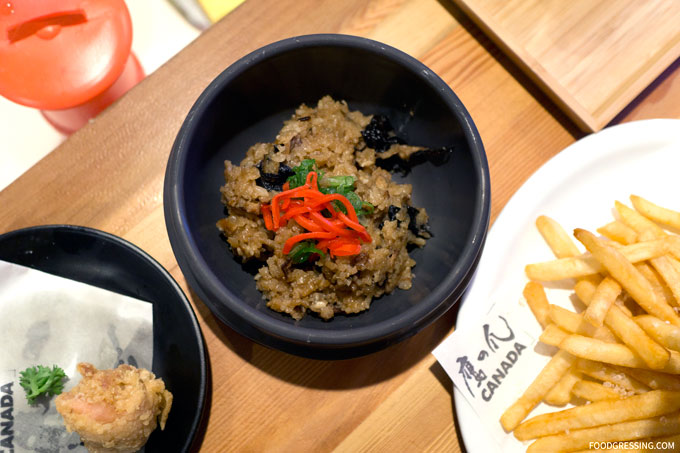 French Fries with Truffle Salt
Another complimentary dish from the chef was the French Fries with Truffle Salt ($6.50). The fries were nicely crispy but I didn't feel like the truffle flavours came through. It tasted largely of sea salt for me.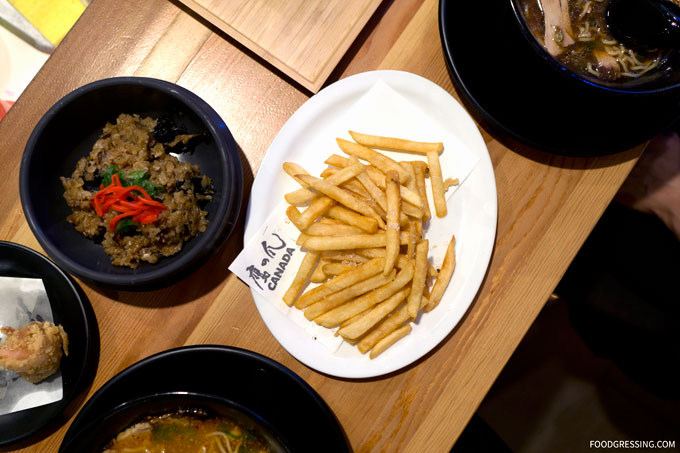 Dragon's Dewdrop
My friend had the Dragon's Dewdrop (Shoyu) ($11.95) with a clear broth made from pork bones.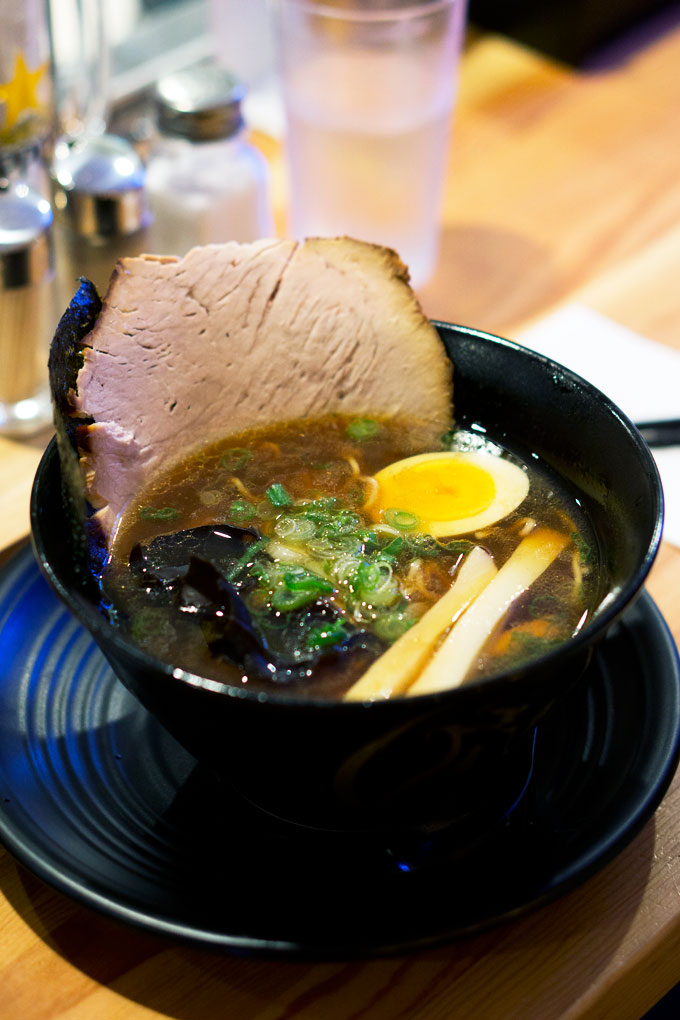 Supreme Dragon Miso
The Supreme Dragon Miso ramen was just an OK for me ($12.95). The clear broth wasn't particularly rich or flavourful to me but rather oily and salty. The broth was largely not that drinkable; the saltiness resulted me needing to drink lots of water for the rest of the night.
The ramen egg had a nicely runny yolk. The chashu was lean – not super melt-in-your-mouth – but was decent portion. Noodles weren't particularly al dente in my opinion. Portions overall seemed average for the price.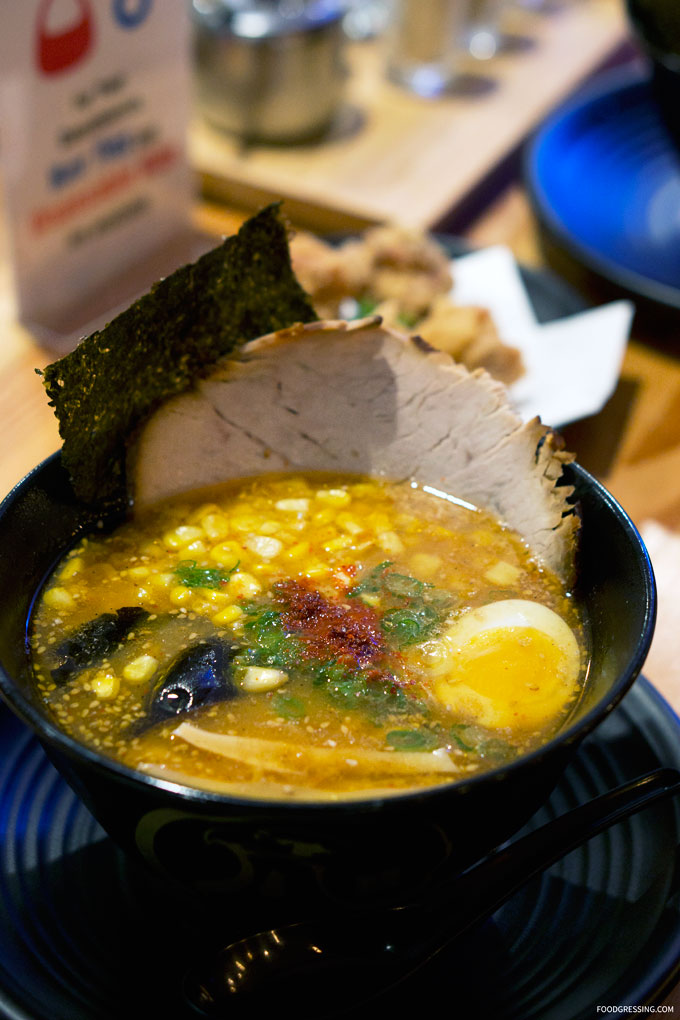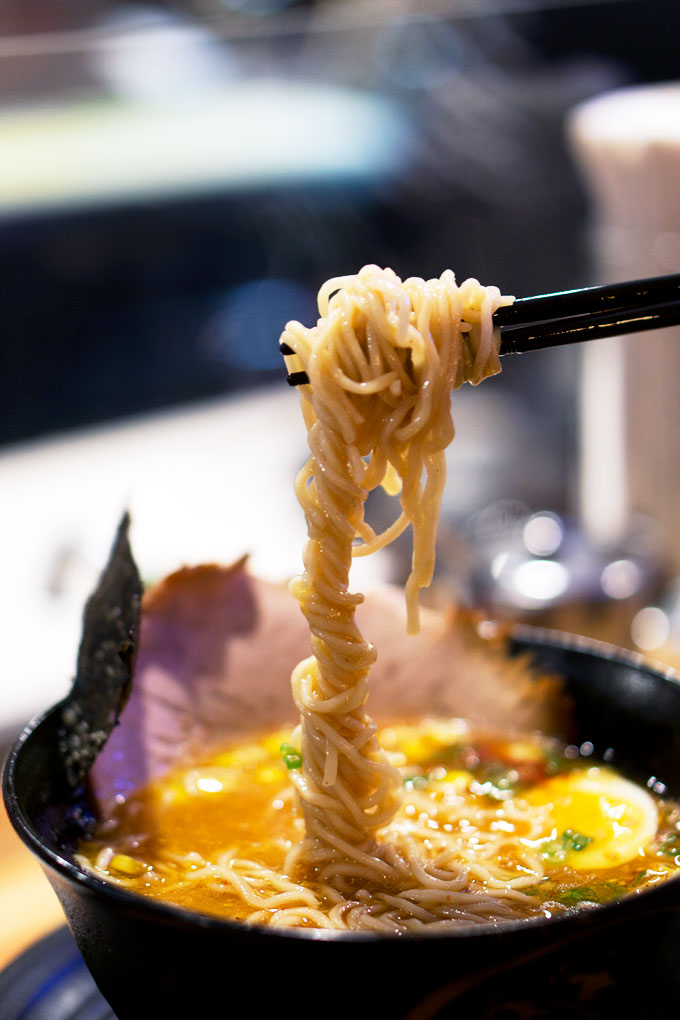 Overall Impression
I really wanted to like Ramen Taka but pehaps the Asahikawa ramen style doesn't appeal to me. The side dishes didn't really stand out either. The staff seem friendly and I could tell that they are still working things out in the kitchen. All the best to the owners and staff as it's a tough ramen market especially in an area that is dense with ramen favourites. But for now, I'm afraid that I haven't gained a new ramen restaurant that I want to revisit. Rating: 3/5
Ramen Taka
Address: 841 Bidwell St, Vancouver, BC
Website: ‎@ramentaka.ca/