Last month, David (pickydiners.com) and I ventured to San Francisco for a fun-filled, foodie adventure. After David flew in from San Francisco (and I already being in the city), we met up in San Francisco Union Square and visited one of his favourite places for a good cup of joe, Blue Bottle Coffee.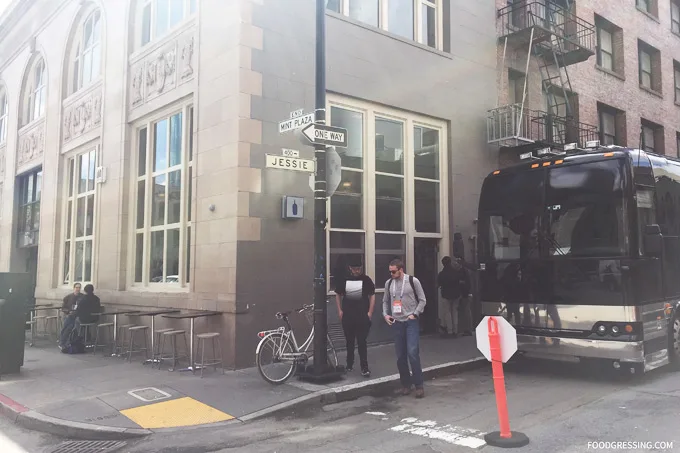 Third Wave Coffee
For the uninitiated (such as myself), Blue Bottle Coffee originated in Oakland, California and is a top place for third wave coffee. The popularity of Blue Bottle Coffee has emerged beyond the Bay Area as there are locations in New York; LA; Miami; Washington, DC; Boston; and even Japan (Kyoto and Tokyo). The company was acquired by Nestle in 2017 but still retains its "hipster" charm.
Mint Street Location
David and I visited Blue Bottle Coffee at 66 Mint Street which is located inside the historic 1912 Provident Loan Association building. It's a small cafe and when we arrived there was a line up past the door. The line moved quickly and we put in our orders in no time.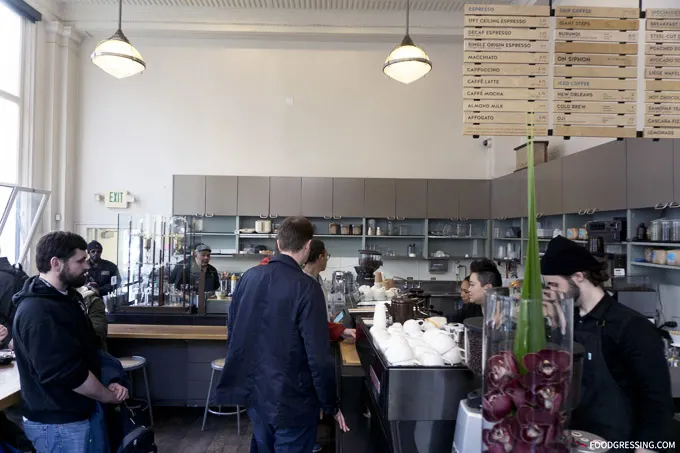 In terms of seating, there is a communal table as well as seating along the counter by the bar and windows. It's a tight space for the number of people but I enjoyed the large, bright windows letting in the natural light.
Blue Bottle Coffee Menu
On the menu at Blue Bottle Coffee are a variety of espresso-based drinks like macchiato, cappuccino, latte mocha and so forth. They possess the coffee contraptions to brew the coffee however you want (drop, siphon and more). Iced coffee is also on the menu as well as a few food breakfast and lunch options like avocado toast, breakfast sandwich, steel-cut oatmeals, and more.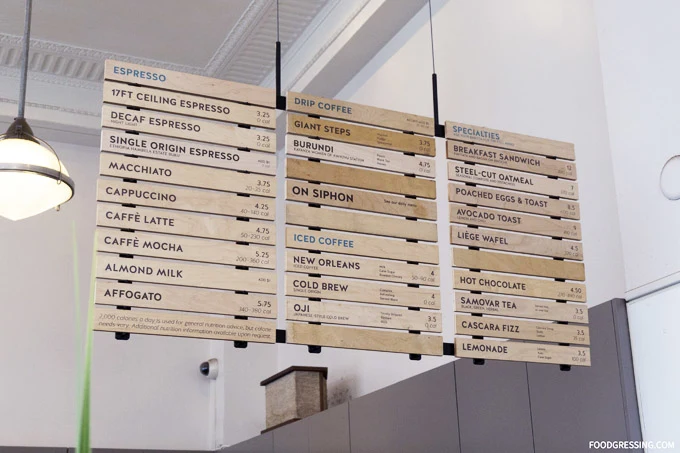 What We Tried
I had the 17ft Ceiling Almond Milk Latte ($5.75) while David had the Oji Coffee ($3.25) and Fruit Buckle ($3.75).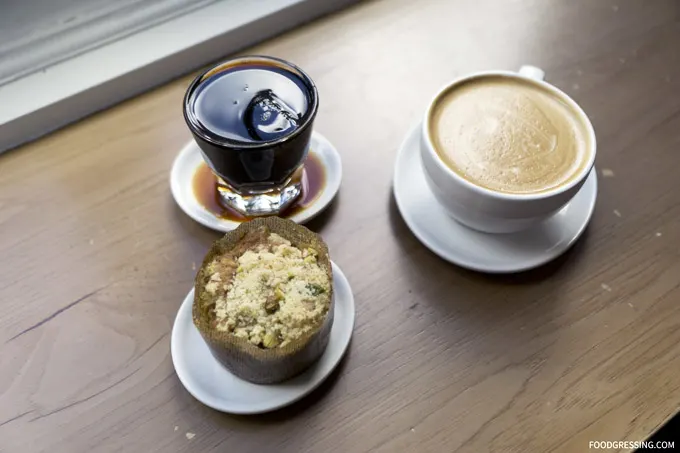 I found my almond latte to be very smooth, rich and flavourful.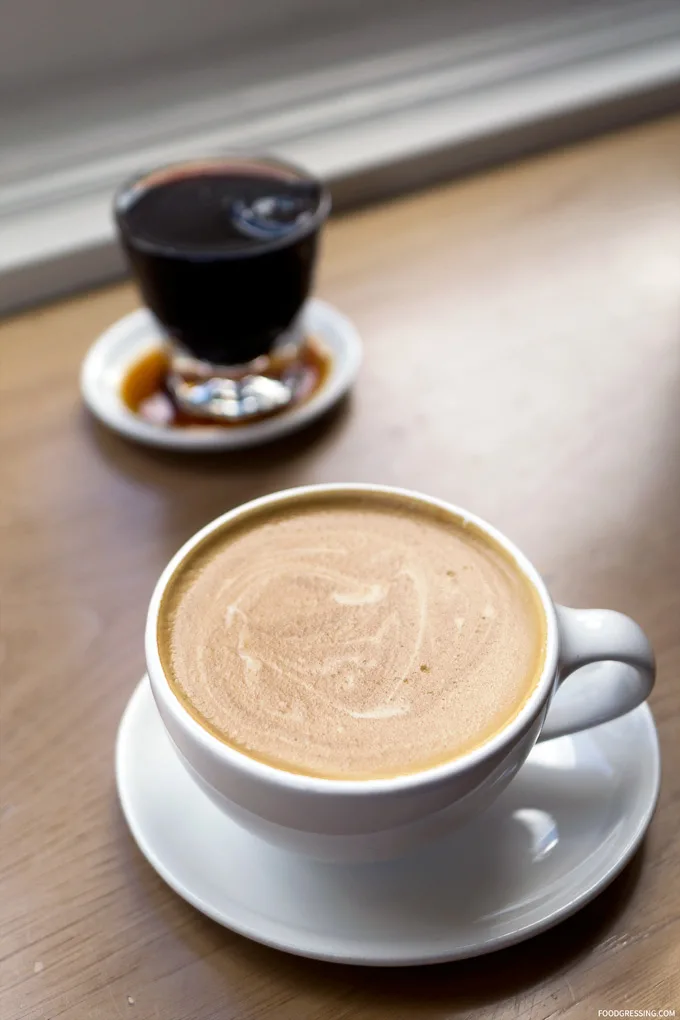 This location of Blue Bottle Coffee has an Oji iced coffee contraption that yields a refined cold-brewed coffee that they collect and serve in tiny glasses. David's Oji Coffee had rich flavours and zero calories.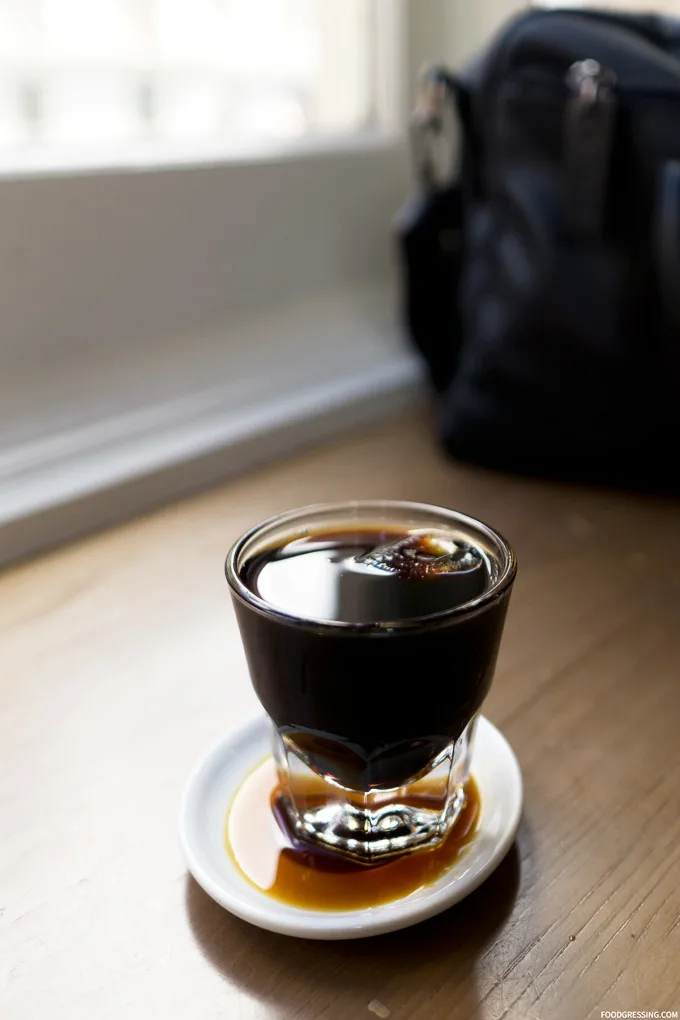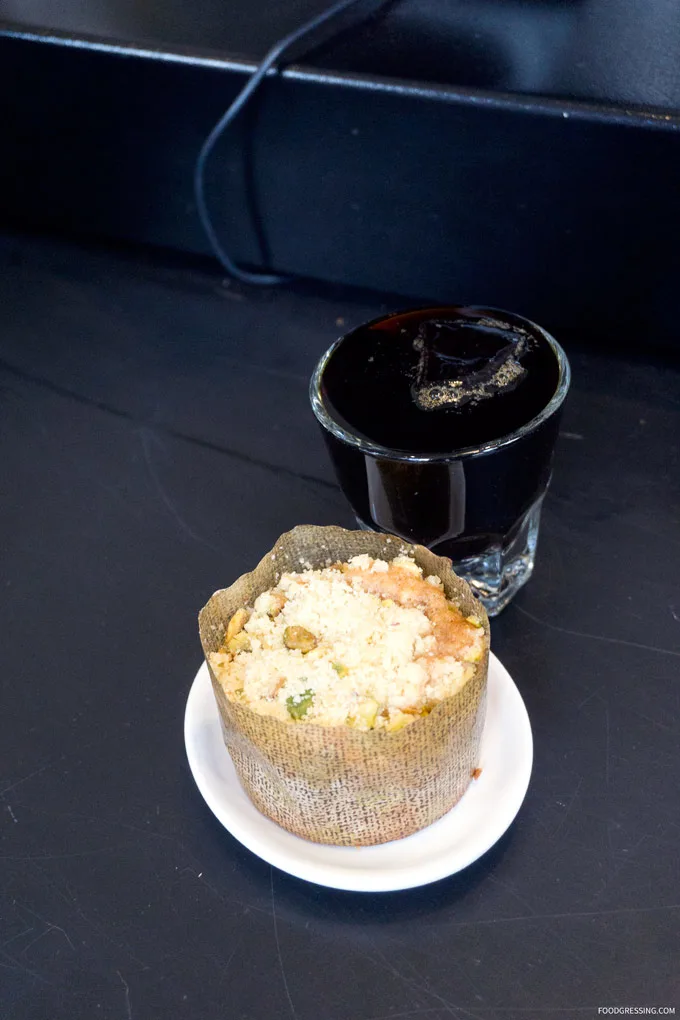 Overall Impression
It was a nice first-experience trying out Blue Bottle Coffee in San Francisco. I would be interested in visiting one of their locations again in the future. Rating: 4/5
Blue Bottle Coffee
Address: 66 Mint Street, San Francisco, CA
Website: www.bluebottlecoffee.com