Another day another ramen house opens up in Vancouver. This past weekend, Touhenboku Ramen at 854 Denman Street (Denman and Haro) starting serving ramen lovers. This location marks Touhenboku's first location in Vancouver and fourth in Canada (the other three are in the Greater Toronto area)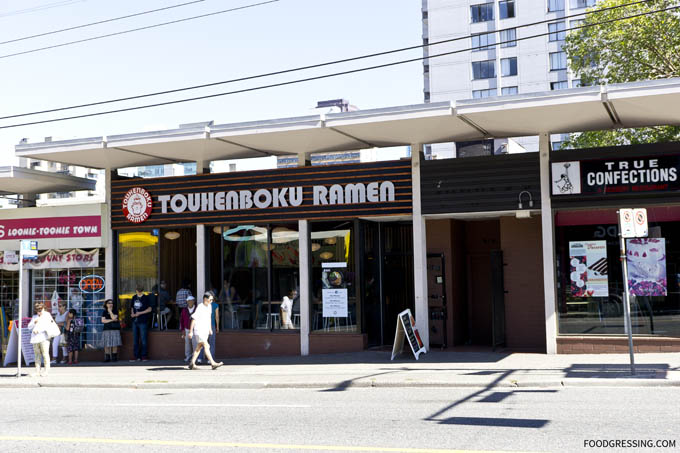 Touhenboku currently has a Grand Opening discount on their ramen: 30% off (August 15th – 21) and 20% off (August 22 – 29). Over the weekend, they had 50% off ramen which drew in long line ups of customers.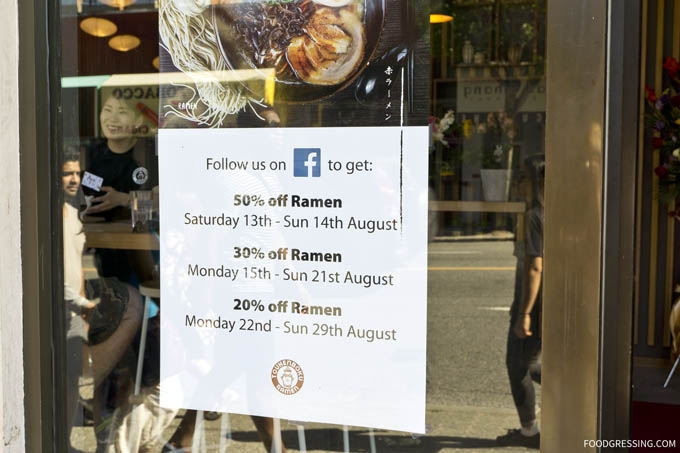 "Blockhead"
Touhenboku is founded by Zuimei Okuyama, who had undergone training at a famous ramen school in Chiba. He had previously opened his first ramen shop in Ueno, just outside of Tokyo. As for the origin of the restaurant's name, Touhenboku is Japanese for "blockhead". The name pays tribute to a cafe of the same name that Zuimei used to visit when he was young. The mascot of Touhenboku is named Tomo, a half-Japanese and half-Canadian tree bark. Tomo's profile is on the the Touhenboku website which notes that he is 5 ft, 180 lbs and loves ramen, friends and laughing.
Bright & Clean Space
Unlike most of the ramen eateries in the area which are dark and crammed, I really like Touhenboku's bright, clean and somewhat spacious interior. The design, I would say, is a mix of contemporary and traditional Japanese. There are two large communal tables which can accommodate 6 people, small dining tables for 2 and a few counters. They also have some wooden high-chairs for the little ones. While their front windows do open up to the street, it still can get quite hot in the summer (I was sweating!).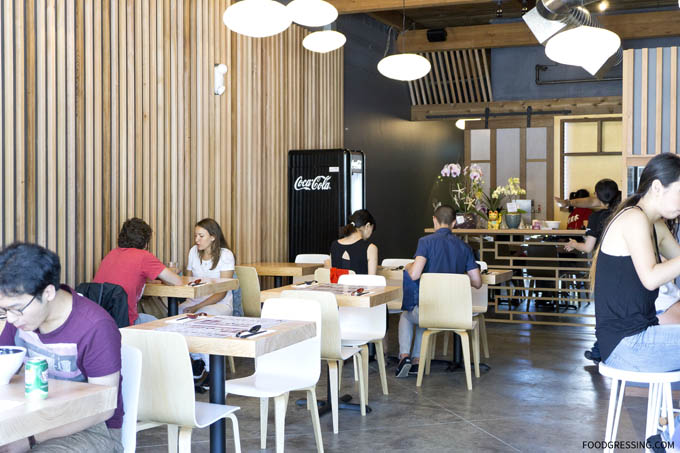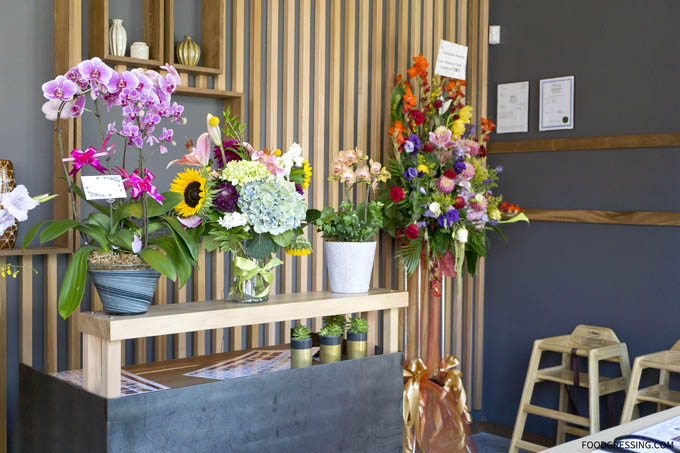 Touhenboku Menu
Touhenboku specializes in a style of ramen from Kyushi, Japan and uses mizutaki – a slow-cooked thick, creamy chicken-based stock. In this sense, they are a competitor of nearby ramen eatery, The Ramenman which also uses a chicken broth. Pork broth is available at an extra $1.00.
The regular ramen bowls are $10.50 and include White Original, Red Spicy Ramen, Black Garlic, and Light. Specialty ones like Meatlover Chashu and Vegetarian are $13.00. You customize your soup (chicken or pork), seasoning (soya sauce, sea salt, miso), noodles (thin or thick) and meat (pork belly, pork shoulder, chicken). Each ramen bowl has some seaweed, a boiled egg, wood ear mushrooms, and green onions.
Appetizers range from karaage (fried chicken) to gyoza, takoyaki, korokke (panko croquettes), ebifry (panko-crusted prawns) and ebi mayo (tempura prawns). There are five donburi options (pork belly chashu, chicken chashu, grilled ginger pork, fried chicken and BBQ chicken). Touhenboku will have an in-house pastry chef to create desserts including tiramisu, mille crepes, Japanese cheesecake and chocolate cake. When I went, the desserts were unavailable and a few appetizer options were either unavailable or sold out. The full menu photo can be downloaded here.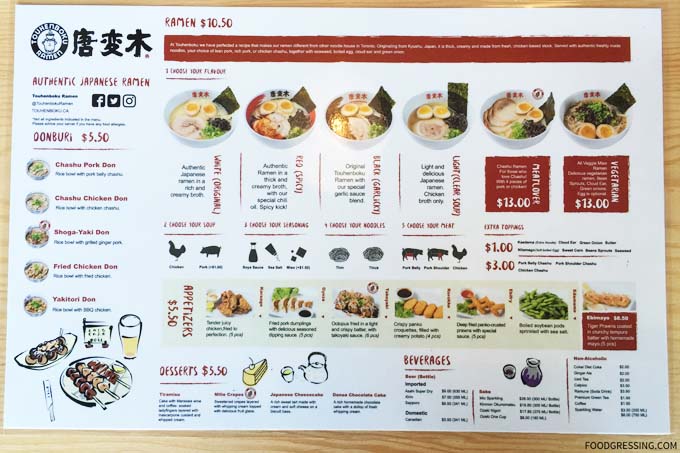 What We Tried
My husband and I went for lunch and we ordered a White ramen, a Red ramen, and a karaage. To start, the karaage was lightly battered and the pieces were fairly large compared to a lot of places I have been to. The outside wasn't as crispy as I would like but the the meat was very juicy and tender. Overall, I liked that the karaage wasn't very oily.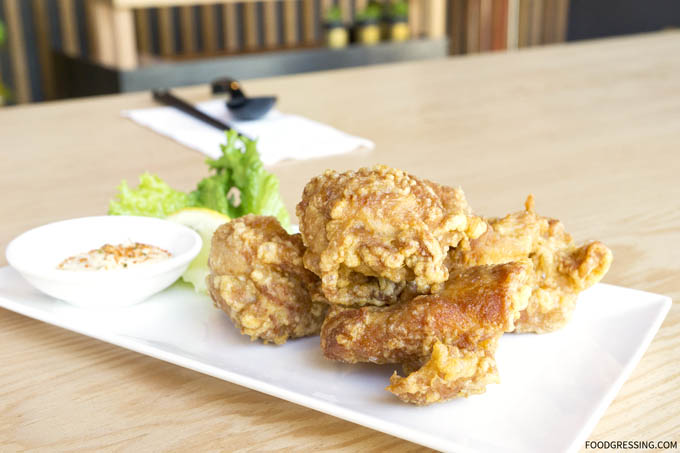 For the White Ramen, we had pork broth, sea salt seasoning, thin noodles, and pork belly chashu. I quite enjoyed the rich and creamy pork broth. One thing I did noticed was that the soft boiled egg was a bit overcooked; I like a ramen egg to have a bit of a runny yolk.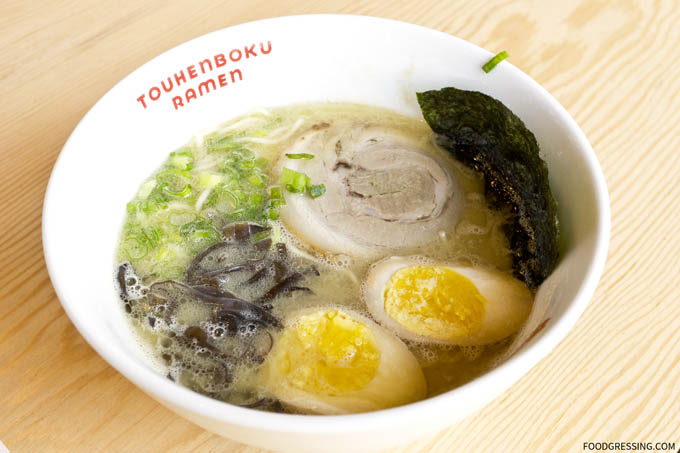 There is just one piece of chashu in the ramen bowl, so I would advise ordering some more slices if you are hungry.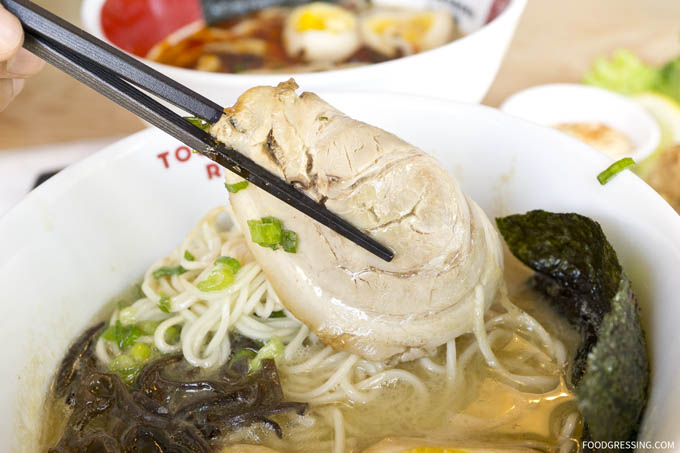 For the Red Ramen, we went with a chicken broth, soya sauce seasoning, thick noodles, and chicken meat. There was a nice amount of spicy kick to it. The chicken was very flavourful and tender, but there was only one piece. As mentioned earlier, it wouldn't be a bad idea to order more meat.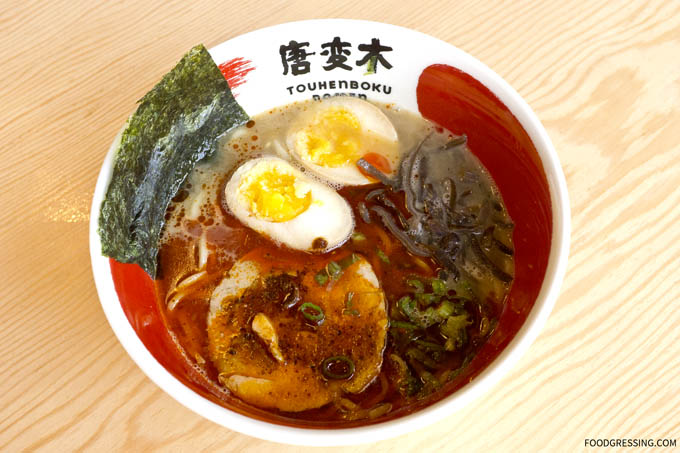 The thick noodles are definitely bouncier than the thin noodles we had in the White ramen.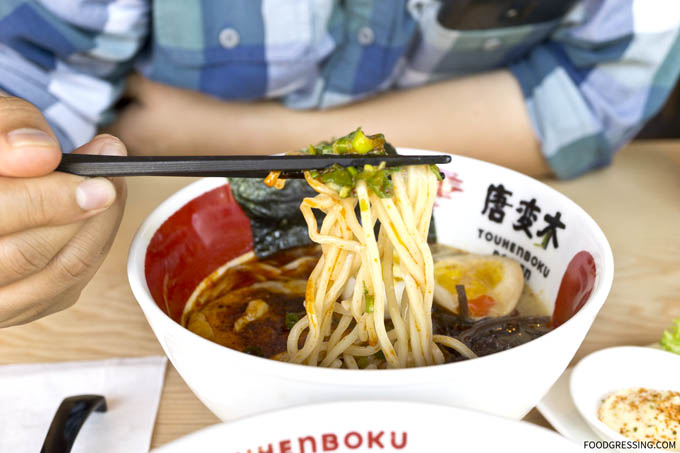 Service
I thought that the service at Touhenboku was better than a lot of ramen eateries in the same area. The servers checked on us more often than what I experienced elsewhere. Furthermore, I found the servers to be very friendly, energetic and more fluent in English than at other ramen houses.
Overall Impression
I thought that the ramen at Touhenboku was good though I think the ramen eggs could be improved by having a soft-set yolk. I can't say that their ramen is that much better than other places in the area, but I did like the more relaxed atmosphere and service. Rating: 3.5/5
Facebook: @TouhenbokuVancouver
Website: www.touhenboku.ca