Popular Gastown-based soft serve parlour, Soft Peaks Ice Cream, opened a second location in Burnaby this past April. The popular dessert spot which opened in 2015 is known for their handcrafted, organic ice cream creations made with Avalon organic milk and creative toppings like locally made honeycomb, Himalayan pink salt and more.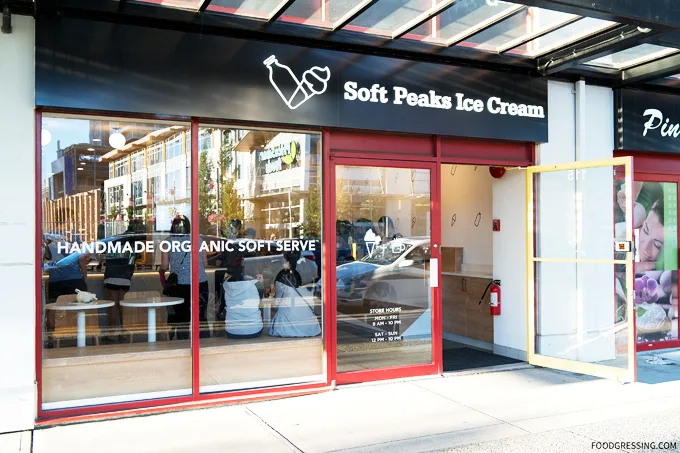 After enjoying dinner at Dinesty on Friday night, we visited Soft Peaks for some dessert. It had been a while (see old post here) since I tried Soft Peaks and I was eager to have some of their soft serve again.
Note: This is not a sponsored post. None of the food in this review was complimentary. This review is done anonymously.
Spacious Location
Soft Peak's Burnaby location has been reported to be double the size of their Gastown shop. There are a few dining tables near the front of the cafe, bench seating along the wall, and more tables at the back.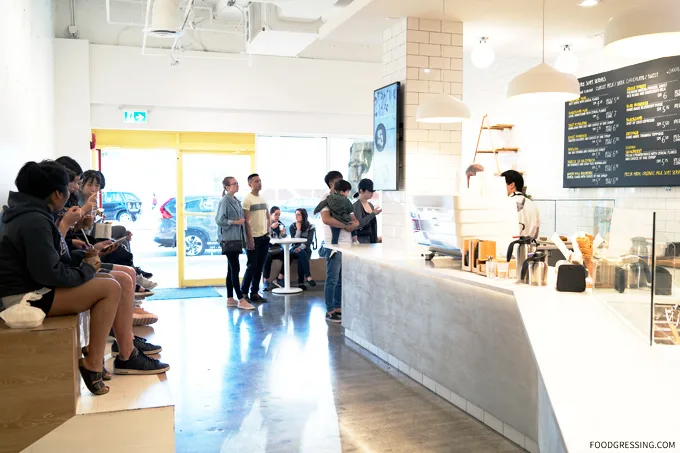 Soft Peaks Ice Cream Burnaby Menu
On the menu at Soft Peaks Burnaby are their signature soft-serve creations. The signature creations differ by toppings and syrups but you get to choose your soft serve flavour (classic milk, dark chocolate or twist). The desserts are mostly priced between $6 for a small size and $7-$8 for a regular size. Cups are available for either small or regular, while cones are for regular-sized only.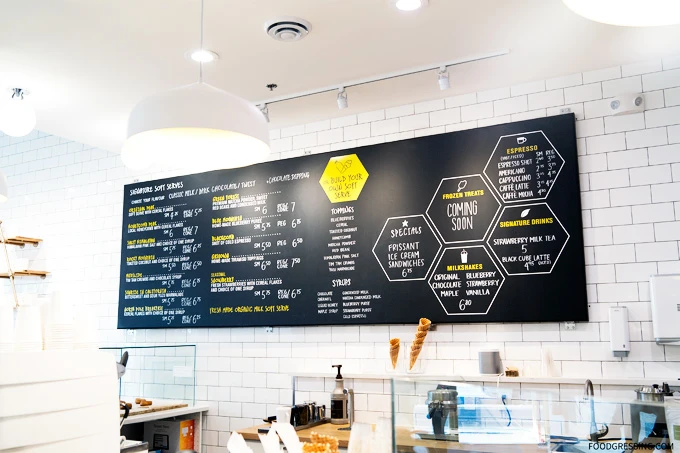 If you also feeling adventurous, you can also opt to build your own soft serve and customize it with toppings (like yuzu marmalade, red bean, and more) and syrups (like liquid honey, matcha condensed milk and more).
Also available at Soft Peaks Burnaby is an espresso-bar serving Milano Coffee. Their drinks offerings include an Espresso Shot, Americano, Cappuccino, Caffe Latte and Cafe Mocha. A few non-espresso signature drinks are also on the menu: the Strawberry Milk Tea and Black Cube Latte.
Unique to the Burnaby location is the Frissant Ice Cream Sandwich. Created by The Swiss Bakery, the Frissant is somewhere between a fritter and a doughnut. This is sandwiched around the soft serve and syrup of your choice.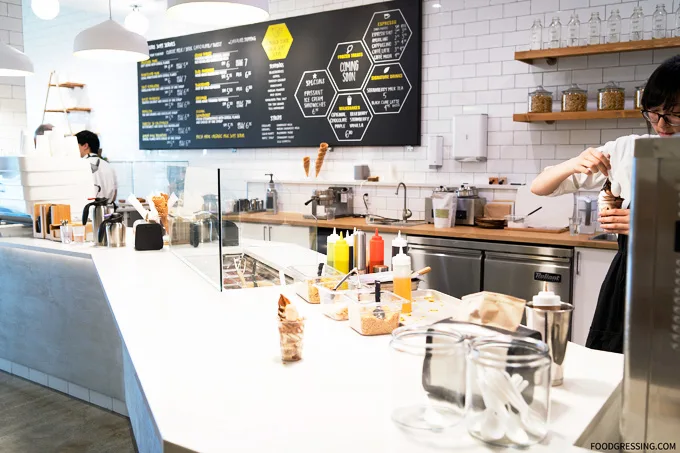 What I Tried
I came to Soft Peaks to specifically try the Frissant Ice Cream Sandwich ($6.75) and it did not disappoint! The Frissant Ice Cream Sandwich had previously received unfavourable reviews as customers had complained about the Frissant being "stale." However, in an Instagram announcement last month, Soft Peaks noted that they improved on the quality of the Frissant.
I can certainly attest that it is wonderfully butter, crispy and flaky. The soft serve did melt rather quickly but Soft Peaks did mention in their Instagram announcement that their soft serves melt faster when served in Frissant Sandwich as compared to when served in a cup or cone.
I went with the original/dark chocolate soft serve twist with a strawberry puree syrup and loved how everything was satisfying but not overly rich and sweet. In all, I very much enjoyed the Frissant Ice Cream Sandwich as compared to the too sugary Churros Ice Cream Sandwich I have had from Hugo's Churros.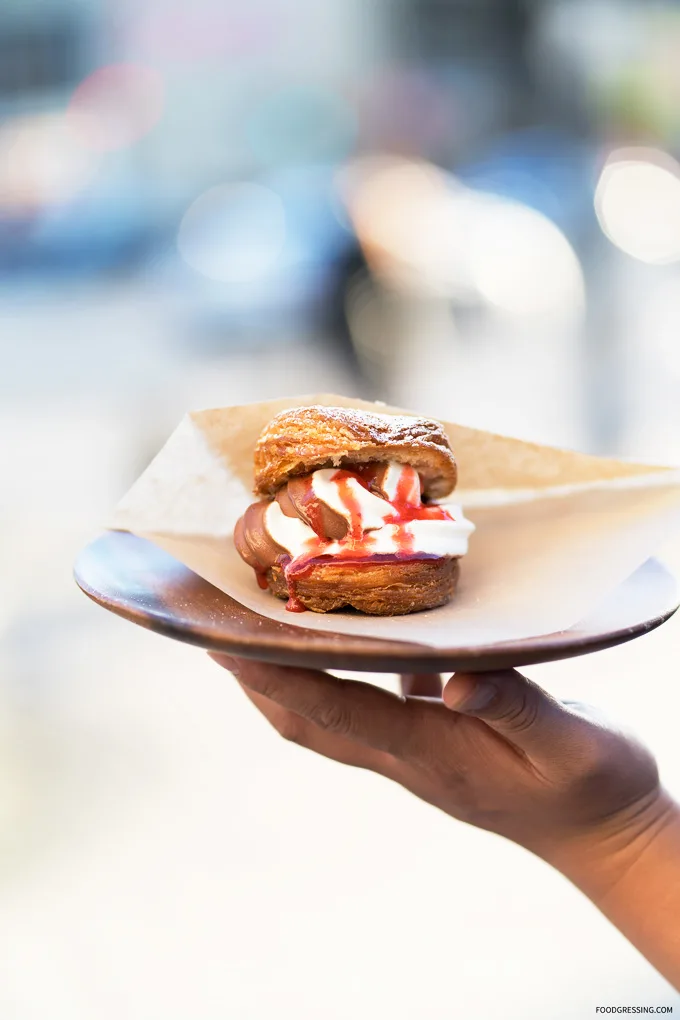 Overall Impression of Soft Peaks Ice Cream Burnaby
It was a solid experience at Soft Peaks and I am looking forward to visiting again soon. I recommend their Frisssant Ice Cream Sandwich and would love to have it again. Rating: 4/5
Soft Peaks Ice Cream Burnaby
Address: 115-4603, Kingsway, Burnaby, BC
Website: softpeaks.ca‎