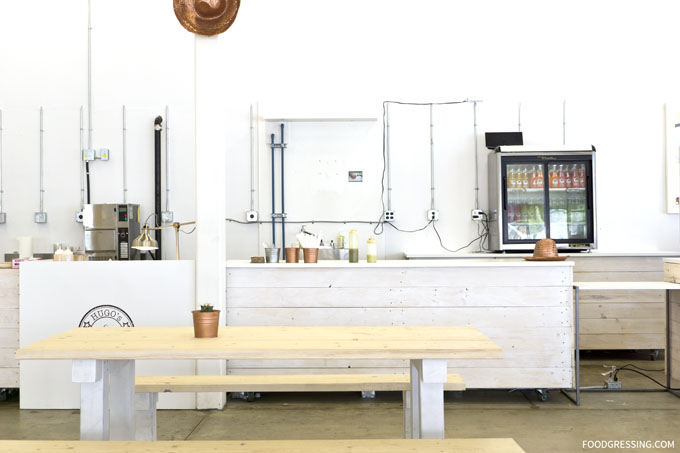 After a hiatus, Hugo's Churros is now back and bigger than ever at McArthur Glen Designer Outlet Richmond. Last year, they were a stall within the mall's pop-up artisan food hall, Hawkers Mercado. This past month, Hugo's Churros reopened and now occupies the entire space of Hawkers Mercado. The space features indoor seating for 40 and outdoor seating for 17. It's a casual eatery where people can enjoy a bite to eat while shopping at the mall.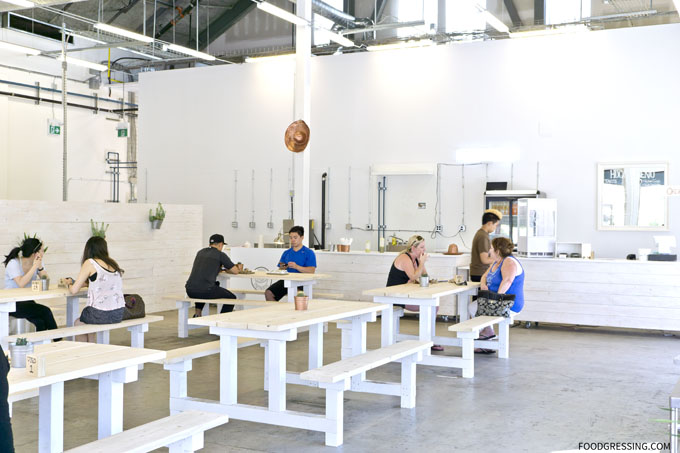 Hugo's Churros Menu
Hugo's claim to fame is their churros, of course! You can get them as a single ($3), double ($5), a gelato bowl ($7) or indulge them as an ice cream sandwich ($7.50). Those churro ice cream sandwiches certainly have been Instagram darlings lately. Some more traditional items offered are tacos, burritos, and nachos with choice of meat or veggie.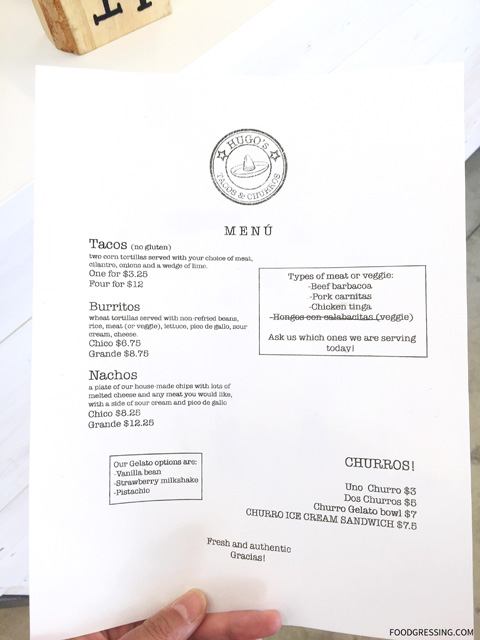 What I Tried
On my recent visit to Hugo's Churros, I got none other than their infamous Churro ice cream sandwich ($7.50). It's quite a beauty comprised of gelato sandwiched between two flattened swirls of churros coated with cinnamon sugar. The gelato is by Mario's Gelati and options include vanilla bean, strawberry, milkshake and pistachio.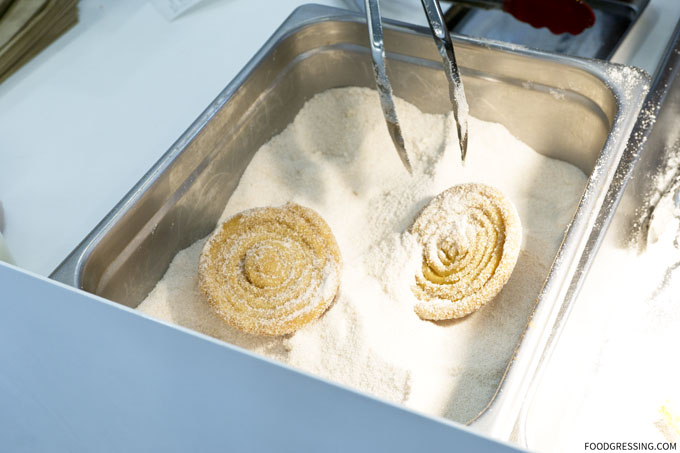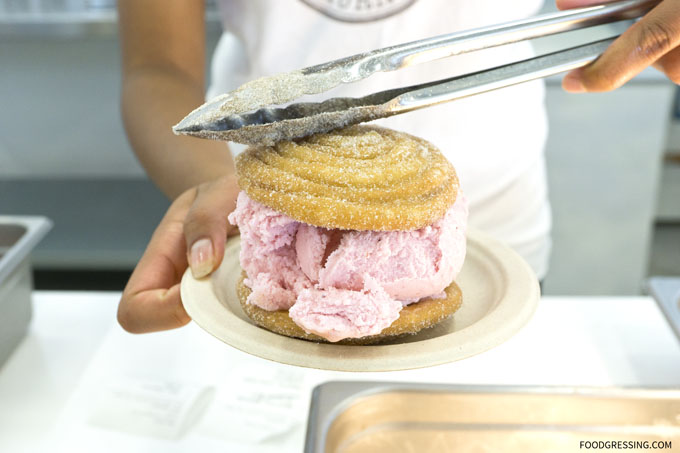 In celebration of Pride week, complimentary sprinkles can be added to the churro ice cream sandwich. The churro swirls were delicious: light, crispy, fluffy and not overly greasy. The strawberry gelato was very good as I am already of fan of Mario's Gelati products. Rich, creamy and melts very quickly! It's a pricey dessert at $7.50 but something I don't mind paying for once in a while because it's so good.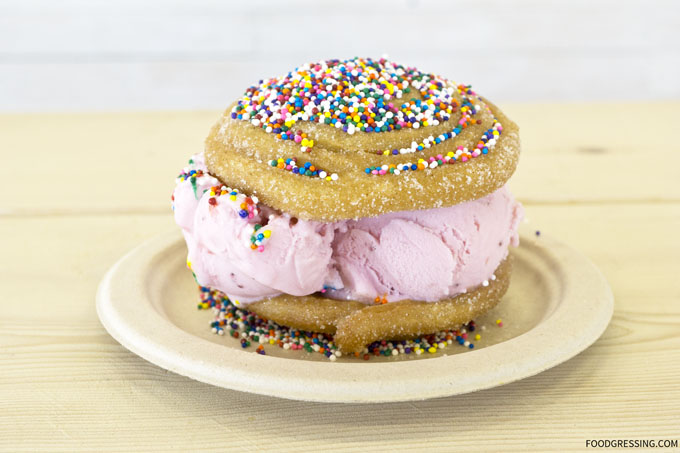 Shopping makes you hungry so I also got a grande burrito ($8.75) with pork carnitas. Other fillings include non-refried beans, rice, pico de gallo, lettuce, sour cream and cheese. The size of the burrito was reasonable for the price and it was certainly filling. The pork carnitas was very tender and flavourful. It's a burrito that I would gladly have again.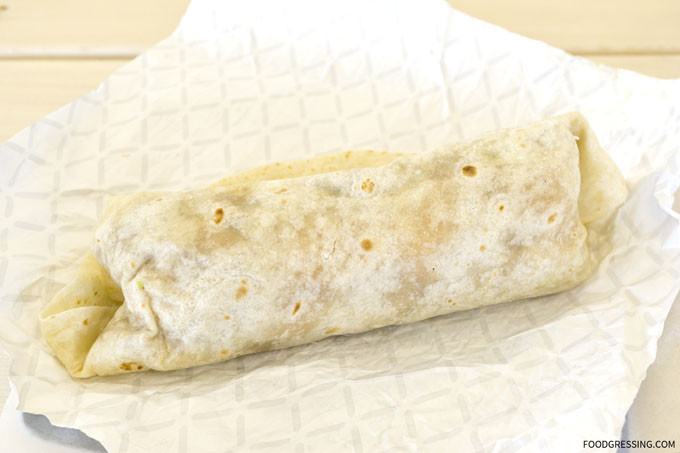 Last year, I had the chance to try individual churros by Hugo's Churros at the Xpocity show. Crispy, warm, and totally addictive little things.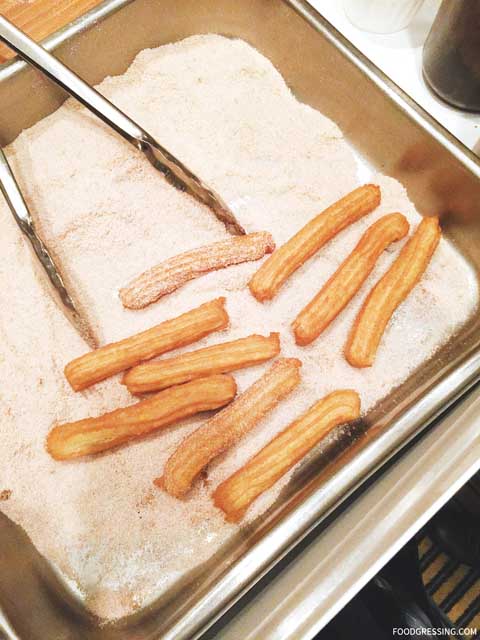 Overall Impression of Hugo's Churros
I'd happily have more of all the things I tried by Hugo's Churros. My go-to snack place when doing some serious shopping at the McArthur Glen Designer Outlet. Rating: 4/5
Website: www.hugoschurros.com