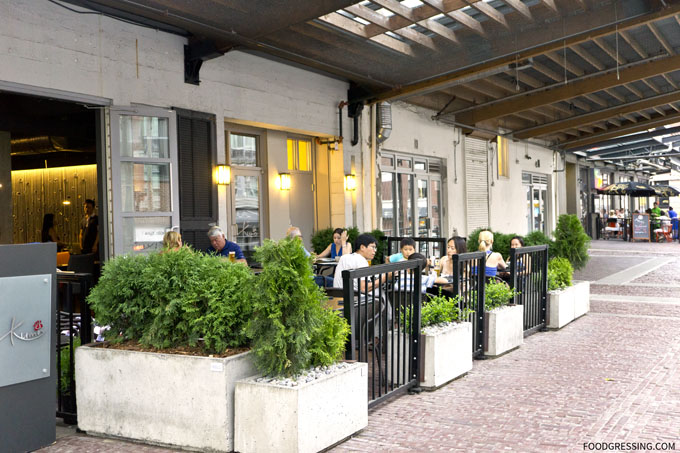 Disclosure:  I was invited to a media tasting organized by SophiaEats.com where all food was complimentary.  All opinions are my own.
The quiet part of Yaletown, located on Hamilton between Davie and Homer streets, recently welcomed a slew of new restaurants.  New openings include modern, upscale Vietnamese eatery, House Special, as well Asian fusion seafood restaurant, 21 Nautical Miles. Newcomer Kuma Izakaya at 1233 Hamilton Street is bringing French flair to Japanese and Korean dishes.  I recently attended a media tasting at Kuma Izakaya where I learned more about their story and tried several of their dishes.
Chef Owned
Kuma Izakaya is chef-owned and operated by Hyun Woo Kim, who is originally from South Korea.  Chef Kim's background includes working at restaurants in Europe and locally at the popular Miku restaurant in Coal Harbour.  Most notable, however, is his experience from working at the three-Michelin-star restaurant, The French Laundry, in Napa Valley.  With his diverse culinary background, Chef Kim opened Kuma Izakaya with a menu that has also a number of influences including Japanese, French, Korean and Italian.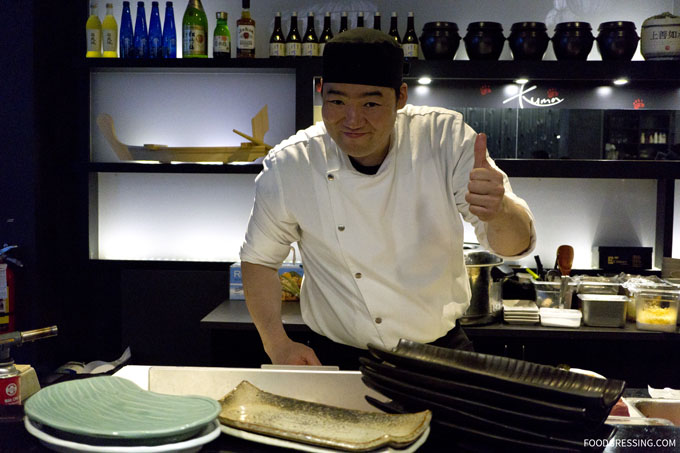 Cozy, lounge feel
Kuma Izakaya's interior has a lounge feel with cozy banquettes and a few long tables.  One unique piece of decor is the chain curtain that adorns the walls with instant photos of their customers.  The inside can accommodate about 50 diners, but on a lovely day, you might just want to sit on the patio which can hold up to 30 people.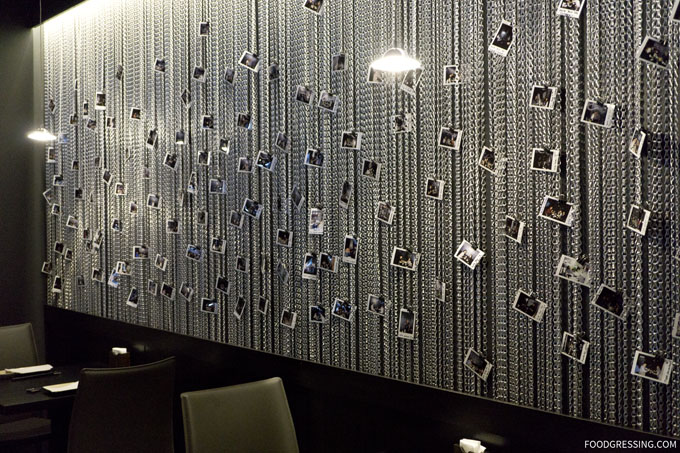 What We Tried
Our tasting menu including the following:
Soju
Kuma Signature Salad
Assorted Sashimi
Assorted Aburi Nigiri
Kuma Chirashi Tartare
Mango Ebimayo
Crispy Chicken
Osso Buco
Kuma Seafood Champon
Kuma Hambagu
Tiramisu
Kuma Izakaya has several different flavours of soju.  There were some nice fruity flavours including apple, peach, grapefruit and lemon.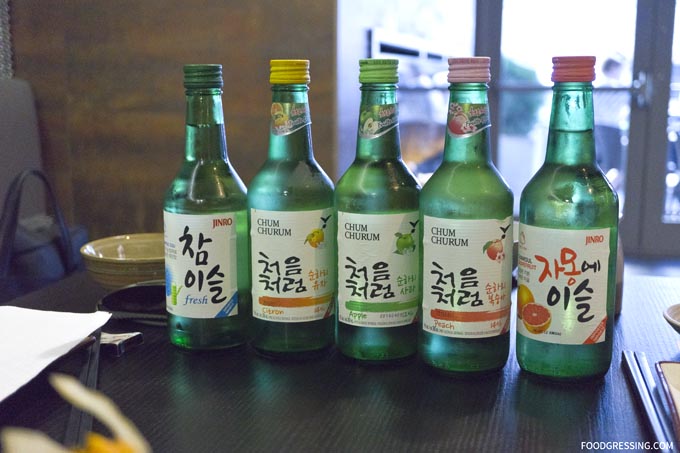 To start, we had the Kuma Signature Salad made of fresh greens topped with sliced avocado, sliced tomato, pickles, housemade ricotta cheese, and crispy yam.  There was a mix of crispy yams (purple, white and yellow) and I loved how they added a fun texture to the salad.  I enjoyed the balsamic and house dressing mix which was tangy and slightly sweet.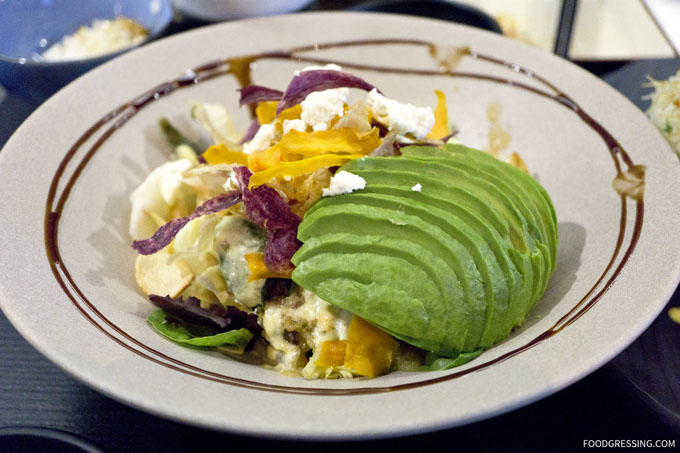 Assorted sashimi (sockeye salmon, albacore tuna, hamachi, and amaebi) were presented in a lovely ice bowl.  The lustrous, glistening sashimi had a wonderful clean taste.  I was in sashimi heaven.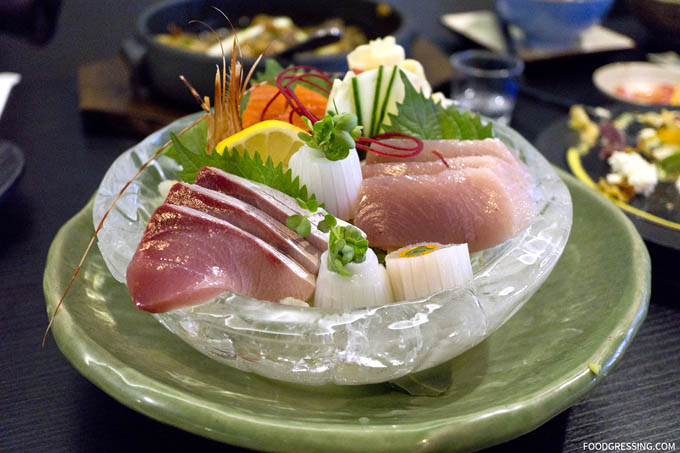 The assorted aburi nigiri (hamachi and amaebi) came on a beautifully arranged platter.  The sushi rice texture was on point and the raw fish had a wonderful clean taste.  The fried ebi was very crunchy and provided my daily dose of calcium!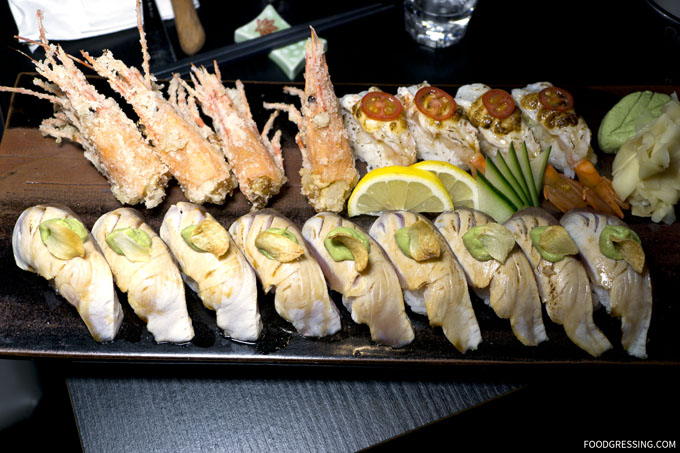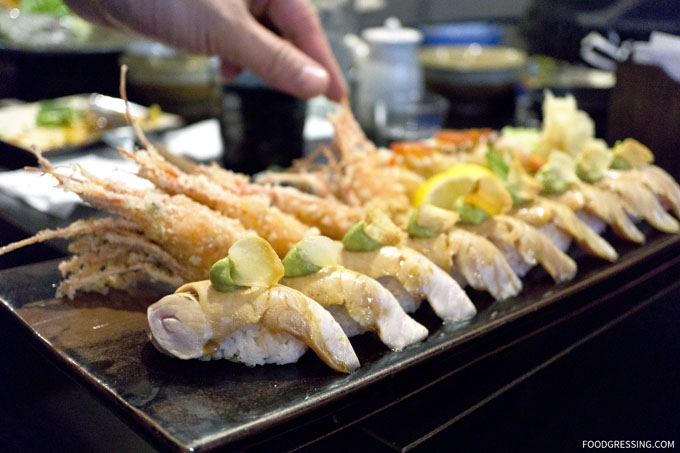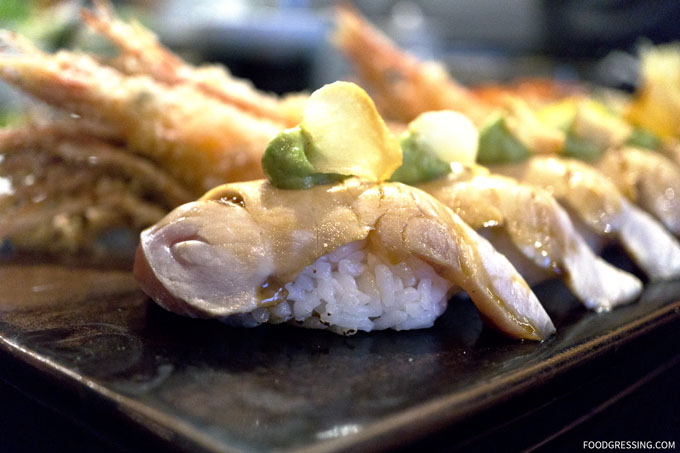 Kuma Chirashi Tartare was very reminiscent of the one served at Miku.  It was an aesthetically beautiful creation of balsamic spicy aburi tuna and assorted sashimi served atop of warm sushi rice.  Garnished with tenkatsu and yam flakes then drizzled with avocado dressing.  It had a spicy kick though not too overwhelming.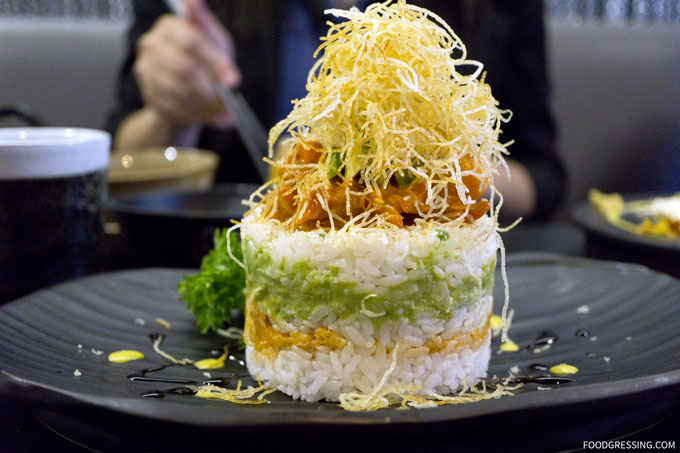 The Mango Ebimayo (deep-fried prawn with mango sauce) was super tasty.  The sauce was rich in flavour and a lil' sweet and savoury.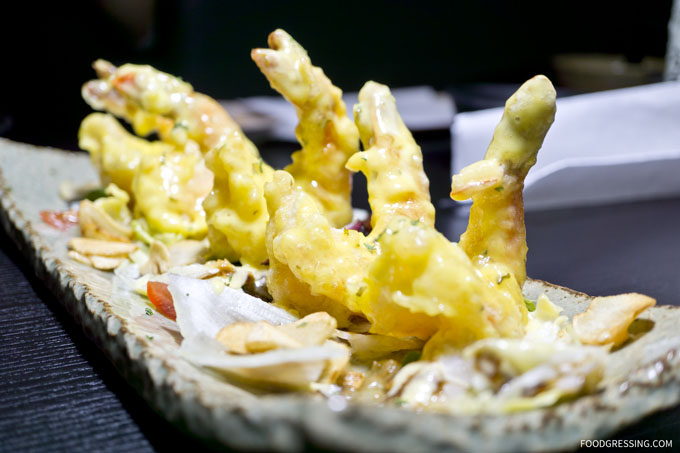 The Crispy Chicken came on a very long dish, which makes it good for sharing.  Deep-fried boneless chicken with pan-fried veggies and Korean-style sauce.  I experienced a mouthful of flavour with each bite.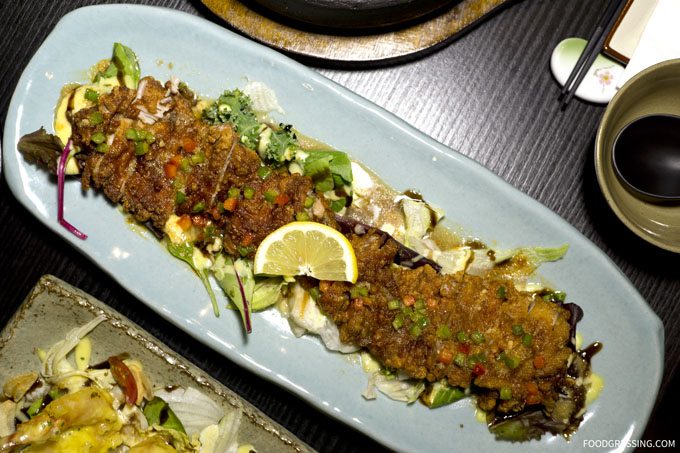 The Osso Buco with premium AAA beef ribs simmered in house made oriental soy sauce was a favourite at our table.  The savoury sauce was just delicious and left me lingering for more.  I did think that the beef texture could be improved because it was a bit tough and chewy.  An overall comforting dish.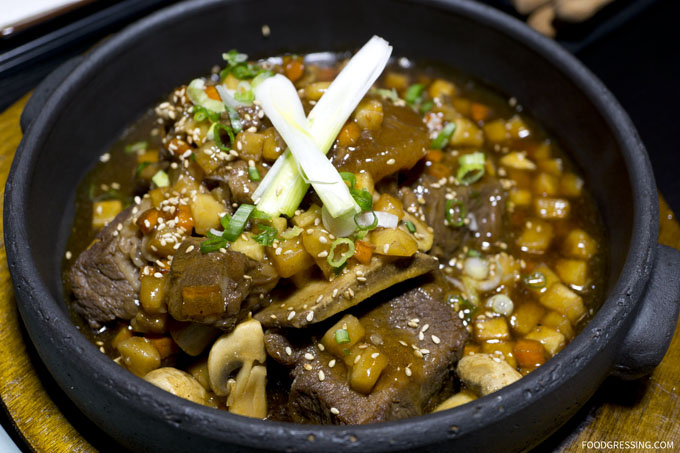 Another hearty dish was the Kuma Seafood Champon which came in a rich, flavourful tomato seafood udon soup.  The soup had been simmered with assorted pan-fried vegetables, chilli oils, and chilli powder.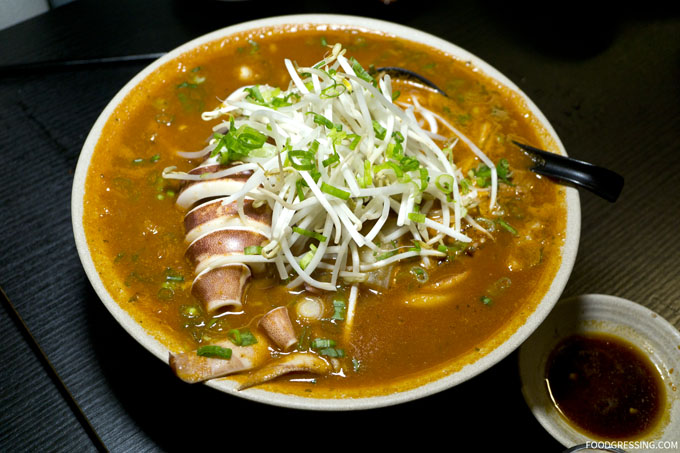 To finish off a fantastic meal was the house made tiramisu.  It came in glass jars which could easily mistaken for chocolate cups.  It didn't taste quite like the authentic tiramisu but nonetheless a refreshing creamy pudding dessert.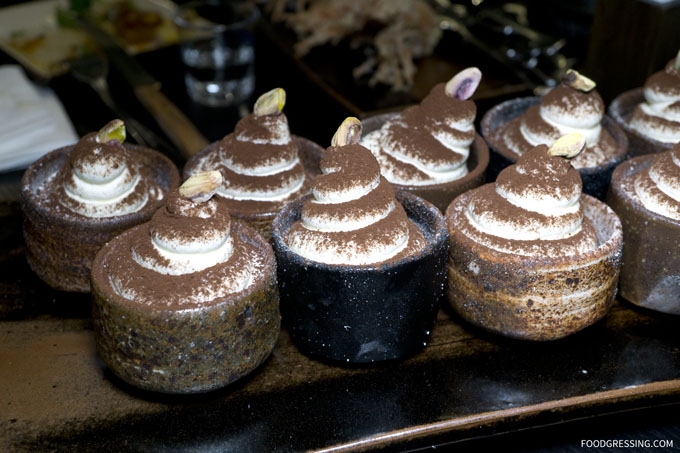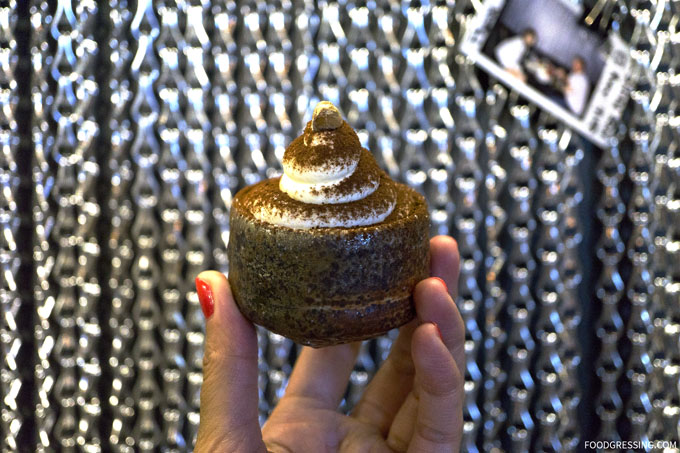 Overall Impression of Kuma Izakaya
All in all, I enjoyed Kuma Izakaya's Japanese and Korean dishes with some European twists.  There's a lot of potential and Chef Kim seems to be eager to refine his menu based on the tastes of customers.
Website: www.izakayakuma.com