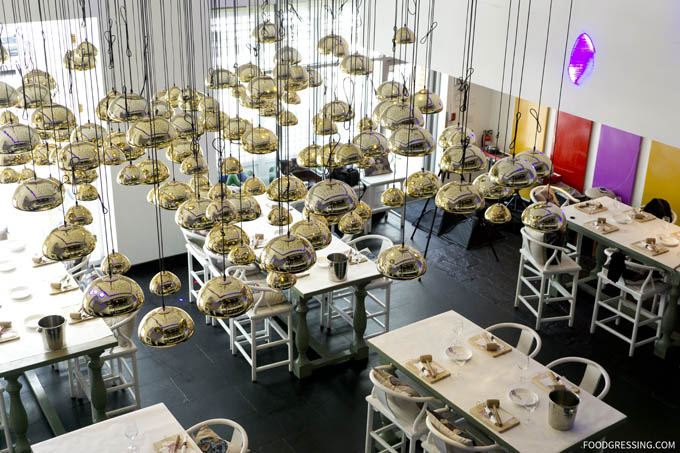 Disclosure: I was invited to a media tasting organized by Chinesebites.com where all food was complimentary. All opinions are my own.
The quiet part of Yaletown, located on Hamilton between Davie and Homer streets, recently welcomed a slew of new Asian restaurants. In the past month, I have reviewed newly opened modern, upscale Vietnamese eatery, House Special, as well Asian fusion Kuma Izakaya. Their neighbour, 21 Nautical Miles, is newcomer serving Asian fusion seafood at at 1257 Hamilton Street. Furthermore, they are in process of becoming an Oceanwise restaurant. I recently had the opportunity to attend a media tasting organized by Chinesebites.com.
Luxurious & Chic
The interior of 21 Nautical Miles is luxurious, modern, and elegant with Asian accents. The accents are a mix of traditional and contemporary including Chinese solid wood benches and modern art interpretations of Chinese opera figures. The high-ceiling is adorned with a multitude of gold-coloured pendant lights. The restaurant is divided into two floors with the main dining area on the ground level and an upstairs lounge.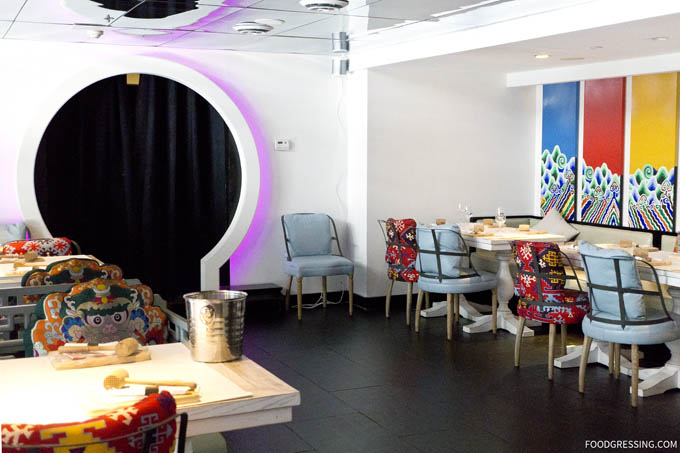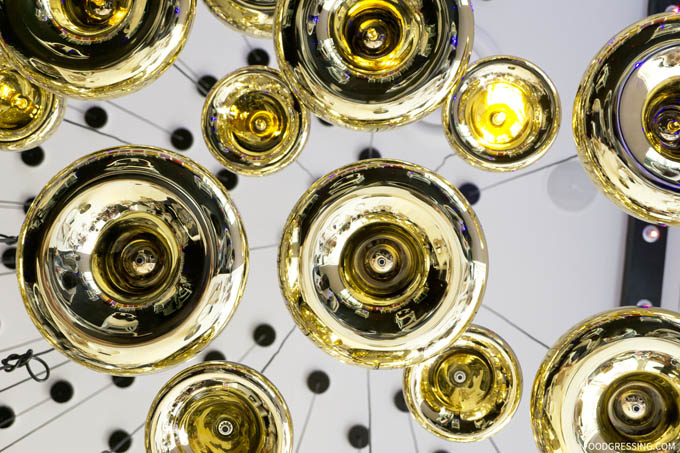 What We Tried
Our tasting menu including the following:
Seafood Party

Black Pepper
Spicy
Garlic Butter

Golden Fried Pepper Salt Calamari
Chinese Pork Burgers
House Spicy Spot Prawns
Skewers

Lamb (cumin)
Beef (cumin)
Chicken (satay)
Pork (48 hour braised)

Grilled Oysters with Cheese (oyster served half cooked)
Herbal Coconut Mussels
Garlic Steamed Lobster Tail
Abalone with House Special Sauce
Mango Thousand Layer Cake
The tasting started off with us receiving a dispenser of beer to help wash all the pending seafood down.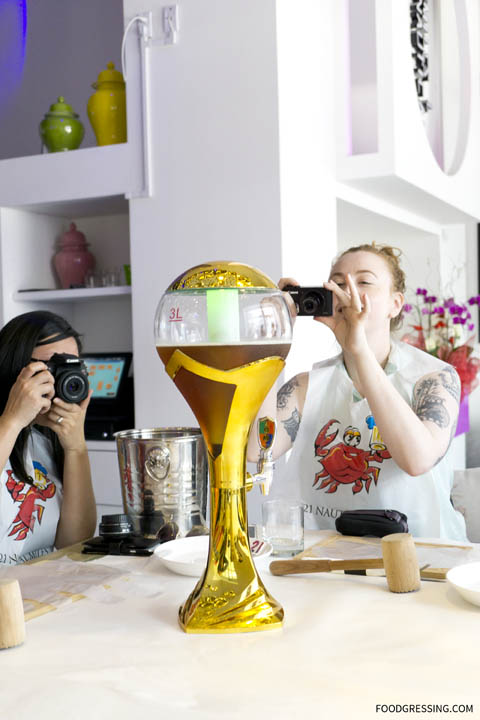 Then, we proceeded to don on bibs, plastic gloves and have our mallet ready in hand to prepare for the Seafood Party – an Asian-flavoured seafood boil which includes crab, mussels, clams, shrimp, corn and potato. Slowly by slowly, large stainless steel bowls of seafood in three different flavours arrived: black pepper, spicy, and garlic butter. With much anticipation, the seafood was poured out onto the table with respect to their "flavour" pile. At that point, it was every person for him or herself as we each grabbed our share of seafood from the piles. This was messy business to eat, but definitely worth getting dirty for (and not just your hands).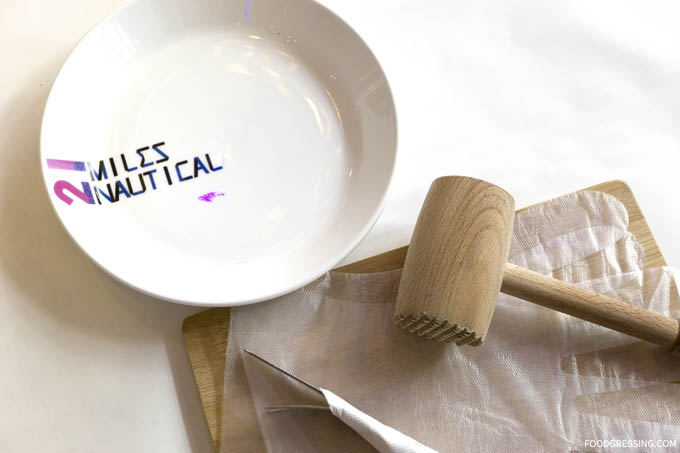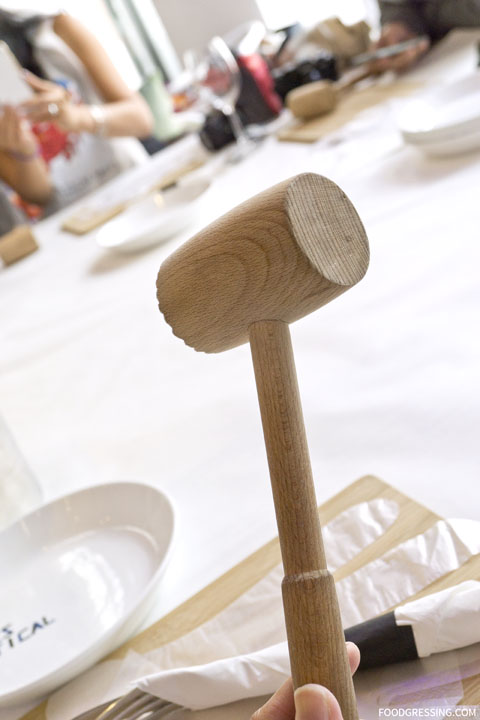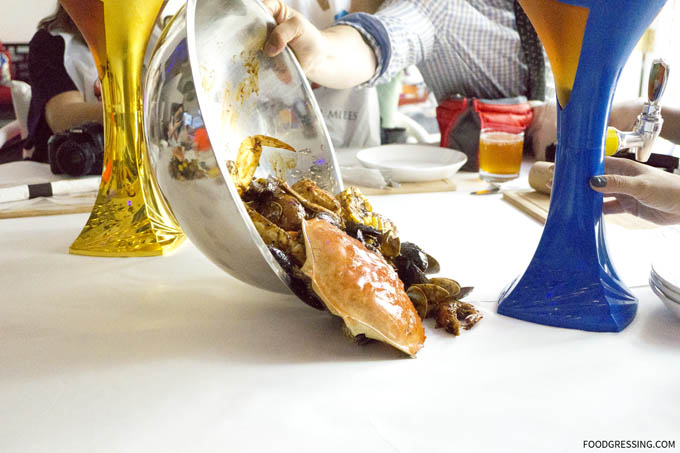 I enjoyed the garlic butter the most but if you love a good kick the spicy flavour doesn't disappoint. The seafood quality seemed good overall but I especially enjoyed the sweet, juicy corn. The least desired items were the potatoes so perhaps they might consider omitting it from the boil. Given the portions and quality, I thought that the regular price of $38.95 per person (with a two person minimum) was reasonable.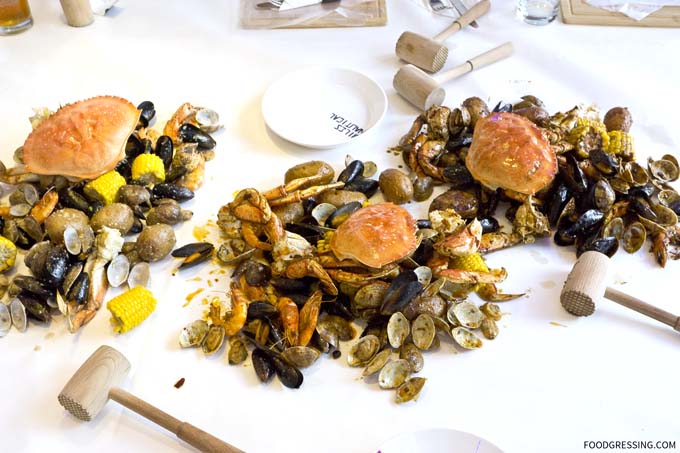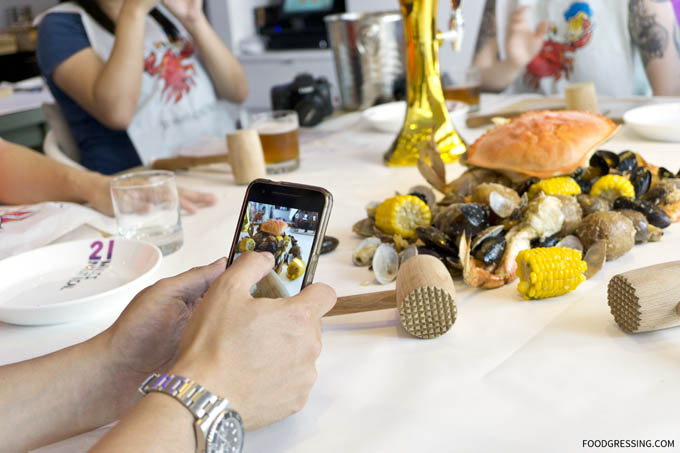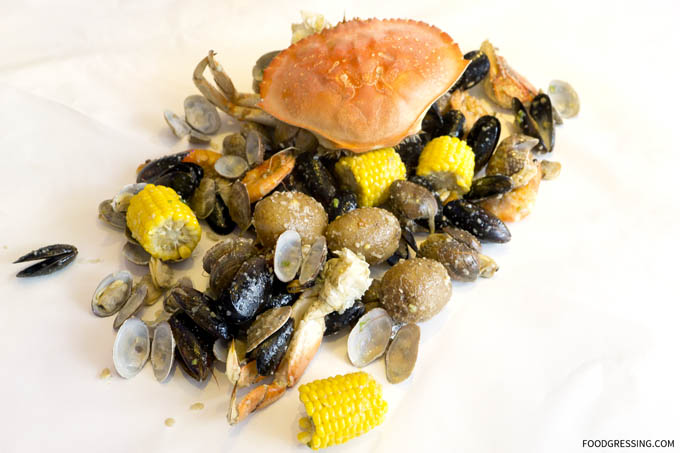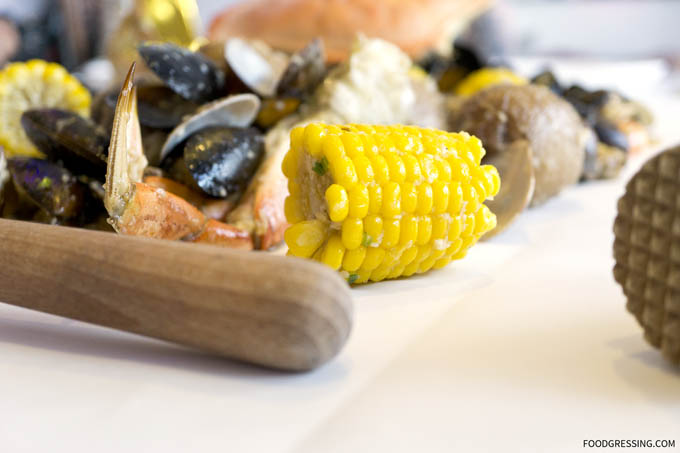 Check out the video by Chinesebites.com on us eating the seafood:
The Golden Fried Pepper Salt Calamari had a light, crispy batter with tender pieces of squid. Nicely seasoned with pepper and salt.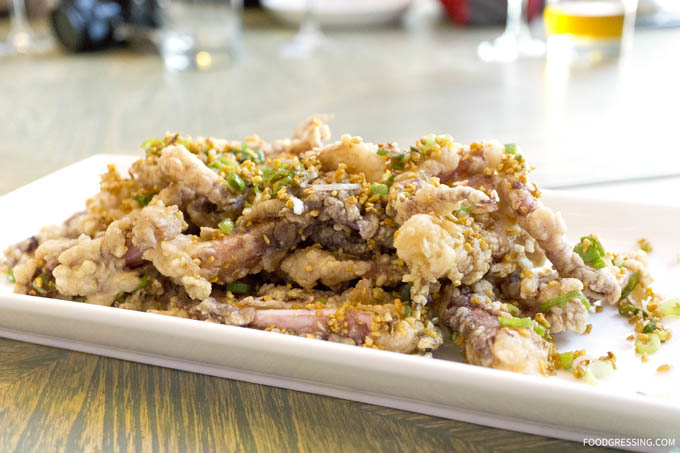 The Chinese Pork Burgers had a rich and seductive aroma of slow-cooked pork with Asian sauces. The taste met my expectations as well: a little sweet and savoury with juicy, tender pork.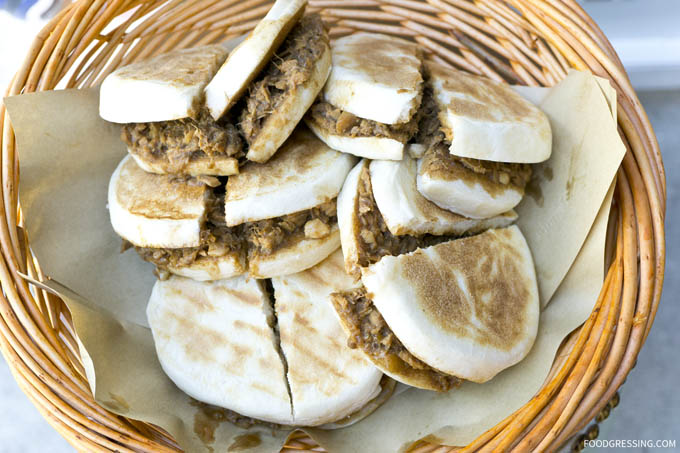 The House Spicy Spot Prawns was beautifully arranged though not very memorable in terms of taste. It was just mildly spicy so don't expect a good kick out of it.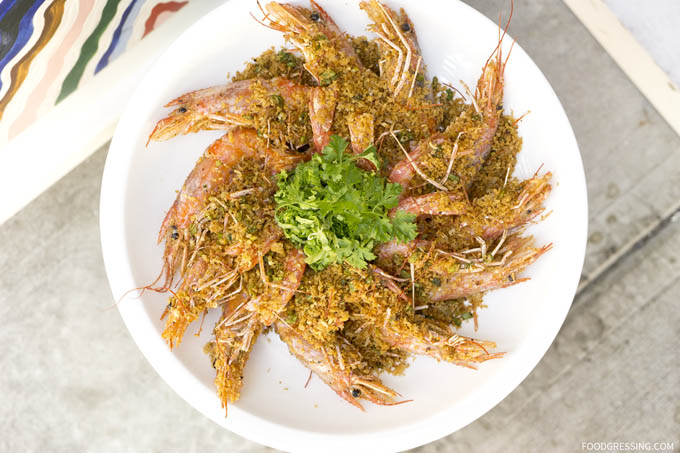 We tried assorted skewers including cumin-flavoured lamb and beef, chicken satay and 48-hour braised pork. Some night-market favourites here but these were well-executed for restaurant-style. Good flavours and not too chewy texture for the meat. I'm a die-hard lamb skewer lover and 21 Nautical Miles' version did not disappoint.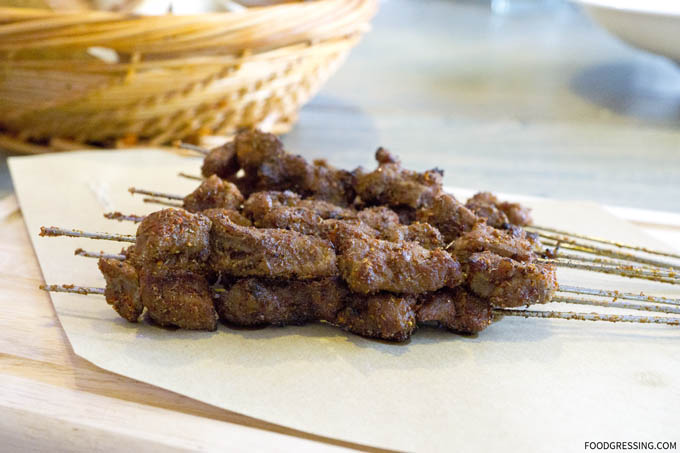 One very fatty tender piece of braised pork indeed!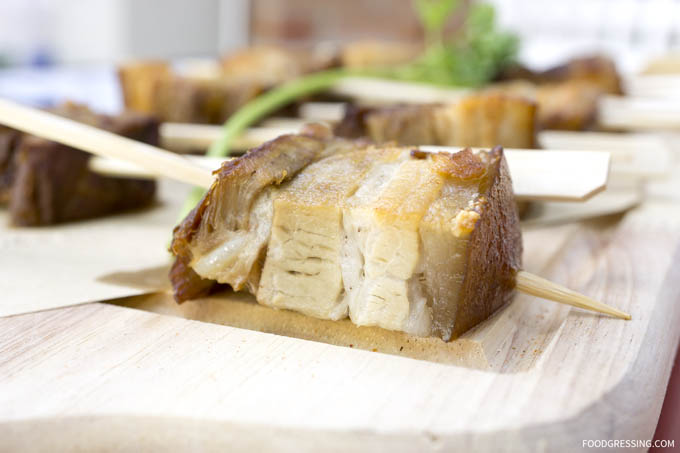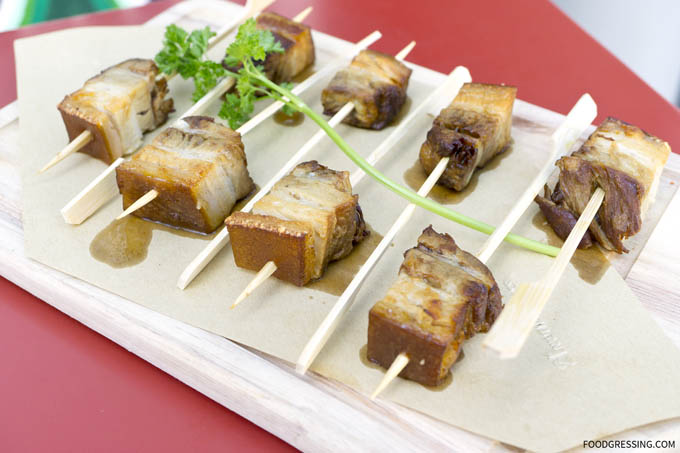 With the Grilled Oysters with Cheese, the oysters are served half cooked. A comforting dish with melted cheese.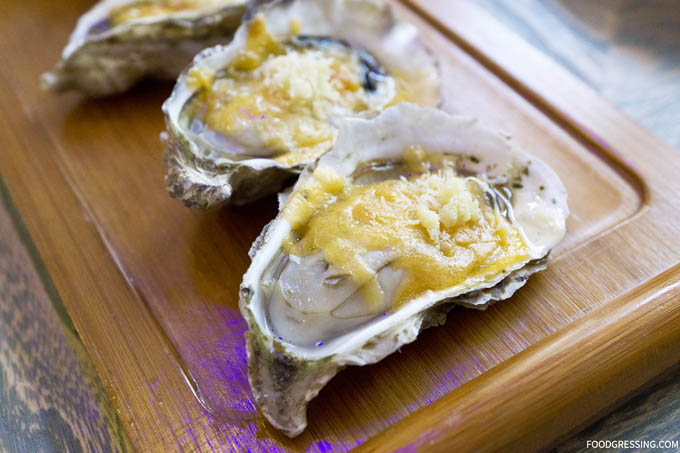 The Herbal Coconut Mussels came in a rich, creamy coconut broth. A good conservative dish though nothing to write home about.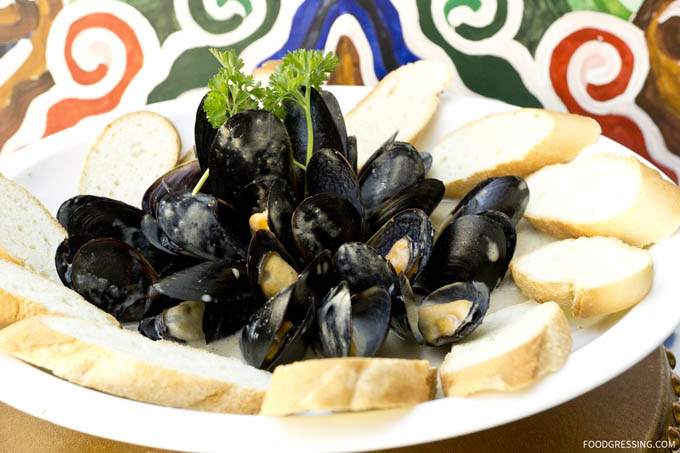 I was quite enthralled with the Garlic Steamed Lobster Tail. The lobster was juicy, tender, slightly sweet and meaty. All that and baked with cheese makes it a winner in my books.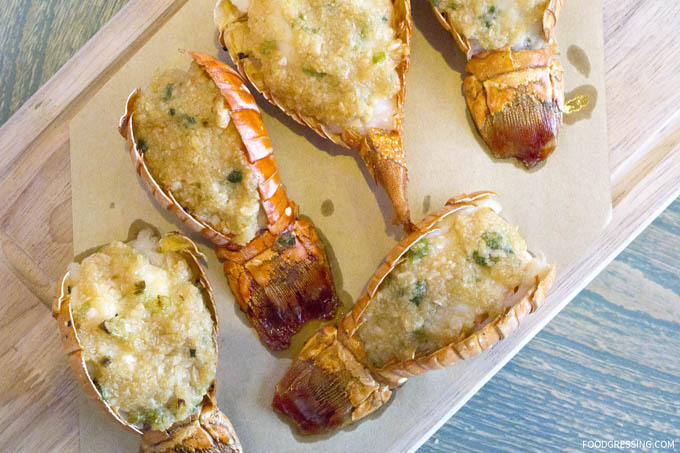 The Abalone with House Special Sauce tasted mainly of the hoisin sauce. I appreciated that the abalone texture was nicely soft and tender.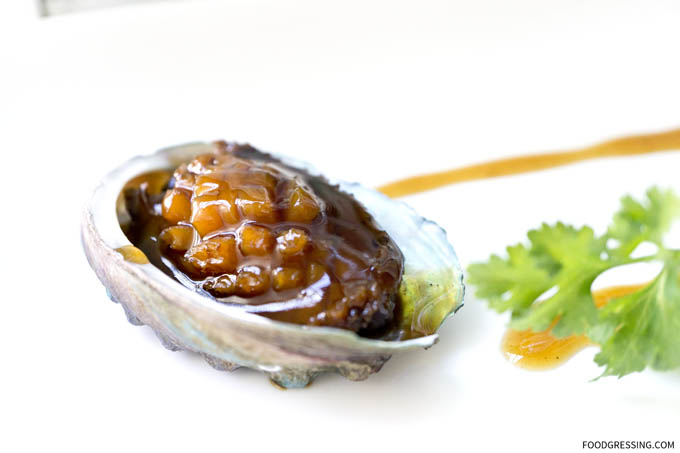 To finish off, we had the Mango Thousand Layer Cake. It was an elegant cake consisting of alternating layers of thin crepes and light pastry cream with a single middle layer of mango. Paired with vanilla ice cream, this dessert was a beautiful end to our meal.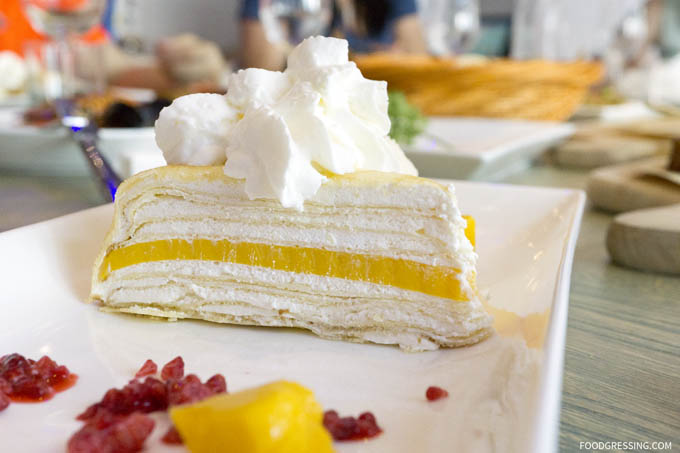 Overall Impression of 21 Nautical Miles
I feel that the main appeal of 21 Nautical Miles is the Asian-style seafood boil. It's a fun, delicious, get-down-and-dirty kind-of-meal to be enjoyed in a good company. The Golden Fried Pepper Salt Calamari, Garlic Steamed Lobster Tail, Skewers and Mango Thousand Layer Cake were my favourites. There is a lot of potential here and they make an unique addition to Yaletown's dining scene. Rating: 3.5/5
Website: 21nauticalmiles.com