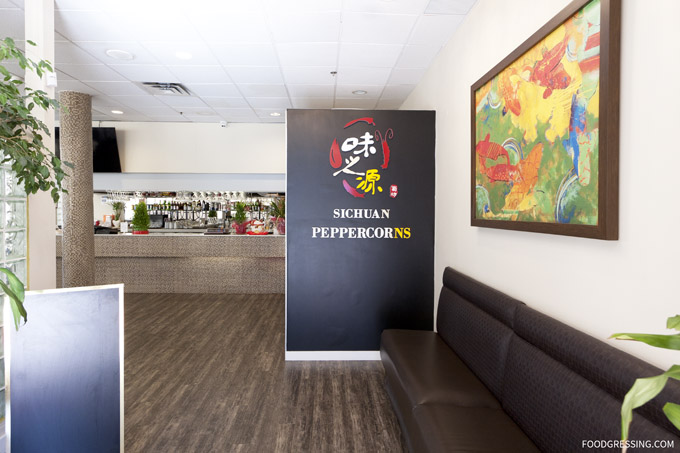 If you are a lover of authentic Sichuan style cuisine, you might consider visiting Sichuan Peppecorns. They opened up earlier this year just a block away from West Broadway and Oak in the now-closed Pondok location. Sichuan Peppercorns is a Sichuan-style seafood restaurant, specializing in both traditional and creative takes on Sichuan cuisine. They are currently open daily for lunch time dim sum and dinner.
Eating with Sichaun Food Lovers
My husband, Xingji, grew up in Northern China but his family regularly would have Sichauan food at restaurants. He and I have not been to a restaurant in Vancouver serving specifically Sichuan cuisine but we have eaten Sichuan dishes at Chinese restaurants like Peaceful and the Crystal Mall food court stall Ba Shu Sichuan Foods. Xingji has consistently remarked that the Sichuan dishes we have tried are not close to the authentic flavours.
Recently, our friend, Melissa, was in town for her PhD thesis defense. I proposed that we go for dinner at Sichuan Peppercorns since she is also a fan of Sichuan food (even though she is Caucasian).
Spacious and Bright
We arrived at 5 pm for dinner and were the first people inside. The restaurant is very spacious and bright.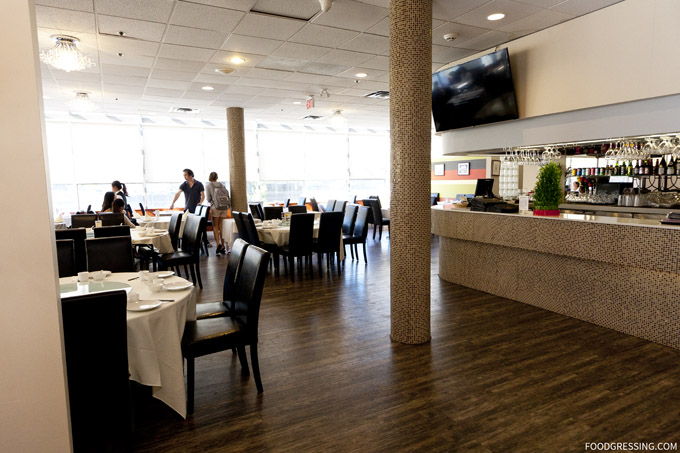 What We Tried
We ordered the following dinner items:
Sichuan boiled fish ($29)
Minced pork with tofu in spicy sauce ($12)
Green onion pastry ($9)
Steamed rice ($1.50 per bowl)
Orange juice ($3.00)
Chocolate gelato ($5.50)
Having attended a media tasting just prior to this dinner, I was very full. Furthermore, I am not really a hardcore chili lover. I went to Sichuan Peppercorns mostly so that Xingji and Melissa could indulge in some fiery spicy dishes. So, my review of the spicy dishes is based on sampling and comments from Xingji and Melissa.
Sichuan Peppercorns has live seafood so our tilapia was freshly boiled. At $30, the dish seemed a bit pricey considering tilapia isn't an expensive fish. Furthermore, Sichuan boiled fish is one of the most common dishes in Sichuan cuisine. When it did arrive at our table, it appeared in all its fiery glory. The vermilion broth was definitely not so innocent, being loaded with dried chilies, Sichuan peppercorns and chili bean sauce. Someone was about to get a good kick in the seat from the heat.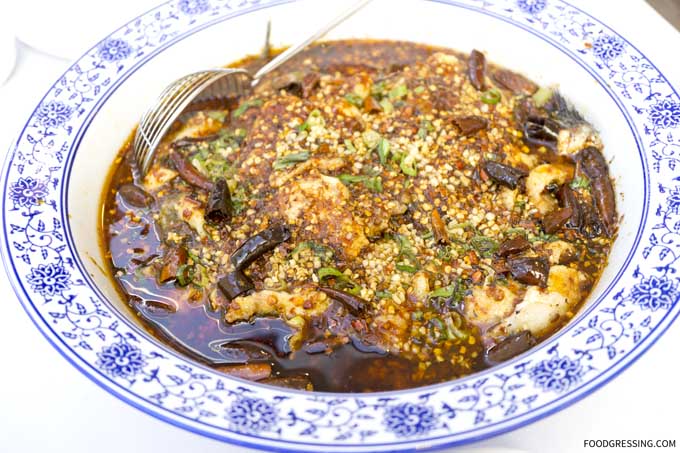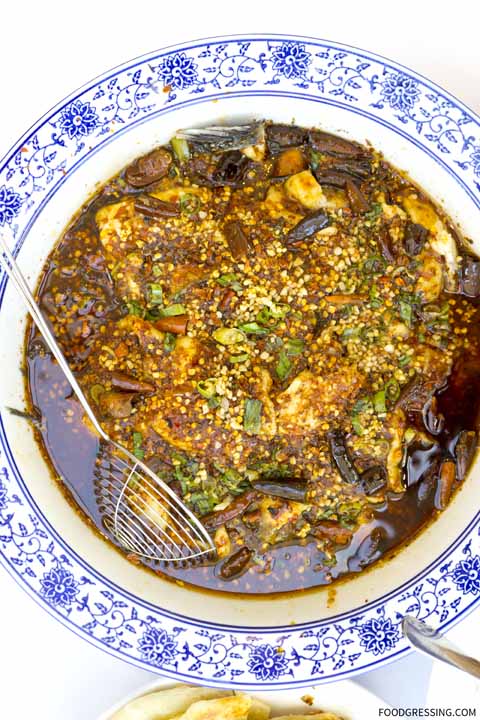 Xingji and Melissa started on the fish, and I watched their faces as the spices got to them. And you know what? They loved the dish with all its authentic flavours. The slender fish fillets were poached and tender. I sampled a bit of the dish and got my dose of the heat (oh-my-gosh, not for me). This is the real deal.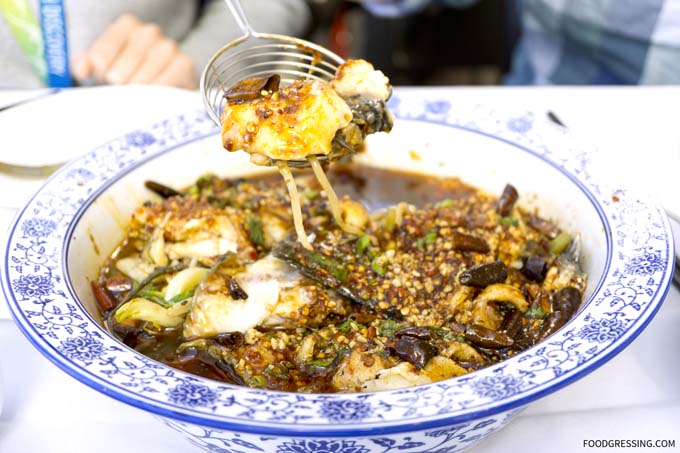 The minced pork with tofu in spicy sauce (but more famously known as mapo tofu) also did not disappoint. Pillowy soft squares of tofu, ground pork in a fragrant thick, spicy and sweet sauce with honest-to-goodness pork fat. Sichuan-style droolworthy.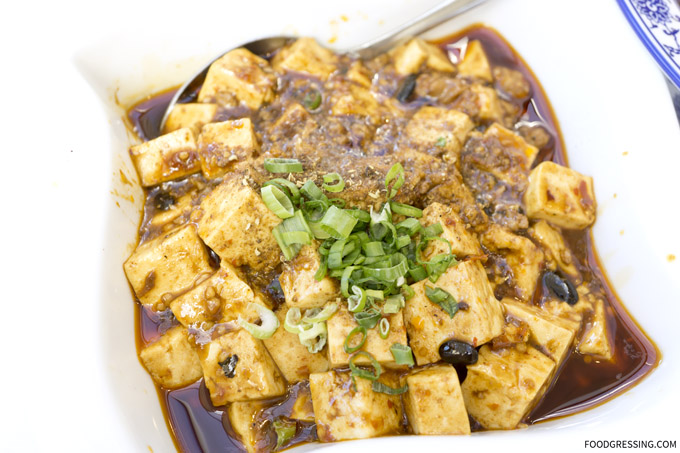 The green onion pastry was a good reprieve from all the spiciness. It was chewy, flaky but also oily. This flatbread went well with the Sichuan boiled fish and mapo tofu.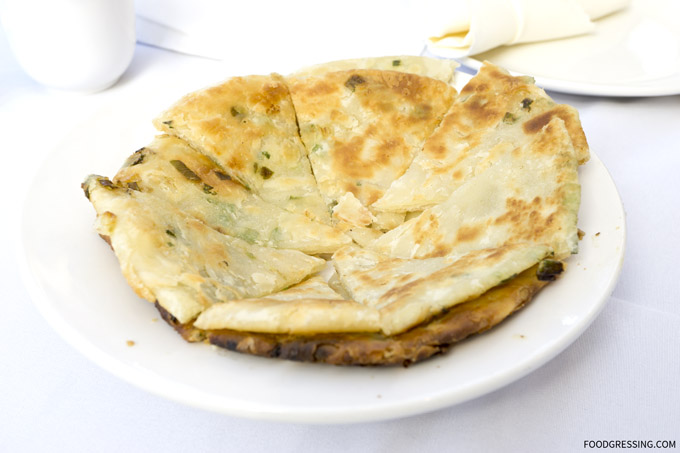 To refresh ourselves from the heavy dishes, we shared a dessert by Mario's Gelati. It was a rich hazelnut ice cream shaped like a pear and dipped in dark Belgian chocolate with torrone pieces. The menu description said, "enough to make grown men weep." I agree. The chocolate exterior with torrone bits was so wonderfully crunchy while the ice cream was just heavenly. This was the absolutely perfect finish after a spicy meal.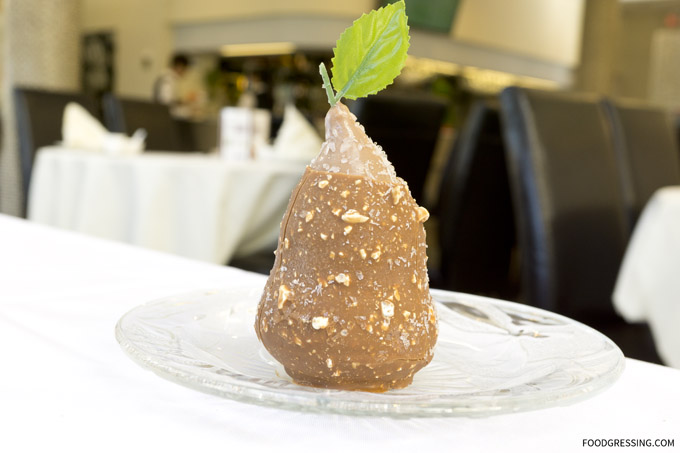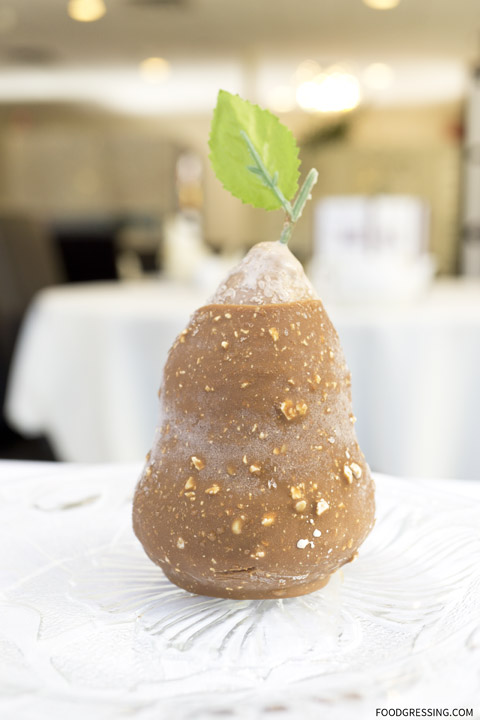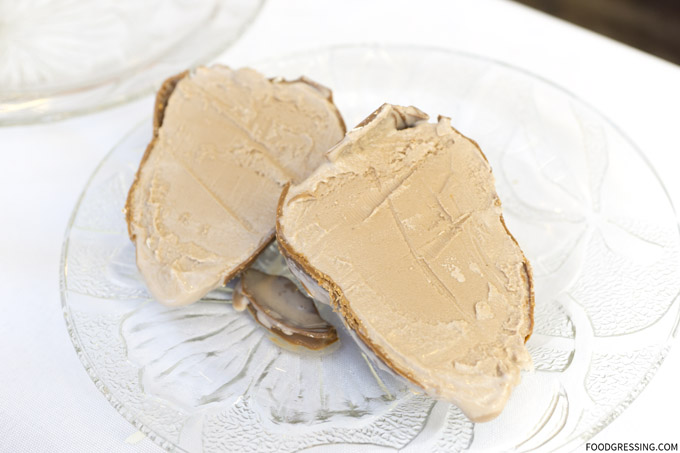 Neither of the spicy dishes were finished so we end up quite a bit of leftovers. Nevertheless, Xingji and Melissa felt satisfied from the meal.
Service
Service was friendly but could have been a bit more attentive. Nevertheless, I thought the service was better than a typical Chinese restaurant in Vancouver.
Overall Impression of Sichuan Peppercorns
All in all, Sichuan Peppercorns delivers closely authentic Sichuan flavours. I would be interested in trying out their dim sum sometime. Rating: 4/5
Website: www.sichuanpeppercorns.ca