I'm a fan of the Northern Chinese eats from Peaceful Restaurant having been to the West Broadway and Davie (though called New Peace Restaurant now but same menu).  I generally find the food hearty and comforting particularly on a cold or rainy Vancouver day.  Peaceful Restaurant is known for their noodles that are hand-made in house which be ordered as hand-dragged (long, round and softer) or blade-sheared (wide, flat and chewy).  They were also featured on Guy Fieri's "Diners, Drive-ins and Dives" on the Food Network so you will notice his face on their front-door sign.  I visited Peaceful Restaurant twice lately and this post reflects on experiences during both visits.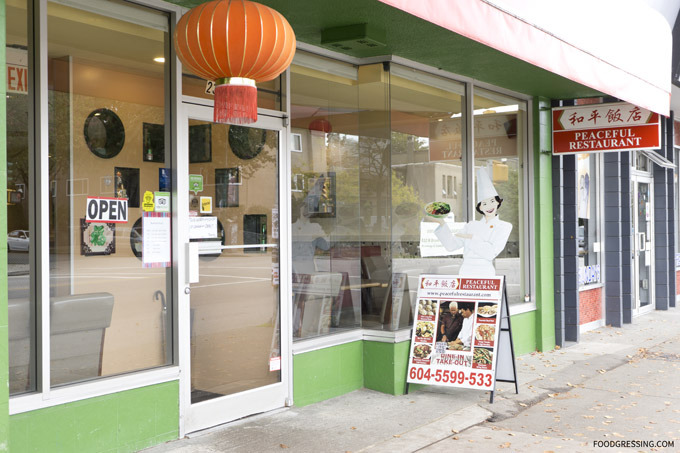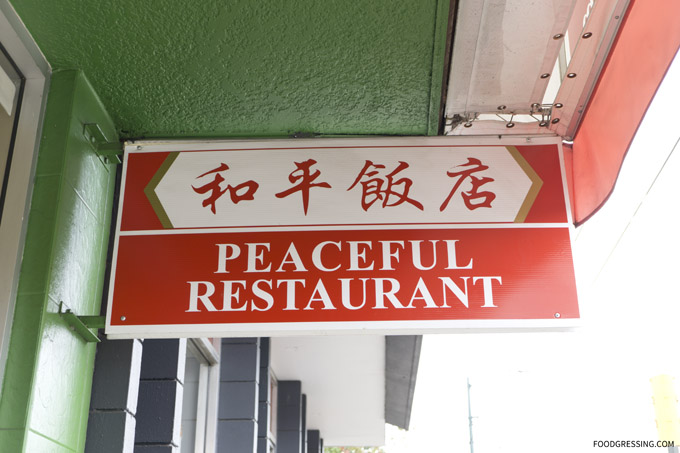 Spacious Eatery
One thing that sets the Kitsilano location apart from the others is that it is more spacious, bright and clean.  The West Broadway is very narrow and cramped, and the Davie interior is not nearly as modern.  Peaceful Restaurant on West 4th has ample booth and table seating in a more modern, cleaner space.  It also has a more relaxed vibe as well.  I have not been to the Mount Pleasant location yet, but this Kitsilano one is my definite favorite so far.
Peaceful Restaurant Menu
Peaceful Restaurant serves up a variety of dishes including stir-fried noodles, soup noodles, dim sum, and meat, seafood and vegetarian dishes.  Their focus is on Northern style Chinese food but I would describe some of their dishes as non-region specific (eg, house rice, beef and tomato rice).  A look at the menu shows that most dishes are between $8 – $15.
What We Tried
On our recent vists to Peaceful in Kitsilano, my husband and I ordered lamb and pork dishes.
Lamb dishes
We tried two cumin lamb dishes which were both fragrant and wonderfully spicy.  I really loved the cumin lamb stir-fried noodles ($12.95) served with peppers.  The noodles were slightly chewy and they went well with the flavours of the cumin lamb.  The lamb pieces were nicely tender.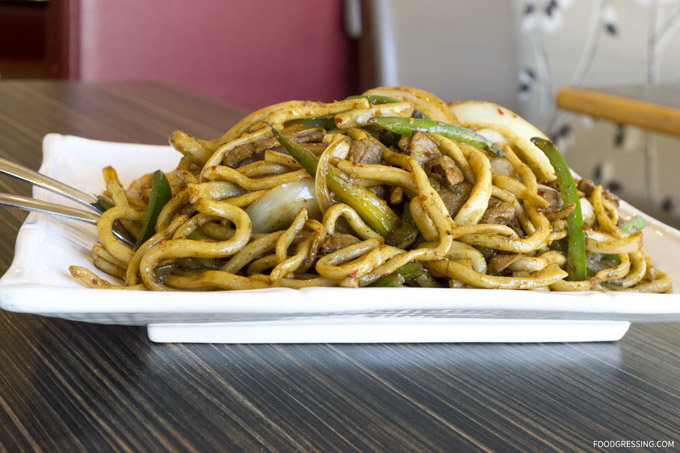 The Xing-Jiang cumin lamb ($14.95) with green peppers, crushed cumin and chili flakes was similar in flavour to the cumin lamb stir-fried noodles.  The chili flakes gave it some punch.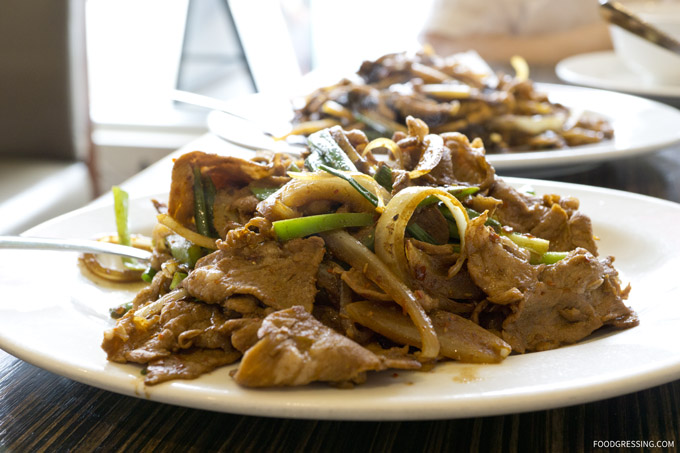 We also tried the Xi'an white lamb stew ($8.95), which I previously had at the Davie location.  I really love how hearty the stew was with the lamb pieces, diced flat-bread, napa cabbage, woodear mushroom and cilantro steeped in the broth.  There wasn't a disproportionate amount of flat-bread unlike my previous experience.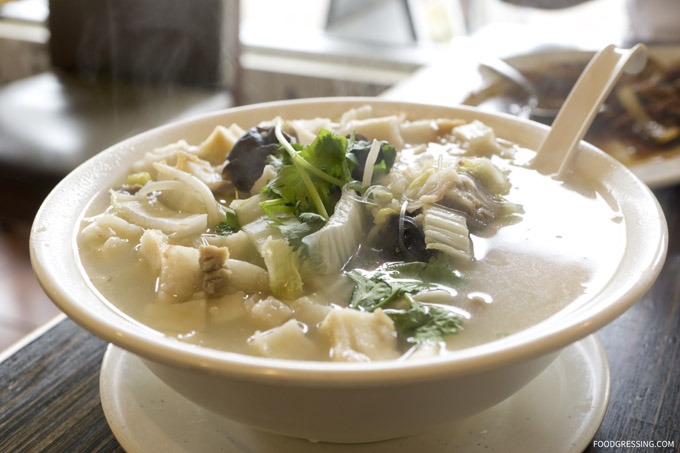 Pork dishes
The pork dishes were tasty but I have to say that I enjoyed the lamb dishes more.   The spicy pork and garlic stems ($12.95) was good though not too memorable.  The taste was on the sweeter side and it was mildly spicy.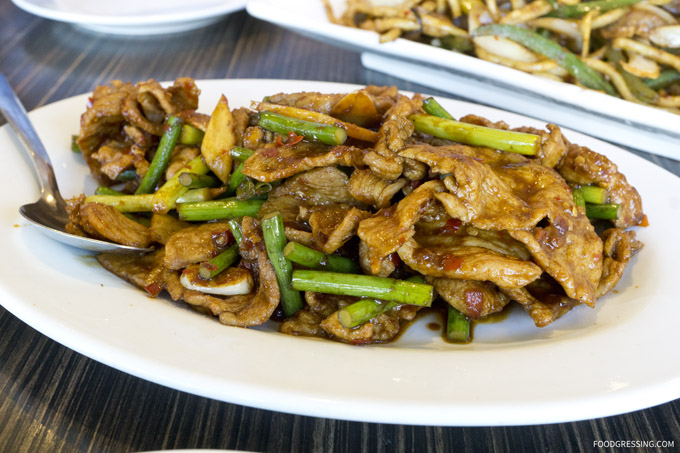 The chili-garlic sauce shredded pork ($11.95) is a dish that my husband loved to eat while growing up in Northern China.  It is stir-fried with shredded woodear fungus and bamboo.  The way Peaceful restaurant made it was too sour most likely from too much vinegar.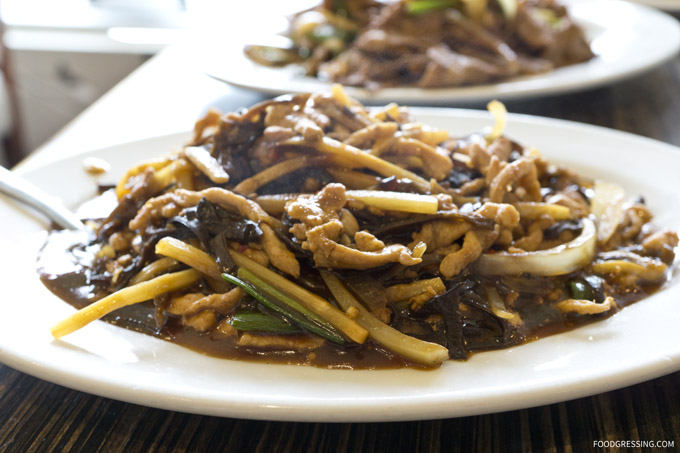 Healthy Rice
It does seem a bit odd to comment on rice at a Chinese restaurant, but the rice at Peaceful Restaurant is rather healthy and delicious.  In fact, it is a mixed grain rice of purple, brown and white rice with millet as well.  This mixed blend has a grainier texture compared to smooth white rice.  I would recommend trying it.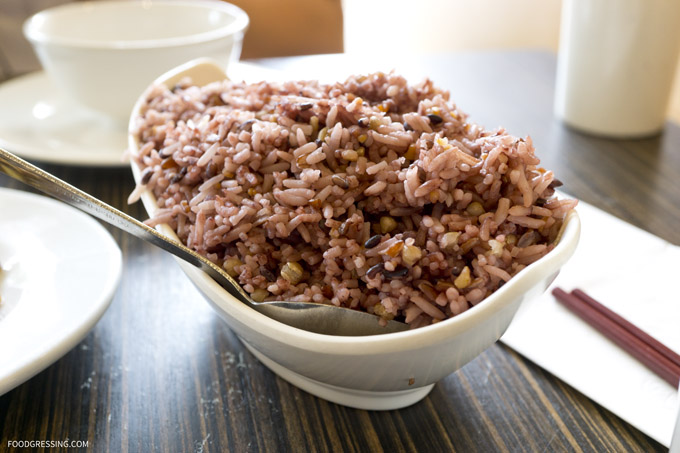 Service
The service was prompt and friendly.  The servers at the West 4th location defintely seem less rushed than the West Broadway location.
Overall Impression of Peaceful Restaurant
I generally enjoy the flavours of the food at Peaceful Restaurant.  The cumin lamb dishes are my favourite and I would love to order them again.  The mixed grain rice is a healthier alternative to white rice and I would recommend ordering it to with dishes.  The Kitsilano location is more spacious and modern than the other locations.  The vibe is more relaxing and the staff are more personable too.  Rating: 4/5
Website: http://www.peacefulrestaurant.com