Located inside the Crystal Mall food court, Ba Shu Sichuan Foods serves cheap and cheerful Sichuan-style fast food. They offer two or three precooked items plus rice boxes as well as made-to-order dishes.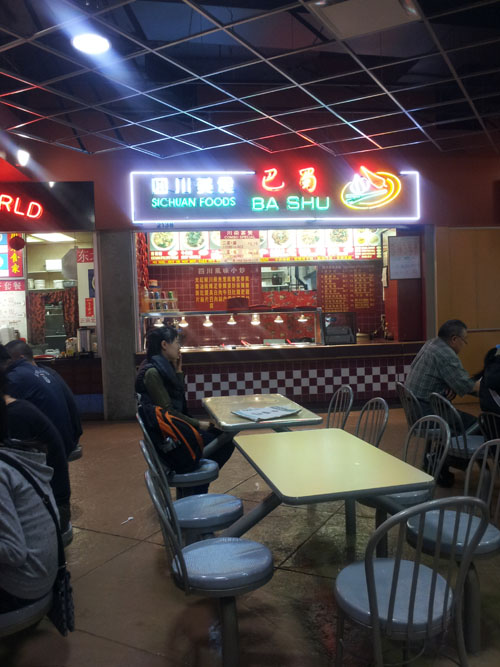 Back Then (2012)
I first visited them in 2012 when I had a two item plus rice dish. At that time, I had eggplant and firm tofu as the two entrees. Kinda salty and kinda greasy, it was pretty much as good as it given the price. In terms of spice level, it was pretty spicy though nothing close to the authentic Sichaun cuisine spiciness level.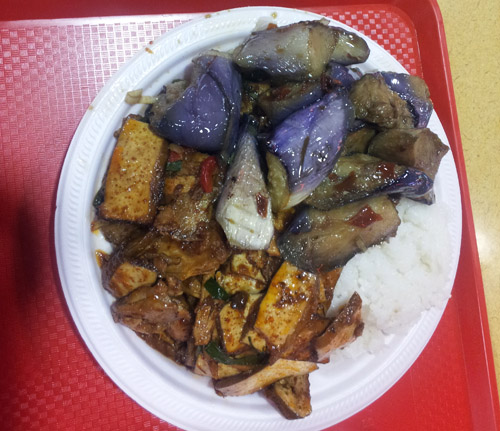 Now (2016)
Fast forward to 2016 and Ba Shu Sichuan is still in business (which is great for a fast food stall!). I recently revisited them for an early dinner prior to doing some shopping at the public market. The regular price for two precooked items plus rice is $7.00 and $8.00 for three items. The dinner special is a good deal which is three items for $7.00. I guess they prepare the pre-cooked items for lunch and need to get rid of them by the end of the day. Hence, the dinner has a special deal.
The three items that I had were eggplant, cumin lamb with firm tofu and celery, and soft tofu. The entrees were still greasy and salty. However, they were noticeably less spicy from what I had before. The eggplant was still decent and the cumin lamb had good flavour. The soft tofu was the biggest disappointment because it was rather bland.
Overall Impression of Ba Shu Sichuan Foods
For $7.00, the three-item plus rice dish is okay. It's definitely filling but kind of greasy and salty. Their food has a little spicy kick but nothing to set you on fire. The eggplant dish and cumin lamb were okay and I would reorder them again. Rating: 3/5