Cherry blossom season is now full swing in Vancouver. To celebrate this beautiful time of the year, Lucky's Doughnuts is offering a limited edition Sakura doughnuts. These doughnuts are offered now until the second week of April or until they run out ingredients.
The Sakura doughnuts are classic-filled Bismarcks infused with Japanese Sakura blossoms and filled with house-made sweet red bean paste. They are topped with strawberry-sakura glaze, matcha meringue, and a mini sakura blossom shortbread cookie. Priced at $5.00 each, the Sakura doughnut comes in a bright pink, custom-designed box.
In a press statement, Lucky's Doughnuts co-founder Colter Jones noted that the doughnuts are produced in limited quantity due to the supply of salt-packed sakura blossoms imported from Japan.
Now for the taste test…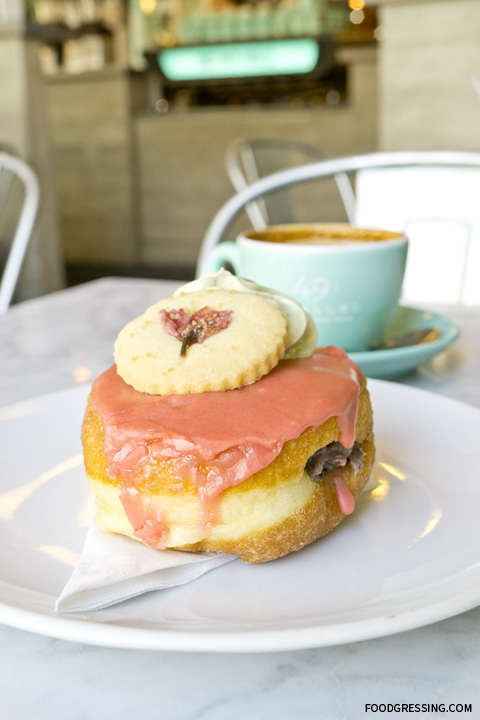 I ventured to 49th Parallel Coffee Roasters for lunch yesterday and managed to get a Sakura doughnut. Apparently, they sell out quite early in the afternoon.
The Sakura doughnut, like all of Lucky's doughnuts, is a sugar-infused and happiness-inducing creation. The mini sakura blossom shortbread cookie was light and buttery. The matcha meringue had a nice matcha flavour and the strawberry-sakura glaza was very sweet.
As a red bean lover, I was quite disappointed with the red bean paste filling. First of all, it wasn't smooth but rather very chunky with actual red beans in it. The red beans were hard and could have benefited from being soaked a lot longer. I just wasn't a fan of this chunky red bean filling. I was expecting a traditional smooth red bean filling like in a Chinese red bean bun.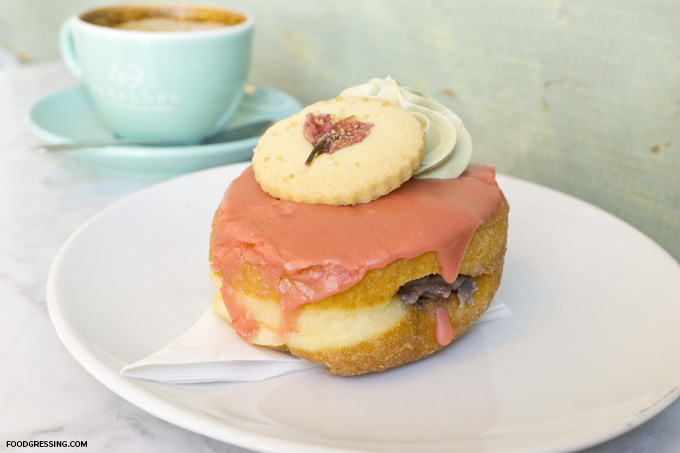 On the other hand, the Earl-grey lavender glazed doughnut with custard filling was very good. On top was a candied lemon zest. A smooth creamy filling – just the way I like it.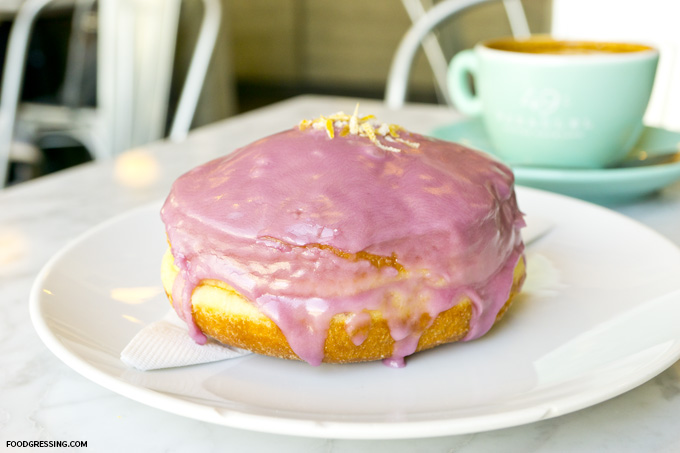 Overall Impression of the Sakura Doughnut

Unfortunately, I think that Lucky's Doughnuts missed the mark with the Sakura doughnut. The actual red beans in the red bean filling were just too hard and crunchy. The Earl-grey and lavendar one on the other hand was very good – I would recommend it.