Poké is the latest food craze in Vancouver and poké eateries are popping up left and right with only more to come.  One new Vancouver poké spot that has been luring foodies is Pokérrito located at 558 Dunsmuir.  This unique eatery not only offers poké bowls, salads but also poké burritos!  It's definitely fusion at Pokérrito where culinary elements from Hawaii, Japan and Mexico are combined.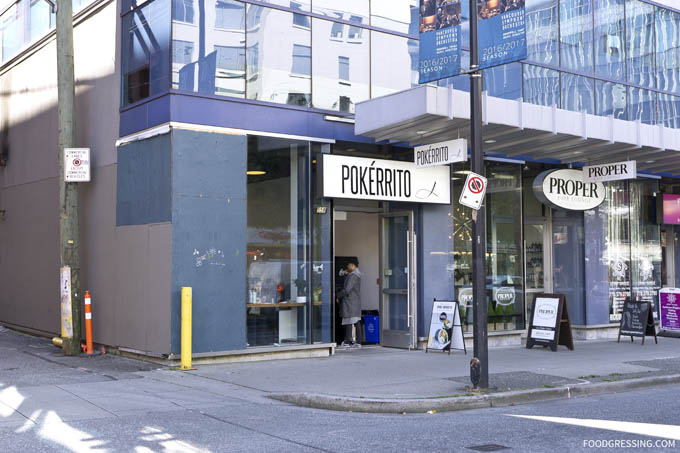 This week, I visited Pokérrito with two of my favourite foodies, Jess and Hanson.  It was a farewell luncheon for Jess who is moving from Vancouver to bigger and more amazing things in this world.  While Jess is a blogger in her own right, she is also known in Vancouver for being a staff writer for food at Daily Hive.  She enjoyed Pokérrito so much when she was there on assignment that she suggested it as a place for our meetup.  You can find her Daily Hive article on Pokérrito here.
Pokérrito Menu
At Pokérrito, you can enjoy a poké bowl (white or brown rice), burrito (white rice with seaweed wrap) or salad (romaine lettuce).  The meals come in two sizes, regular ($10.50) or large ($12.95), which differ by the number of scoops of protein (2 versus 3).
Signature options include the North Shore, Diamond Head, Waikiki, Hanauma, and Sunset Beach.  You can also build-your-own starting with protein options like ahi tuna, albacore tuna, salmon, scallop and more.  Then choose your mix-ins (eg, kale, cilantro, cucumber), sauces (eg, umami, creamy mayo), sides (eg, crabmeat, seaweed salad), toppings (eg, sesame seed, ginger, masago), and crunchy toppings (eg, crispy onion, mixed nuts).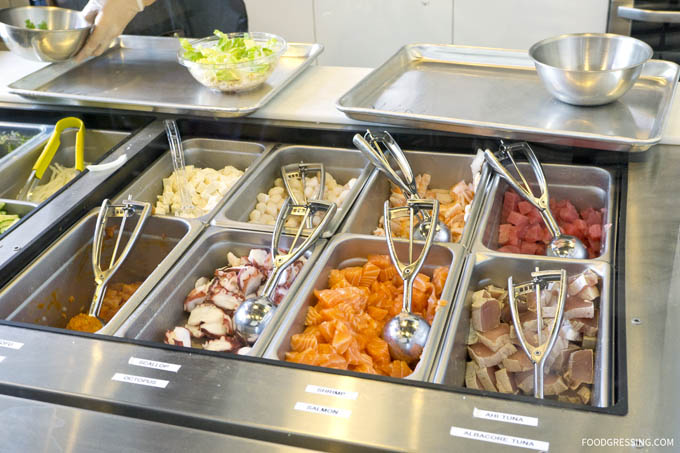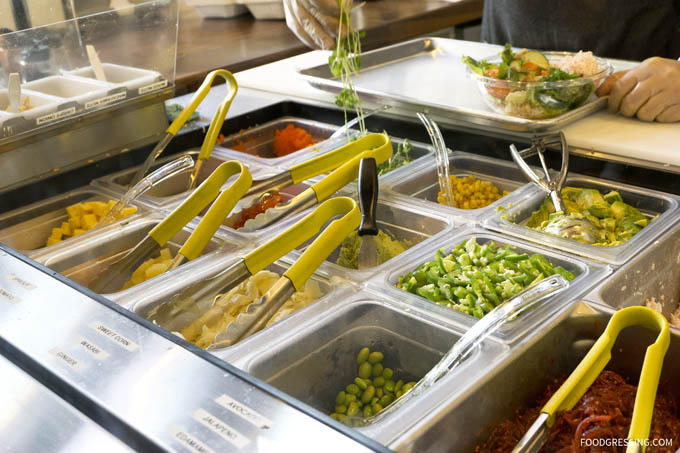 What I Tried
After waiting in line for about 15 minutes, we finally got to the ordering counter.  Hanson opted for the signature Hanauma bowl; Jess built her own bowl; and I went for the North Shore signature bowl.  While building your own option seems like a good idea, I didn't think it was very practical given the line up behind us.  Furthermore, the tall glass barrier between you (the customer) and the server made it difficult to communicate especially since it was rather noisy from the amount of people.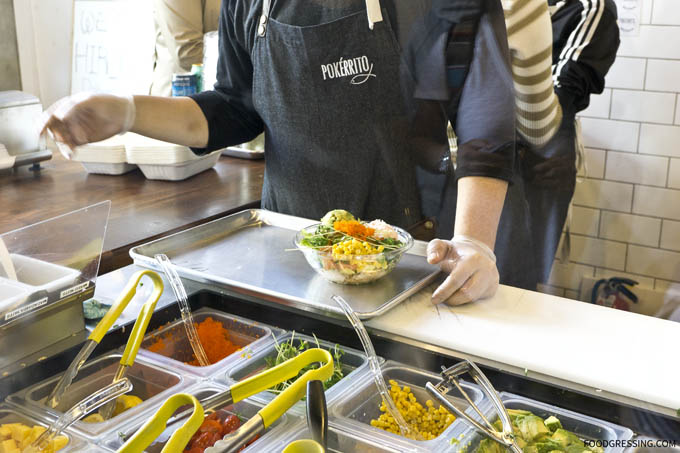 Inside the restaurant, there is counter seating along the wall and near the windows.   However, we wanted to be able to talk and hear each other, so we opted to go to a nearby park.  Grab-and-go seems to be a practical option at Pokérrito.
My North Shore signature bowl had flame seared albacore tuna, green onion, sweet onion, cucumber, masago, lettuce, seaweed salad, crabmeat, pineapple, grape tomato, radish sprout, furikake, and umami sauce on brown rice.  I was really impressed with how everything tasted: delicious and refreshing.  The albacore tuna pieces were seared perfectly and tender.  The amount of imitation crab and masago meat given was more than expected (who needs a California roll, anyway!)  The seaweed salad was very tasty with a nice seasoning and a reasonable "taste of the ocean."  The seaweed was slippery but had a bit of a crunch to them as well.  Great, juicy and fruity flavours coming from the pineapple and grape tomatoes.  The sauce was very nicely umami like its namesake.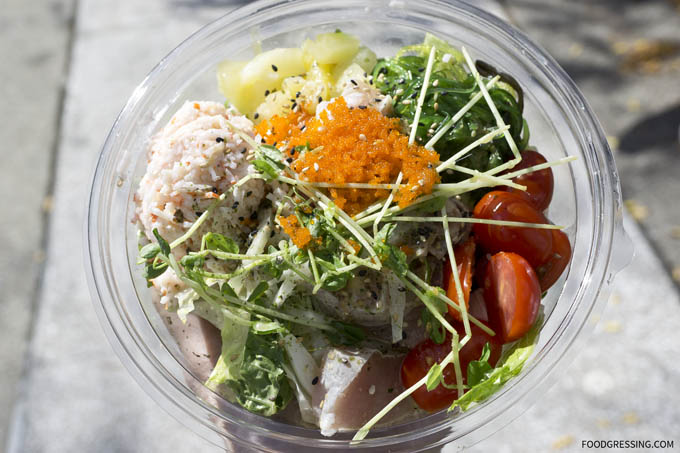 Hanson enjoyed his Hanauma bowl (salmon, green onion, sweet onion, cucumber, lettuce, seaweed salad, crabmeat, masago, edamame, ginger, radish sprout, furikake, creamy mayo sauce).  See his review here.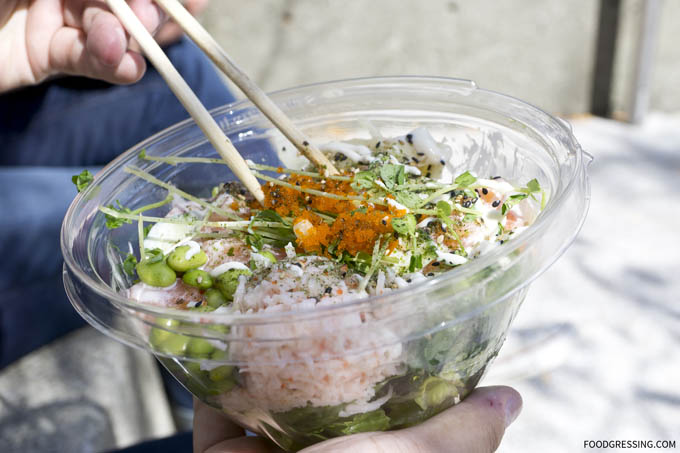 Jess' custom bowl had albacore tuna, avocado, pineapples, sprout and tomatoes - very similar to the North Shore.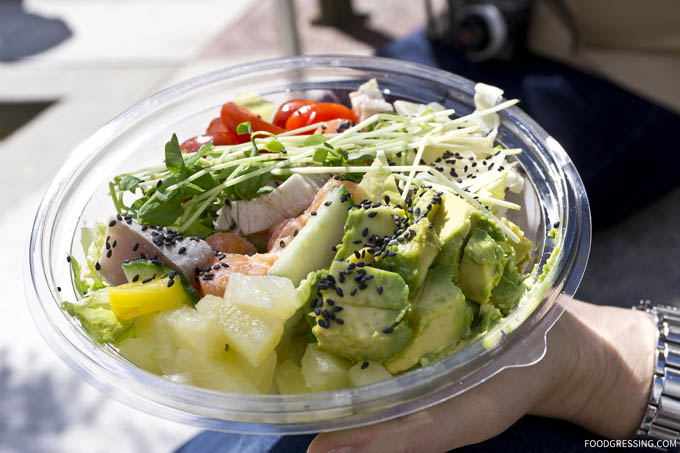 Overall Impression
All in all, the three of us enjoyed our food from Pokérrito.  Delicious, refreshing, light but still filling.  Worth the line-up and great option for a grab-and-go lunch.  Their poké burrito is something I will try on my next visit.  Rating: 4.5/5
Website: www.pokerrito.ca
Other poké restaurant reviews: The Poke Guy, Poke Time, The Poke Shop