International bubble tea chain, Gong Cha, has now opened a location in Vancouver. Located at 386 Robson Street (across the Central Vancouver Public Library), Gong Cha started serving customers earlier this week. Originally from Taiwan, Gong Cha has over 1,200 stores worldwide including Japan, Korea, Australia and the US. In Canada, they have two locations in the Greater Toronto area (Markham and North York).
"Gong Cha" refers to tea that is offered to the Emperor in Chinese Imperial times. And of course, tea for the Emperor is only of the highest quality collected throughout the kingdom. After seeing a social media post about their opening, I visited their Robson shop for my first Gong Cha experience.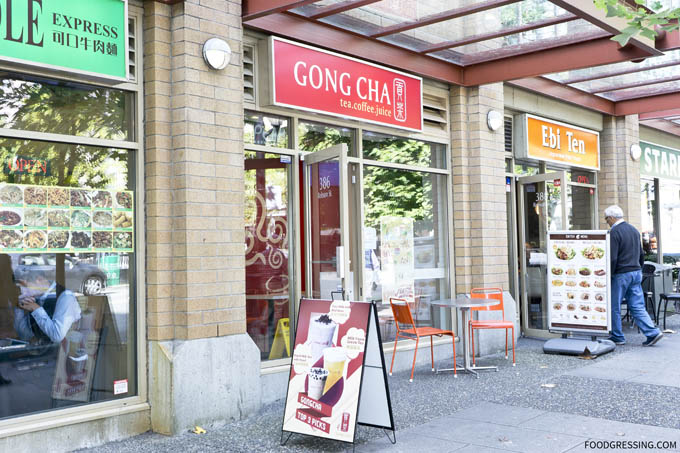 Gong Cha Menu
My first impression of Gong Cha was that they are a "higher-end" bubble tea house because they offer more creative drinks and charge higher prices than a "budget" chain like Bubble World. The Gong Cha menu is organized by series: signature, brew tea, milk tea, creative mix, coffee, fresh milk, and ice smoothies. Drinks come in regular or large ranging from $4 – $6. Their signature series features drinks with milk foam which adds a more complex flavour to the drink with its slight saltiness and sweet milk taste. Salt in small quantities enhances the sweet flavour. Milk foam is also considered to be a healthier alternative to whipped cream.
Topping choices are plentiful at Gong Cha compared to other bubble tea shops. They are $0.50 extra and include milk foam, pearl, white pearl, coconut jelly, red bean, basil seeds, pudding, grass jelly, and ai-yu jelly. You can also customize sweetness and ice levels.
Grand Opening Special
As part of their grand opening special, you can enjoy a drink of any size for $2.99. Toppings are extra. Getting a large drink would be the best value given the promotion.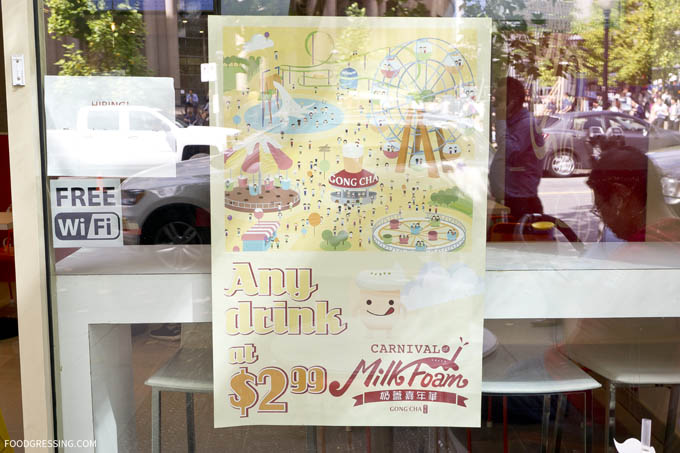 What I Tried
This week, I visited Gong Cha twice with my family and tried the following:
Milk Foam Green Tea with Pearl
Royal Milk Tea with Pearl
Taro Milk with Pearl
Earl Grey Milk Tea with 3 J
Milk Foam Wintermelon with White Pearl
Wintermelon with Fresh Milk and Grassjelly
With the promotion, each drink was $3.49 ($2.99 + $0.50) for the pearls. We went for standard sweetness and ice levels.
On the first visit, I decided on their top 3 picks: Milk Foam Green Tea, Royal Milk Tea with Pearl, and Taro Milk with Red Bean. However, there was some miscommunication on my part so all the drinks ended up with pearls instead of the taro drink having red bean.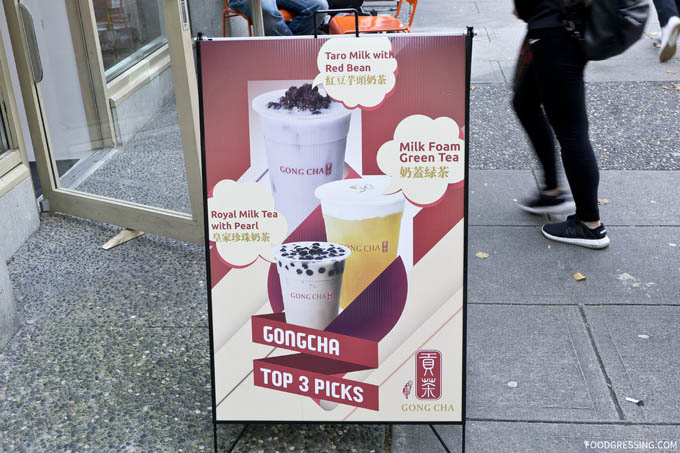 The pearls were not immediately ready and we had to wait 10 minutes. When we tried the drinks, they didn't disappoint. The Milk Foam Green Tea was quite like the macchiato I had from Mr. Mustache in Marpole recently. The milk foam on top is just subtly salty but still milky in flavour. Salt in low concentrations brings out the flavour of the drink and enhances sweetness. The trick to drinking the milk foam tea is to not start off with a straw but gulp it like a glass of water. That way, the tea passes through the milk foam layer and the flavours become richer.
The Royal Milk Tea with Pearl was a solid, classic milk tea with good tea flavour. The Taro Milk Tea had a very good taro flavour and was powder-based plus small chunks of taro. I did find the tapioca pearls to be a bit harder on the outside than I would like, but still reasonable. Furthermore, the pearls weren't sweet at all so it seems that they do not cook them with sugar.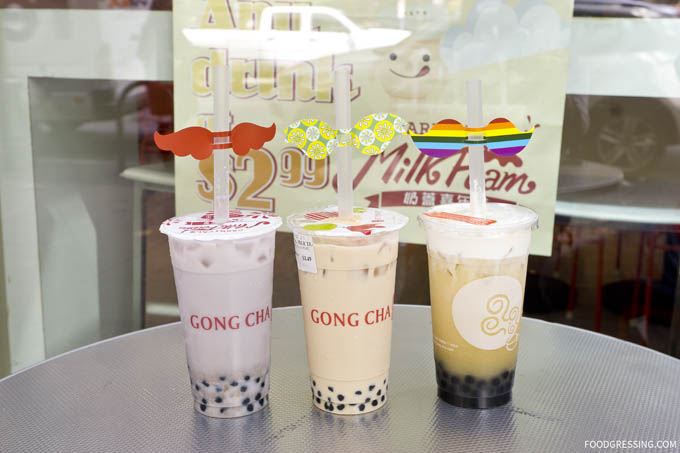 The next day, we went back to Gong Cha again and went for more of the creative drinks. This time, we had the Earl Grey Milk Tea with 3J, Milk Foam Wintermelon with White Pearl and Wintermelon with Fresh Milk and Grassjelly. Wintermelon is quite a unique flavour offered by Gong Cha and I had found out that it was one of their more popular varieties. Wintermelon is usually tasteless but both wintermelon drinks came out light, cool and refreshing. The Earl Grey Milk Tea with 3J was absolutely delicious. The Earl Grey flavour was distinct and I loved having the tri-mix of toppings (pudding, grass jelly and pearl).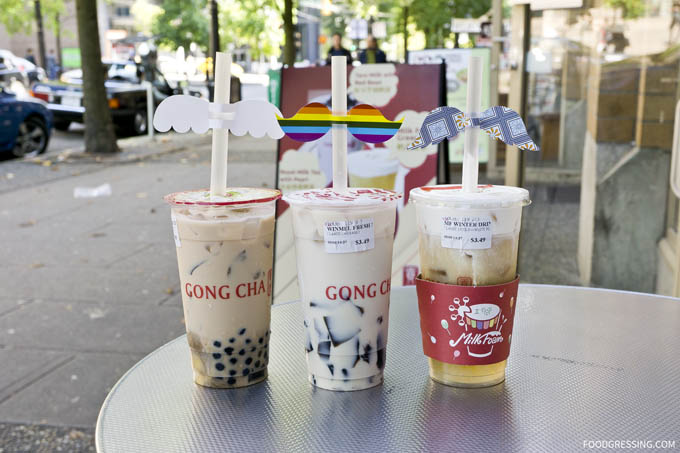 The grass jelly was soft yet firm and was not sweet at all.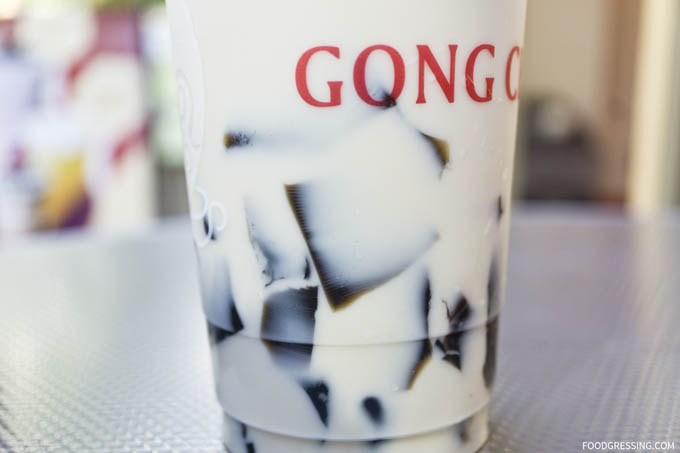 The white pearls were kind of like a mochi. They were my least favourite topping.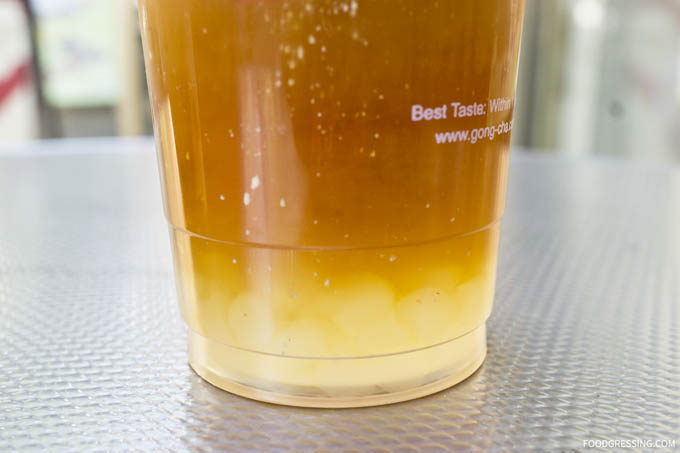 Also you can stylize your straw by adding a colourful mustache.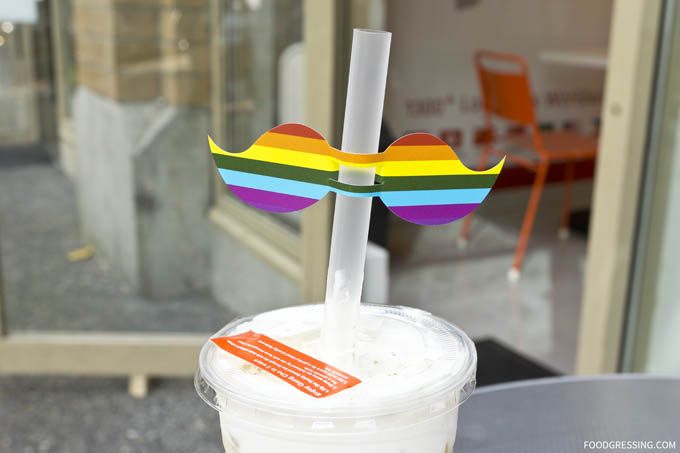 And there is a statement that suggests to consume the drink within 1 hour for optimal taste.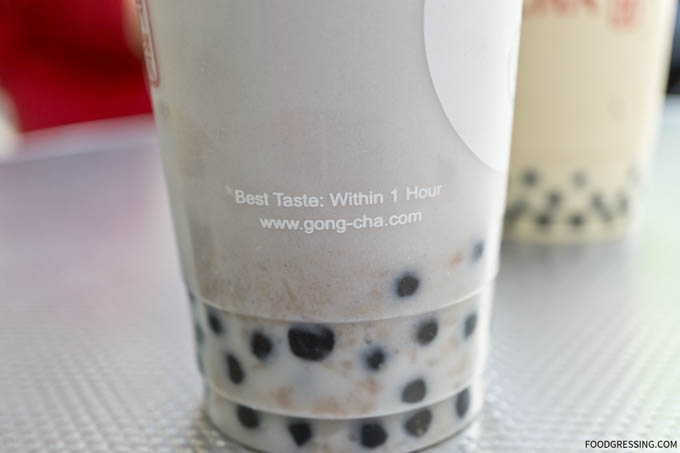 Overall Impression
All in all, the drinks I tried from Gong Cha were quite good in terms of tea flavour, tapioca pearl texture, sweetness and ice levels. While Chatime has been my favourite bubble tea chain, I could easily go with Gong Cha as well. The Wintermelon drinks didn't disappoint but that Earl Grey Milk Tea with 3J has got me returning for sure. Rating: 4/5
Website: www.gong-cha.ca