Newly opened in the Marpole Area is a 3-in-1 establishment – a Japanese grocery store/crêpe and ramen eateries – by the Zakkushi Group. At 8265 Oak Street, you'll find Yoshida Shoten (Japanese grocery store), J Crepe (offering Japanese crepe) and Ramen Raijin Express (offering late night ramen). I had heard about them via Daily Hive and decided to take advantage of their $5 crêpe deal (until Jan 31) to try some of their offerings.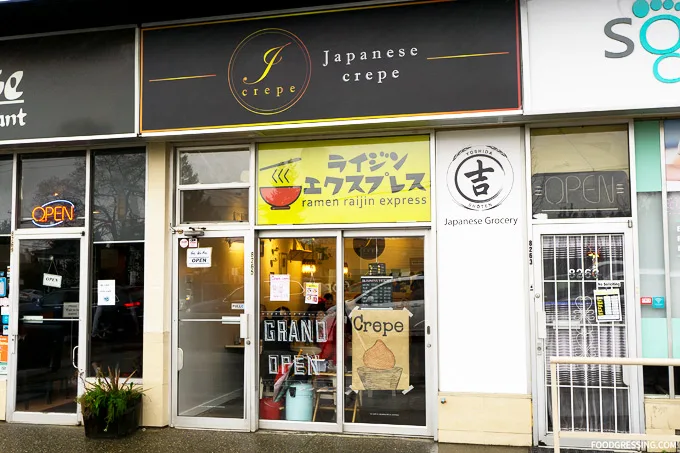 J Crepe Menu
What is unique J Crepe is that their crêpes are made with bamboo charcoal batter. Charcoal is a rather hot wellness trend this year as it is reported to have a detoxifying effect on the body.
J Crepes offers 17 different types of crêpes between $6.50 – $11. Their signature savoury crêpes are the Ramen Raijin (ramen in crêpe) and Brûlée (crème brûlée in crêpe).
Other savoury crêpe options include Teriyaki Chicken Mayo, Bacon & Egg, and Ham & Cheese. Sweet crêpe options include Mango, Strawberry, Matcha (with Matcha batter) and Banana.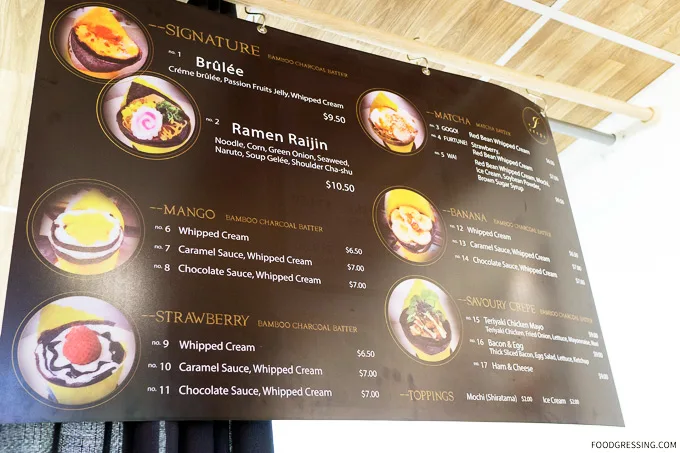 Small, Charming Space
At this new Zakkushi Group establishment, they have Japanese snacks for sale including some in a freezer (like ice cream & mochi). There are just two communal tables for eating in. The potted plants and overhanging industrial lights add to the charm.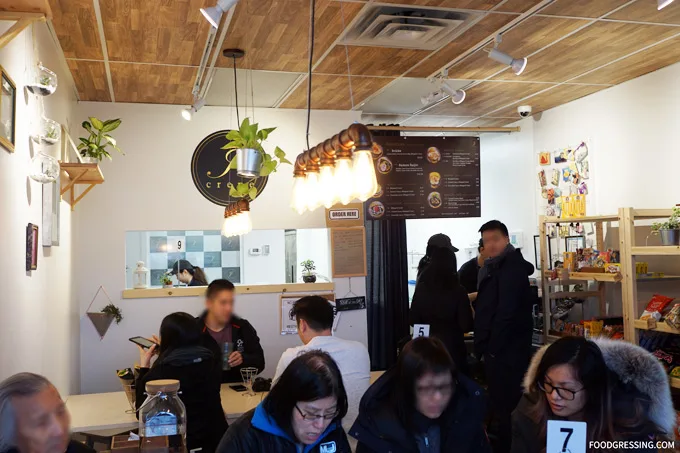 What I Tried
Note: None of the food in this review were complimentary. This review is done anonymously.
The $5 crêpe deals are on until January 31 and apply to all their crêpe items. My husband I tried the Ramen Raijin, FURTUNE! and Brûlée.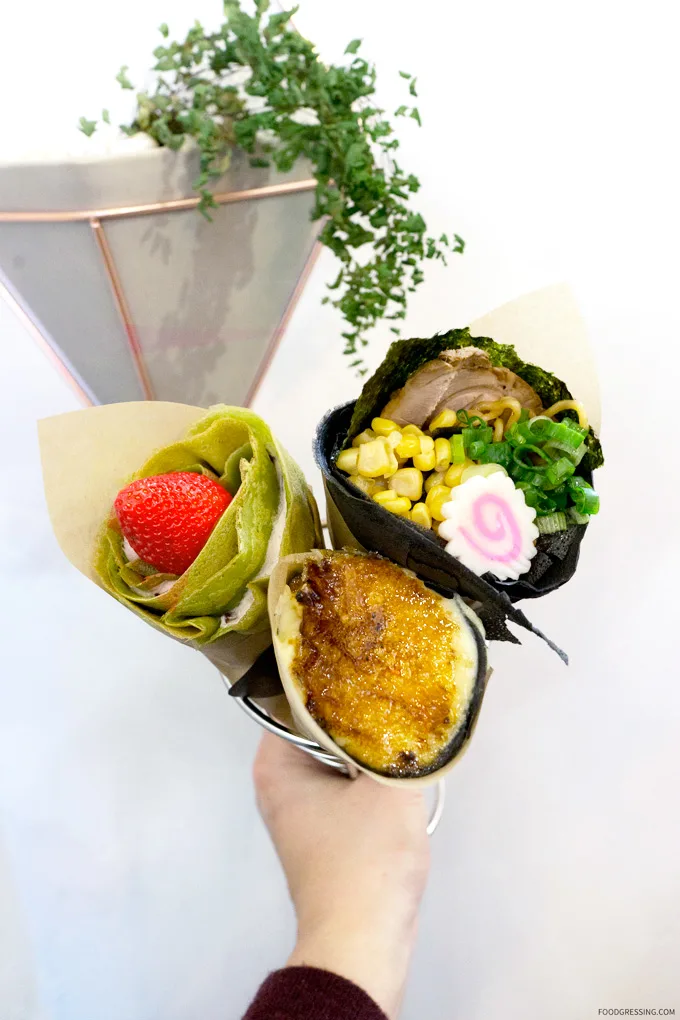 Ramen Rajin Crêpe
Would you like ramen in a crêpe? This is certainly one of their novelty crepe options. It had corn, green onion, seaweed, naturo, soup gelée, and chashu wrapped in a charcoal crêpe. They cook and prepackage the noodles into a plastic wrap until ready for use. Then, they wrap the seaweed, chashu and noodles into the crêpe and then add the toppings. Here is a video I took of the process:
In general, the bamboo doesn't really add much to the flavour of the crêpe. I thought the noodles were hot and the chashu was fairly tender. The corn and green onions seemed fresh which is a nice contrast to some hard, uncooked frozen corn I had recently in a ramen. It was a interesting, novelty type of crêpe but the overall taste still wasn't as good as a piping hot ramen bowl due to the lack of a "soupiness."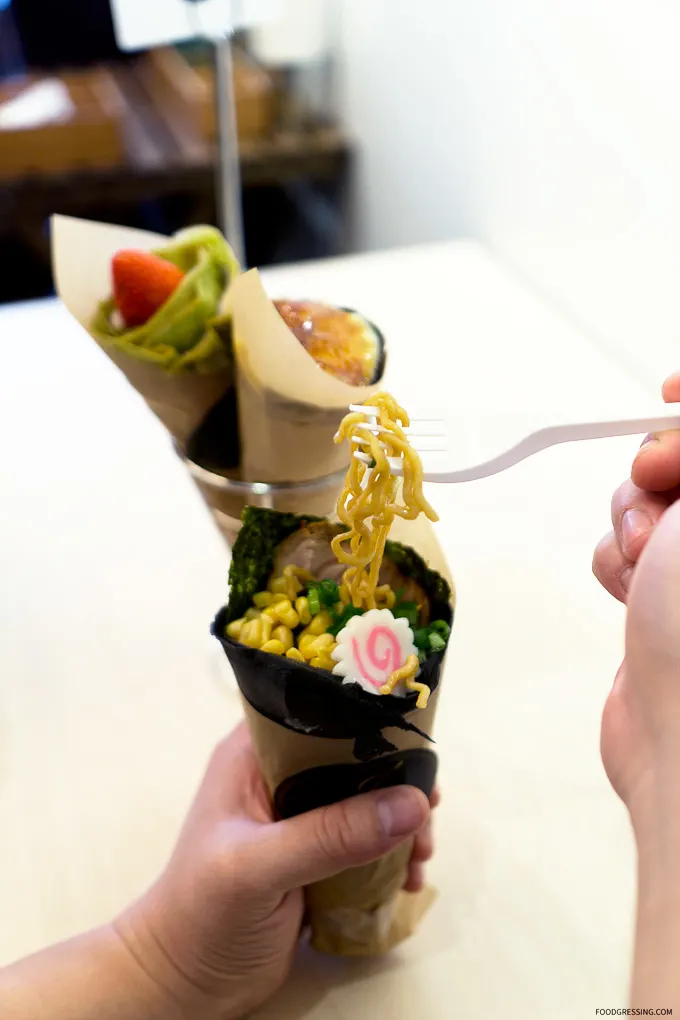 Brûlée Crêpe
The sweet crêpes fared better than the ramen crêpe starting with the Brûlée. It had crème brûlée, passion fruits jelly and whipped cream. The custard was torched on order and I enjoyed the beautifully caramelized top. The custard was also wonderfully smooth and creamy. I would love to have this again.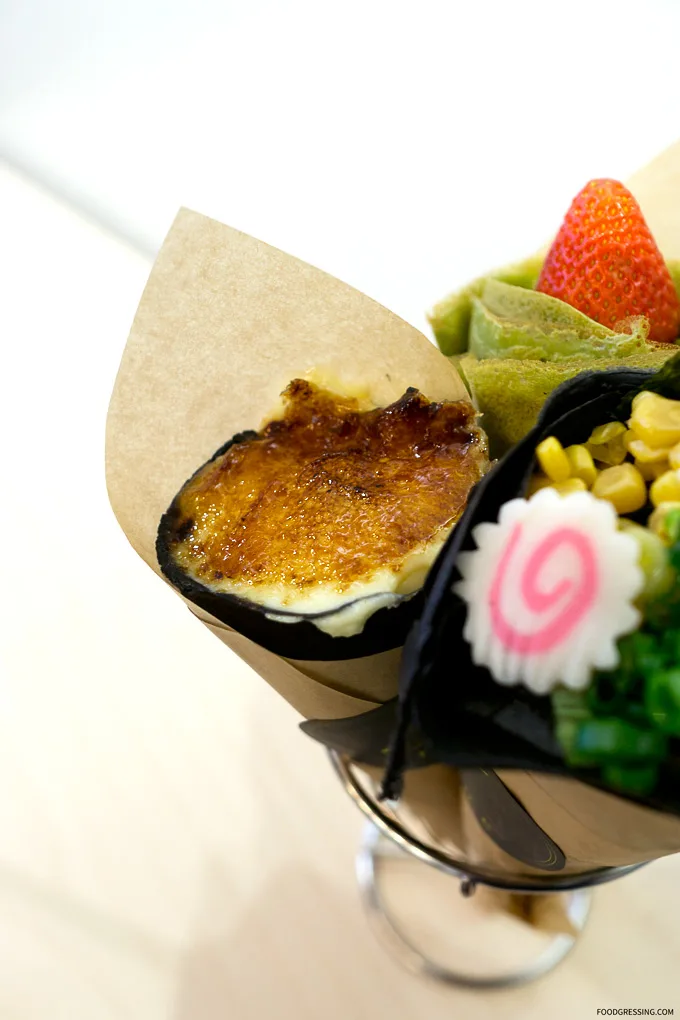 FURTUNE! Crepe
The FURTUNE! crêpe was made with matcha batter and had fresh strawberries and red bean whipped cream for the filling. The red bean whipped cream was the highlight for me. It had just the right amount of sweetness and red bean flavour; I also liked how there were red bean bits in it. I would love to have this again as well.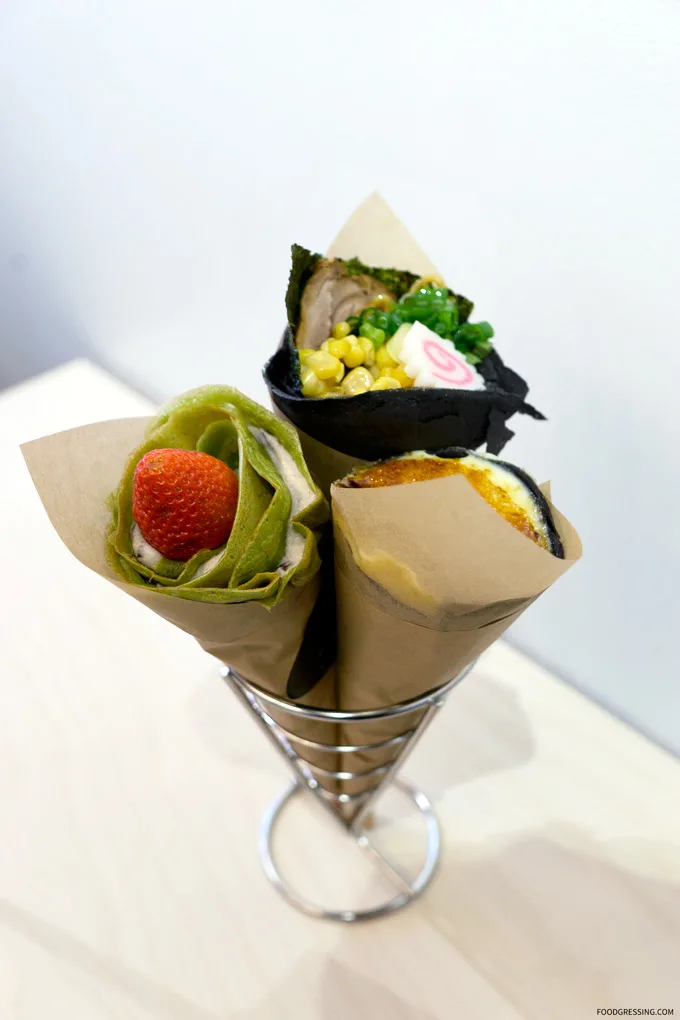 Service
I thought the staff were very friendly despite the busy lineup of customers. They only have one crêpe grill so there might be a bit of a wait but your order. However, staff seemed to be getting the orders out in a reasonable amount of time.
Overall Impression
I didn't enjoy the ramen crêpe as much but the sweet ones were quite good. A good grab-a-crêpe-and-go sort of place that I wouldn't mind revisiting for their sweet crêpes. Rating: 3.5/5
Yoshida Shoten/J Crepe/Ramen Raijin Express
Address: 8265 Oak St, Vancouver, BC
Website: http://zakkushi.com/news/#jcrape‎