A while back, Scout Magazine had conducted a poll of best ramen houses in Vancouver. My two favourite places, Marutama and Ramen Butcher, ranked first and second place. But rounding out the top 10 was Menya Ramen, one of the older ramen houses in Vancouver which is located along the Broadway-Cambie Corridor. I hadn't been to Menya before but have tried two other ramen houses in the same area (Hokkaido Santouka and Benkei Ramen). After seeing it being named on Scout Magazine's list, I was eager to try Menya Ramen out. The opportunity came up when a few friends and I were still hungry after an event so we decided to wrap up the evening with warming, comforting bowls of ramen.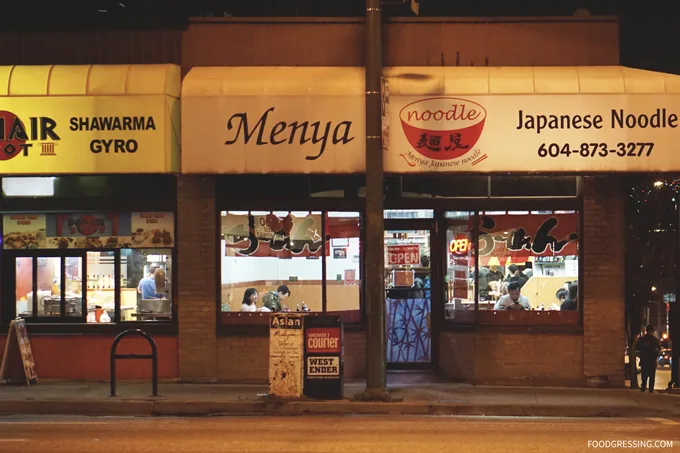 Note: None of the food in this review was complimentary. This review is done anonymously. Opinions are my own.
Minimal & Rustic Interior
Menya Ramen seemed like a humble, hole-in-the-wall sort of place. The interior was modest, minimal but with some rustic influences particularly the wooden stumps used as stools. It seemed like a stark contrast to the contemporary dining space of Hokkaido Santouka just two blocks away.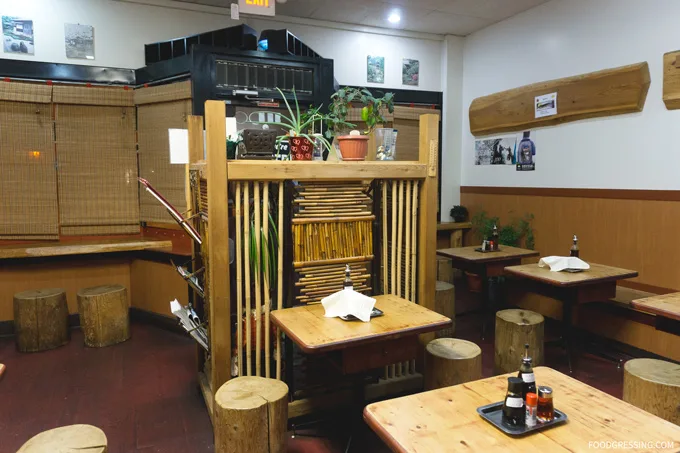 Menya Ramen Menu

Menya specializes in Tonkotsu style ramen featuring thick, milky pork-bone broth. Their house specialty ramen is the Nagahama Ramen which has pork bone soup with special soy sauce seasoning. Other ramen varieties offered include Tonkotsu Miso, Nagasaki, Shoyu, and Veggie Miso. On the menu also are Udon, Don (rice bowls), Bento Boxes and sides like gyoza, rice balls and salads. Customers can choose the noodle thickness (thin, regular, thick) and type (udon, soba, rice). The main dishes are essentially $10 or less which appears to be a lot more affordable than other ramen houses where I have spent almost $20 for a single bowl of ramen.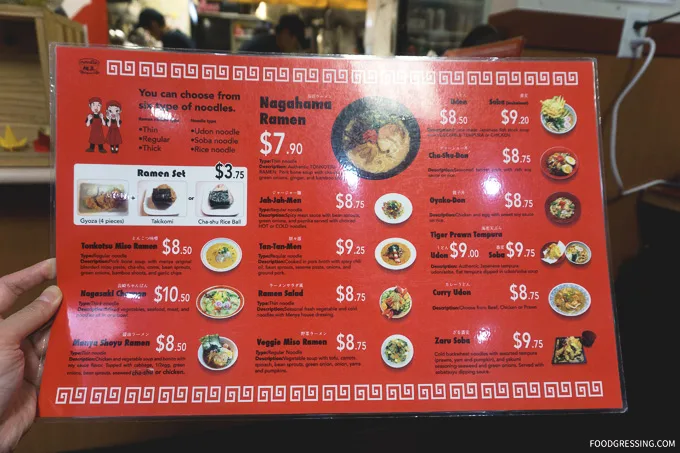 I also noticed that the toppings were a lot cheaper compared to other ramen houses. I like to get extra corn which cost $0.50 at Menya. At Santouka, I have actually paid $2.20 (eek!).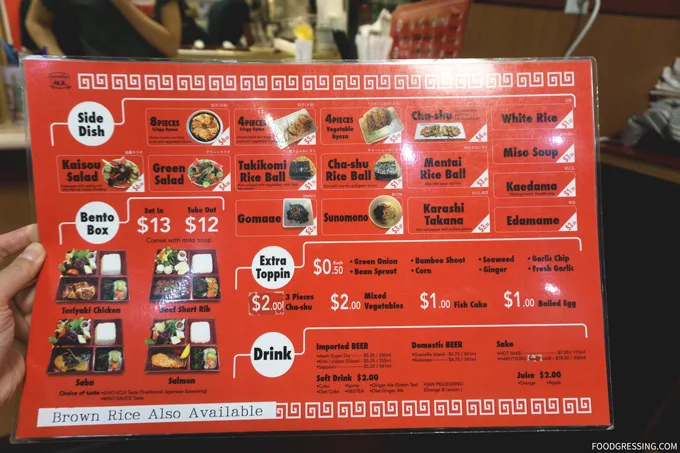 What I Tried
I went with a Tonkotsu Miso Ramen ($8.50) with extra corn ($0.50). It took less than 10 minutes for the bowl to arrive after putting in the order. The bowl was wonderfully hot when it came to the table. I chose thin noodles and found them to reasonably al dente. The broth was mildly flavourful, fairly creamy, but too salty. One friend concurred that her broth was too salty for her liking as well. It was the kind of salty where you know you'll be drinking a lot of water for the rest of the night.
My other disappointment was the corn. Now I really love corn with ramen and really appreciated that Menya Ramen charges only $0.50 for an extra topping. However, the corn they gave was not sweet at all and hard! Really poor quality and perhaps too old? It made me wish I brought my own canned corn to the shop. Portions were very reasonable for the price but the quality of the ramen (and corn) just didn't quite meet my expectations.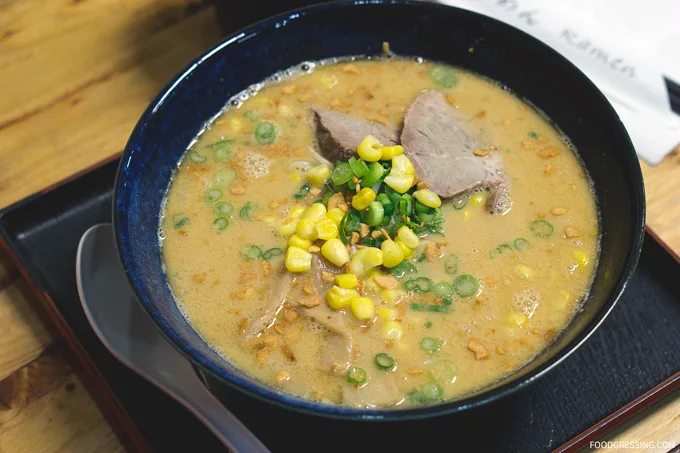 One friend had the Nagasaki Chanpon, which is the most expensive ramen on Menya's menu ($10.50). It had quite a mix of ingredients including vegetables, seafood, meat and noodles – all in one bowl!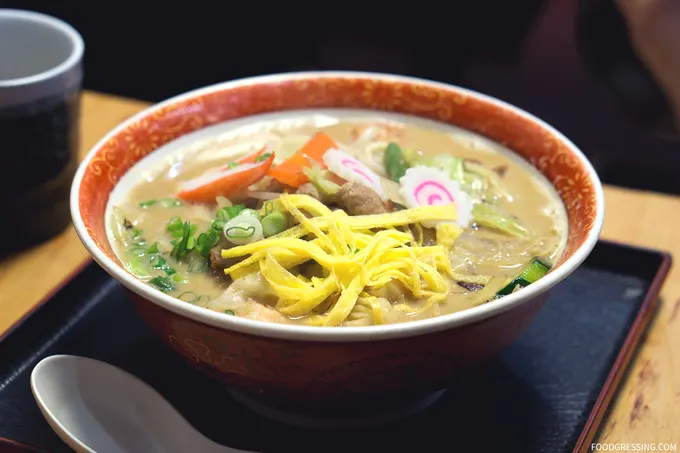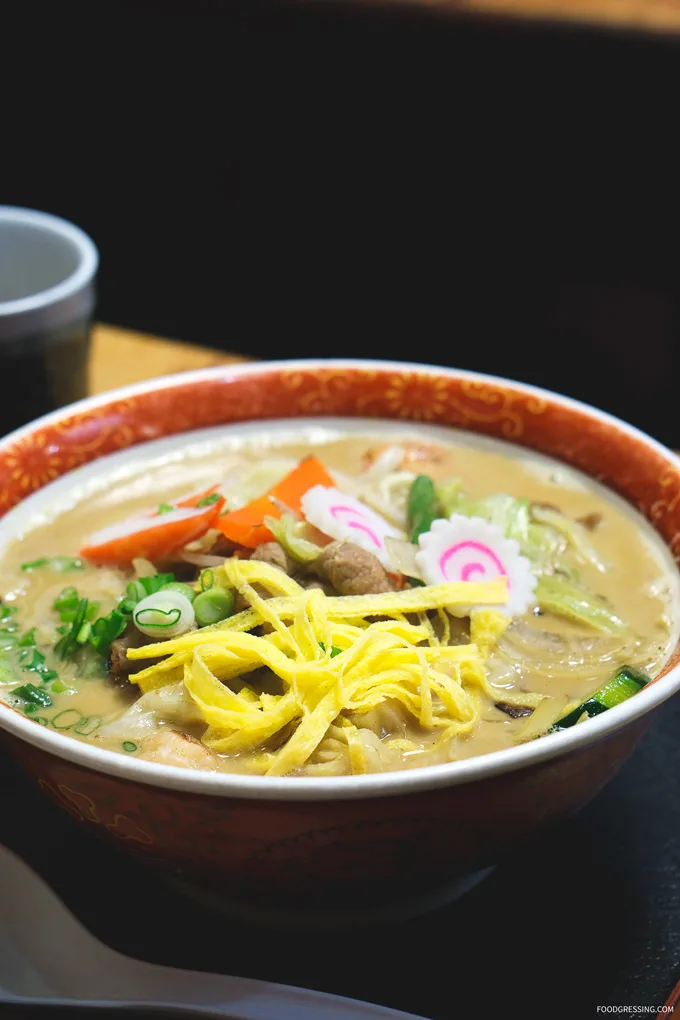 Overall Impression of Menya Ramen
I think that Menya Ramen has a very affordable menu but the quality and taste just wasn't at the level that I would like. In the same neighbourhood, I would prefer going to Benkei Ramen. Rating: 2.5/5
Menya Ramen
Address: 401 W Broadway, Vancouver, BC
Website: ‎www.menyaramen.com/