It had been over two years since my first and only visit to the Ramen Butcher in Chinatown (see review here). At that time, they had just opened and I went to take advantage of their grand opening special of $5 ramen. Since then, I have eaten at various new and old ramen establishments around Metro Vancouver (see tag ramen) and most recently at the newly opened second location of Santouka on West Broadway (see review here). At Santouka, I had spent about $17 for a single bowl of ramen which unfortunately wasn't very filling. This sort of begs the question: where can I get a bowl of ramen at a reasonable price with satisfying taste and portions in Vancouver? Scout Magazine conducted a reader poll of favourite ramen houses in Vancouver in which the Ramen Butcher was tied for top place with Marutama. I had in my mind some favourites but this prompted me to revisit to the Ramen Butcher.
Note: None of the food in this review was complimentary. The restaurant did not know that I was a blogger. I was not sponsored for this review.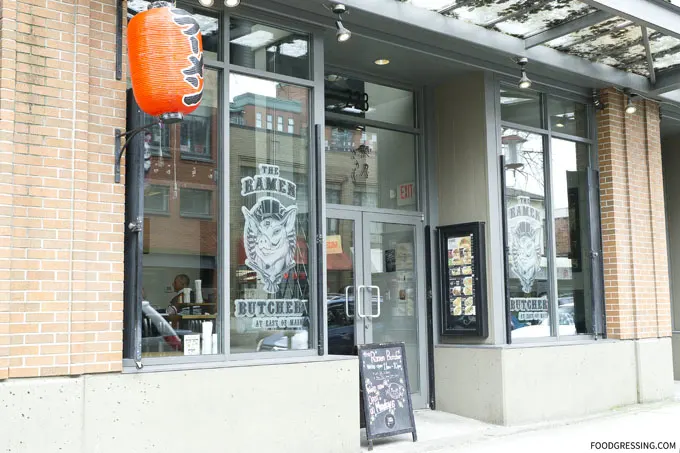 Ramen Butcher Menu
On the menu at the Ramen Butcher are classic tonkotsu ramen and variations with different sauces (red, black, green and orange). Bowls are priced around $10 – $12. Also available are mini donburi (rice) bowls including curry, chashu (pork), and karaage (deep fried chicken). For sides, there are different flavours of gyoza (original, cheese, spicy and okonomi) as well as karaage. Customers can enjoy a free refill of noodles as long as you have enough soup left. The menu is fully available online.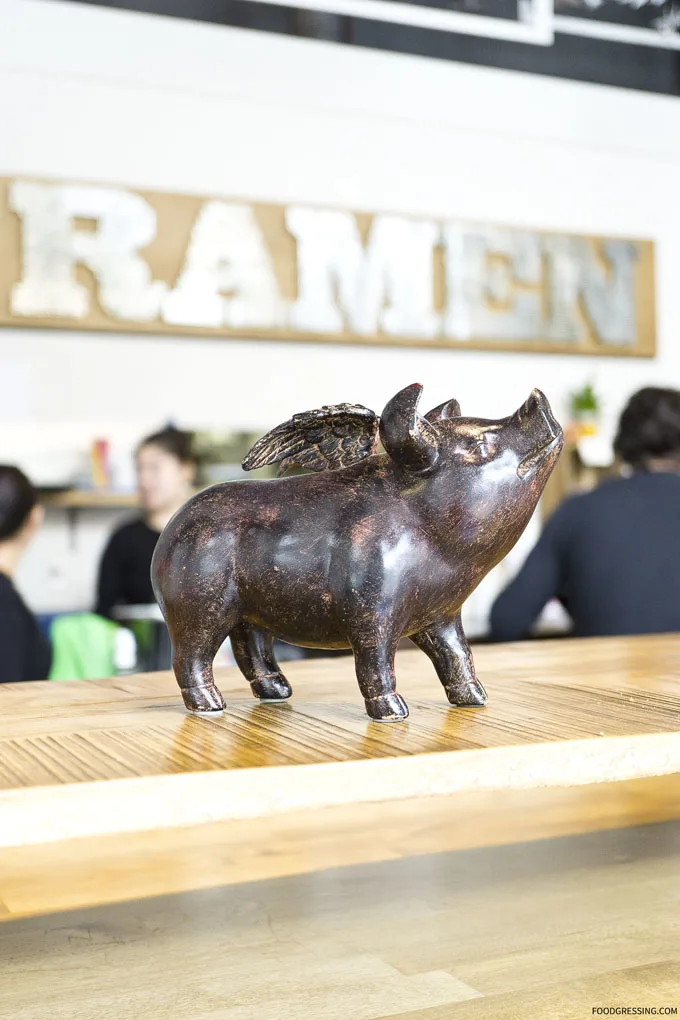 What I Tried
On my first revisit to the Ramen Butcher, I enjoyed a classic tonkotsuu (pork) broth ramen ($9.95) with an extra ramen egg (+$1.50) and corn (+$1.00). The pork broth was nicely flavourful and creamy while the noodles were al dente. The two slices of chashu was reasonably tender but not the most melt-in-your-mouth I have had. The extra corn was just $1.00 compared to the $2.20 charge at Santouka and the ramen egg had a reasonably runny yolk.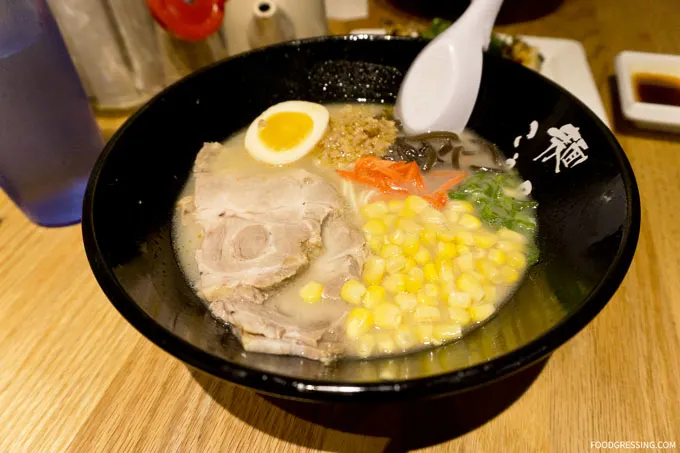 Meanwhile, my friend had a Black ramen ($11.25) which has roasted garlic oil in tonkotsu broth and comes with a ramen egg. She seemed to enjoy her bowl as well.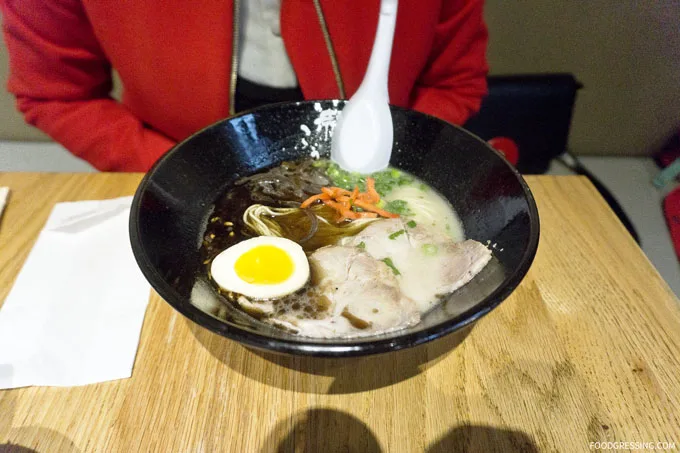 I went again to the Ramen Butcher on a separate occasion aftewards to have their Black ramen ($11.25). I was feeling extra hungry that day so I went for an extra egg (+$1.50) and 2 extra chashu pieces (+$2.00).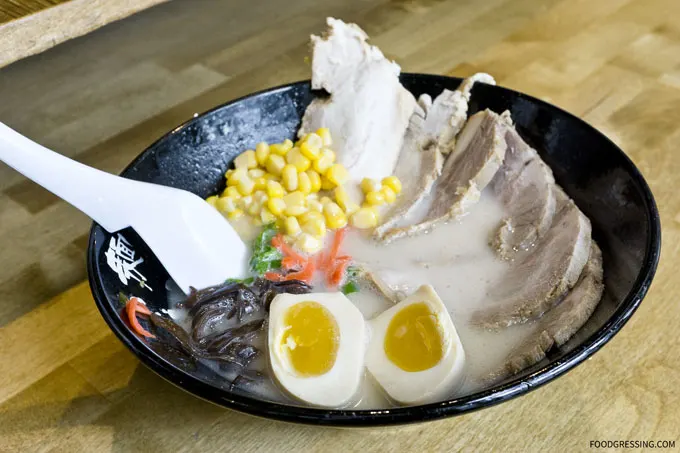 While the ramen was solid, I do not know why I ordered so many extras because I was struggling to finish it all. Their chashu slices are fairly generous in size compared to Santouka.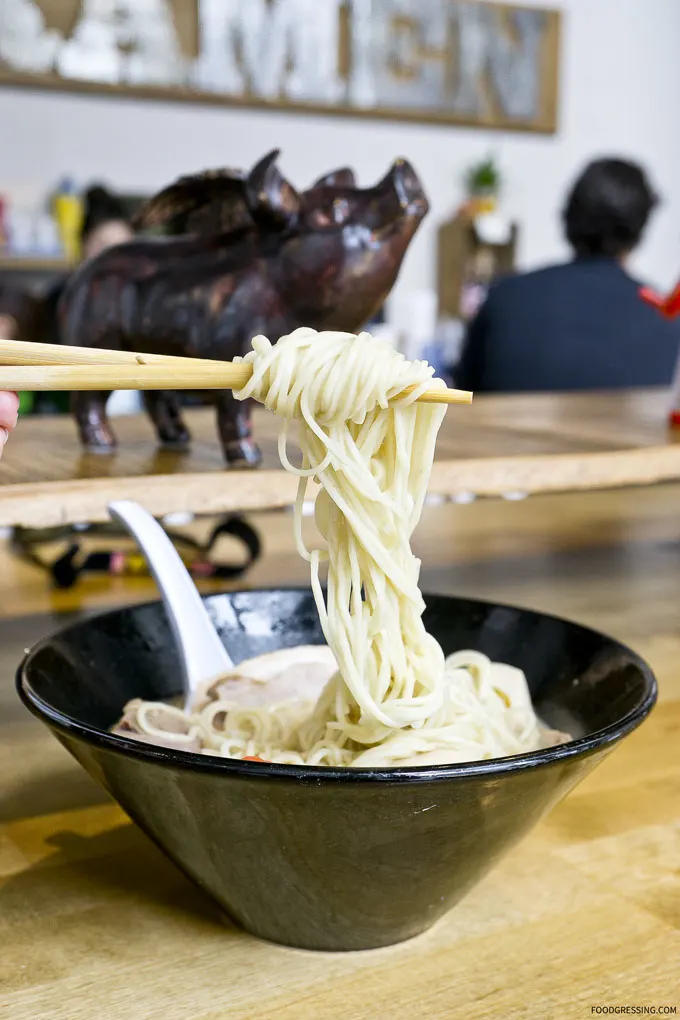 Overall Impression
In terms of overall value, I think that Ramen Butcher is fantastic. Flavours and portions are both very good. Kintaro and Marutama are still my favourites, but I would recommend the Ramen Butcher and would be happy to revisit again myself. Rating: 4/5
Ramen Butcher
Address: 223 E Georgia Street
Website: theramenbutcher.com