It had been a few years since I last visited Hida Takayama Ramen (see previous review here) so I was excited to revisit them again when they contacted me for a media tasting recently.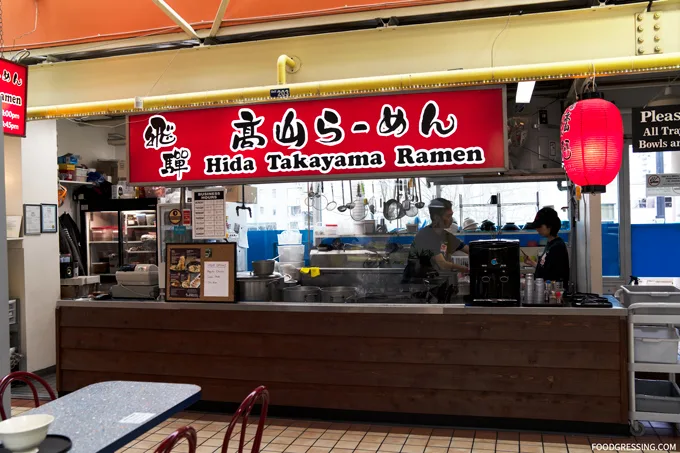 Disclosure: I was invited to a media tasting. All opinions are my own.
This humble ramen eatery is a hidden gem of sorts; it does not exist as a standalone restaurant but rather a food stall located on the second floor of the Robson Public Market.
Takayama-style Ramen
Hida Takayama Ramen has been around for 7 years offering Takayama-style ramen which is unique to Vancouver. This style of ramen is characterized as being more "Chinese-like" with it being less rich and heavy but still deep in flavour and imparting lots of umami. The noodles that are used are thin.
New Ownership
Most recently, Hida underwent new ownership as the original owner retired and sold the business to the guys running Yui Japanese Bistro. Reg and Ping, who own and operate Yui and both were ex-sushi chefs for Minami and Miku, recently brought in a new partner, Sunny, to run Hida. They had been regular customers of Hida and were eager to take on this new venture when they heard that the owner was retiring.
Being trained chefs, the guys were able to improve upon the recipes and provide more consistency.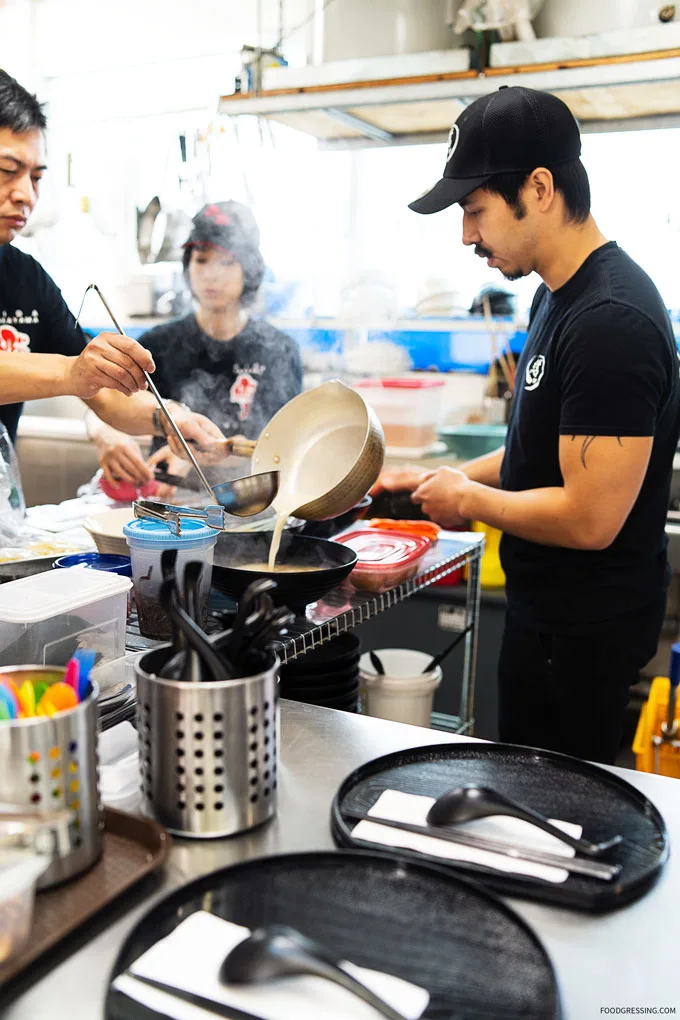 House-made Noodles and Gyoza and no MSG
What is also unique about Hida – aside from their ramen style compared to other Vancouver ramen houses – is that they make their own noodles, gyoza and their food has no MSG. The original owner still makes noodles himself as well as the gyoza and supplies them to Hida.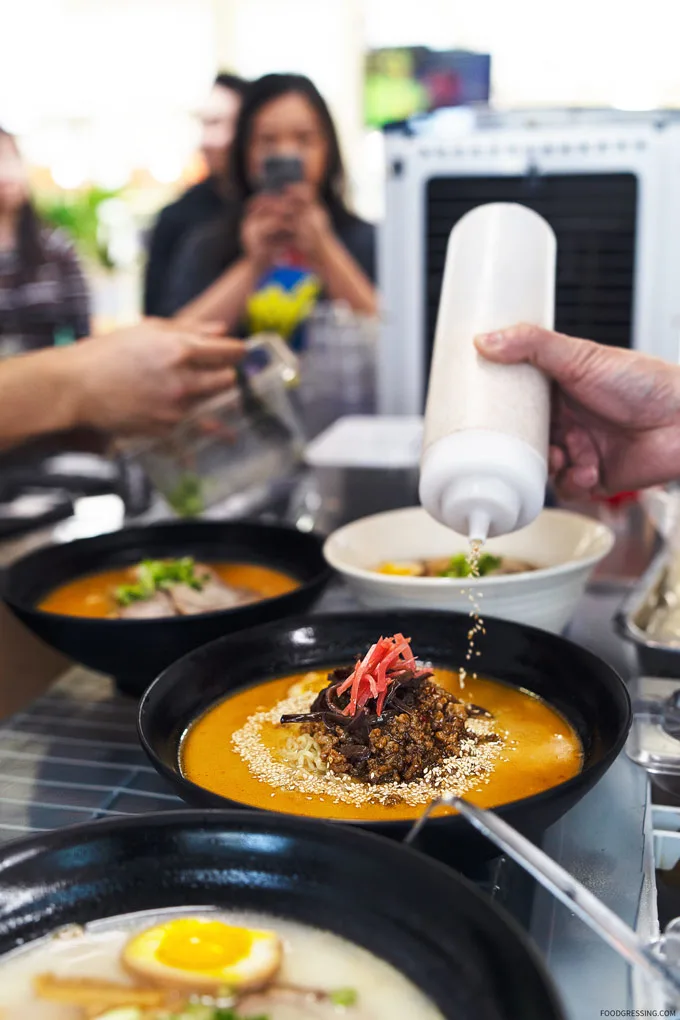 Hida Takayama Ramen Menu
The menu at Hida is simple yet focused and you won't find customizable choices like chashu fattiness, noodle thickness, soup richness and so forth. They offer 4 choices of ramen (Basic, Traditional, Tantanmen, Original) in different flavours like shoyu, shio, miso and white sesame. The Basic, Tantanmen and Original use a pork broth base while the Traditional has a chicken dashi broth.
The bowls are priced affordably starting at $8.75 and the most expensive option being $12.75. Their price is quite fair compared to other ramen eateries in Vancouver.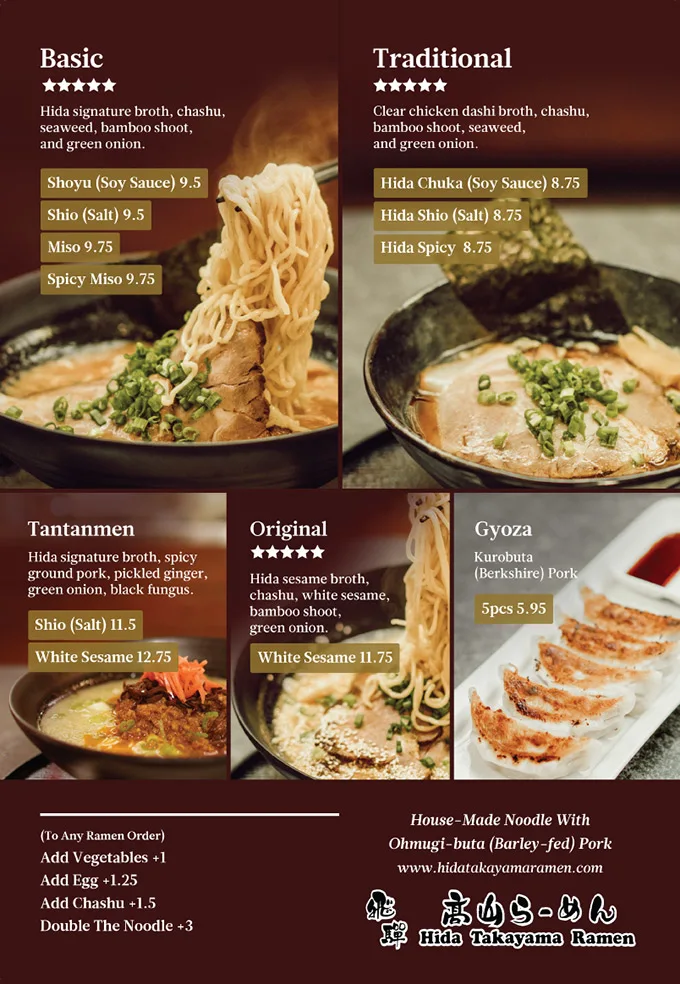 What We Tried
At the media tasting, we tried the Basic Shoyu, Basic Spicy Miso, Traditional Hida Chuka, and Tantanmen White Sesame.
I enjoyed how light the broths were but still nicely flavourful. The noodles were thin but fairly al dente while the chashu was tender. The ramen eggs were perfect with a firm, but runny yolk. Portions to price were very reasonable for the neighbourhood.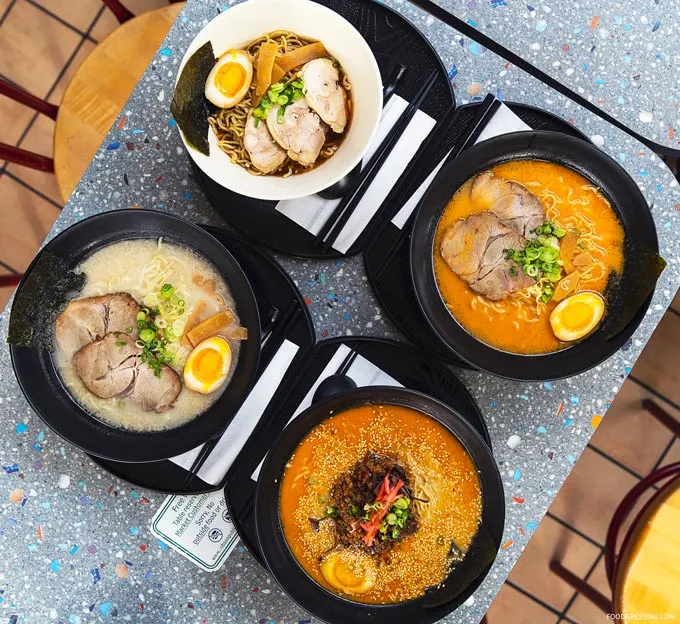 My favourite was the Tantanmen White Sesame featuring Hida Signature broth, spicy ground pork, pickled ginger, green onion and black fungus. It's the most expensive ramen they offer at $12.75 and has more unique ingredients compared to your typical chashu, green onion and bamboo shoot.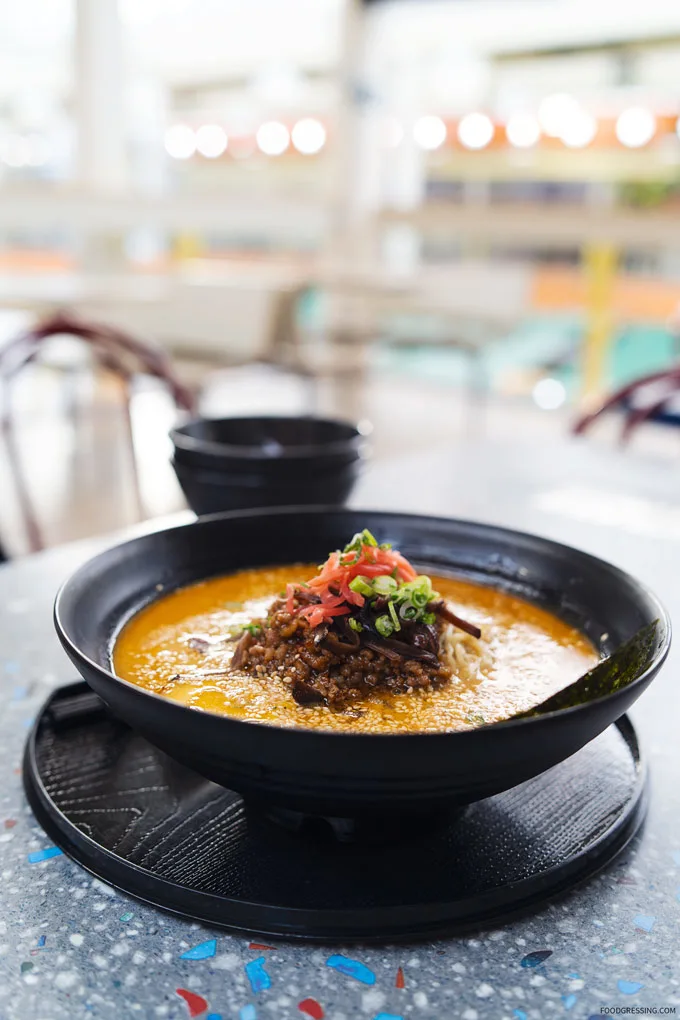 I liked that it had a bit of spiciness to it complimented with the nutty flavours from the white sesame. If you're feeling bored with chashu, the spicy ground pork is a good reason to try.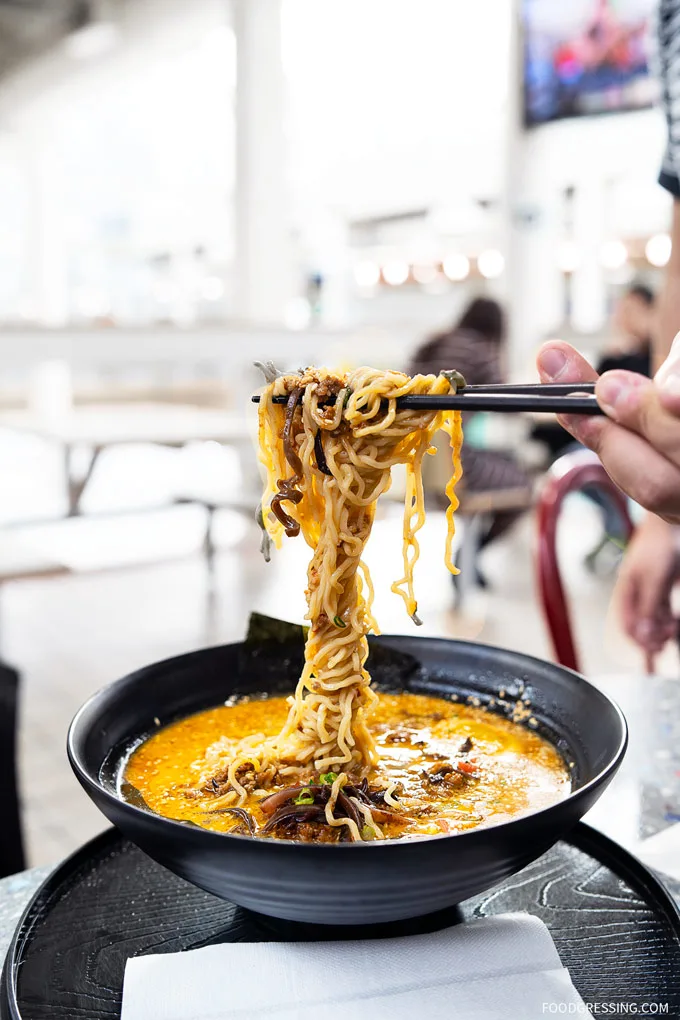 A favourite among media was the Basic Spicy Miso made with Hida signature pork broth.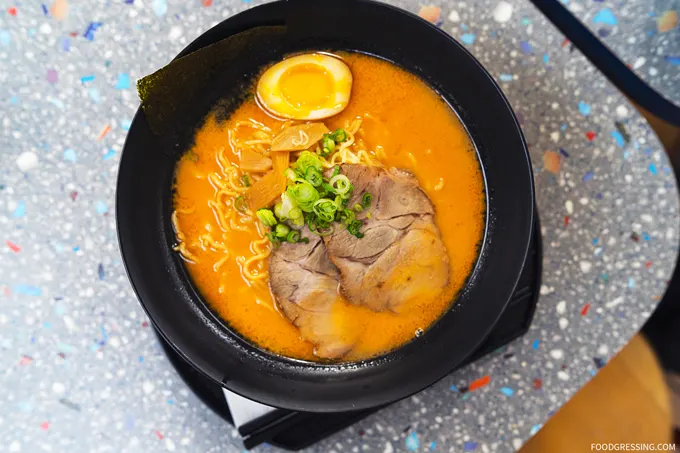 The Traditional Hida Chuka bowl was a lighter option that uses clear, chicken dashi broth.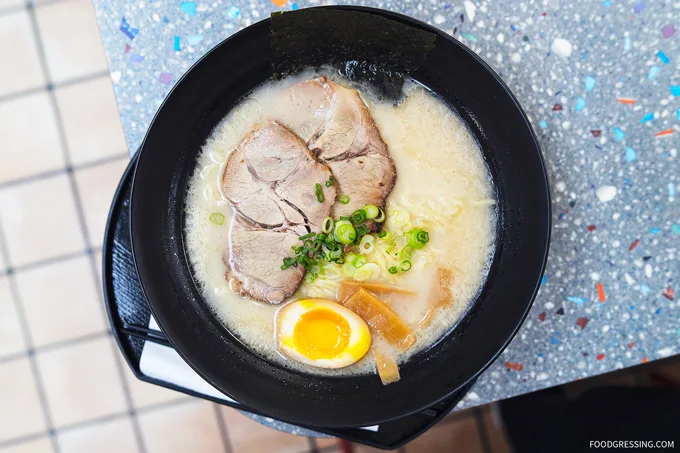 The Basic Shoyu was a solid option for a very basic bowl of ramen.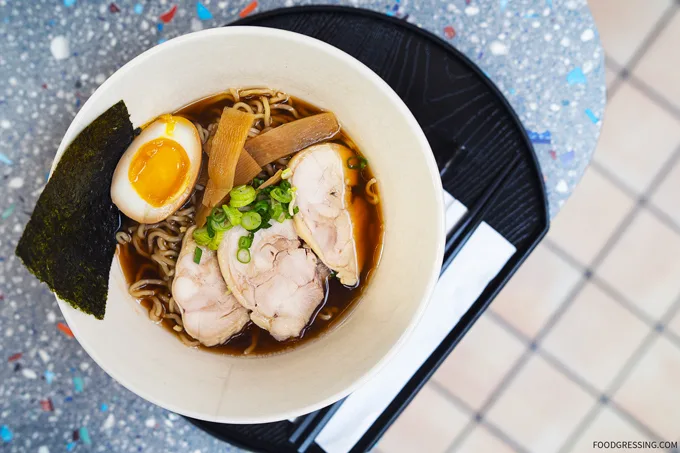 The house-made gyoza had a flavourful and tender pork filling. I did wish the wrapping was a bit more crisp and that filling was more piping hot.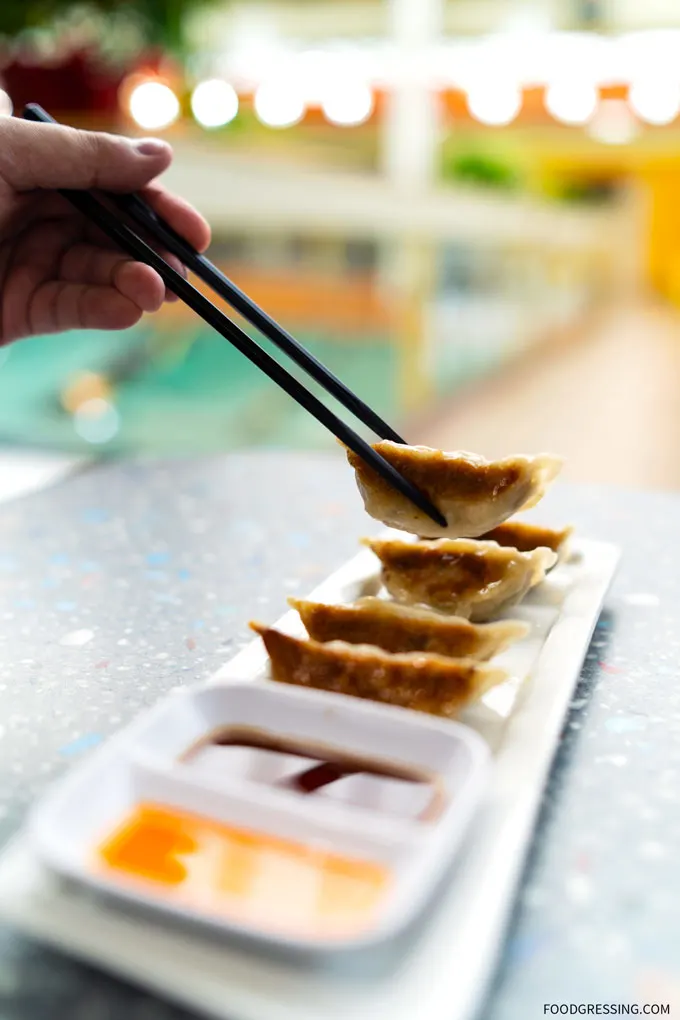 Overall Impression
Hida offers good, affordable and hearty (yet not too heavy) bowls of ramen for the neighbourhood. It's an unpretentious meal inside a food court but it's satisfying for what it's worth.
Pro tip: Customers can enjoy two hours of free parking while at the mall!
Hida Takayama Ramen
1610 Robson St #203, Vancouver, BC
http://hidaramen.com/