Yui Japanese Bistro, which specializes in aburi-style (flame seared) sushi at affordable prices, has just added a few new items to their menu. The restaurant opened in April and is a hidden gem of sorts as it is tucked away in an office building at 1185 W Georgia St. I recently tried the new additions to the menu at a media tasting. Here is a look at what you can expect.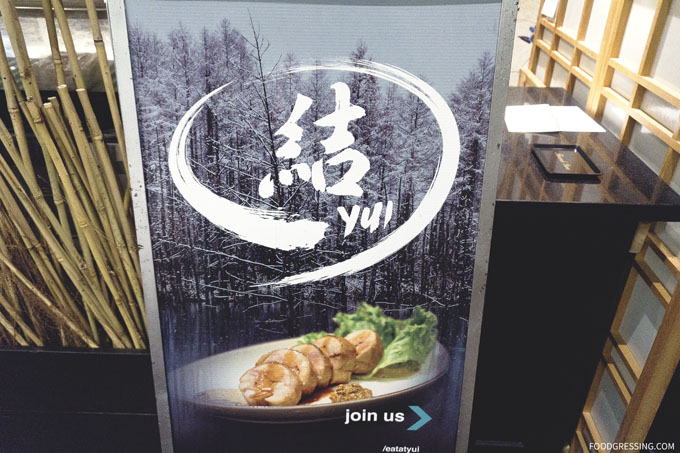 Disclosure: All food and drinks in this review were complimentary. Opinions are my own.
Yuio Japanese Bistro is owned and operated by Chefs Reginald Lai and Ping Ho who have both worked at prominent Japanese restaurants in Vancouver, Miku and Minami. This is their first venture on their own.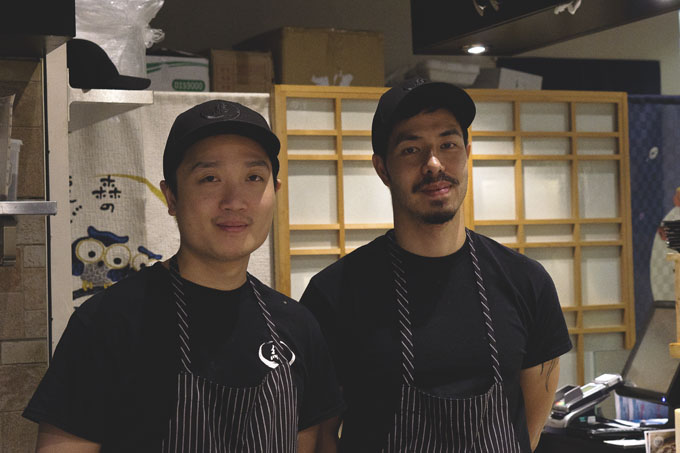 Yui Japanese Bistro occupies just a 570-square-foot in the ground level of the building. The interior has limited seating but take-out is an option.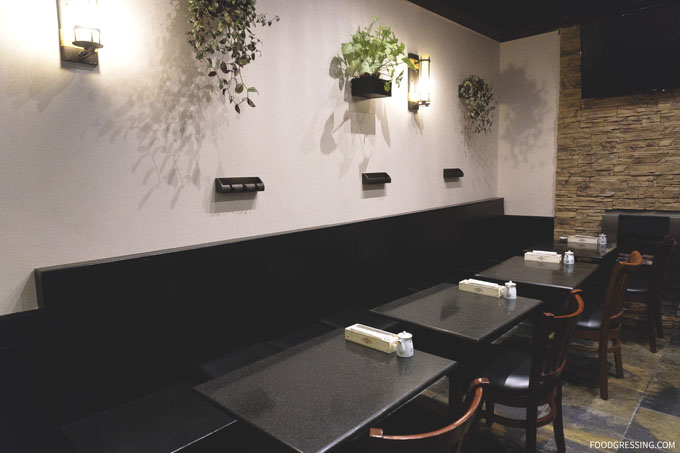 What We Tried
Our tasting menu consisted of the following:
Yui House Salad (already on menu)
Tai Oshi
Albacore Tuna Nigiri
Aburi Blue Fin Tuna Nigiri
Tai Nigiri
Hokkaido Scallop Nigiri
Smoke Salmon Delight
Here's a video recap:
The Yui House Salad is a great palate -cleaning starter. It is made with an organic green mix, edamame, quinoa, olive, sweet corn, red onion, avocado, tomato, redbeet, sweet potato chips, shiso leaf, and chef special dressing. Lots of great fresh ingredients with crisp textures.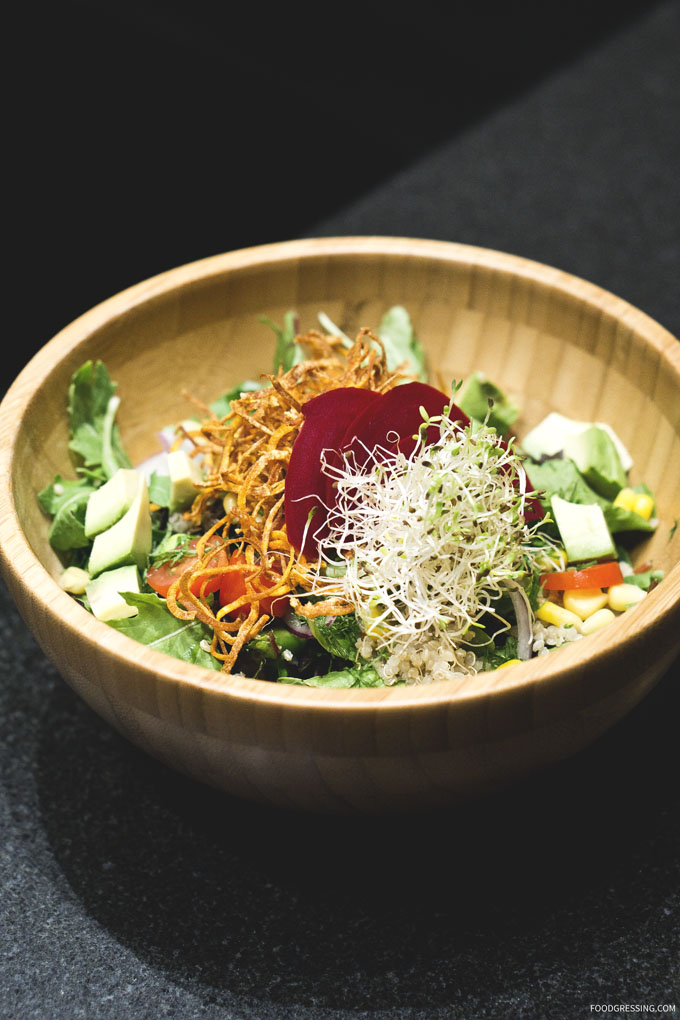 Now with all the sushi that I will be discussing, let me start by saying the rice prepared by the Chefs were on point. The temperature of ther rice was about body and you could feel each grain against your tongue. Delicous.
The Tai Oshi was creative and ultra-delicious. I loved the crispy shiitake topping which gave the suishi some light earthy flavours. Other toppings were sesame leaf and red pepper thread. There were also hints of spiciness from Chef's Special Spicy Sauce.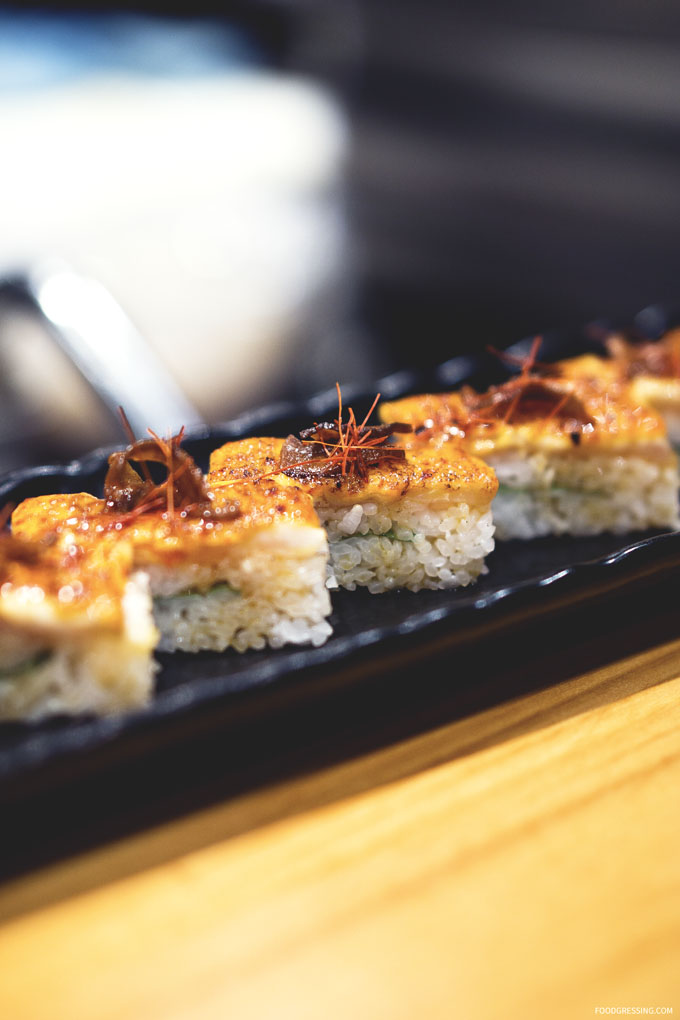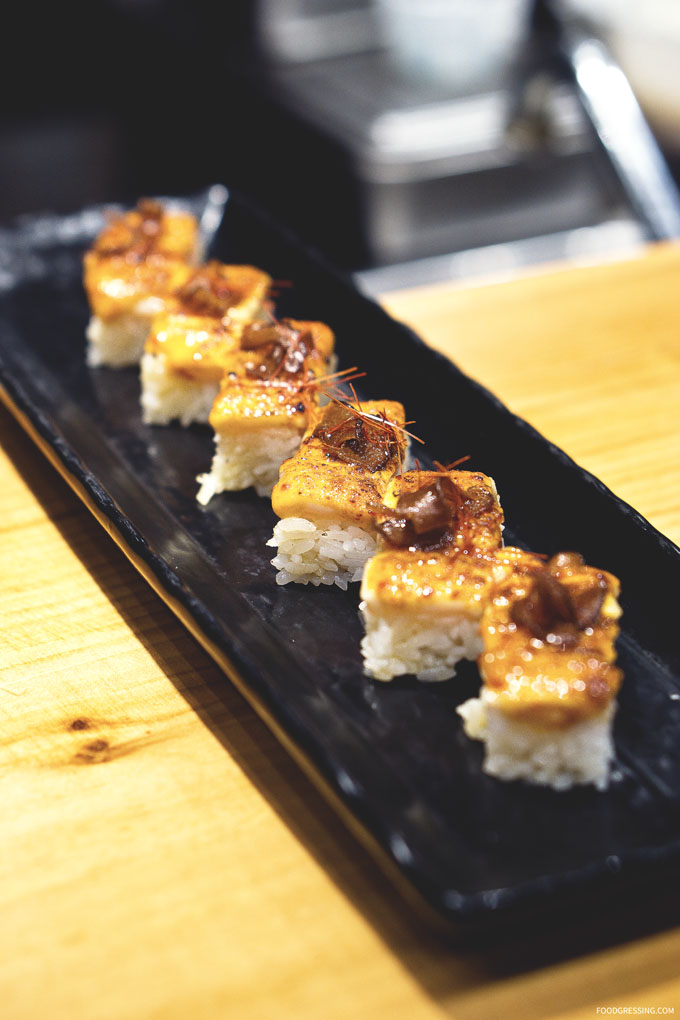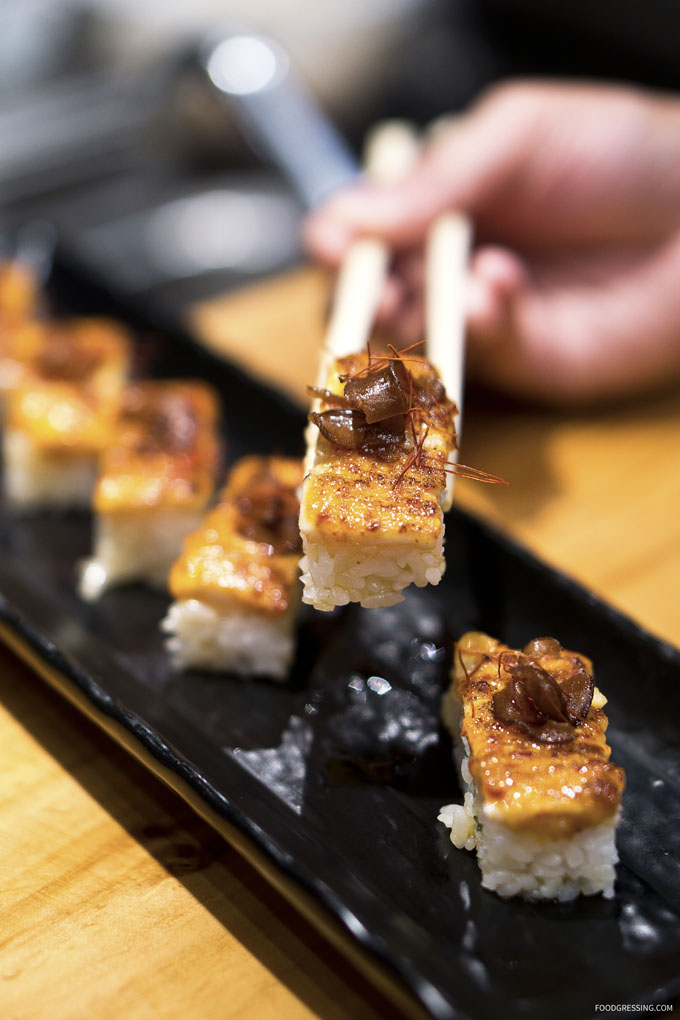 The Bincho (Albacore Tuna) Nigiri featured a slightly sweet strawberry salsa topping. It thought it was very unique and memorable with hints of sweetness.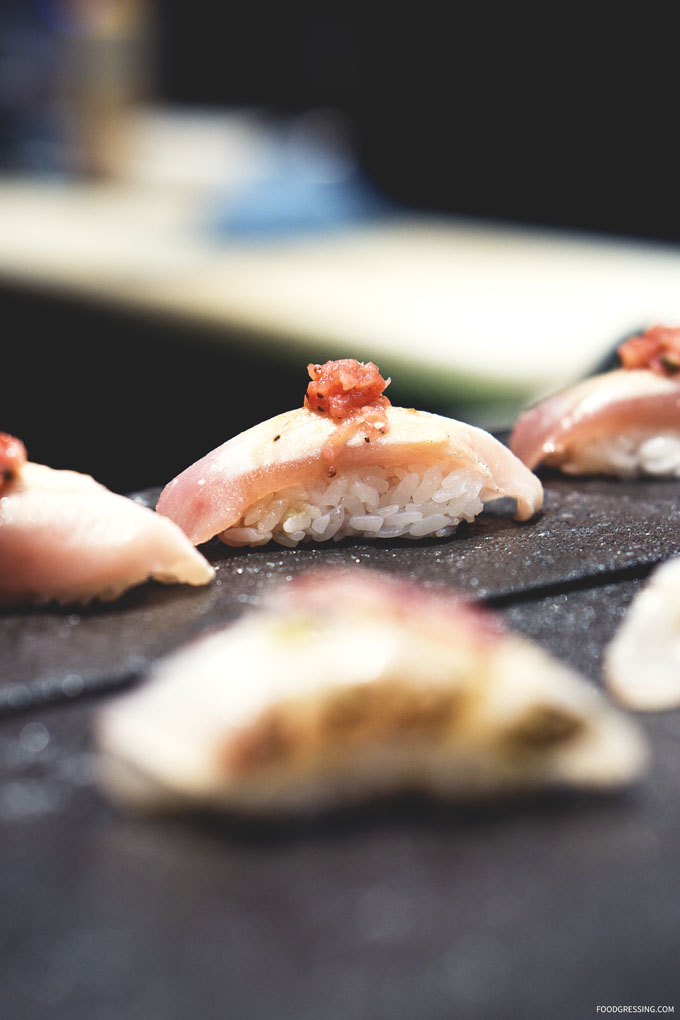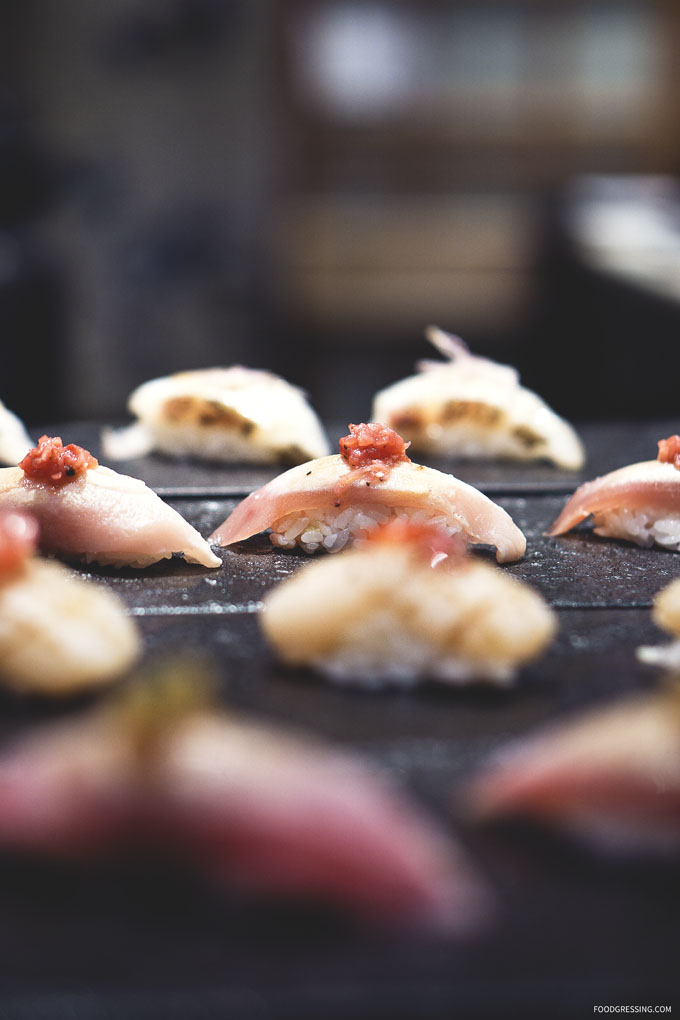 The Aburi Tuna (Blue Fin) Nigiri came wwith wasabi pickle sweet onion. The bright flavours complemented the buttery tuna.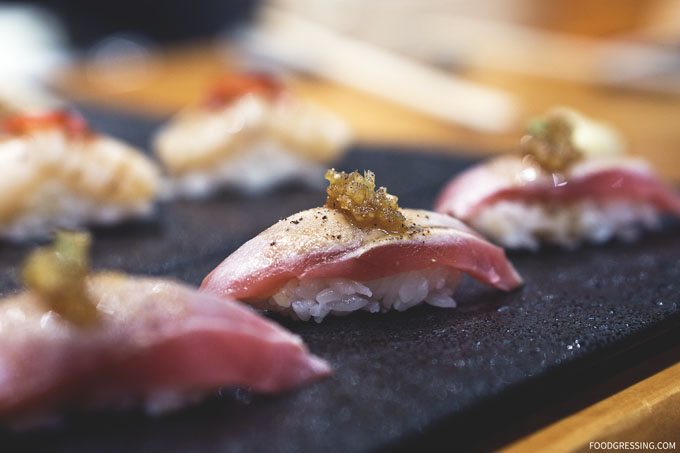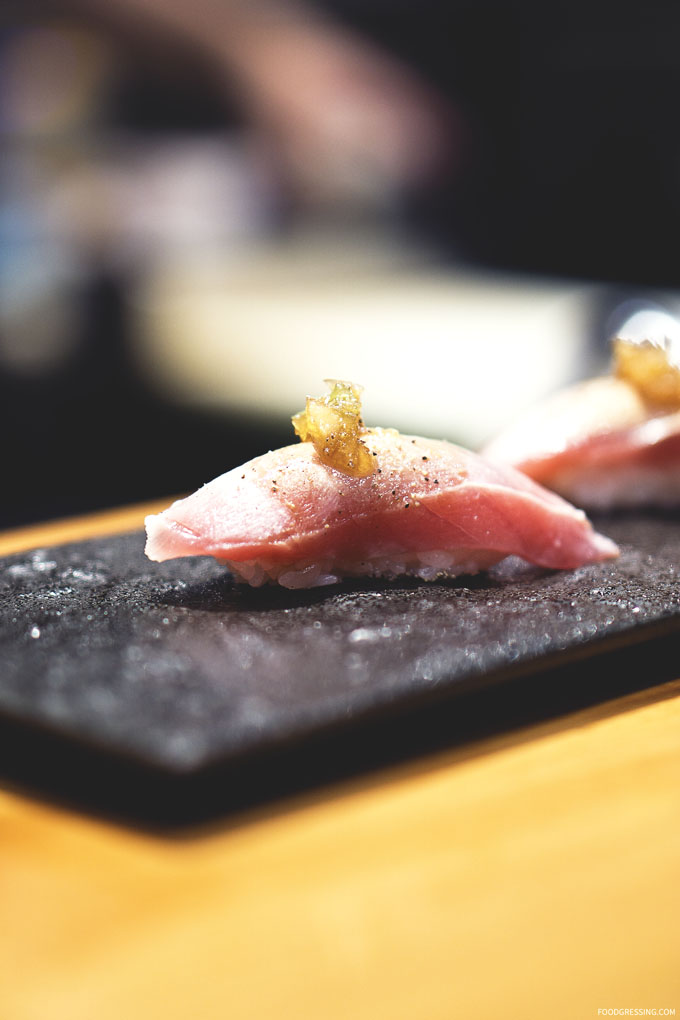 The Tai Nigiri with dill shallot sauce had more neutral flavours.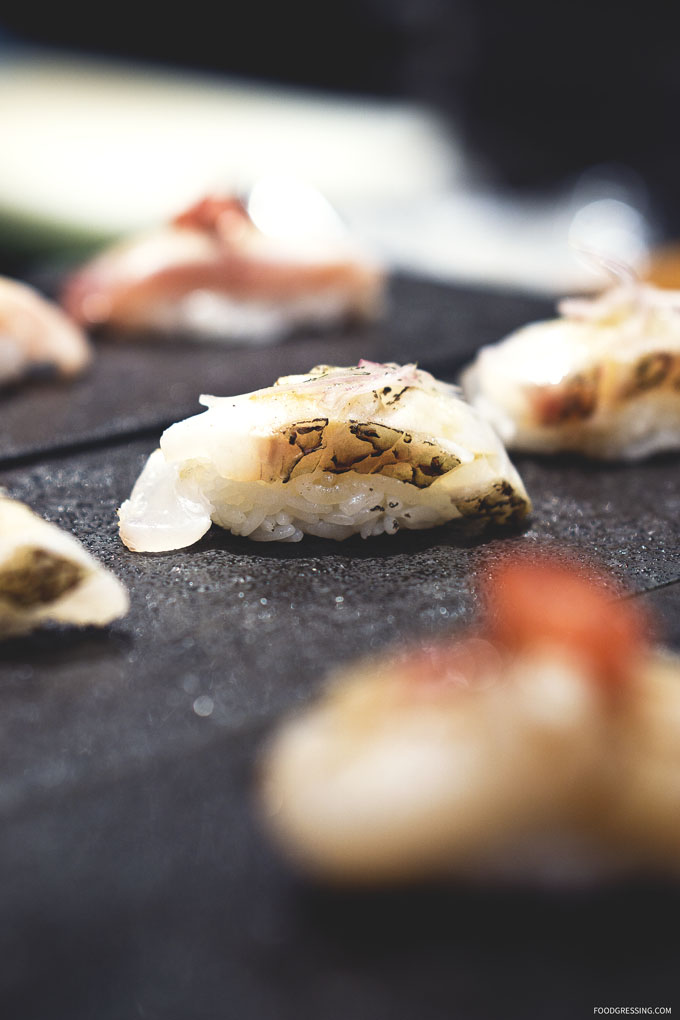 We also indulged in the Hokkaido scallops with ume sauce. The slice of tomato on top added some subtle bright, tangy flavours.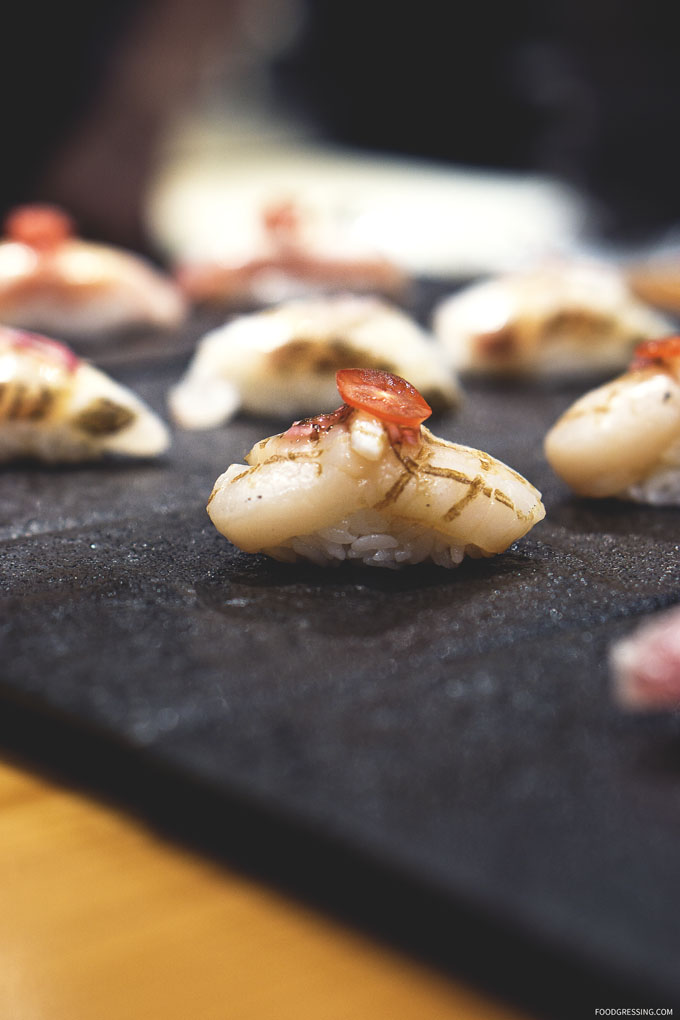 The Smoke Salmon Delight was wonderfully delicious with melt-in-your-mouth seared wild salmon, tuna, chop jalapeno, wasabi mayo, mango salsa, and alfalfa sprout. And that avocado sauce is just heavenly being creamy and smooth.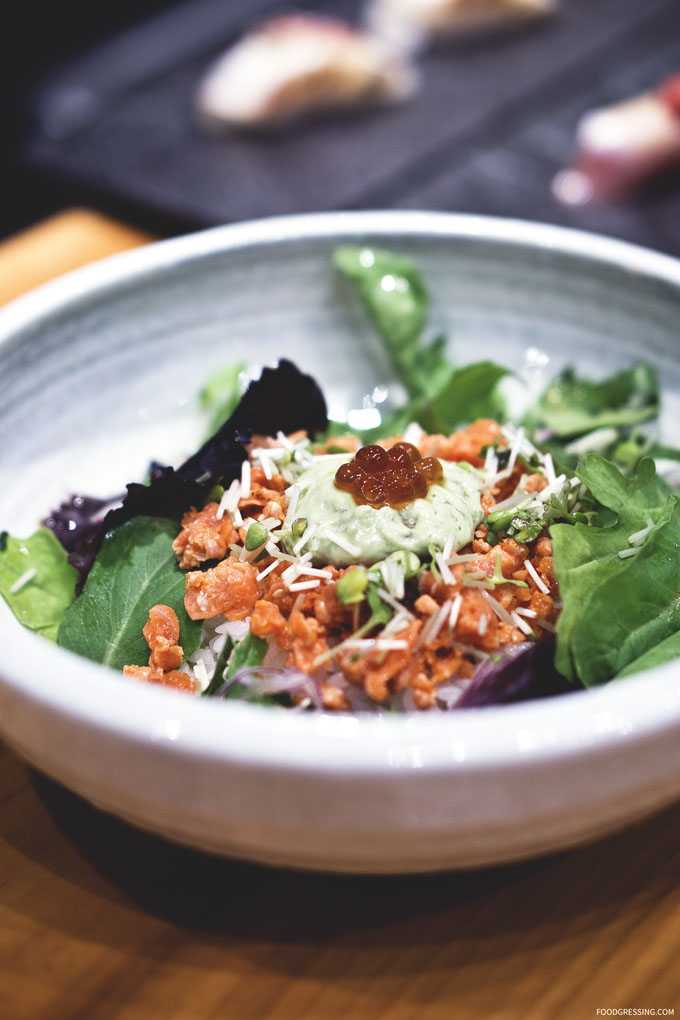 Overall Impression
The chefs at Yui Japanese Bistro continue to innovate their menu to bring new tastes and flavours. My favourites of the tasting were the Tai Oshi, Albacore Tuna Nigiri and Smoke Salmon Delight. Rating: 4.5/5